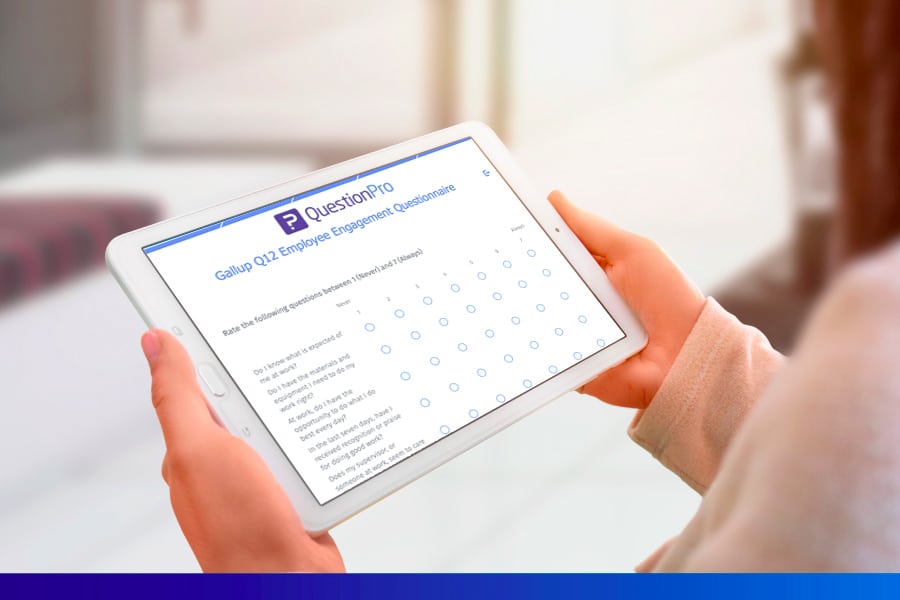 As part of my strategic marketing job, I once ran some online work environment surveys for a very particular client using Gallup Q12. Although I am not an expert in Human Resources, I can easily see the relationship between engaged employees and clients and the bottom line that both groups have.
Gallup Q12 survey questions are a quick and easy way to get employee feedback because it's a very useful management system for measuring employee satisfaction and engagement.
Long ago, business surveys such as work environment surveys were customized depending on the organization that conducted them. However, this used to be difficult to interpret, that is, how could my company compare to high-performing organizations?
Then I got to know Reichheld's Net Promoter Score (NPS), which correlates the number of "Promoters" with profitability.
Net Promoter Score example
The way to measure your Net Promoter Score is to take those people who gave you the highest ratings and subtract those who gave you the lowest scores. A rating of 75% or more is considered a world-class organization.
But what about the work environment survey? Is there a standard for these?
The Gallup organization developed what they call Gallup Q12 based on their book 12: The Elements of Great Managing.
What is a Gallup Q12 Poll?
What an NPS survey is to customer loyalty, Gallup 12 or Gallup Q12 is to employee engagement.
In short, after more than 30 years of surveying employees, the Gallup organization put together 12 questions with which you will be able to predict profitability and this result can be used to measure employee engagement.
Gallup says that on average 1: 5 is the healthy ratio of employee engagement. And 8: 1 is a commitment ratio from a world-class company.
To measure employee engagement, use the following questions that you can ask through online surveys:
After 80,000 in-depth interviews with managers from more than 400 companies, Gallup says measuring the strength of a workplace can be simplified to the following questions:
Do I know what is expected of me at work?
Do I have the materials and equipment I need to do my job?
At work, do I have the opportunity to do what I do best every day?
In the last seven days, have I received recognition or praise for doing a good job?
Does my supervisor, or someone at work, seem to care as a person?
Is there someone at work who encourages my development?
Do my opinions count at work?
Does the mission / purpose of my company make me feel that my work is important?
Are my co-workers committed to doing quality work?
Do I have a best friend at work?
In the last six months, has someone at work told me about my progress?
During this last year, did I have the opportunity to work to learn and grow?
Excerpted from First, Break All the Rules, What the World's Greatest Managers Do Differently by Marcus Buckingham & Curt Coffman, Simon & Schuster, 1999.
How to implement the Gallup Q12 methodology in your organization?
Now that you have all the questions for this methodology, you can create your own Gallup Q12 poll by following these recommendations:
Give it a name or title that is clear, informative, and engages your employees.
Customize it with your organization's colors and logo to build trust.
Post an introduction that explains the purpose of the feedback.
Once you have created your questionnaire, it is time to apply it. Remember that before doing so you have to make a campaign so that all participants are aware of the importance of their participation.
This is an example of a Gallup Q12 survey that will serve as a guide to implement it within your organization:
You will notice that this Gallup Q12 poll uses a 5 point scale. That seems to be standard. However, one thing the Gallup organization won't share is how to break down those 5 points and specifically designate which qualifications correspond based on each employee's level of engagement.
I decided to break it down like this:
1 and 2 = Actively unengaged
3 = Neutral or Uncommitted
4 and 5 = Committed
I am currently looking for other ways to breakdown. If your organization is conducting a Gallup Q12 survey:
What has been your experience with this tool?
Do you measure commitment correctly?
How did you implement the comments and recommendations of your employees?
What do you think are the advantages and disadvantages of the Gallup Q12 methodology?
After completing all the information collected, it is time to share the results with your employees and take the necessary actions according to the results.
Factors such as leadership, organizational culture, reward programs and employee participation must be continuously evaluated, both for the well-being of the employees and that of the organization.

Remember that the benefits of achieving happiness at work are enormous, so getting the feedback from your workforce to achieve their satisfaction should be a priority for having committed, creative employees and an innovative workforce.
Improve the internal communication of your company by asking your employees what their needs are.
Always bear in mind that many of the decisions and actions they take are influenced, positively or negatively, by their environment and the way they are treated by the organization.
The actions of the employees then have an impact on the performance of the organization.
At QuestionPro we have the right tools to create a Gallup Q12 survey or any other type of survey to help you evaluate your employees. Create your free account or schedule a demonstration of our performance evaluation and work environment software so that you can solve all your doubts.
Learn more about how to get ongoing feedback from your employees and start taking action to make a positive impact in your organization with QuestionPro Workforce.
Learn more about our Culture and Employee Experience Platform