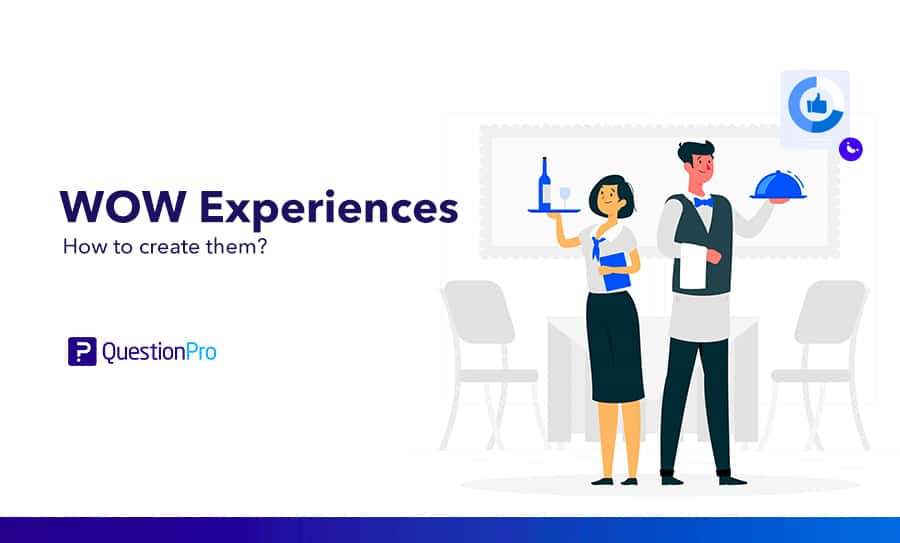 When customers have WOW experiences it means you are addressing their needs in a thoughtful and unexpected way, which means you are exceeding their expectations. Do you already do that?
The level of competition in the marketplace demands that companies have long-lasting relationships with customers, so WOW experiences must be factored into the design of the product or service, and that requires a continuous culture and a culture that is not just about the customer. 
It is also about product or service design, and that requires a continuous culture and context of decision making focused on customer happiness, not just once, but as part of daily operations.
What are WOW experiences?
WOW experiences are about exceeding customer expectations, meeting their needs and giving them more than they expected.
These moments are created when consumers are captivated and excited because you deliver an extraordinary customer experience. Going the extra mile when they least expect it creates a unique and special experience.
WOW experiences are remembered, appreciated and a great element in maintaining customer loyalty and engagement with your brand. 
6 keys to deliver WOW experiences
Here are the key elements to ensure WOW experiences in your organization: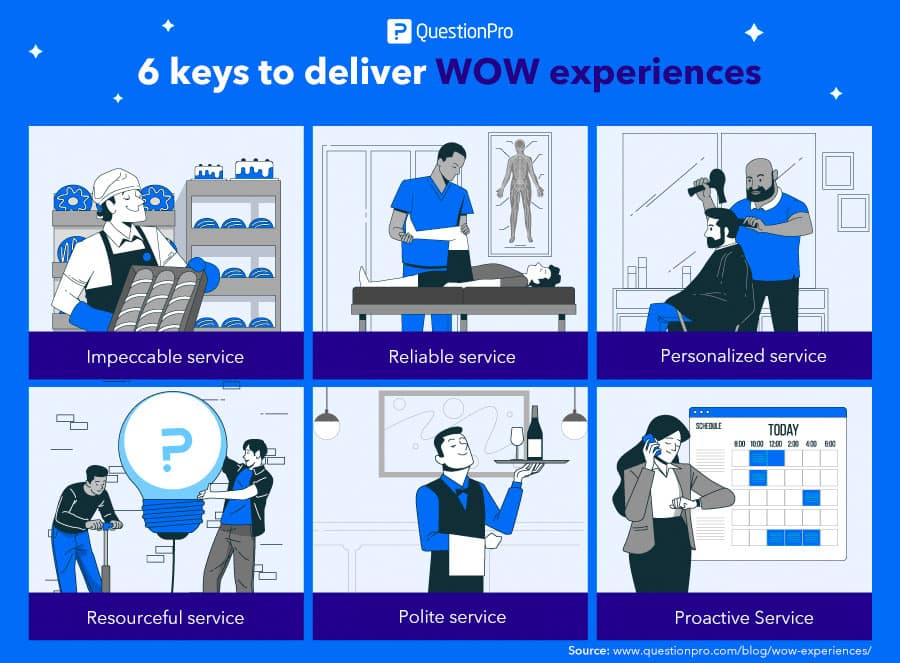 1. Impeccable service
It means providing everything the customer needs and not just what is required to meet minimum standards. It's about making sure they don't have to wait, but experience a smooth and seamless process in addressing their needs.
Several steps are needed to address their concerns, keep them informed: Update the status of their requirement via email or with a quick phone call to let them know you are working on the situation and progress is being made. 
By keeping them in the loop, you're letting them know that you haven't forgotten about them and that you understand their concerns.
2. Reliable service
The next key element of WOW experiences is to offer reliable service.
If you promise a satisfactory solution and then go the extra mile to not only satisfy the customer, but also to gain their recognition and surprise them, you will earn their recommendation, which will attract new customers.
3. Personalized service
Attention should encompass every customer service experience, from listening carefully to their concerns to following up after the exchange to make sure their needs have been met. 
It's about not just listening, but understanding what they are really saying to you.
Taking into account the customer's state of mind and responding appropriately is essential, and it means not following a script.
4. Resourceful service
The next key element of the WOW experience is about providing resourceful service. This means finding solutions when there seem to be none.
Many companies have policies that must be followed whenever a problem arises. However, sometimes a customer will not be satisfied with this approach, so try to go beyond standard procedures to make them happy. 
Companies with excellent customer service also give their representatives some leeway to come up with creative solutions on their own. When a customer feels that they go above and beyond the norm to help you, they will feel valued and respected.
5. Polite service
When you need to ask a customer for something, ask nicely, thank them for sharing that information and take the time to talk to them.
Nothing makes a customer feel less valued than being treated like a number. Use their name, ask the right questions and learn to apologize. When something goes wrong for a customer, they want to know that you understand their frustration and are sorry.
6. Proactive Service
The last key element to creating WOW experiences is about being proactive. Customers want you to take the initiative: acknowledge their dissatisfaction, offer a solution and explain the process.
A proactive customer service representative anticipates the customer's needs and follows up.
Don't wait for the customer to ask what you are willing to do; anticipate the question and respond before they can ask. If he calls and says he is not satisfied, apologize and immediately suggest other solutions.
Tips for delivering WOW experiences in your organization
Below, we have for you the best tips to offer WOW experiences in your organization and ensure customer satisfaction. 
Offer a personalized experience 
While personalization can take a bit of effort, it's a great way to deal with customers. Find out things about them and incorporate what you know into their experience.
Do a little research on their hobbies and interests. You can also collect data when they first buy from you.
With this valuable information, you can follow up with a quick follow-up email that includes a little more than they might expect, a birthday card or a link to an item you think they might enjoy.
Follow up when they least expect it
Surprise elements are critical to delivering a WOW experience. Especially in small businesses. The personal touch can go a long way in building a lasting business relationship.
Show that you really care enough about their experience.This is also an excellent opportunity to get valuable feedback, which you can then incorporate into further improvements to your products and services.
Do what you said you would do
This step is critical to delivering WOW experiences, it can be extremely difficult, but it's a must if you're truly dedicated to impressing customers.
To hold up your end of the bargain, start with making your promises clear. If your terms are difficult to understand, customers may not get what they expected.
The key to this is internal communication within the company. Make sure everyone knows what was promised to the customer and that all deadlines and deliverables are met.
Offer something they didn't know they needed
This is your opportunity to make an additional sale, but you can approach it in a delicate way. Make sure the customer knows everything you're offering, in case they have a need.
With the personal information you have about the customer, take a moment to think about what else you can offer them that directly addresses those needs. 
The next step is to present this offer to them without making it seem too promotional. It is best to use this strategy once you have established a relationship of trust with them.
A good customer experience strategy to achieve WOW experiences would be to offer free trials of other products or services related to the ones they already have. If you can meet another one of their needs, they will thank you for it.
Offer more than they expected
WOW experiences can come in the form of a free gift or courtesy, even reimbursement for a product or service.
Everyone loves to feel like they're getting something of value, and anything extra you can offer existing customers is a bonus. 
You can also offer great experiences through customer service. By giving them more help and support than they expect, they will become great brand ambassadors.
Be thankful
There are many creative ways to thank people and make a big impact on them. 
It's not just about sending a standard response after a purchase. A personalized note with tips on how they can get the most value from what they've purchased, or even any content beyond an email that simply expresses gratitude, will go a long way toward reaffirming the customer's decision to purchase your products and services.
Train your employees
The last tip for delivering WOW experiences in your organization is to continually empower your employees. 
Give them the opportunity to be creative, organize meetings where they can share their ideas and learn. This will greatly increase employee motivation, which will help them perform better at work. 
If an employee is committed to the business, they are more likely to contribute ideas to both you and your customers. 
The importance of WOW experiences for your organization
By creating WOW experiences you will get consumers to create a connection with your company, which will increase their engagement and motivate them to promote your brand, and we already know how effective word-of-mouth marketing is.
People trust those who have amazing moments to share. Customers who are very happy with your service will be very happy to recommend you. That's why creating WOW experiences is a valuable source of building customer trust and generating active referrals. 
Getting customer feedback is vital to get all the information you need to give them the attention they want. And at QuestionPro we have the tools you need to do this effectively.
Get to know our QuestionPro CX platform and get the insights you need at every touch point. Request a demo of our platform and be amazed at what you can achieve by properly managing the customer experience.