How can I download the charts and analytics to PowerPoint?
The first available way to download the report is from the Real-time Summary Report.
Go to:
Login »  Surveys »  Reports
Click Export button found on the right side of the screen.
Select any of the available download options. Please note: any filters applied to the real-time summary at the time of selecting an export option will be applied. Up to four levels of filters can be applied at any one time. To download unfiltered data, be sure to click Reset Filter before downloading.
Another option to download charts and analytics is to go to:
Login »  Surveys »  Reports »  Export Data »  Charts & Analytics Export
Select the desired format (PowerPoint, Excel, or Word).
Click Download. The file will be generated and emailed to the email address on the account. You can also access the file by using the Download History.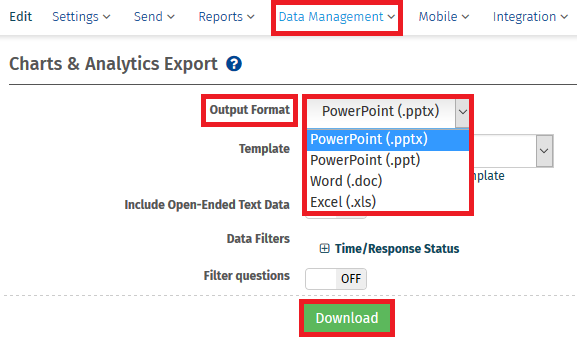 How can I generate a PowerPoint report?
From the Output Format drop menu select the PowerPoint (.ppt) option.
You can choose a template from the Template drop menu.
Select the check box for Include Open-Ended Text Data to include text responses.
You can select from the Time and Response Status data filters.
Click Download to generate the file which will be emailed to the address on the account.