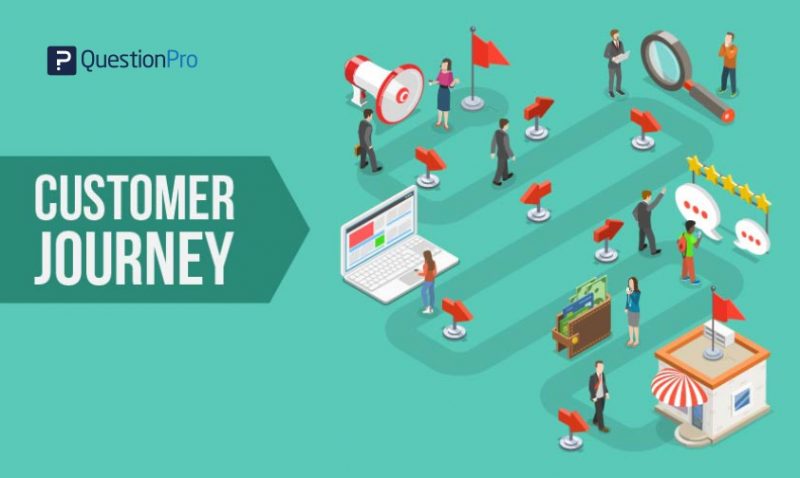 Customer Journey Definition
Customer journey is the collection of the entire experience a customer has while communicating with an organization or brand. A customer journey takes into consideration the complete interaction roadmap from discovering a particular brand to making a purchase to getting issues resolved by the customer care team, and not just the focussed interaction or transaction juncture.
Customers never tend to make immediate purchases but instead prefer knowing more about the brand they are interested in and then talking to some executives about it, doing competitor analysis and other such steps before going ahead with the purchase. Thus, it is safe to say that it takes more than just good products or customer service for customers to stay loyal to a brand or organization. It usually happens that organizations consider their products and services to be catering to various customer requirements when the actual scenario states that the customers prefer purchasing from their direct and indirect competitors.
This is where a customer journey map comes into the picture. Customer journey map is the ideal format to track areas of improvement and start making conscious efforts towards making the entire customer journey memorable. Keeping customers at the center of every business decision can help an organization to build a loyal customer database.
Customer Journey Stages
It is a fact that customers usually prefer doing their research about an organization before making a purchase. Based on this fact, there are various customer journey stages. The most primary customer journey model is classified into three stages: Awareness, Consideration, Conversion. This model is more suitable for the traditional and offline purchasing methods.
With the progress of digital platforms, there have been additions to these customer journey stages which are more critical to the customers who prefer purchasing products online. The two most critical additions are the Retention and Advocacy stages.
Awareness: In this stage, an organization tries every arrow in the quiver to spread general information related to their products and services, according to their target audience. For instance, a mobile phones brand should focus on spreading knowledge about their technology in general at this stage.
Consideration: This stage is where an organization will promote their products and services with all their might. Every marketing collateral and every sales interaction will be based on "Consider our products/services because …". It is where a content marketer strives to communicate and convince potential buyers to include them in the checklist of available alternatives. Usually, content marketers rely on market reports or product comparisons with the most sought-after players in the market.
Conversion: Every content in this stage will have a dedicated Call-to-action to prompt all the visitors to go ahead with the desired measures. This is where an organization can take the leeway to project themselves to be most suitable for a customer's requirements.
This call-to-action can either be signing up for the services, subscribing to the organization's mailing list or to make a purchase.
Previously, in the classic business interaction model, retention and advocacy stages were optional but with the increase in the number of online purchases, these two stages have gained as much importance as the other three stages.  
Retention: A loyal customer will bring an organization consistent business and will cost them a lot less than making efforts towards getting a new customer onboard. Organizations can provide customers a continuous flow of good content along with having a customer management team dedicatedly working on keeping customers happy.  
Advocacy: Most organizations acknowledge the contribution of word-of-mouth advocacy but a very few make committed efforts encourage customers to spread a word. Each and every customer must be encouraged to share reviews and opinions about their experience with a brand. But this process can prove to be expensive and time consuming for everyone involved. Instead, reaching out to influencers or guest bloggers can get an organization the word-of-mouth publicity that they intend to achieve.
How to Create a Customer Journey Map
There are six main steps to create an effective customer journey map.
1. Understand the target buyer's persona: An organization must define their ideal buyer's persona before they even think of customer journey mapping.
2. Acknowledge the target audience's intent: What does a buyer hope to achieve by interacting with a particular brand? What are their expectations? These questions need to be answered for a customer journey map to bring out desired results. Answers can be obtained by:
These methods can provide what a buyer expects from the organization and plans can be developed accordingly.
3. Note the touchpoints: Every time a new customers visits an organization's website or contacts a sales team member, it is advisable to map all the interaction points. These touchpoints will include interactions before, during and after a purchase has been made. The ideal manner to make this tedious step easy if an organization conducts the entire activity by keeping themselves in the customer's shoes.
An organization needs to understand:
Where did the customers obtain information about their website – Google search, social media or Google ads.

Which pages do most customers visit and what is the average time spent on each of the pages.

Did the customers enjoy shopping with the organization? Did they face any difficulties and how helpful was the customer service team?
4. Ask crucial questions: Once the first three steps are successfully carried out, it is essential to ask some questions such as:
Is my organization satisfying all the requirements of my target audience?

Which are the stages where customers often face problems and waste time?

Which website pages higher bounce rates than what is acceptable?
In case an organization is directly interacting with the customers:
How did you know about our organization?

What were your expectations from our organization's website?

Were your expectations satisfied?

What prompted you to make a purchase with our organization?
5. Make a list of priorities: There always are certain sections of customer interaction that are constantly proving to be setbacks for higher customer loyalty and need immediate attention. In this case, minimizing these factors will be of highest importance for any organization.
6. Put all ideas to paper: Most marketers prefer drawing the entire customer journey map on a whiteboard or maintaining a document on their laptops using online customer journey mapping tools.
Customer Journey Analysis
Understanding the organization from the customer's point of view can bring new ideas and opinions to the table. Customer journey analysis does exactly that – it analysis customer viewpoints about products and services to make appropriate changes according to keep the customers loyal to the brand.
Customer journey analysis is beneficial for all platforms where extensive customer interaction is involved, i.e., online or offline and every organization can make well-informed decisions on the basis of customer perspectives. Data received from customers must be acknowledged and implemented into improved marketing strategies.
There are three main stages of customer journey analysis – gathering accurate information, develop customer persona, analysis of customer interaction (abandoned and completed).
Here is how customer journey analysis is beneficial is gathering information:
It clearly defines all the customer interaction points.

Evaluates how a customer journey progresses from beginning to end.

Analyzes impact on customer loyalty and brand shareability according to all these customer interaction points.

Highlights those areas in a customer journey which have loopholes and are causing major waste of customer's time. This way, efforts can be made to improved customer experience and minimize the investment to keep customers satisfied.

Organizations can generalize the customer journey of similar audiences to make changes in the operations to keep these customers satisfied.