Customer Journey Definition
Customer journey is defined as the collection of the entire experience a customer has while communicating with an organization or brand. A customer journey takes into consideration the complete interaction roadmap from discovering a particular brand to making a purchase to getting issues resolved by the customer care team, and not just the focussed interaction or transaction juncture.
"Customers may forget what you said but they'll never forget how you made them feel."

Having awesome products, praiseworthy website or 24*7 customer service team can be desirable for most of the prospective customers but if they feel something questionable in the way you communicate, these customers may get easily distracted by the competitors. The customer journey helps you understand your business from the customers' viewpoint by monitoring every point of interaction in connection with the organization, product or service.

Customers never tend to make immediate purchases but instead prefer knowing more about the brand they are interested in and then talking to some executives about it, doing competitor analysis and other such steps before going ahead with the purchase. Thus, it is safe to say that it takes more than just good products or customer service for customers to stay loyal to a brand or organization. It usually happens that organizations consider their products and services to be catering to various customer requirements when the actual scenario states that the customers prefer purchasing from their direct and indirect competitors. A purchase made by the customer is the end result of an incredible customer experience that they've had at every stage, right from the beginning.

The customer journey is nothing but the collection of all the experiences that customers have at various touch-points with a particular organization or brand. The entire customer experience path is to be considered while evaluating the customer journey and not just specific sections of these business interactions.
This is where a customer journey map comes into the picture. Customer journey map is the ideal format to track areas of improvement and start making conscious efforts towards making the entire customer journey memorable. Keeping customers at the center of every business decision can help an organization to build a loyal customer database.
Learn more: Customer Satisfaction Surveys
Customer Journey Stages
It is a fact that customers usually prefer doing their research about an organization before making a purchase. Based on this fact, there are various customer journey stages. The most primary customer journey model is classified into three stages: Awareness, Consideration, Conversion. This model is more suitable for the traditional and offline purchasing methods.
With the progress of digital platforms, there have been additions to these customer journey stages which are more critical to the customers who prefer purchasing products online. The two most critical additions are the Retention and Advocacy stages.
Awareness: In this stage, an organization tries every arrow in the quiver to spread general information related to their products and services, according to their target audience. For instance, a mobile phones brand should focus on spreading knowledge about their technology in general at this stage.
Consideration: This stage is where an organization will promote their products and services with all their might. Every marketing collateral and every sales interaction will be based on "Consider our products/services because …". It is where a content marketer strives to communicate and convince potential buyers to include them in the checklist of available alternatives. Usually, content marketers rely on market research reports or product comparisons with the most sought-after players in the market.
Conversion: Every content in this stage will have a dedicated Call-to-action to prompt all the visitors to go ahead with the desired measures. This is where an organization can take the leeway to project themselves to be most suitable for a customer's requirements.
This call-to-action can either be signing up for the services, subscribing to the organization's mailing list or to make a purchase.
Previously, in the classic business interaction model, retention and advocacy stages were optional but with the increase in the number of online purchases, these two stages have gained as much importance as the other three stages. 
Retention: A loyal customer will bring an organization consistent business and will cost them a lot less than making efforts towards getting a new customer onboard. Organizations can provide customers a continuous flow of good content along with having a customer management team dedicatedly working on keeping customers happy.  
Advocacy: Most organizations acknowledge the contribution of word-of-mouth advocacy but a very few make committed efforts encourage customers to spread a word. Each and every customer must be encouraged to share reviews and opinions about their experience with a brand. But this process can prove to be expensive and time consuming for everyone involved. Instead, reaching out to influencers or guest bloggers can get an organization the word-of-mouth publicity that they intend to achieve.
Learn more: Net Promoter Score
Tips for conducting Customer Journey Mapping:
Know Your Customer Thoroughly
Many of our clients tell me about the need to have a 360-degree view of their customer journey so that they can truly understand the customer experience. I see more clients moving away from the quarterly or semi-annual ad hoc survey mindset to a place where they are keeping their fingers on the pulse of the customer experience on an ongoing basis. They want to understand how customers experience their brand at a variety of intersection points. This thorough approach pays off by giving them a real-time awareness of the changes. It allows them to adjust, correct, and even exploit opportunities related to business seasonality poses risks and opportunities as it relates to the customer experience.
Obtain a Comprehensive View
Businesses differ greatly and, thus, the customer journey looks quite different depending on the ways that your customers engage your brand. The customer journey typically starts even before they become your customer, when your prospects are learning about your offerings on your website, online review sites, or advertisements.
After this awareness and discovery stage, the customer journey is particularly intriguing during the purchase process. For instance, do you know what factors are most important to your customers that cause them to choose you over the competition? Are you aware of how your customers perceive your sales staff?
Then, after the purchase, businesses typically want to understand how their customers experience their products and services. At this, it's often helpful to understand the experience at different time periods after the purchase. Beyond that, businesses want to understand how their customers interact with their support representatives.
Your Customer Journey Map
This comprehensive, 360-degree view of the customer journey is a proven model for understanding how, when, and where your customers experience your brand. In order to have a successful customer experience program, you'll want to measure your customers' perception at a variety of intersection points over time.
Here are some of the common contexts where our clients measure their customer experience on an ongoing basis:
Onsite:  If your customers come to a physical location, like your restaurant, retail store, hotel, or the boarding area at an airport, then we recommend capturing feedback from them in the moment.
Email:  This is likely the most accepted methodology for reaching your customers. It's very easy to automate this process so that a closed ticket or sale in your system triggers an email to be sent out. We can show you how to do that so that you have an ongoing stream of valuable customer feedback.
Call Center: The context here is both for Telesales and Customer Care. After every customer interaction, you can capture feedback either by email, or via a phone-based survey.
In-App:  We have many clients who are very successful app makers, for both iPhone and Android. In fact, you've likely seen their ads on television. They want to understand the experience that their customers have while using their apps and, importantly, without leaving the app to do it.
Website:  Your prospects visit your website to consider becoming your customer. Once a customer, they continue to come back to your website for support and to access their account. Gathering feedback on your website is an important part of a holistic customer experience approach.
How to Create a Customer Journey Map?
There are six main steps to create an effective customer journey map.
1. Understand the target buyer's persona: An organization must define their ideal buyer's persona before they even think of customer journey mapping.
2. Acknowledge the target audience's intent: What does a buyer hope to achieve by interacting with a particular brand? What are their expectations? These questions need to be answered for a customer journey map to bring out desired results. Answers can be obtained by:
These methods can provide what a buyer expects from the organization and plans can be developed accordingly.
3. Note the touchpoints: Everytime a new customers visits an organization's website or contacts a sales team member, it is advisable to map all the interaction points. These touchpoints will include interactions before, during and after a purchase has been made. The ideal manner to make this tedious step easy if an organization conducts the entire activity by keeping themselves in the customer's shoes.
An organization needs to understand:
Where did the customers obtain information about their

website

– Google search, social media or Google ads.

Which pages do most customers visit and what is the average time spent on each of the pages.

Did the customers enjoy shopping with the organization? Did they face any difficulties and how helpful was the customer service team?
4. Ask crucial questions: Once the first three steps are successfully carried out, it is essential to ask some questions such as:
Is my organization satisfying all the requirements of my target audience?

Which are the stages where customers often face problems and waste time?

Which website pages higher bounce rates than what is acceptable?
In case an organization is directly interacting with the customers:
How did you know about our organization?

What were your expectations from our organization's website?

Were your expectations satisfied?

What prompted you to make a purchase with our organization?
Learn more: Survey Questions
5. Make a list of priorities: There always are certain sections of customer interaction that are constantly proving to be setbacks for higher customer loyalty and need immediate attention. In this case, minimizing these factors will be of highest importance for any organization.
6. Put all ideas to paper: Most marketers prefer drawing the entire customer journey map on a whiteboard or maintaining a document on their laptops using online customer journey mapping tools.
Customer Journey Analysis
Understanding the organization from the customer's point of view can bring new ideas and opinions to the table. Customer journey analysis does exactly that – it analysis customer viewpoints about products and services to make appropriate changes according to keep the customers loyal to the brand.
Customer journey analysis is beneficial for all platforms where extensive customer interaction is involved, i.e., online or offline and every organization can make well-informed decisions on the basis of customer perspectives. Data collected from customers must be acknowledged and implemented into improved marketing strategies.
There are three main stages of customer journey analysis – gathering accurate information, develop customer persona, analysis of customer interaction (abandoned and completed).
Here is how customer journey analysis is beneficial is gathering information:
It clearly defines all the customer interaction points.

Evaluates how a customer journey progresses from beginning to end.

Analyzes impact on

customer loyalty

and

brand shareability

according to all these customer interaction points.

Highlights those areas in a customer journey which have loopholes and are causing major waste of customer's time. This way, efforts can be made to improved customer experience and minimize the investment to keep customers satisfied.

Organizations can generalize the customer journey of similar audiences to make changes in the operations to keep these customers satisfied.
What is Customer Journey Mapping Framework?
Before you start working with the customer journey mapping framework, it's essential to understand that it all starts with knowing your customer intimately. This deep level of customer comprehension means that you must understand your customer's experience with your brand, people, and product or service. This is where customer personas and customer segmentation will aid you. Once you know what your customer sees, feels, hears and touches at every interaction, you have the foundation to begin mapping your customer journey.
Learn more: Demographic Segmentation
Starbucks does a remarkable job by mastering the concept of customer intimacy. It has a calculated journey of what the experience will be like right when the customer steps foot through the door. Take a moment, close your eyes and think about your experience right when you enter. The first thing that stimulates your olfactory sensors is the rich and pleasant aroma of roasted coffee beans. As you walk toward the smiling barista, you feel the warmth and coziness around you while you hear the muffled chit-chat disappear into the tranquil background music. When you're handed your cup of joe, you see your name handwritten by one of the friendly baristas. If you're a regular, your barista knows you by name and your exact order. And this is just the beginning of the Starbucks experience.

People generally do not remember the product that initially attracted them to the storefront or website. This coffee giant doesn't just sell a product. It sells what people are best at remembering – the experience. By packaging the product with the unforgettable experience, the company not only retains the most loyal customers, they are able to charge up to 10x more what a competitor could. Starbucks is one of the handful of companies who clearly understands customer experience and infuses that into the core of their business strategy.
A customer journey includes a string of events that can happen before, during, and after your customer interacts with your product or service. Journeys vary across various channels and touchpoints that can last anywhere from several days to weeks. The simplest way to get started is to create a timeline. Next, using your customer knowledge, fill in what's happening with your customer at each stage of your timeline. Customer journey mapping framework includes the following alongside the timeline:
Actions: What is your customer doing? What are key actions that a customer takes to move forward to the next stage? What are the completed actions that a customer who doesn't move to the next stage?
Motivations: What drives the customer to proceed to the next stage? What is the goal? Are they trying to solve a problem? What are they feeling?
Questions: What are the customer's uncertainties? Are they looking for something specific? Are they confused? Identify which stage customers have the most questions and quickly address it.
Pain Points: What kinds of obstacles are preventing your customer from moving onto the next stage? Is it the process? Price? What else can you think of and measure?
You can make assumptions, but what will be most effective is your customer data. There are multiple ways to collect customer data, and it is never too late to start. If you don't have it yet, start by conducting interviews and observations. If you already have existing data, be sure to open up an interaction at every touchpoint and include questions that you can draw sentiment, motivations, and frustrations from your customer.

Start by connecting your customer data to the framework above. Putting yourself in the shoes of your customer is the first step to identifying bottlenecks that frustrate your customer.
Learn more: Voice of Customer Surveys
Improve your Customer Experience with Customer Journey Templates
Customers expect every exchange with a brand to be seamless from the initial touchpoint to the post-purchase. Understanding the interactions at each touchpoint will help you not only satisfy and exceed your customer's needs, but also helps to improve the efficiency of your business.
"Customer-centric companies are 60% more profitable than those not focused on the customer" – Deloitte and Touche
There are extraordinary business benefits when you map your customer journey template:
Helps your business operate more customer-centric, giving you a data-driven perspective;

Enables you to discover customer needs at each buying stage;

Reveals the gaps between the desired customer experience and the actual outcome;




Identify silo's within your business; and

Prioritizes new business features or developments, maximizing its effectiveness.
Learn more: Data analysis using Conjoint analysis
The goal of customer journey mapping

A customer journey map takes many forms, but there is a common goal: to identify key interactions that a customer has with an organization. It showcases the user's feelings, goals, questions, and pain points at each touchpoint. This helps bridge the gap to get more intimate with your customer. Each customer journey map should identify a customer persona and the activities within each stage.

At first glance, the map may look simple. Once you begin the customer journey mapping process, you will find that it is fairly complex and will vary for each customer segment. For example, if you have an e-commerce business, your customers will have a myriad of initial touchpoints. He or she may come through an email marketing campaign, search, social media, customer service support, or from a referral. Your customers will also have specific needs. For example, a customer coming in through a promotional email marketing campaign will likely be looking for something different than a customer coming in from social media.



Mapping the customer journey
To begin, have the timeline and documentation of the customer experience ready. The documentation should include specific information such as channels, statistics (or other data points), customer goal at each stage, barriers, and even a responsible team at each touchpoint. Put yourself in your customer's shoes and think about before, during, and after the purchase.

Let's say you own a Shopify store that sells customized pet products. A customer, Christine, is interested in buying a "customized dog squeak toy" to feature on her website. Christine's first action is to do a search on Google. A number of products come up, including one of yours. At this point, Christine is probably comparing product offerings (or features) and seeking out further information from several businesses. As she explores your website and products, she will begin forming perceptions and questions in mind as she browses the catalog.

Christine eventually finds the product she is interested in, but she still has a few questions before she is ready to make the purchase. She explores your website decides to contact support and finds an email. Before sending an email, she checks Facebook and Twitter for any information that may help her solve her question. She decides to send a Tweet, asking for help and a response was returned promptly. Christine is satisfied with the swift support and proceeds to purchasing a few products.

The journey doesn't end there, but it's important to first understand the origination of your customer's journey. Examine the emotions at each touchpoint and rate the experiences. Is it positive or negative? Begin to connect the dots and identify which gaps are falling short of your customer's expectations. This exercise will help you formulate and decipher where you can have the greatest impact on improving the experience.

Mapping the Customer Journey Template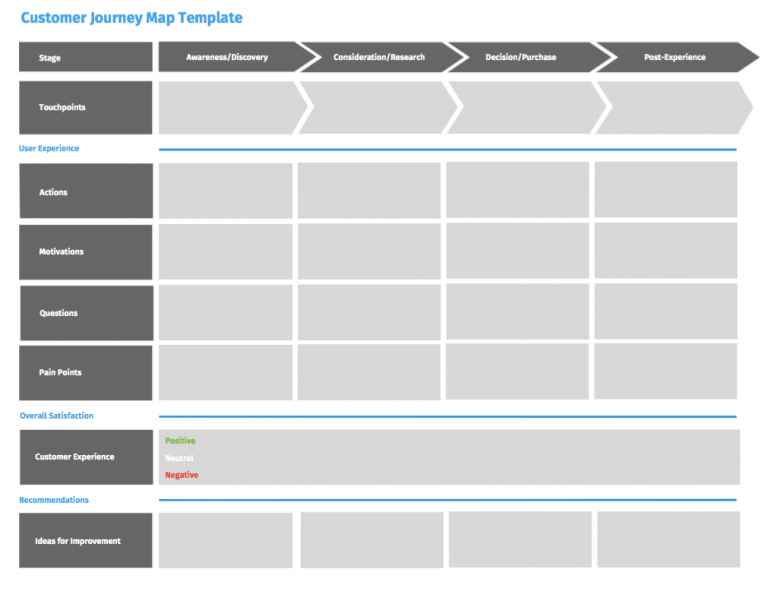 Leverage Your Customer Satisfaction Data
Include your customer satisfaction scores as you map out your customer journey template to get a holistic view of your customer's experience. This additional set of data will help reinforce any assumptions or gaps. For example, if your customer rates a CSAT score of 3 at his/her point of purchase, and gives a score of 8 post-purchase, you will immediately spot that the point of purchase requires attention.

After this process, you'll be able to put yourself in the shoes of your customer and identify crucial touchpoints. You will unravel the customer experience from start to end of the journey and identify the bottlenecks that prevent your customer from his or her desired outcomes.
Benefits of Customer Journey Mapping
Customer journey mapping is one of the most effective methods to understand a customer's path through their own eyes.

Better understanding of customer emotions:
Observing the ease with which the respondents switch from one touch point to the other, in other words, how easily do they get their queries resolved via live chat and go ahead to rate their experience or how quickly do they land from social media to one of your blog pages etc. will be vital in understanding what the customers feel at each and every touch-point with an organization.

Knowing how the customers feel can be used to make improvements in the way the organization functions by eliminating the points that bring annoyance to them.

Analyze the stumbling blocks in products/services:
Customer journey mapping will give an organization an intensive idea about what they lack in their communicational operations with the customers. For instance, if your support staff is undermanned, you may come across a lot of customers who aren't receiving help in time and are very angered by that. Analyzing customer hindrances like these and by constant improvements, the business grows by leaps and bounds.

Improve employee and customer satisfaction:
By continuously working on the customer disappointments and making improvements, you can increase the customer satisfaction levels. According to a reliable source, it was reported that there was 25% increase in compliments on social media after customer journey was mapped. As the issues with customers keep getting resolved, the confidence levels among the employees also increase and this leads to improved employee satisfaction as well.

Create a united team:
To develop consistently amazing customer experiences, harmony between the different teams in an organization such as marketing, sales, customer service etc. is a prerequisite. Teams that work like a well-oiled machine will definitely help in improving customer experiences that can be achieved by studying the customer journey.

Develop opportunities for improving customer satisfaction:
Evaluating every step that's causing trouble for the customers by mapping customer journey can open create new avenues for the business. Resolve these pain points by generating new content on the website or improving brand engagement.