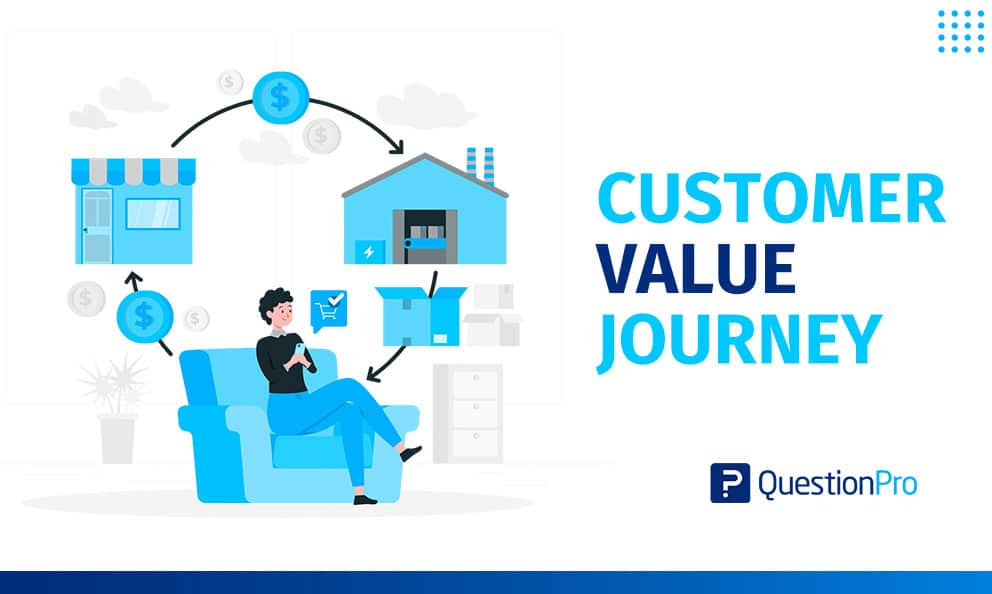 Getting to know your audience and customers to understand their behavior is an essential part of a marketing and business strategy. Today we will talk about a very useful tool for this purpose, the Customer Value Journey.
These types of tools will allow you to get to know your target audience in more detail and understand them better in order to provide them with excellent customer service and delight them with your products, services or simply with the treatment they receive.
LEARN ABOUT: Service Recovery
What is Customer Value Journey?
A Customer Value Journey is a visual representation of a prospect's journey with the solutions you offer and how they progress to becoming a high-value customer.
If you're reading this and you have a bit of experience in the world of Customer Experience, you'd probably be wondering "Hey, what is the difference between a Customer Value Journey and a common Customer Journey? The answer, while subtle, is very clear.
It usually gives priority to a successful relationship with customers. The latter involves much more than just the amount of sales that the customer represents or if they reach a certain level within our marketing funnel.
LEARN ABOUT: Time to Value
Unlike customer journey, customer value journey is made up of many more stages that allow timely monitoring of very important touchpoints in the relationship between your customer and your brand. The stages help to reach more advanced levels to the point of making each customer become a promoter of your brand.
If you're interested in this article, you can read more about a guide on how to build your own Customer Journey Map.
The 8 Stages of a Customer Value Journey
A customer value journey usually has 8 defined steps that allow you to identify and learn in depth the relationship that a prospect will have from start to finish with your company and the solutions you offer.
The 8 steps of a customer value journey are:
Awareness

Engagement

Subscription

Conversion

Excitement

Growth

Advocate

Promote
Benefits of implementing a customer value journey in your strategy
Adding on the use of a Customer Value Journey as part of your toolbox will bring many benefits for your company and the goals you set for yourself.
Some of the benefits you will find are:
Word-of-Mouth Advertising:
There is no better marketing than the opinion of other people, multiple studies confirm this. Having a focus on it will allow you to include it as an important metric and give customers a place to be promoters of your brand. By identifying the path followed to reach that level of engagement, it will be possible to replicate it over and over again, iterating the process until it becomes a machine of loyal and happy customers.
Greater Customer Lifetime Value:
To obtain value from your customers you have to provide them with value. Implementing a Customer Journey Value in conjunction with other customer experience strategies will decrease the customer churn of your portfolio and increase the Customer Lifetime Value.
Upsales:
Apart from using neuroselling, Increasing your sales numbers is easy if you build a solid relationship with your customers. That's why customer value journey mapping will be a critical tool to have better connection with your customers. Identifying the key touchpoints that influence the growth of the value of your portfolio will allow you to take actions that allow this type of growth to be more frequent and effective.
Allies:
A bridge customer becoming more than just a user of your products or services, can be an ally on your way to success. A happy customer with whom you have a close relationship will allow you to implement joint marketing strategies that will allow you to reach more people. All thanks to the constant monitoring of the path of your high-value customers.
Valuable data:
If you combine this map with some research methodology, the data you will be able to obtain will be of very high value and you will be able to make business decisions based on real data that are directly linked to your most favorable results, this will allow you to improve your margins. Here we will tell you a little more about it.
Learn how to create your customer journey canvas and download our template.
How to get the most out of your Customer Value Journey
With QuestionPro you can take your customer value journey to another level. We have tools that will allow you to evaluate each step of your customers' journey automatically, all the data you collect will be easily analyzed thanks to our advanced data analysis suite.
You will also find other tools that will allow you to understand better your most loyal customers, such as our Customer Promoter Amplification to make it easier for your customers to share their positive experiences.
On the other hand, you can also make use of our Detractor Recovery feature to avoid a negative impact from customers who have not had a good experience. You will be able to evaluate what happened and make corrections to improve the relationship with your clients and avoid possible similar events.
Are you interested in knowing a little more about QuestionPro CX? We will be happy to chat with you and get to know your project in depth. Let's connect!