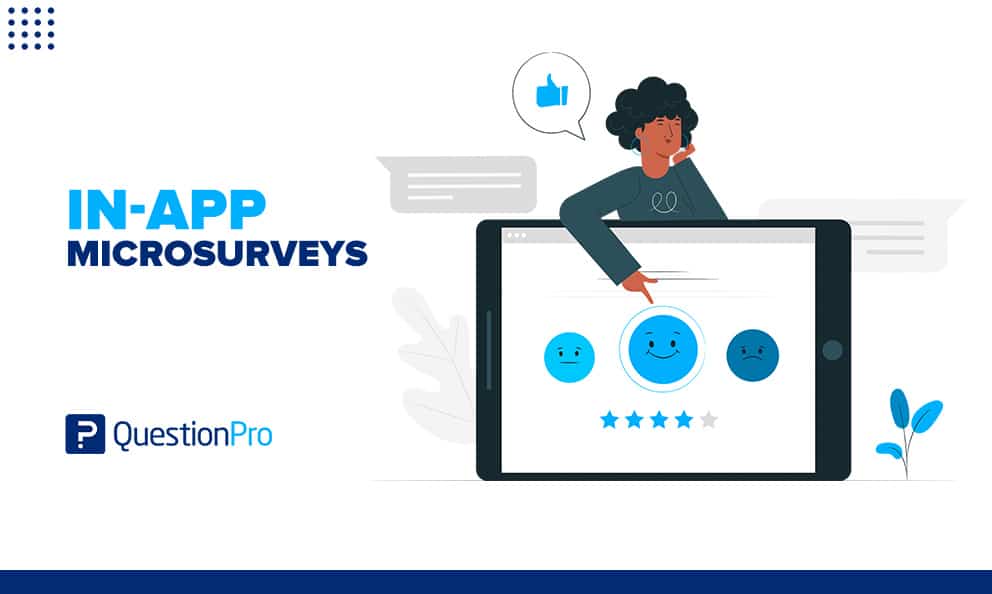 People won't do a lengthy survey unless they have a significant opinion about the product and plenty of time. When they see "Question 1 of 25" in any survey, they click "Click Here to Take a Survey." So, how do product managers find out what users think? Microsurveys are more likely to get a response since they are short and to the point. By putting in-app microsurveys, you can get the right people's attention at the right time.
In-app microsurveys are shorter, more contextually relevant, and more real-time than traditional full-length surveys. Instead of directing you to a third-party survey service, they ask for customer feedback while actively using your app.
Suppose you're thinking about utilizing an in-app microsurvey to get feedback. In that case, you need to understand what it is, the advantages of using this kind of survey, and examples of practical issues. In this blog, we have it explained.
What are in-app microsurveys?
Bigger isn't always better, especially in some situations. Traditional surveys are great, but microsurveys are even better because they focus on the here and now of specific customer situations.
In-app microsurveys are just what they sound. It's the same as a regular survey, but it's shorter. It is a survey in the app. There is usually only one question on each screen, so it doesn't take more than a few seconds or minutes to finish.
In-app surveys can be used to reach the right people, get a lot of responses, let you add contextual data, and do a lot more.
Benefits of Conducting in-app microsurveys
There are many good reasons to add survey questionnaires to your business's mobile app using an in-app microsurvey. Let's talk about them:
Getting real-time feedback.
Email or SMS surveys are done after clients make a purchase survey. But there's no assurance they'll read their mailbox and complete the feedback survey. And when they do the survey later, the event isn't so current, which might alter the comments.
An in-app microsurvey displays as a popup or box on the app while the user enjoys a feature or completes a transaction. Customers are more likely to complete the survey and would provide trustworthy feedback from actual encounters.
Get specific feedback from your target audience.
It's useless to ask users or consumers unnecessary questions if they haven't experienced a specific experience. This upsets responders and affects survey data.
Microsurvey feedback overcomes this issue since it's prompted by the user's engagement with the app. A consumer who cancels a subscription may provide the reason on the cancellation page's feedback form. Microsurveys help gets input from specific audiences at the moment of encounter.
Frequently obtain customer feedback.
Customers often don't share little remarks. These minor encounters add up until they transfer to an opposing company.
Microsurvey forms gather client opinions at various touchpoints. When a user activates a new app feature, you may trigger an in-app microsurvey. This offers input. You may also invite them to provide a proposal or unique challenge.
Gather data from your busy respondents.
Your target audience has little time for long questionnaires. They'd click through a few questions and be done.
Microsurvey forms efficiently capture consumer feedback without interrupting their day. Being able to share comments immediately would enhance their likelihood of doing the short survey, which leads to the following advantages:
An increase in the number of responses from customers.

It helps target specific clients and raise the appropriate queries at the correct time.

Thanks to surveys, concentrating on a product plan and making wiser resource allocation decisions gets easier.

Increase retention rates by being aware of the problems encountered by various users.

Allows conducting pre-launch market analysis. Learn more about how to use apps and their specific features.
Utilize In-App Microsurvey Forms to Gather More Feedback.
Most of the time, there are more responses to in-app microsurveys than other kinds of surveys because they are quick and easy to fill out. So, you can get a lot of feedback, making it more accurate and reliable.
To clarify, if you have a response rate of 20% from 1000 people and a large sample of 10,000 people, the feedback from the large model would be more accurate.
When you implement an in-app microsurvey properly, you can gather all the essential data in a few clicks and get accurate, actionable insights.
Use Cases of In-app microsurveys
You can find out who is using your product and why with the help of a use case or in-app microsurvey. These can appear on a welcome screen or while you're signing up.
Depending on customer behavior, a micro survey may be conducted. When you make a given sale, you receive a micro-survey. Depending on your research, you may include a mini-survey in every email, push, or SMS.
User case 1
Microsurveys can get client input on certain aspects of your product or the whole product more broadly. It helps you identify ways to enhance customer satisfaction and boost the value of your offering.
It is a quick and easy way to gather comments on a certain product page.
User case 2
NPS is one of the most common customer sentiment surveys in SaaS. Net Promoter Score(NPS) surveys measure customer loyalty—how consumers feel about your product.
CES assesses how simple it is for a user to utilize a feature or do anything in your product, helping you uncover sources of friction.
CSAT (customer satisfaction score) is a more specialized survey asking for product features or assistance comments.
PMF allows you to adapt to market demands. How dissatisfied would you be if you couldn't utilize this product? It defines that ratio. 
User case 3
SaaS products are never done. Customers want you to introduce new features.
Microsurveys may help you make data-driven product development choices and expand your product.
You may build a product feature request survey asking users what they are lacking and attempting to accomplish. Still, it's vital to obtain consumer feedback on the new feature.
Conclusion
So, we talked about what in-app microsurveys are and why you might want to use them.
When it comes to in-app surveys, the shorter and more specific they are, the better. To keep users and not take away from their experience in the app, you should run short surveys and continue to do so when necessary. As a recommended practice, each in-app survey should only have 1-2 questions.
Always keep in mind that the user's experience is essential. QuestionPro can quickly collect real-time information on employee and client opinions.