Using the QuestionPro mobile app - QuestionPro
QuestionPro App Offline Surveys: With the QuestionPro app, you can conduct these surveys on Apple and Android devices, even when offline. The data is collected and stored on the device and is synced with your QuestionPro account whenever online connectivity is available. The QuestionPro mobile app is available on following platforms:
| | |
| --- | --- |
| OS | Devices |
| iOS | iOS 8.0 and above |
| Android | 4.2 and above |
What is a Username/Key? How can I generate a username/key?
To access QuestionPro App – Offline mode from your tablet or smartphone, you will need a unique Username/Key. This username/key is required to integrate your account surveys with the device and helps with synchronization of data. To generate a username/key go to:

My Surveys » Mobile tab

You will find your username/key under QuestionPro App™ Device Registration , User name/Key
Each username/key is unique and can only be used once to register a device. Once registered, it will not be usable on any other device. You will require a new username/key for each device. If you wish to use multiple devices for data collection, you can purchase a separate username/key for each device. Contact: sales@questionpro.com for bulk username/key pricing.
How can I analyze data collected based on the Username/Key?
When respondent answers the survey on a mobile device, the username/key is stored along with the response as Custom Variable 1. This data is available with all data downloads. You can analyze data based on Custom Variable 1 which is the Username/Key.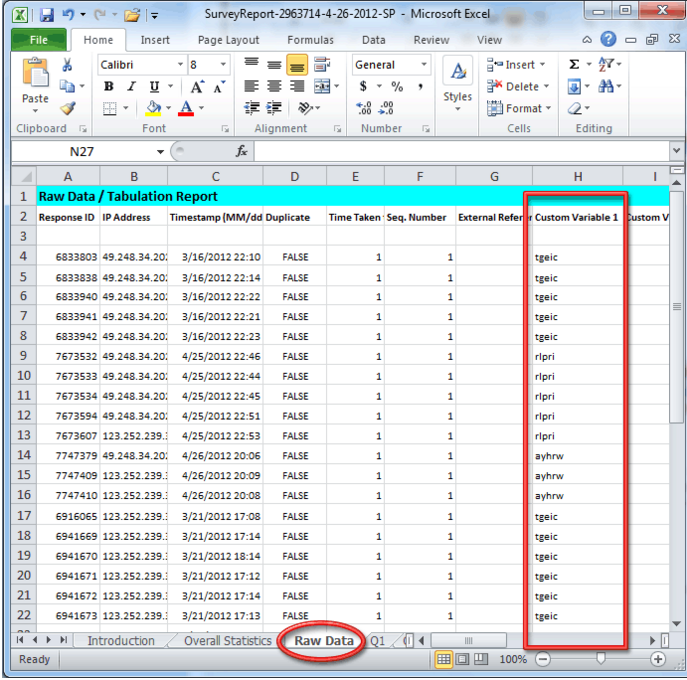 System Variable Based Grouping / Data Segmentation can also be used to analyze data based on the Username/Key. Username/Key for each response is stored in Custom Variable 1. You can set up grouping / data segmentation based on Custom Variable 1 to analyze responses based on the Username/Key. For more information see the help files for System Variable Based Grouping and for Data Segmentation.

Note: Since the username/key gets stored in the custom variable 1, please DO NOT make use of custom 1 variable within the survey in branching logic or in custom script/javascript.