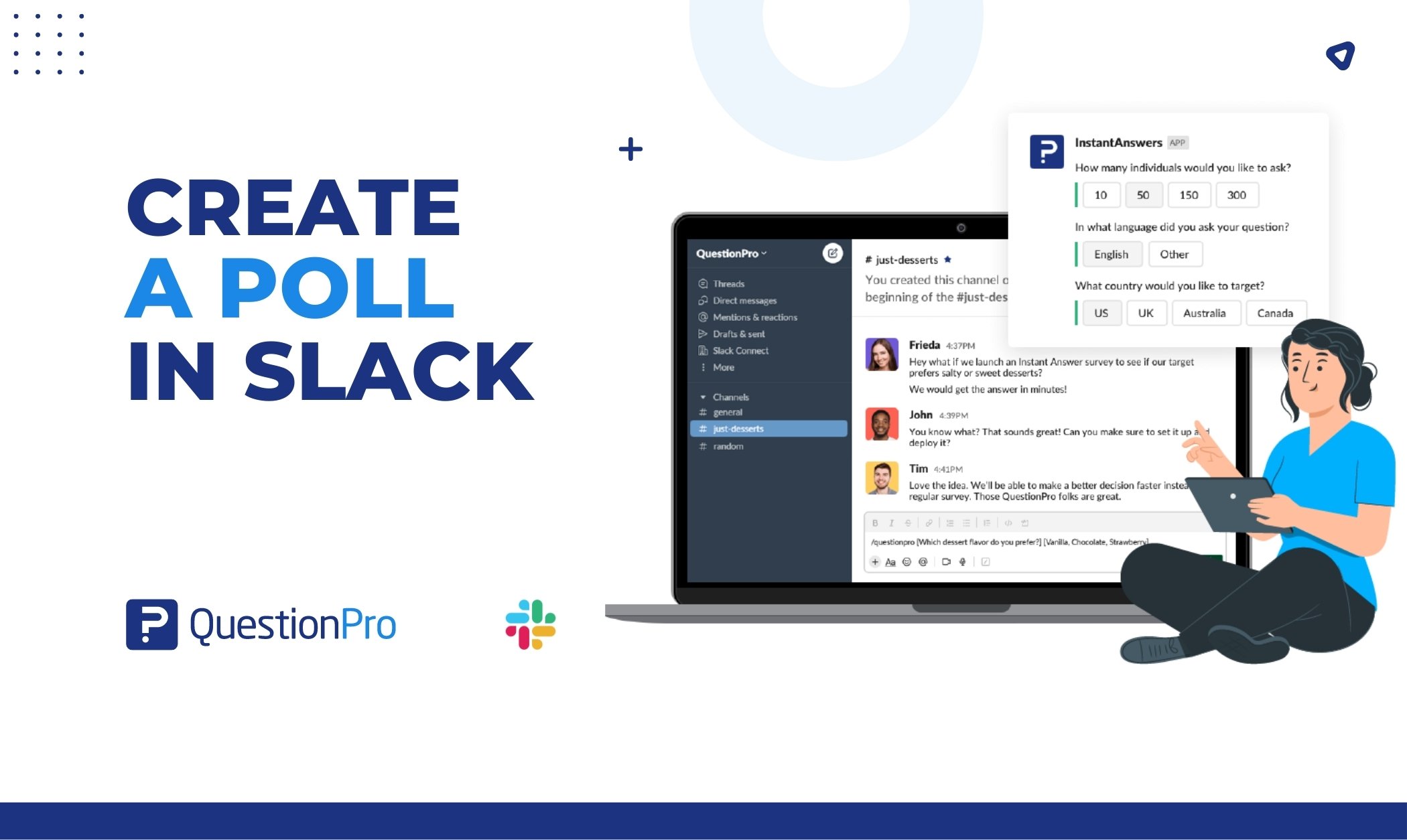 Create a Poll on Slack and take the first step toward getting rapid and accurate input from your team! You can instantly build a poll and receive real-time responses from your audience with only a few clicks. If you want to get quick and easy input from your team, this can be a great way to do it.
Creating a poll on Slack may be an excellent way to engage your audience and encourage participation, whether you want to make a group decision, collect input on a new idea, or simply have some fun with your colleagues.
In this article, we'll show you how to create a Poll on Slack using QuestionPro Instant Answer so you can start receiving feedback from your team immediately. So, let's get things started!
What is a Poll in Slack?
A poll in Slack enables users to build a survey or questionnaire inside of a Slack channel to get ideas or feedback from team members. Multiple-choice questions, open-ended comments, and anonymous voting are some of the features that can be included in the poll.
Teams may streamline communication, quickly and effectively get feedback from their members, and make better decisions by using polls on Slack. In Slack, polls can be used for a range of tasks, such as getting feedback on a project, casting votes, or coming up with ideas. Team members can take part in the poll by selecting their preferred response after it has been made, and the results are shown in real-time.
Although Slack doesn't have a polling feature, there are ways to construct a poll and collect responses from Slack users. But first, it's important to learn more about what Slack surveys offer.
Purposes of Creating a Poll in Slack?
A Slack poll is a fantastic tool for various activities. It can be used as an onboarding survey as well as an exit survey. You may virtually set any topic you wish to know what people think about. Creating a poll in Slack can serve various purposes for teams and organizations. However, in general, you can utilize the Slack poll for the following purposes:
Polls can be used to collect team member feedback on specific projects, initiatives, or proposals. This feedback may assist decision-making, increase engagement, and improve overall performance.
Polls can be used to vote on a range of issues, such as which project to prioritize, which product feature to add, or which vendor to select. This allows teams to make more informed decisions while also ensuring that everyone has a part in the outcome.
Polls can be used to create fresh ideas and solutions. Teams can quickly find the most popular and realistic solutions by generating a poll that allows team members to submit their own ideas or vote on the ideas of others.
Polls can help improve communication by providing a central location for feedback and debate. This can eliminate the need for lengthy email chains or meetings while also ensuring that everyone is on the same page.
A Slack poll allows the team to share their thoughts on anything without being interrupted. In addition, you can schedule and carry out interviews to gather feedback. As a consequence, rather than sending a Slack message to participants, you may select from many poll options and execute polls easily.
There are specific methods for creating a poll on Slack and receiving poll results to aid in decision-making. Let's look at how to create a poll in Slack now. First, you must install or integrate the available polling app with Slack.
How to Install Integrations to Create a Poll in Slack?
Slack does not provide a polling feature. Fortunately, Slack Integrations can be added. These integrations are comparable to programs and may be downloaded from the Slack website.
Adding integration to a workspace through the browser automatically integrates with all phone/tablet and desktop apps. This section will walk you through the process of integrating the QuestionPro InstantAnswers polling apps into your Slack workspace.
Follow these steps to install QuestionPro InstantAnswers in Slack:
Search for "QuestionPro InstantAnswers" in the Slack App Directory or the QuestionPro InstantAnswers page in the Slack App Directory.
Select the "Add to Slack" option.
Select the Slack workspace and channel where you want to integrate.
Review the permissions that QuestionPro InstantAnswers has asked for and click "Authorize."
Once you've been approved, you may begin utilizing QuestionPro InstantAnswers in your Slack channel.
That's all! You have now installed and approved QuestionPro InstantAnswers in Slack, and you can begin creating polls and surveys straight within your Slack channel.
How to create a poll in Slack?
Follow these steps to create a poll in Slack using QuestionPro InstantAnswers:
Open the Slack channel where you want the poll to be created.
To open the QuestionPro InstantAnswers dialog box, type "/questionpro" in the message field.
Select a Survey Name, Questions, and Question Types such as multiple-choice, answer options, audience, and location.
Click "Submit Question" to get your poll published in the Slack channel.
Your team members can immediately react to the poll by selecting their preferred answer option within the Slack channel. The poll results will be shown in real-time, allowing you to make informed choices, get feedback, and develop new ideas.
That's all! You have now created a poll in Slack with QuestionPro InstantAnswers.
Conclusion
Don't ever forget how important it is to have the poll choice. Polls can be fun for your team at work but can also be very important. For example, instead of wasting time going around and asking everyone what they want for lunch, you could just send your coworkers a poll and make it easier to decide.
On the other hand, interviews can be used to find out what people think about things like product management. If you can't decide how to run a project, make a poll and let your coworkers vote. On the other hand, you can use polls to find out how happy your team is with their work, pay, job, or company.
You can get quick feedback by answering questions and getting the data you need to make business decisions right away, all through Slack. No more polls that take forever to fill out or other old ways of getting information. Get opinions from your team members in real-time.
QuestionPro InstantAnswers is a faster way to get the same information that long surveys try to get when linked with Slack. Ask important questions, and you'll get answers right away, generally within an hour.