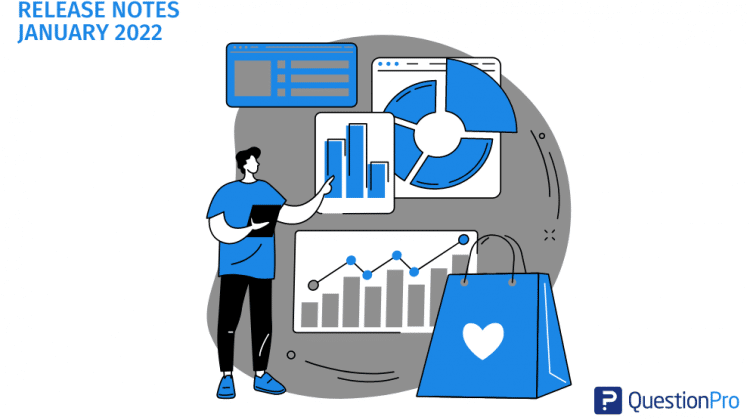 At QuestionPro, we believe in continuous improvement and innovation to offer products that cater to the evolving needs of the world of research. Our team is constantly striving to ensure you get the insights you need to provide the best products and services, here we are with a list of all the new features and enhancements released this month.
Research & Insights
Surveys:
Enhancements
Bugs and other enhancements
EC-1649: Fixed performance issues with getting the user API endpoint
EC-1652: Fixed issue with adding questions on CA DC
EC-1633: Fixed annoyance with downloading the language import template for surveys
SA-10197: Fixed performance issues with translations import.
SA-10184: Fixed delay experienced while selecting questions present under Question Library
SA-10724:Fixed log pop-up not opening for 'Thumbs Up/ Down" question type.


Communities
Enhancements
Bugs and other enhancements
CM-2900: Fixed non-responsive member count not getting updated.
CM-2925: Fixed the issue unable to see more than 5 campaigns while posting an idea on Ideaboard.
CM-2942: Fixed the date on the event module is displayed in the incorrect format.


Workforce
Bugs and other enhancements:
WF-2991: Update UX for Multilingual Language take survey screen.
WF-3000: API changes for Empower and XA integration.
WF-3004: Fixed 'Oops Error' when new users accessed the workforce platform for the first time.
WF-3017: Fixed UI issue with active/closed survey option.
WF-2478: Fixed the issue with survey comparison – Mappings are not dynamically saved.
WF-3008: Fixed homepage UX issues.

Customer Experience
Enhancements
Bugs and other enhancements
CX-2393: Fixed UX issues in NPS widget.
CX-2427: Fixed issue with weekly push metrics reports.
CX-2429: Fixed intercept not triggering correctly.
CX-2404: Fixed tracker widget not working properly.
CX-2183: Fixed bubble not appearing in the sentiment analysis widget.
CX-2396: Fixed unable to change the sender address.
CX-2405: Fixed unable to change the sender name.
CX-2416: Fixed UX – Trend widget response colors consistency.
CX-2362: Fixed raw data vs dashboard widget response count issue.

CX Reputation
Enhancements
Bugs and other Enhancements
Fixed the reply filter on the review screen showing the incorrect results.
Fixed color changes for sub-categories in the Sentiment Analysis report.
Fixed the sorting functionality on the review screen is not working.
Fixed sentiment positive ratio returns an incorrect percentage.
Fixed rating filter issue at edit notification form.
Fixed sentiment widgets and location filters are not displayed if the account has no integrations installed.
Fixed the type filter shows blank options while creating a notification.


Hope these features and enhancements will help you advance your research while ensuring the best experience for your audience, customers, and employees.
If you have any ideas, questions, or feedback, please send them to us at [email protected]