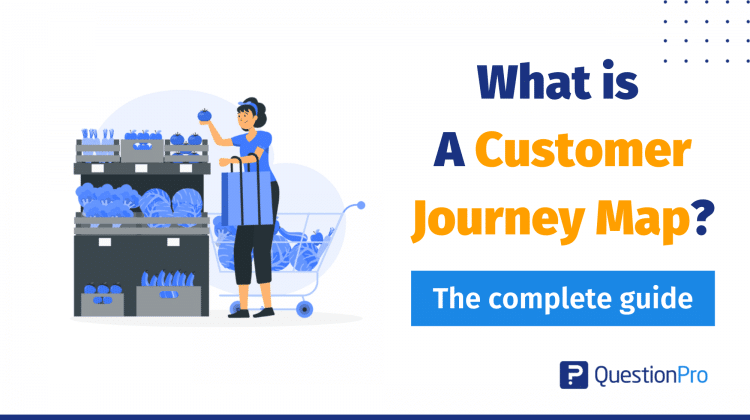 Businesses need to be aware of their target market to provide the best possible customer journey. The customer journey mapping touchpoints should be as general as possible to create and retain the greatest number of repeat consumers.
At times, the process of figuring out what your customers want, what problems they have, and how they interact with your business can feel overwhelming and unnecessary.
LEARN ABOUT: Time to Value
In this blog post, we'll explain why a customer journey map is important and how to create one. This will help you build trust, engagement, and loyalty with new and returning customers or clients. To begin, let's define what the customer journey and customer journey map are.
LEARN ABOUT: Client Management
What is a Customer Journey

?
A customer journey refers to the entire set of experiences that a customer goes through when interacting with a business or brand, from initial awareness to post-purchase interactions. It encompasses all customer touchpoints and interactions with the industry, including marketing, sales, customer service, customer feedback, and support.
A customer journey is the series of interactions and experiences that a customer goes through when engaging with a company or brand.
This can include everything from initial awareness of a product or service, to research, purchase, and post-purchase engagement.
The customer journey is often visualized as a customer journey map or flowchart, with different stages and customer touchpoints along the way. Understanding the customer journey is important for businesses as it allows them to identify areas for improvement and optimize the overall customer experience.
What is Customer Journey Mapping?
A customer journey mapping visualizes the steps a customer takes as they interact with a company or organization to achieve a specific goal. It is a tool used to help businesses understand their customers' experiences and identify areas where they can improve those experiences.
The journey mapping is also known as a customer experience map or customer service map. Creating a customer journey map allows businesses to see their customers' experience from their customers' point of view, allowing them to make adjustments that will increase customer happiness and loyalty.
Check out the following video if you want to learn what is the framework and the goals when creating a customer journey map.
Benefits of Customer Journey Map

ping
Customer journey mapping enables businesses to comprehend the viewpoint and experiences of the customer throughout their interactions with the brand. It may offer insights into areas for customer experience improvement and pain points. Creating a customer journey map has major benefits, such as:
Enhancing customer satisfaction

:

Businesses can find ways to improve the customer experience by understanding the customer's needs and emotions at each stage of the journey. This will lead to more satisfied and loyal customers.

Increasing revenue:

Businesses can find ways to improve the customer experience by understanding the customer's needs and emotions at each stage of the customer journey. This will lead to more satisfied and loyal customers.

Improving marketing and sales efforts:

Businesses can increase their conversion rates and boost their income by finding and fixing pain points in the customer journey.

Reducing customer churn:

Businesses can reduce customer churn and improve customer retention by pinpointing and fixing the weak spots in the customer experience.

Improving operational efficiency:

Businesses can discover and eliminate bottlenecks and inefficiencies in their operations by understanding the customer journey, which leads to cost savings.

Improving customer understanding:

A customer journey map can provide a comprehensive view of the customer's demands, which can be used to guide product development and service design.
It is important to remember that customer journey mapping is a continuous process that should be examined and modified regularly as customer demands and corporate objectives change.
LEARN ABOUT: Customer Experience vs. Customer Service
Starting from scratch: Build your Customer Journey Map
A customer journey map that converts prospects to loyal customers starts with a stellar strategy. Follow these five steps to make sure your customers get the most relevant products and resources for their needs with a user experience that will bring them back for more.

Understand what you have to offer and who benefits from it
Every member of your team should know how to communicate the benefits of your offerings. You can't share something as effectively when you don't know what it is! Likewise, you need to know who your ideal customer is. Ask yourself, "Who needs this solution the most?" This is a good opportunity to leverage easy online surveys that reveal your target demographic, their primary needs related to your offerings, and any other considerations you need to make to attract prospective customers.
Create personas of your ideal customers
Once you have a general idea of who your ideal customers are, create a few buyer personas to give these customers a name and a face. When you have a well-developed sense of who to include in your key demographic, you'll have a more nuanced understanding of the variations that will take place in their customer journeys.
For example, you may discover that your reusable water bottles will solve problems for athletes of all ages, sustainability-conscious millennials, and adults with limited mobility. Avoid broadening your market too much, because that can take focus and efficiency away from your marketing tactics. Create a customer persona for each of these groups within your target market, accounting for these imagined but realistic variables.
Create a persona for each of these groups within your target market, accounting for these imagined but realistic variables:
Gender

Age

Economic status/income range

Occupation

Interests and hobbies

Main sources of media and information

Daily habits

Consistent pain points

Favored brands and products

Spending habits

Any details specific to your industry or offerings
While the general stops on their customer journey maps will be similar, each persona's specific needs should influence your value propositions and the assets you create for marketing your product.
Refine your value propositions
Customer journeys are personal, but your value propositions need to remain consistent through every encounter with consumers to improve their customer experience. As you become more familiar with your target market and your customer personas, refine your value props to be inclusive, communicative, and aspirational. You will use these statements as guiding pillars in your customer journey map and marketing assets across your company.
If you like reading about what is customer journey, you might find interesting learning about customer journey vs customer experience: the difference.
Conduct research and gather data
Gather data about your customers and their interactions with your company or product. Surveys, interviews, focus groups, and customer service customized reports can all be used to accomplish this.
It's crucial to choose real customers or the intended ones. You need the opinions of individuals considering using your goods and services which have already done business with you or intend to.
Here are a few sample questionnaires you may use to conduct research and collect data:
How did you hear about our company or product for the first time?

What made you decide to purchase from us?

How easy was it for you to find what you needed on our website?

How easy is it for you to find your way around our website on a scale of 1 to 10?

How long have you spent on our website on average?

Were you able to find the goods or services you needed?

Have you ever bought something from us? If so, what made you choose that?

Were there any problems or points of pain during the process of buying?

Is there anything else we can do to make things easier for you?
Customizing the survey questions to your unique consumer groups and the journey touchpoints for each group is crucial. Understanding the customer's emotions, desires, and actions at various points along the journey should be the main goal of these inquiries. Open-ended questions can also be used to ask clients for more in-depth feedback.
Make a list of all the significant points at which a customer interacts with your business or its offerings. This includes face-to-face meetings, phone calls, website and social media use, and electronic mail and messaging exchanges.
You can better understand the usability and goals of customer journeys by understanding the touchpoints. You may learn more about the numerous channels via which customers communicate with your business. You need to consider every possible web channel your customer could use to find you.
Build assets for each touchpoint in the customer journey
As you map out the customer journey, you'll have a clearer picture of what your ideal customers will be asking, which brands they might be considering, and the types of content they will most likely consume to move them from one phase to the next. Depending on your industry, that content may include the following types of assets as well as others:
Blog posts

Partnered or influencer content

Print or email newsletters

Infographics

Paid media and social media copy and graphics

Surveys

Videos (ad spots, tutorials, webinars)

Promotional flyers

Sample kits or demos
Create your Customer Journey Map
It's time to put your strategy and careful planning onto an actual customer journey map. At each step in the customer journey mapping process, it helps to list the following elements that will satisfy prospects and compel them to move forward. Consider these examples:
Consumer activities and questions

Touchpoints

like websites, review forums, and advertisements

Assets like paid media, blog posts, videos, and webinars (some assets are touchpoints)

Strategies like SEO, social media and community management, and referral programs

Tools like engagement reports and online surveys
Consider what your customer personas would need and do throughout the entire process as you assign these elements to each phase in the customer journey map.
Review the journey map to find any problems or areas where the consumer experience could be enhanced.
Identify what the client does, thinks, feels, says, hears, etc., in a certain circumstance. Next, ascertain their needs and how they are feeling at this time. Put your attention on barriers and inconveniences.
Make the necessary changes
Make the necessary changes to the average customer experience using the journey map as a guide. If you analyzed the data, you'd get an idea of what you're looking for. Then, you'll be able to make the necessary adjustments to reach your objectives.
Changes will be beneficial, no matter how large or small, since they directly link with what customers identified as their pain areas. You can ensure that those needs and pain areas are always handled with the help of your visualized customer journey map.
Constantly review and monitor the customer's journey, collect feedback, and adjust the journey map as necessary.
Do you want a head start on building your customer journey? Here you will find a completely free customer journey map templates:
Download Customer Journey Canvas
The 5 Stages to create a Customer Journey Map
It's time to take a closer look at what you can do to engage with prospective and new customers at each step in their customer journey.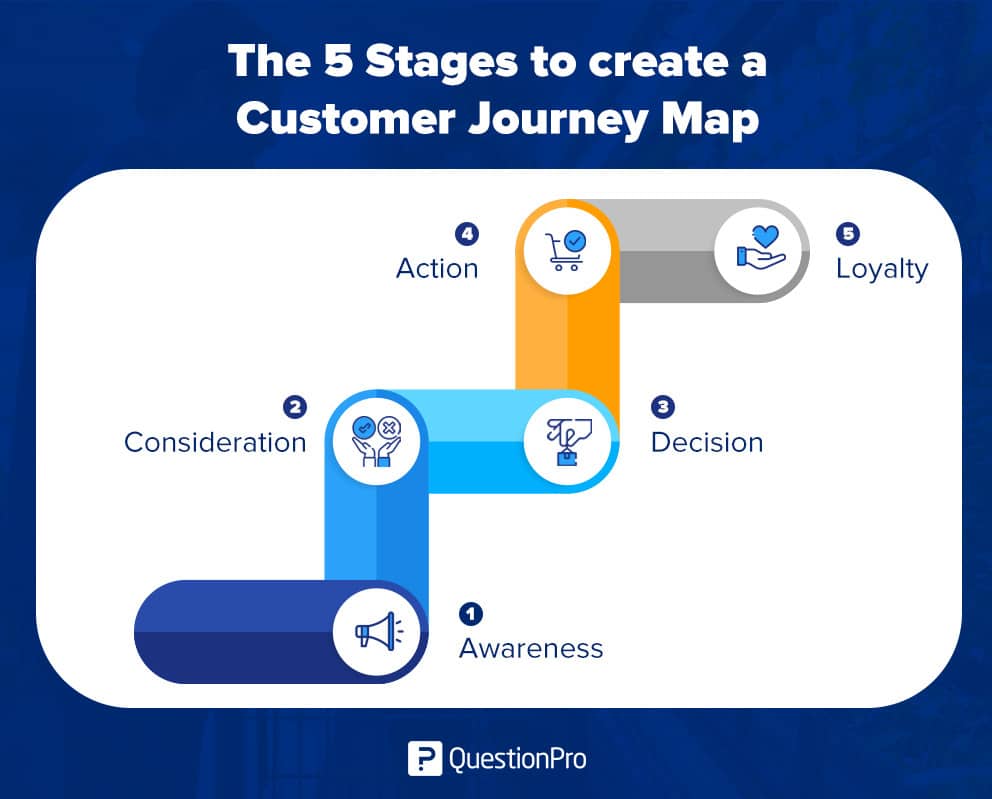 Awareness
During the customer Awareness phase of the customer journey, consumers are searching for solutions and encountering multiple brands, products, and even DIY options. This is the time to shine if you want to grab their attention for any further consideration when they first encounter your brand.
What consumers are doing: During this step in the customer journey map, consumers are likely conducting research. This can include keyword searching for solutions to problems online, reading blog posts and news articles, browsing online forums and print promotions, and encountering brands for the first time.
What brands can do: You might think that consumers are doing all the heavy lifting in this stage because they're asking questions and browsing content. However, you don't want to approach brand awareness passively. Capture inbound search queries with a strong SEO strategy. Build your presence on social media. Start a blog or partner with content creators to address the critical concerns of your target market. Consumers will come to you when you provide engaging and informative assets about what matters to them.
Consideration
Once you've caught a prospect's attention, either with your content or through other sources, you need to hold onto it. This is the Consideration phase. At this point, they move from looking for answers about potential solutions to looking for your answers about solutions. Most likely, your brand will be considered alongside other contenders, so ensure every impression you make is a strong one. At this point, customers are interacting directly with your brand, and you want customers to stick around for the next step in their customer journey.
What consumers are doing: Researching specific brands and products, comparing competitors, and assessing their own priorities. This might include taking a closer look at your product and service specifications, looking into customer care policies, and turning to direct comparison reviews, such as "Brand X vs. Brand Y." The consideration phase varies because consumer-focused media comes in many forms.
What brands can do: Continuously optimize the user experience (UX) on all your touchpoints, including description and e-commerce transaction pages. Learn from the user data you gain each day to improve future encounters with your brand. Small things like making sure descriptions and processes are clear and all buttons function properly to make a big difference when someone is considering you against a competitor.
Decision
The Decision (or Conversion) phase is your make-it-or-break-it moment in the customer journey. Once prospective customers are satisfied with researching and comparing their options, they will eventually make a decision. Sometimes they find that none of the brands they've been considering offer what they are looking for. But often they do make a positive choice; when they do, you want to make it easy to choose your brand and products with confidence.
What consumers are doing: They are looking at "deal-breaker" factors, such as price vs. value, customer support responsiveness, company values, and policies. By the time they are at the decision phase, it's not just about product specifications or the shopping experience. Consumers want to support a brand they can trust to deliver a quality solution to their problems.
What brands can do: To anticipate this step, go the extra mile. This could include remarketing strategies that offer incentives to prospects who have already visited your website or engaged with your company. Make sure your return and refund policies are easy to find (and competitive), and coach your customer service team to answer key decision-making questions. Responsive community management and a dedicated email address, phone line, and chat feature are essential.
Action
At this junction on your customer journey map, you have a new customer. Congratulations! All that thoughtful planning and asset creation is paying off when they reach the Action phase. The consumer has decided to make their purchase with you (or convert in another way), but don't assume this is a done deal. They still need to be able to complete the transaction and start using your offering. Like all other steps in the customer journey, this moment needs to be easy and intuitive for the user, as well as enjoyable or engaging.
What consumers are doing: Depending on your business model, customers are taking this moment to purchase your products online or at a physical retailer, or are booking a service that they plan to experience soon. Once they have the product or service, they will start putting their purchase to use and — if you navigate the phase successfully — starting to interact with your brand as a loyal customer.
What brands can do: Optimize the transaction experience on your customer journey map. QA your own e-commerce site or physical store, and regularly see how retailers on your stock list are optimizing the experience for consumers who take action at one of their touchpoints. Once the transaction is complete, follow up with your new customer immediately with the information they may need to care for their purchase and correspond with your team.
If you are on you're way to start building your customer journey, you might find it useful to review the 10 best customer journey mapping tools.
Loyalty
Guiding prospective customers through their customer journey takes a lot of work and careful planning. Once you've established a relationship with a new customer, nurture it to build customer loyalty and expand your reach. Enthusiastic customers are more likely to recommend your brand and products to a peer, which, for many, can be a deciding factor. When you keep current customers happy and exceed their expectations with innovation and excellent customer service, their journey map is shorter and your costs per transaction are lower.
What consumers are doing: At this point, your customers are using your offerings to improve their lives. The better the results and experience they get with your product, the more likely they will be to repurchase and refer a peer. They may also start engaging with your brand more casually on social media and planning their next purchase.
What brands can do: Take the initiative to check in with your customers in a friendly, supportive way. A brief survey about their experience navigating your customer journey map is a good way to let them know you care about their feedback. Consider offering a loyalty club for referrals and future transactions. This is also an excellent opportunity to bring consumers back to some of the relevant assets you create to build brand awareness and authority. This could include blog content with tips to enrich their experience with the product, a newsletter with updates and promotions, occasional opportunities to provide further feedback. Start a conversation with your customers.
It's important to note that customer journeys can also loop back to the awareness stage as they may consider your product or service again in the future.
Learn more about customer loyalty and your Net Promoter Score (NPS) to boost referrals and retention.
How QuestionPro CX Can Help You Create Customer Journey Map Templates?
QuestionPro CX is a customer experience management software that may assist businesses in creating a customer journey map by offering a variety of features such as:
Surveys and Questionnaires:

QuestionPro CX enables businesses to create surveys and questionnaires to collect customer feedback at various touchpoints of the customer journey, such as website visits, in-person interactions, and post-purchase follow-up.

Data Collection:

The software enables organizations to capture real-time customer data and store it in a centralized location for simple access and analysis.

Visualization:

QuestionPro CX includes visual representation tools that allow businesses to generate a visual representation of the customer journey, including all interactions and the customer's emotions and demands at each stage.

Analytics and Reporting:

The software delivers comprehensive analytics and reporting capabilities that help companies pinpoint pain points in the customer experience and chances for improvement.

Metrics tracking:

QuestionPro CX allows businesses to track critical metrics, such as customer happiness, loyalty, and conversion rates, and build reports and dashboards to communicate with stakeholders.

Continuous Improvement:

QuestionPro CX allows organizations to track customer feedback over time, identifying trends and optimizing the customer journey map.
Businesses may use QuestionPro CX to understand the customer journey better and make data-driven decisions to enhance customer experience.
QuestionPro Components for Customer Journey Mapping
QuestionPro is the only CX solution in the market to have all 3 components of the CX ecosystem, including the customer journey mapping, journey measurement and all-the-loops systems:
Experience and Journey Mapping
CX Consulting
NPS+
Voice of the Customer
Change Management/Implementation
AutoX
Conclusion
Every consumer is different. Even the most reliable demographic data or carefully planned strategies will miss an occasional twist or turn on your customer journey map. You do not need to set these customer journey maps in stone. It's vital to revisit them regularly and compare your strategy with real-life results. And above all, listen to your ideal customers.
LEARN ABOUT: Consumer Decision Journey
If you'd like to learn more about this tool, we invite you to request a free demo or create a free account to take advantage of everything QuestionPro CX has for you.