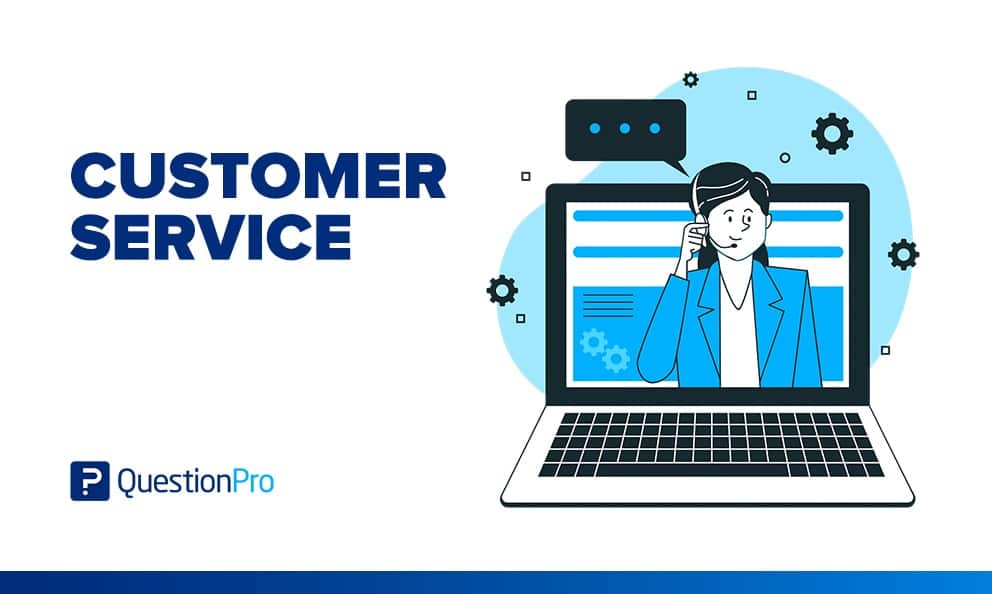 Great customer service is the foundation of any successful organization. It's that one entity that complements every other aspect of customer outreach, including promotional and branding activities.
In this article, we will go over what customer service is, its importance, top skills for professionals, tips for better service, and the difference between customer service vs. customer support and customer experience.
Don't forget to download the free ebook: The Hacker's Guide to Customer Experience, available toward the end of this guide!
What is Customer Service?
Customer service is the assistance provided to customers before, during, and after purchase. An organization wanting to provide error-free service will invest as much money in it as they do in product development, sales, and marketing.
Organizations that provide great customer service tend to be more popular among their clientele than their competitors.
LEARN ABOUT: Client Management
Good customer experience is built by giving structure to all customer interaction points according to organizational culture, needs for digitization, or any such components.
Aligning various customer-facing processes to create an enhanced client experience might consume significant time and effort from an organization's management and other employees.
For example, by using a customer service survey, a brand can evaluate the level of service that a customer receives while interacting with them. Conducting this survey is beneficial to retaining customers and mapping out areas of service that require improvement.
Learn more: Client Evaluation of Company Services Survey Template
Importance of good customer service
Customer service shouldn't just be a department, it should be the entire company. – Zappos' founder Tony Hsieh
Customers report their problems expecting to get them solved and return satisfied every single time. To survive the test of time, that's the level of service an organization should strive to be capable of providing to the clientele.
Accelerated response time

Reports suggest that 3/4th of customers expect a response within five minutes of them raising a query online. With an increase in the number of companies focusing on providing excellent customer service, each and every organization is trying to prioritize customer interaction touchpoints that create a comprehensive client experience.
Efficient management of customer problems

The way an organization deals with customer issues and creates a better experience is a governing factor in its success or failure.
Offer adequate service

Providing competent and timely customer service and providing technologically advanced products and services helps an organization succeed. Connecting with the target audience at various levels will build extensive client experience.
Each service counts

Providing products and services that do not match client experience is vital to reduced sales, and customers may end up spreading this bad experience among their contacts which can cause harm to reputation in the market.





A happy customer is always a source for better business, so focus on developing a pleasant customer service experience for the customer whenever they come across a hurdle in products to stay loyal to the organization.
Why is a happy customer a source for better business?
Customers intrinsically expect the best experience from your products or services. In case of queries or support, they also expect good customer service. It's one of the reasons behind their loyalty to a business. The more they are happy, the more likely they will continue doing business with your brand.
Make the best use of word of mouth

Word of mouth is a powerful tool to establish a stronghold in any market. Satisfied customers always talk about their customer service experience, which leads to their friends and customers showing interest in an organization's products and services, which can lead to increased sales.





An organization can

calculate its Net Promoter Score

by including the NPS question in a survey to evaluate

customer loyalty

and brand shareability.
Implement developed technology

Technological advancements have made it easier for organizations to improve or maintain great customer service. Email, chat,

online surveys

, social networking mediums, and telephone are used to provide continuous support before, during, and after a purchase.
Consider time as a key factor

A factor that plays a crucial role in maintaining a good rapport with clients is time. To deliver excellent customer service, it's important to solve their problems quickly, respect their time, and help them get out of trouble.
Good customer service skills can create an exponentially enhanced experience. For example, every visit to a restaurant includes a very important discussion: How good or bad was the customer service? Whether the management was attentive enough to note specifications or where the customers served cold water when they asked for warm?
Types of customer service
The quality of client service calculates a brand's reputation it provides. It is very important to understand your customer and their needs.
Many successful customer-centric organizations use robust customer survey software to conduct regular surveys with their targeted audience. Such software allows companies to conduct comprehensive research using advanced analytics to help them become more customer-oriented.
Different customers expect different types of assistance from an organization. There are 5 main types: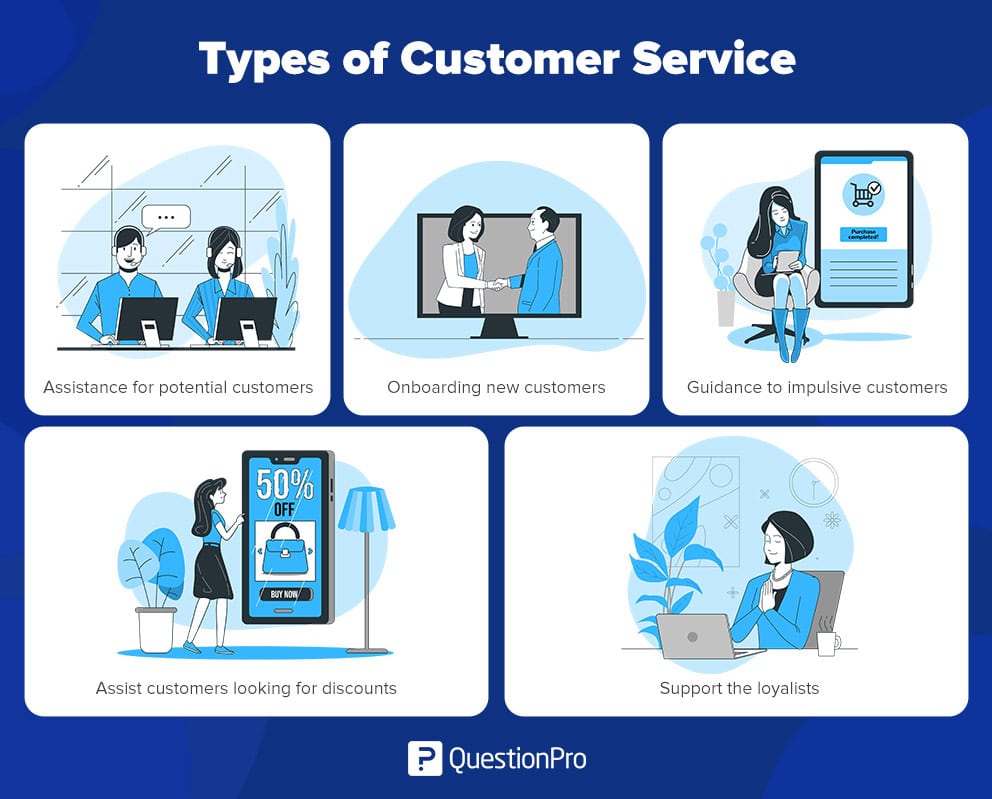 Assistance for potential customers

Potential customers are not customers but have shown interest in products/services by providing contact information on the business website, contacting the sales support team via online chat, or conducting meetings offline via phone or face-to-face. These potential customers will form the first layer of a sales funnel who need constant assistance to convert them into buyers.





The customer service department needs to ensure these potential buyers know what to expect from products/services. Share resources such as product page links and help files with them constantly for the products they're interested in. Be clear in communicating that a team of representatives is always available to guide them.
Onboarding new customers

Customers who have already purchased a product or service but still need help figuring out the functioning part of it fall into this category. That's when a service team comes into the picture to provide every possible additional information.





Even after purchase completion, providing good service and support to these customers will ensure they convert into loyal buyers over the course of time.





Service teams that invest time in helping a new customer to explain the functioning of a product/service tend to develop closer bonds with most of their clientele.
Guidance to impulsive customers

These customers will make a purchase in a moment if all the products and services are well-explained and they have absolute clarity on what they want.





It's not very difficult to convince them to make a purchase, but the procedure to purchase products must be clearly defined, easy and quick. It's advised to have precise information and the least number of clicks to purchase.



When impulsive customers are stuck, a solution must be provided in a short and accurate manner. In case the answer gets too long, there is a high chance that these impulsive buyers might quit the website session.
Assist customers looking for discounts

These customers will never make a purchase at a price mentioned in an organization's resources. There will always be something extra that they look for in a product or service at a given price. If they've previously made a purchase at discounted rates, it's highly probable that they might not buy the same products if they can't avail of discounts.





A service team needs to constantly add value to products so that these customers agree to buy them. Provide assistance in terms of coupon codes or any other privileges. Customer service for every hiccup these customers come across can make them stay with an organization for a longer tenure.
Support the loyalists

These customers are a trustworthy source of word of mouth. Talk to these customers regularly to understand what they think about an organization's products/services and the reason behind their loyalty.





They'll make sure they purchase products or services from the same organization and contribute remarkably towards the business. They'll recommend these products and services to their friends and family, which will be a source of business.
The functioning of any service team is more than just to provide customer assistance – they also have the critical role of ensuring customer retention and growth through active engagement with customers/clients.
Create a case study around their experience and circulate it via social media or website. Try to apply the steps followed to turn these customers into loyal buyers to other such customers.
Halfway there? Congratulations! Luckily, you now know more about Customer Service and customer experience. The Hacker's Guide is a free eBook that explains how customer experience can boost corporate growth and customer satisfaction.
Types of customer service channels
The importance of providing excellent customer support has undeniably never been greater than in today's consumer-driven world. Companies can communicate with their customers through a variety of service channels; let's talk about some of them:
Phone

Most businesses consider telephone support to be a main support offering. Customers can contact the company's customer service hotline and speak with a representative who can assist them with their questions or problem. It is a popular option for customers who prefer to speak with a live person.





To enhance user satisfaction, representatives should constantly speak positively on the phone.
Live Chat

Live chat support has become a more common feature on business websites recently. It is not only gaining popularity, but it is also a very appealing support option in the eyes of customers. Customers who do not want to wait on hold on the phone frequently prefer this channel.





Enabling image uploads in live chat support makes communication easier and helps agents diagnose and fix issues.
Email

Email support is slower than live chat and phone support, so it takes longer to address issues. Email support is ideal for busy people who do not have time for a lengthy conversation with a support representative and prefer to read their emails when convenient.



R

emember that most customers prefer casual email support. When delivering bad news, a more formal tone is usually better.
Social Media

Social media platforms such as Twitter, Facebook, and Instagram have become popular as customer service channels. Customers can contact a company through direct messages or public posts, and the company's social media team can provide the necessary support or assistance.





Creating dedicated social media support accounts is helpful depending on your business and customer base.
Video chat

Video chat facilitates video calls between customers and customer service agents. This channel can be very beneficial for communicating visually about difficult subjects.





Due to privacy concerns, some customers may hesitate to let the agent view through their device's camera. Reassure your customer that the process is secure and the camera feed is disconnected after the support session.
Self-Service

Self-service channels are increasingly popular since customers frequently choose to solve their problems or discover answers to their questions independently. This channel can come in many shapes, including interactive chatbots, video tutorials, online knowledge bases, and FAQs.



Businesses that invest in self-service should expect more customers to solve problems independently, reducing support costs and ticket volumes. Companies must ensure their resources are helpful, relevant, trustworthy, and easy to find to offer excellent customer service



Let's examine the specific factors that draw a customer to self-service options.

Convenience: Well-designed self-service resources can help customers diagnose and resolve issues without waiting for support.

Satisfaction: Many consumers appreciate solving their problems without support.

Learning: Technologies like knowledge bases assist consumers in solving a problem and educate them on a topic that may benefit them in the future.
Businesses must offer a choice of service channels to meet their customers' various demands and preferences, as each channel has its own set of pros and cons.
Empowering customer service representatives
Customer service empowerment means management trusts representatives to make good judgments based on their training and experience. Empowering representatives lets them apply their knowledge and skills when interacting with customers. Employees can work more efficiently and be more creative with this independence.
How to empower customer service representatives?
Businesses must give their customer support representatives the tools, resources, and support they require to provide great customer service. Here are a few ways to empower them:
Provide resources:

This includes product knowledge, customer data, and support tool training. Representatives can work more efficiently with good phones, computers, note-taking software, and survey tools.

Provide training:

Representatives can receive training from management on utilizing the company's phones, computers, software, and any other technology they may need to do their responsibilities.

Provide access to information:

Effective and great customer service requires customer data and information. To empower representatives, provide them access to user information and other tools to help them provide better service.

Promote feedback and performance evaluations:

Frequent feedback and coaching can help a customer service representative grow and learn new skills. Conduct regular employee performance evaluations, one-on-one coaching, skill-building, and professional development to empower them.

Foster a positive work environment:

This involves helping service personnel manage stress and workload, encouraging teamwork and work-life balance, and giving support and resources.
Benefits of empowering customer service representatives
Empowering a customer service representative has various benefits for businesses, including the following:
Increased customer satisfaction:

Representatives can handle problems and meet client demands faster and more effectively, leading to higher user satisfaction.

Increased customer loyalty:

When representatives have the power to solve problems and offer personalized solutions, customers feel like they are valued and heard, which makes them more loyal.

Reduced customer churn: Resolving customer issues swiftly and efficiently can reduce customer churn.
Competitive advantage: Empowering service representatives may give businesses a competitive edge by differentiating them apart from their competitors.
Top Customer Service Skills
The route to good customer service is far more detailed, and it all begins with the people you hire. The following are the top customer service skills that your representatives must have.
Communication skills:

Customer service representatives need good communication skills. They should be engaged listeners, confident speakers, and empathetic.

Patience:

Difficult customers can be frustrating. Customer service representatives must be calm and patient when handling issues.

Problem-solving skills:

They must be able to recognize and handle customer difficulties quickly.

Empathy:

A representative must comprehend the customer's perspective to deliver successful solutions.

Product knowledge:

Accurate and fast service requires product expertise.

Time management: Representatives should be able to prioritize tasks, manage time, and handle several consumers.
Positive attitude:

Positivity can improve customer service. Support representatives should be polite and passionate.

Adaptability: They should be able to handle unexpected events and policy changes.
Tips to improve customer service
Here are some customer service tips to improve customer service:
Regularly train your customer service teams

Employees have an integral part to play in customer service. Customer-facing teams, such as customer service or sales teams, must be trained regularly to improve

customer satisfaction

.





Factors such as their communication capabilities, principles at work, subject matter expertise, problem-solving skills, etc., must be analyzed regularly.
Keep all the employees engaged

"When people are financially invested, they want a return. When people are emotionally invested, they want to contribute." – Simon Sinek.





Unless and until employees are valued, respected, and regularly engaged, they are less likely to deliver to the best of their capabilities. Unhappy employees may not openly discuss their displeasure, so the management can send online surveys using employee satisfaction.





This way, the anonymity of employees can be preserved, enabling them to provide honest and transparent feedback.
Develop a 360-degree view of customer service areas

An organization must strive to provide an amazing client experience at every point of contact. Develop a 360-degree view of areas of customer service that are working efficiently and those that need improvement. This will make it easier for a manager to work on drawbacks and keep customers happy at every point of contact.
Ask the right questions

Building a dependable relationship with customers is, in turn, dependent on developing excellent internal service skills.





The representatives can be trained to ask the right questions to find a common interest with customers, understand customer problems actively and solve them in real-time, or regularly follow up with clients even after their problems have been resolved. This can also help in continually improving products and services.
Conduct surveys

Send

satisfaction surveys

to a target clientele with which they can share their experience with the organization. Feedback from these

surveys

can be used to create plans to improve customer experience the next time they purchase from an organization.
Differences between customer service and customer experience
Customer service (CS) and customer experience (CX) are often used interchangeably; however, they are not the same. Essentially, CS is a subset of CX that heavily impacts the client experience.
Customer experience is the grand total of every interaction and experience at every customer touchpoint in the customer journey. All the experiences from these interactions together form CX.
On the other hand, customer service is the cumulative effort of a company's employees to address various customer concerns and issues. We've talked about this in detail in our CX vs CS blog.
Difference between customer support and customer service
Customer support and customer service sound synonymous, but the two have several key differences.
Customer service foresees issues or problems customers may face and looks at preemptively resolving them. Customer service focuses on taking preventive steps to tap problems early on, preventing them from escalating.
Customer support is focused on resolving problems that customers have identified. The crux of support is to provide the means and the methods to troubleshoot the issue or concern in question.
Conclusion
Ready to close the gap? Spark joy with your customers and learn about our customer experience program. Let us guide you toward your first step into building and simplifying your CX program.