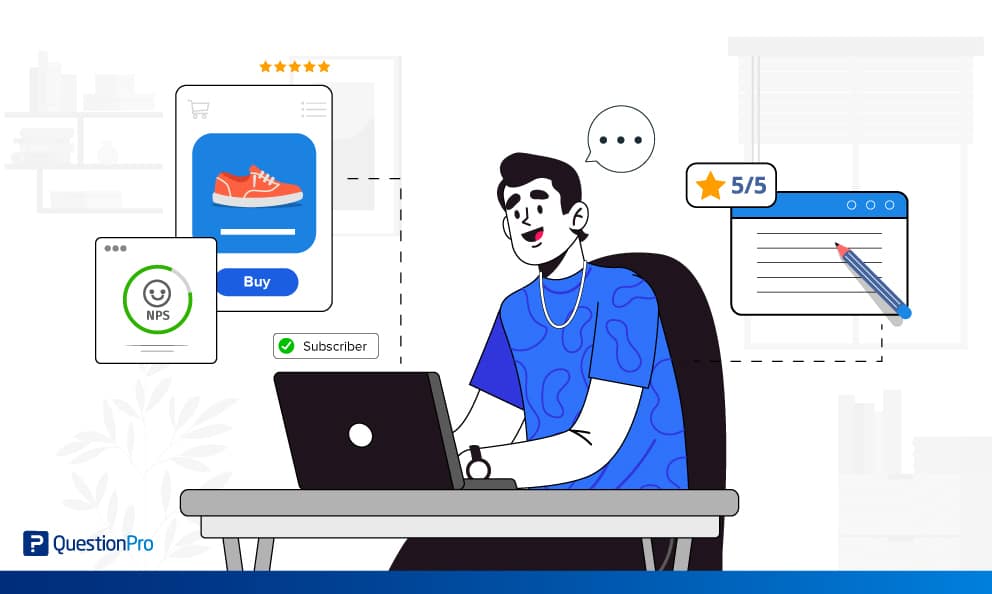 We all have, in some way, customer loyalty. Everyone feels love or attachment to certain brands. We trust them, we recommend them and we stand up for them when necessary.
They provide us with security, service and quality in the products or services they offer us. This shows that our brands think of their customers and show it in one way or another. Having knowledge about customer loyalty as a company can determine its success or failure of it. Below, you'll find everything you need to know about it and the best ways to implement it into your business. You will be able to understand your clients, encourage them to trust you and turn them into loyal customers.
Content Index
What is customer loyalty?
Customer Loyalty is the name given to the behavior of a client when they are committed to the brand and are likely to keep coming back to the company for products or services. The degree of loyalty as a consumer depends on the actions taken by the company to keep them satisfied.
This is, of course, very important for the success of a company and the reputation management of its brand. Beyond the sales made by a recurrent consumer, customer loyalty is also one of the best advertising strategies for a company as they become what is known as brand ambassadors.
A well-crafted customer loyalty program or strategy will result in many brand ambassadors promoting and recommending the brand to their own social networks. They will speak for the company and are likely to generate greater customer loyalty among their acquaintances.
LEARN ABOUT: Perfect Customer-First Strategy
How to get customer loyalty
Customer loyalty starts with the value the company grants their customers. If there's a strategy where the client's emotional factor is considered and offers a tailor-made product for its niche, the consumer will likely be satisfied.
In addition to it, the maintenance and care of their loyalty are crucial. If the customer is constantly rewarded in some way, they're more likely to return and recommend the product. This maintenance needs to be carefully designed to focus on the whole purchase cycle, including after-sales service and continuous contact.
To engage potential clients and achieve a positive brand experience, a connection is needed. People are emotional beings and it shows in their consuming behaviors. The communication and service provided by a company are key to a great customer experience. However, this is not enough when there's a lack of customer awareness of the consumer's feelings when buying.
A great way to grant a customer loyalty strategy is to define goals, keep track of the customer behavior, as well as know their needs and ideas regarding the company and what it offers. The best way to achieve this is to ask via customer loyalty surveys.
What Consumers Want from their Brands
To make relationships long, it is important that the brand takes the time to create effective loyalty strategies that help customers to stay with the company for a long time but also to promote the brand themselves.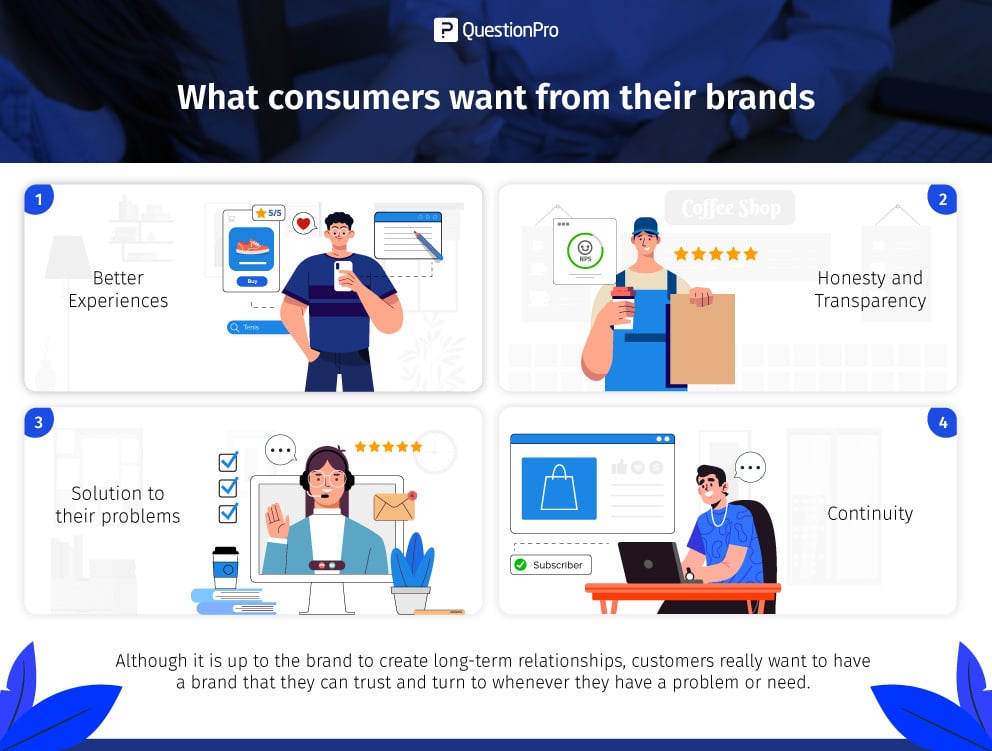 Learn how to create your own customer journey canvas and download our template.
There's a big difference between the experience of walking into a store and detecting a nice smell, listening to a good song and looking at the fancy art in the walls and the experience of walking into a cold, dark warehouse to get a product. A customer is more likely to go back to the place where they felt comfortable, even if the cost is higher.
The same goes for digital experiences. Customer Loyalty is born in experiences and remains in the maintenance and constant stimulation of said experience. People have a need to find themselves in the products and services they want to consume.
Most consumers do some degree of research before approaching a brand. They know what they need and they look for a company that offers exactly what they asked for and more.
For this reason, customer loyalty goes hand in hand with the company's transparency and the way they communicate to the public. The more honest a company can be with its customers, the better.
A solution to their problems.
Brands need to be aware of the issues their potential customers are facing at all times in order to offer solutions through their products and services. This approach will make the customer feel safe and heard, resulting in greater experiences and greater loyalty.
Customers usually don't like being persecuted by their brands for pressure. Instead, they lean towards a service that will allow them to approach them.
It is something that makes them uncomfortable and puts them under pressure. Of course, this is not beneficial for the brand because it acquires a bad positioning and a negative perception.
Although it is up to the brand to create long-term relationships, customers really want to have a brand that they can trust and turn to whenever they have a problem or need.
If you like reading about customer loyalty, you might find it interesting to learn about the customer journey.
How to Measure Customer Loyalty: Examples
To learn about your customers, you need to have an understanding of their behavior towards your brand. The first step for measuring customer loyalty is to pay attention to your customers. From comments to word of mouth referrals, you need to listen and take notes.
When you measure your customer's loyalty, you will be able to upgrade and improve your strategy. For this, you can use methods designed specifically to gather the information you need.
1. NPS – Net Promoter Score
QuestionPro CX is a software for customer experience management where you can gain deeper insights from your customer's feedback. With NPS+, you go the extra mile after asking customers to rate on a scale of 0-10. As soon as the user rates you, they get the options to support their rating, which you can say is the "Cause" behind the rating.
Customer feedback is one of the most effective ways to gather deeper insights for a company. QuestionPro CX offers the ability to view and vote others' comments letting a customer know how other customers' experience has been and can relate to those experiences. This makes Net Promoter Score® a great tool for the measurement of Customer Loyalty.
2. Likert Scale
Another great tool for customer loyalty measurement is the Likert Scale, which is used to research and collect the attitude and opinions of respondents or, in this case, customers.
The Likert Scale allows customers to respond based on their agreement or disagreement level, letting you gather information about the strengths and weaknesses of your current loyalty programs or lack of them. With this scale, their attitude towards your product or service can be measured.
3. Secure Customer Index – SCI
A secure customer is very satisfied, would repurchase definitely, and definitely would recommend. Customers that fall outside of this nexus are more vulnerable to churn. Isolate all respondents that score in the top-two box for each of the three indicator questions and label them secure. Respondents that score 7 or 8 on an 11-point scale (0 – 10) could be considered loyal but need something 'extra' to move them into the secure zone.
This information will help you understand your customer better, and have a solid foundation for creating better strategies to measure and claim your client's loyalty.
QuestionPro offers everything you need to measure your customer satisfaction and loyalty with NPS+, which goes beyond a Net Promoter Score.
Exclusive to QuestionPro CX. It calculates your NPS score, uncovers the reasons behind it and lets customers give additional info. All at the same time! There's simply no better way to find what works for your promoters and what not for detractors.
Use our NPS calculator to find out your Score! It is easy and effective. Just enter the scores you received and we'll do the rest.
If you are interested in gaining customer loyalty and creating evaluations that allow you to detect improvement opportunities for your business, we invite you to learn more about QuestionPro CX, our customer experience management platform.
QuestionPro offers some of the most advanced customer experience tools available. Gain valuable insights into your customers' thoughts and feelings using QuestionPro CX software today.