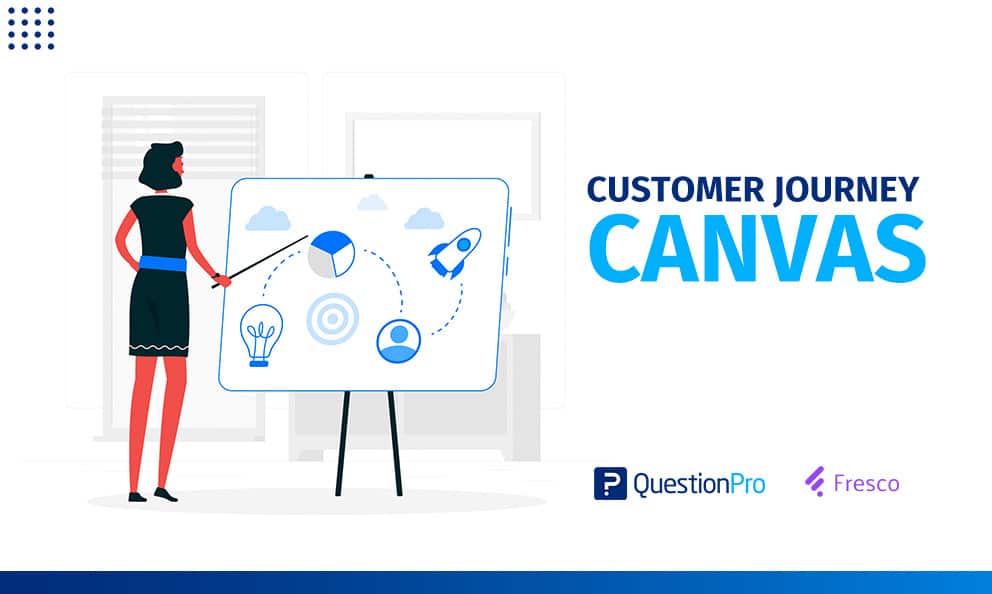 Mapping out a customer journey canvas is the best way to understand how to meet the customer's needs. A basic way to diagram this is by using a customer journey. If you want to map out the different stages in the customer journey and the related user experience, keep reading to learn how to best use a customer journey canvas.
What Is a Customer Journey Canvas?
A customer journey canvas is a board that documents the user's journey through your product/service. It is similar to a storyboard and maps out your user's journey through different stages and emotions.
A customer journey canvas is similar to a Customer Journey Map but diagrams elements one the surface level before diving deeper. In this template, you use sticky notes to build out the customer experience and develop an idea of where the customer is satisfied.
How to Build a Customer Journey Canvas
The customer journey is a straightforward way to define your customer's journey and main expectations. In doing this, there are a couple of necessary stages you need to incorporate to accurately display their customer experience. We've gathered them here so you can build your own customer journey canvas.
Target Persona
The first stage in creating a customer journey canvas highlights the user persona you are targeting. Defining your persona is vital because it will narrow what you focus on, the user's goals, and how you will meet them.
LEARN ABOUT: Customer Journey Mapping Tools
If you have a predefined persona, you can insert it here, and if you need to create one, you can use a persona map.
Stages
The stages section is where you list each stage in the customer's journey as they interact with your product/service. These stages should be very descriptive and record the user's actions in their route to completion.
These stages should be critical in the journey but also to the customer. If there is a misalignment between what is important to the customer and what is emphasized in the product, this is a place you need to rethink your journey.
Customer Needs
The customer needs section is very important and asks you to specify what the customer requires from this stage of their interaction. This will mainly manifest in their actions, and it's essential to look at what they do concerning their needs.
Additionally, two things are critical to emphasize when analyzing customer needs: intention and expectation.
Customer intention is not only the actions they take en route to completion but the reasons behind their actions. What motivates each action? Why do they do what they do?
When you analyze intention, you must also consider expectations. When the user does something, what result are they expecting? Does this line up with their intentions?
Addressing intention and expectation is vital to breaking down the customer's needs.
Customer Experience
Lastly, based on the stages and needs, you must analyze the customer's overall experience. This process is mainly an emotional analysis, stating if they are happy, neutral, or dissatisfied. This data is usually gathered through user research and product feedback.
After you map out this data, you will know where your customer is happy with the product and what pieces require improvement. Understanding this information is key to building a successful and trustworthy brand, and using a customer journey is the first step in that journey.
Customer Journey Canvas Template
Below we are providing you with a template that can serve as an example for you to start creating your own Customer Journey Map and identify the points to improve at each point of contact with the customer.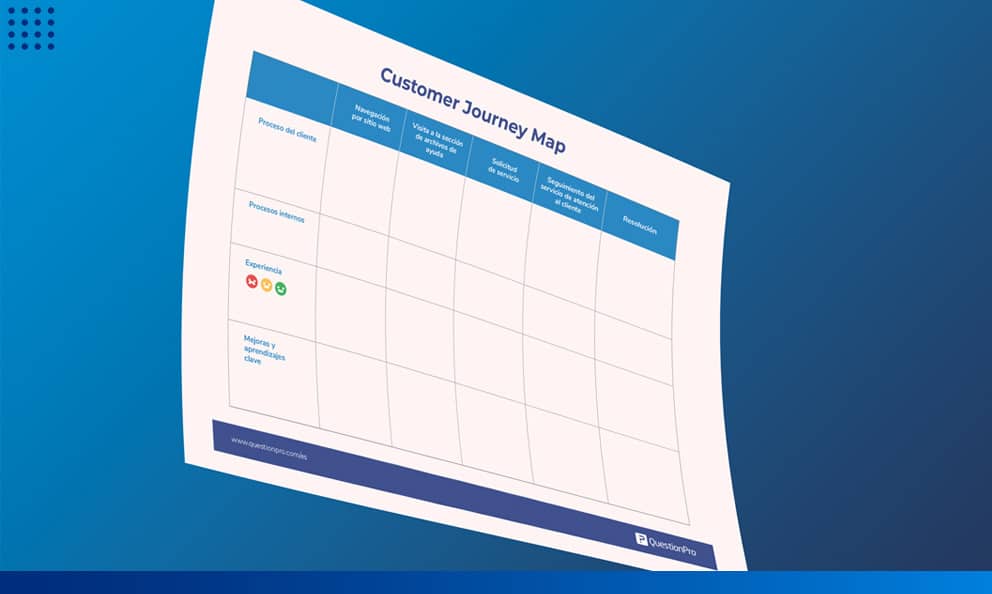 Download the customer journey canvas here
Customer Journey Canvas Tips
If you haven't mapped out a customer journey, doing so can feel daunting. Follow these tips to make sure you create a practical customer journey canvas.
Do Your Research
Doing research is the core of everything that follows in a customer journey canvas. You cannot simply map out what you think the customer experiences. You need to know, from them, what the customer feels and goes through in order to address their needs adequately.
When creating a customer journey canvas, don't skimp on your research.
Focus on a Persona
When creating a journey map, it can be easy to slip up and focus on a broad user base. For it to be effective, you have to do just the opposite.
Instead of focusing on a large group of users, it's usually more effective to target a specific persona and alleviate their issues. Unless you have a large group of users expressing similar concerns, it's usually best to start narrow and expand from there.
Try Mapping Your Assumptions
If you're struggling to focus your map on your persona, it might be because your assumptions are getting in the way. As we previously mentioned, it's dangerous to create these maps based on assumptions because they will rarely be accurate.
If this is the case, try creating another row for your personal/shared assumptions. This will help you compare them to the actual feedback from the customer and identify any discrepancies.
Don't Stop at Customer Needs
The canvas stops here, but the optimization shouldn't. After you've identified what the customer needs and where their experience is lacking, ensure that you conduct a brainstorming session to make each stage better. This can be done on the same board or as a different exercise, but each effectively creates the next steps for auditing your customer journey.
LEARN ABOUT: Consumer Decision Journey
Conclusion
If you need to audit your customer experience, a customer journey canvas is the perfect first step. To learn more about journey mapping, check out our other articles about improving CX.