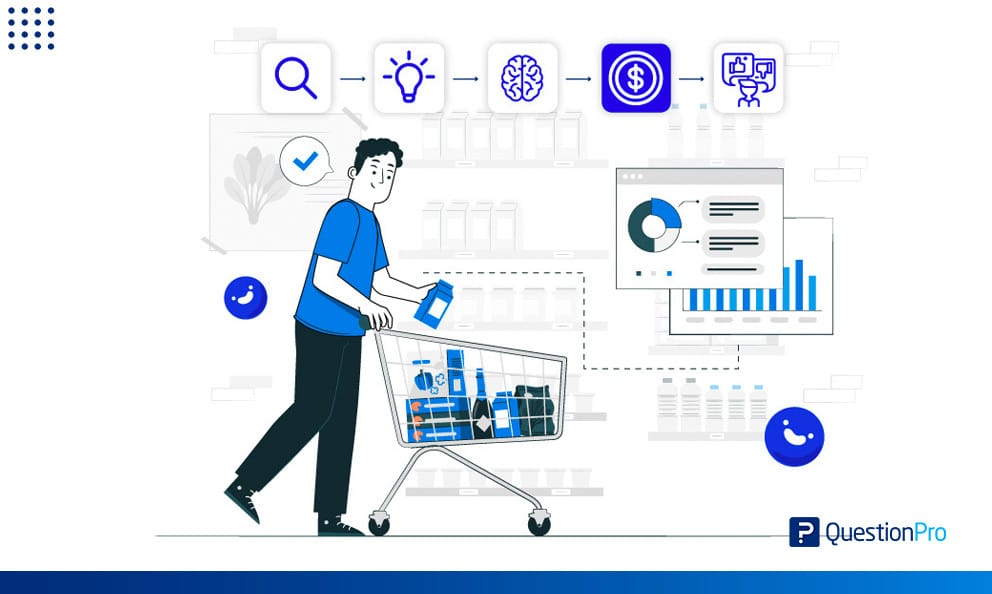 Talking about a consumer decision journey is essential for any sales, marketing, and customer experience strategy. More and more customers are skipping the established schemes in the classic funnels and making decisions based on new factors in the match.
If you want to get to know this concept in-depth, in this article, you will find what it consists of, its main stages, and how to generate a successful journey for your clients.
What is the consumer decision journey?
Consumer decision journey is a model of the customer buying process that describes how consumers make their decisions throughout their experience or relationship with the brand.
This model evaluates how it can influence the customer's purchase decision process by recognizing key touchpoints and customer interactions.
The consumer's decision journey is not a linear model, so the actions they describe overlap and repeat until the purchase decision. The importance of factors such as customer loyalty and post-sale strategies is highlighted.
Importance of the consumer decision journey
Understanding the consumer decision journey is vital because it can help a business understand how and when to engage with customers throughout their journey, from brand discovery to post-purchase and beyond.
This framework helps marketers better understand the key customer touchpoints where the right message to the right consumer can change their behavior.
The consumer decision journey model can help companies make continual improvements to the customer experience and lifecycle, fueling brand loyalty for years to come.
Build your own Customer Journey Map.
Stages of the consumer decision journey
The consumer decision journey consists of 5 main stages: The trigger, the search for information, the evaluation of alternatives, the purchase and the post-sale experience. Now we will detail each one.
1. Discovery
A stimulus or trigger starts the customer journey when an individual realizes they have a problem and need a company product or service to solve it.
The first step of the consumer's decision journey is recognizing the need for a service or product.
2. Familiarization with the solution
When considering a purchase, a person reflects on a set of initial considerations or brands that immediately come to mind due to their level of brand awareness.
When researching their options, consumers will again rely on internal and external factors and previous interactions with a product or brand, both positive and negative.
Consumers can search for options in a physical place or consult online resources such as Google My Business Reviews and their degree of recommendation on various brands in the information or familiarization stage.
3. Consideration
Consumers gather information from searching multiple sources and reading reviews to decide which brand has what they want or need.
Alternatives can come in the form of lower prices, additional product benefits, immediate availability, or something as personal as color or style choices.
4. Purchase
Once the consumer filters their options based on the information they have gathered in the evaluation phase, they choose a brand and begin the purchase.
Once they have gathered all the data, including comments from previous customers, consumers must come to a logical conclusion about the product or service to buy.
5. Post-sale experience and loyalty
This part of the consumer decision journey involves both the consumer and the seller reflecting on the post-sale experience as part of the process.
As a seller, you should try to assess whether the purchase met the consumer's identified need, whether the customer is delighted with the purchase, and how you can continue the relationship to ensure customer retention and loyalty.
How to guide a good customer decision journey?
Now that you know what the customer decision journey consists of, we will present you with five ways to guide your customers to ensure a smooth process that guarantees the satisfaction of their needs and your sales success.
1. Boost your company's brand awareness
The first step to creating a successful consumer decision journey is to develop a comprehensive brand campaign to build brand awareness. This way, customers will be able to think of you as part of the first options that come to mind when they think of you.
You want consumers to know and trust you. And more importantly, you want them to feel like they have a problem that only you can solve.
2. Map your consumer decision journey
Building a Customer Journey Map is critical to comprehend the client's key moments and pain points to which you must pay special attention to guarantee a smooth experience.
Knowing how to map the customer journey is a skill that your Customer Experience team must have or develop as soon as possible to offer potential customers access to the information they need at the right time so that they decide to buy your product. or service.
It is also advisable to create a funnel and plan the types of content that people may need. Present yourself as a trusted source of knowledge and information, and include consumer-generated content such as customer reviews or case studies of your solutions on your website.
3. Know your competition and surpass it
Your sales, marketing, and customer service strategies should convince consumers that your product is superior to alternatives.
For this, you must prepare to overcome any objection; for example, on sales calls or post-calls, get to know your competitors so you can answer questions and compare benefits.
4. Evaluate the experience throughout the consumer decision journey
Having reliable data in real-time is one of the best ways to evaluate the consumer decision journey to take improvement actions at critical points.
To do this, you can use various customer experience metrics such as CSAT, CES, NPS, and the Things Gone Wrong index to understand the most essential moments and the most appropriate strategies for each point of the customer journey.
5. Keep your commitment to the client
Make sure your customer continues to have a positive experience with your products. Post-purchase customer engagement can include follow-up emails, discount coupons, and newsletters to entice the customer to make an additional purchase.
One way to ensure a successful consumer decision journey is to develop loyalty strategies that help you promote long-term customer interaction and word-of-mouth recommendations.
Suppose you want to go further and offer a wow experience. In that case, you can create a community of customers and invite them to actively participate to earn rewards, interact with other customers, and develop new business ideas.
Create your successful consumer decision journey with QuestionPro!
The consumer decision journey involves various business areas, from marketing to generating attraction in the discovery stage to the customer service and experience team to successfully complete post-sale and loyalty.
For a successful customer journey, you'll need tools that help you measure every moment in real-time, see your metrics, automate processes, and connect the organization so your team can make decisions to resolve any friction instantly.
If you would be interested in having all these tools in the same solution, remember that with QuestionPro CX you can have them at your fingertips at any time. Request a free demo or write to us in our online chat for more information!