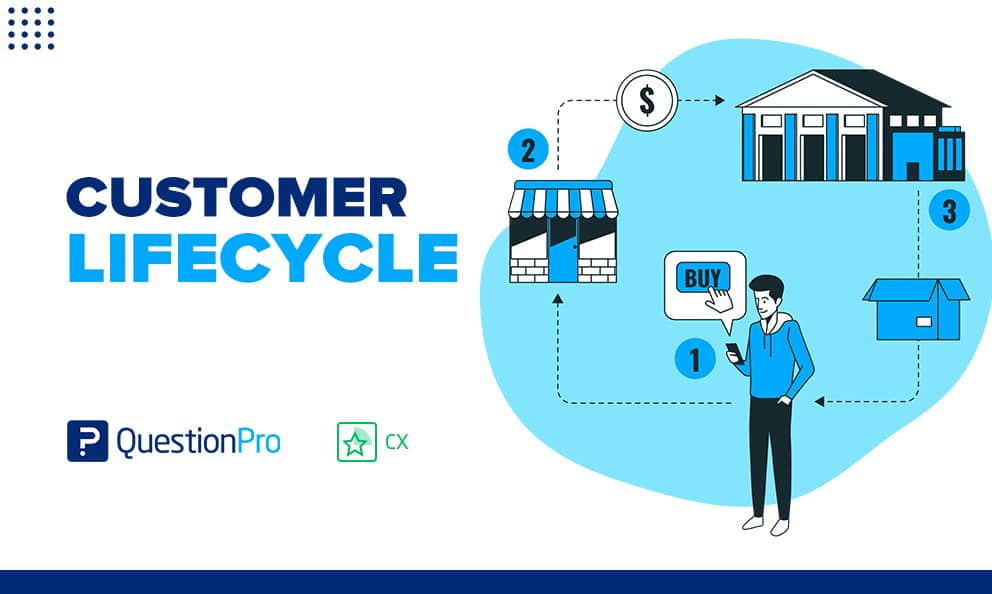 The customer lifecycle describes the consumer's process when they first notice and consider and buy your product, use it, and maintain brand loyalty.
Understanding the customer cycle is crucial as it allows companies to maximize revenue and remain competitive in today's marketplace.
Tracking the customer lifecycle requires considering each step of the process and terms like customer retention, customer care, and customer loyalty, which help create strategies to optimize the customer experience.
LEARN ABOUT: Retention Rate
What is the customer lifecycle?
The Customer lifecycle concerns aligning a company's business management with the customer journey.
That is, to systematize the commercial strategy concerning the customer's contact points throughout their life as a consumer, from when they arrive until they leave the company.
Customer touchpoints can be executed proactively based on where they are in the lifecycle or reactively through business alerts based on their behavior.
Importance of understanding the customer life cycle
The customer cycle allows you to build strong brand loyalty and get users to become advocates for your company, recommending it to their friends, co-workers, or family members. To achieve this, you need to make sure you remain relevant and offer value to customers.
Understanding the customer lifecycle is essential to your business's continued success and growth. If you ignore any of the stages of the process, it is possible that customers will be dissatisfied and leave in the future.
Companies must work on each of the stages that make up the customer lifecycle and use metrics to measure the success of each of them. This way, it will be possible to address competitive gaps in products and services.
Learn more about the importance of a Buyer Persona.
Measure all the stages of your customer life cycle touchpoints with QuestionPro CX. Request a demo of our customer experience management software to turn detractors into promoters of your brand.
Advantages of monitoring the customer life cycle
Next, we have for you the main benefits of carrying out the review of the customer cycle process in your organization:
The relationship with customers improves
By having more knowledge of your customers, they are satisfied to know that you care about their needs. This allows you to create a stronger connection and deeper relationship with them.
The solution to consumer needs
If you know the needs and desires of customers, you can find a quick and effective solution to their problems.
Improvements in customer service
If your employees learn about customers, they can serve them better. By knowing the records of your interactions, they will be able to act on that knowledge.
You increase employee satisfaction
Employees who are more knowledgeable and trained will be more engaged. By knowing the customer life cycle, they can quickly solve problems.
Increase the profitability of your company
When your organization learns about the customer life cycle and puts it into practice, productivity increases, the closing process is reduced, and you have the facility to offer extra products and services to increase customer satisfaction.
Your sales team can better schedule customer meetings and resolve customer concerns. By having a solid database with clients and prospects, everyone can access it equally.
LEARN ABOUT: Client Management
Decreases customer churn rate
When a customer engages with your employees, the risk of them leaving decreases.
Customer lifecycle stages
Managing the customer lifetime will be impossible unless you conduct a customer lifecycle analysis, which will show you how your customers are currently going through the pipeline.
The customer life cycle consists of six stages. Next, we will describe each of them so that you can easily understand the process:
Awareness
This is the first stage of the customer cycle when he becomes aware of the existence of a product or service from your company. This knowledge could be through social networks or a word-of-mouth recommendation. The client may not have an immediate need to solve, but the goal is that in the future, they can associate with your brand to find a solution.
Engagement
In the next stage, the client creates an association between their need and your brand, the process deepens, and they acquire more knowledge about it from offers, visits to your website, conversations with your sales team, or using samples of your product.
Evaluation
This is the stage of the customer cycle where your product or service is purchased. Identifying the key points that led to closing the deal and using them to position your products and have a more significant competitive advantage is crucial.
Purchase
Here are the people who have already bought your product and can be considered customers. At this stage, the focus is to create a strategy that will increase the value of the sale, which will cause an increase in ROI.
Product and support experience
It is the next step in the customer's lifecycle and one of the most important since different studies show that getting a new customer is easier than retaining current ones.
Now that you have achieved a new sale and a consumer in your database, the objective is to help obtain customer satisfaction by giving value to your products and services. This can be through a customer satisfaction survey, which allows you to understand and fix any problems during the sale.
Bonding/Advocacy
The ultimate goal in the customer sales cycle is to maintain customer loyalty. Satisfied customers continue to use your products or services and even choose to obtain additional ones and increase the cost of sale. In addition, they will become ambassadors of the brand and recommend it to others.
How To Manage the Customer Lifecycle
Managing the customer lifecycle is a strategic process that involves understanding and optimizing the customer's journey with a brand from the initial contact to becoming a loyal advocate. Here are some key facts to effectively manage the customer lifecycle:
Understanding the customer lifecycle
To successfully manage the customer lifecycle, it's crucial to have a comprehensive understanding of the various stages your customers go through while interacting with your business. This includes being aware of your brand, considering your products or services, making a purchase, having post-purchase experiences, and potentially becoming loyal advocates.
Personalization and segmentation
Today's customers expect personalized experiences that cater to their unique preferences and requirements. Collecting and analyzing customer data allows you to segment your audience into distinct groups based on behavior, demographics, purchase history, and preferences.
Exceptional customer service
Providing exceptional and proactive customer service is a cornerstone of a successful customer lifecycle management process. Promptly addressing customer inquiries, concerns, and issues demonstrates that you value their satisfaction and are committed to resolving any problems they may encounter.
You must train your customer service team to proactively connect with your consumers in order to handle any issues, aid them in making a purchasing choice, and even offer them samples or demos to familiarize them with your products.
For new customers, the onboarding process plays a vital role in setting the tone for their entire relationship with your brand. A smooth and welcoming onboarding experience helps customers quickly understand and use your products or services effectively.
Customer needs and preferences evolve over time, and market dynamics change. It's essential to continuously gather client feedback and analyze data to identify areas for improvement in the customer journey. Customer surveys, feedback forms, and sentiment analysis can provide valuable insights into customer satisfaction and pain points.
Customer retention strategies
Acquiring new customers can be more expensive and challenging than retaining existing ones. Implementing customer retention strategies is vital to keep customers engaged and coming back for repeat purchases. Loyalty programs, personalized offers, and exclusive perks for loyal customers can incentivize repeat business.
Measuring and tracking key performance indicators (KPIs) related to customer lifecycle management is essential for evaluating the effectiveness of your strategies. Important metrics include customer retention rate, churn rate, customer lifetime value, and Net Promoter Score (NPS).
Automation and technology
Leveraging automation and technology can streamline and enhance your customer lifecycle management efforts. Customer Relationship Management (CRM) software can help you centralize customer data, track interactions, and segment your audience effectively.
Marketing automation tools enable you to deliver personalized messages at scale, ensuring consistent and relevant communication with your potential customers.
How QuestionPro helps in managing the customer lifecycle
QuestionPro helps manage the customer lifecycle by providing a range of tools and features that enable businesses to collect, analyze, and act upon consumer feedback at different stages of the customer journey. Here's how QuestionPro assists in managing the customer lifecycle:
Survey solutions for feedback collection
QuestionPro offers comprehensive survey solutions allowing businesses to collect feedback from potential customers at various touchpoints throughout the lifecycle. Businesses can create and distribute surveys to gather valuable insights during the awareness, consideration, purchase, and post-purchase stages.
QuestionPro's customer journey mapping tools enable businesses to visualize and understand customer journeys from the initial awareness stage to post-purchase experiences. This helps identify key touchpoints, pain points, and opportunities for improvement in the customer experience.
Net Promoter Score (NPS) and Customer Satisfaction (CSAT) surveys are essential in customer lifecycle management. QuestionPro provides pre-built NPS and CSAT survey templates, making it easy for businesses to measure client loyalty and satisfaction levels at different stages.
Real-time reporting and analytics
QuestionPro's reporting and analytics features provide real-time insights into consumer feedback. Businesses can monitor customer sentiment, track trends, and identify areas for improvement promptly. Actionable insights help in making data-driven decisions to enhance the customer experience.
Closed-loop feedback management
QuestionPro allows businesses to close the loop with customers by automating follow-up actions based on survey responses. This ensures that client feedback is acknowledged and addressed promptly, leading to improved customer satisfaction and retention.
QuestionPro enables businesses to segment customers based on various criteria such as demographics, behavior, and preferences. This helps in personalizing interactions and marketing efforts for different customer segments, leading to a more tailored customer experience.
Integration with CRM systems
QuestionPro integrates with CRM systems, allowing businesses to combine survey data with other customer data. This integration provides a comprehensive view of the customer lifecycle and facilitates better customer relationship management.
QuestionPro's automated workflows streamline customer feedback processes, ensuring that feedback is collected, analyzed, and acted upon efficiently. Automated notifications and alerts keep teams informed and responsive to customer feedback.
Customer insights integration
QuestionPro allows integration with various customer insights platforms, enabling businesses to leverage multiple data sources for a holistic understanding of customer behavior and preferences.
Conclusion
The customer lifecycle is a basic idea in business strategy that focuses on nurturing and maintaining customers at various stages of their relationship with the company. Businesses can create amazing customer experiences, inspire loyalty, and turn customers into brand advocates by properly managing the customer lifecycle.
This increases client retention and customer recommendations and gives you a competitive advantage in the market. Adopting a customer-centric approach and applying data-driven initiatives can lead businesses to long-term success and growth.
QuestionPro, a leading customer experience management platform, empowers businesses to optimize their customer lifecycle management. QuestionPro provides comprehensive survey solutions, customer journey mapping tools, and real-time reporting to collect valuable customer feedback and insights. Contact QuestionPro now to learn more or have a free trial!
Frequently Asking Questions (FAQ)
Why does customer lifecycle matter?
The customer lifecycle matters because it directly influences customer retention, loyalty, and overall business growth.

What is the difference between the customer lifecycle and the customer journey?
The customer lifecycle refers to the entire relationship a customer has with a brand, while the customer journey focuses on specific interactions or touchpoints within that relationship.

How would you define customer lifecycle management?
Customer lifecycle management is the strategic process of managing and optimizing the customer's journey with a brand to drive satisfaction, retention, and loyalty.