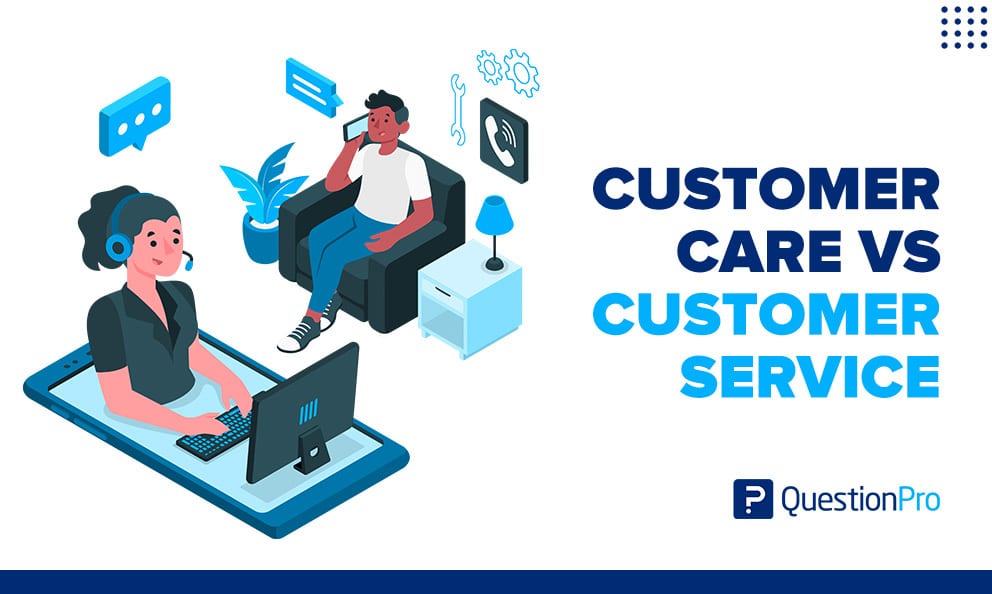 There is a big difference between customer care vs customer service. Customer care is all about the relationship you have with your customers. It's about establishing trust, providing support, and ensuring that your customers are happy. Customer service, on the other hand, is all about solving problems.
If a customer has a problem with your product or service, it's the job of the customer service representative to solve it. We will discuss the differences between customer care and customer service and provide tips for improving each one!
What is Customer Service?
Customer service is the process of handling customer inquiries, complaints, and requests. It includes everything from providing product information to troubleshooting problems. Customer service representatives (CSRs) are the front line of customer support. They are responsible for resolving customer issues and ensuring that customers are satisfied with your product or service.
The goal of customer service is to resolve customer issues as quickly and efficiently as possible. In order to do this, CSRs must have a thorough understanding of your products and services, as well as your company's policies and procedures. They must also be able to effectively communicate with customers, empathize with their situation, and find creative solutions to their problems.
Good customer service can have a direct impact on your business's viability. By exhibiting good customer service qualities and skills, you can help deliver an excellent experience, promote brand loyalty and ensure customer retention.
How to set effective Goals
Customer Service goals should follow the SMART philosophy:
– Set customer service goals that are Specific, Measurable, Achievable, Relevant & Time-bound.

– Train your customer service team on the company's policies and procedures.

– Teach your customer service team effective communication skills.

– Emphasize the importance of finding creative solutions to customer problems.

– Monitor your customer service team's performance regularly.

– Make sure your customers are satisfied with the level of customer service they receive.
By following these steps, you can ensure that your customers will continue to do business with you for years to come.
What is Customer Care?
Customer care is more than just providing excellent customer service; it's about making sure your customers are happy and satisfied with every interaction they have with your company.
Customer care is a proactive approach to customer service. Rather than wait for customers to come to you with problems, you reach out to them proactively in order to prevent issues from arising in the first place. This can be done through things like regular check-ins, follow-ups, and offering additional support or resources.
While both customer service and customer care are important, they serve different purposes. Good customer service is essential for solving problems that arise, while good customer care can help prevent those problems from happening in the first place. By providing both excellent customer service and care, you can create a comprehensive strategy for ensuring happy and satisfied customers.
Winning and maintaining clients or customers is one of the most crucial things for a company and Customer Care helps to achieve it. Customer care is an organization's commitment to provide quality service and assistance to its customers or clients. It involves creating a relationship with customers or clients, which instills loyalty and builds customer satisfaction. Customer care differs from customer service in that it goes above and beyond what is expected to keep the customer or client happy. This can be done by providing additional services or benefits that are not part of the original agreement, following up after a purchase, or offering advice and guidance even if it does not directly benefit the company.
Measuring Customer Care
Customer Care is all about personal contact with clients; it's critical to remember that customer care is a long-term investment, not an expenditure. There are ways to obtain feedback from customers about their experiences with you.
Customer care is about keeping your customers happy and satisfied; while customer service is about solving customer complaints and queries. Customer care is proactive, while customer service is reactive.
Both Customer Service vs Customer care affect your company's overall customer experience and customer relationships with your company.
QuestionPro provides the most comprehensive and powerful platform for conducting surveys. With our extensive experience in online research, we can help you design the perfect customer care survey to get the insights you need to improve your strategy. Contact us today to learn more!
Authors: Lahari & Mahesh