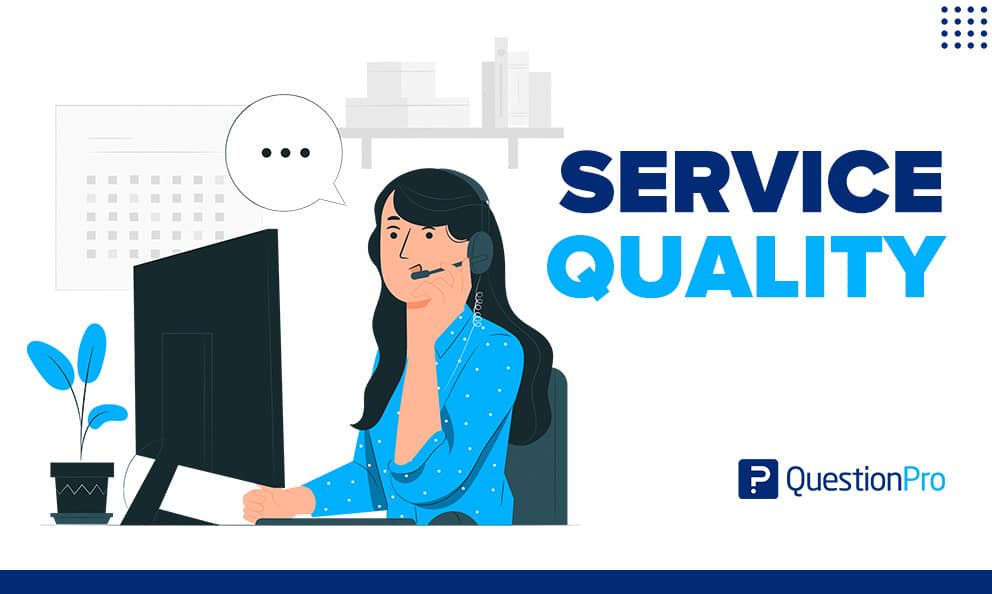 Service is the key part of keeping users engaged with an organization. Even if an organization has the best product on the market but misses out on providing an equally good service the chances that they might get lost to completion are inevitable. This is where understanding what service quality means and how it can be kept at its best comes into the picture.
What is Service Quality?
Service quality is a measure of how an organization understands its users' needs and fulfills their expectations. Understanding how to improve the service quality of your product is the key step to growth for any organization.
Measuring and improving service quality is a valuable art. But this requires research and expertise. To learn more about service quality we need to understand the key dimensions of service quality.
The 5 Service Quality Components
The key dimensions can be categorized into 5 components. Let's take a deep dive into the above points and learn how to make your product the best in the market:

1. Service Quality Reliability
Consistency all year round will not only ensure the probability that a product or service will operate as desired but also make sure that there is no breakage in the deliveries as set out. This helps in uncovering the customer experience measures well as potential risks in losing customers to the competition.
There might be numerous factors that could potentially cause disruption or breakage of a quality of a service being provided, especially in the case of continuous service delivery enterprises. Analyzing these deadlocks, and sources and coming up with strategies to mitigate the risks so that the end customers get consistent service delivery is a key component in making sure. 
For instance, in a multi-tenant architecture fluctuation of end-customer volumes can be quite uneven- while regular web traffic can be quite manageable, we might end up having exponential requests on the first working day of the month. It is absolutely necessary that proper contingency plans be developed during the inception phase so that there is a smooth transition in handling these anomaly scenarios.
2. Service Quality Tangibility
Customers should feel a palpable sense of quality in the level of services being offered to them. Total perceived quality is generally based on the juxtaposition of expected quality vs. experience quality.
In general, Expected quality is usually deduced from various marketing campaigns, sales promotions, brand images, and word-of-mouth. 
Multiple types of research have shown the experienced quality can be measured with either:
Technical Quality – The Whats
Functional Quality – The Hows 
Sometimes, organizations can also derive their custom indicators to measure tangible service experience with the help of well-formulated questionnaires and surveys.
3. Responsiveness
Being responsive to your consumers, making them feel heard, and giving them the right directions is a key factor in service quality. If you have a product and are facing issues with it, and the service team for the product is taking ages to get the issue resolved, would that make you want to use the product? Or will you find a product with a great Time-To-Resolution and better service?
How can you be better at Responsiveness?
Understanding your customer, providing consistent support experience, providing them with resourceful self-help guides, using canned responses for a quicker process, training the employees, setting performance goals for your employees, and monitoring them are some of the key factors that will benefit your organization and the product.
4. Service Quality Assurance
It is worth noting that consumers are getting bombarded with targeted digital advertisements all over. It is difficult to measure the reliability of each of these on a daily basis and with less attention span on a digital platform for end-users for e.g. e-commerce sites, trusting a brand is very important.
Assurance measures the ability of service providers to relay trust to the customers which are paramount in getting confidence in customers to stick with the organization as opposed to the competition. 
Assurance can be marked in different ways – Brand loyalty might be the first. People generally tend to trust a brand they are familiar with. But this might be a bit difficult for new startups. New aspiring companies need to pay special attention to delivering sales pitches which magnifies their commitment to reliable service delivery in the long run.
5. Empathy
Understanding the consumer's use case, how the product will be useful to them, guiding them and helping them achieve their goals, and being empathetic to their needs is a very important process for an organization. This is what separates a human from a bot, the ability to empathize with your customer and make them feel valued.
Empathizing with your clients would make them feel valued and it will lead the user to be loyal to your product and services. What's better than having a loyal client who can spread the word about your product.
LEARN ABOUT: Total Quality Management
Conclusion
Customer-centric support promotes customer service as a primary objective to create engaging, innovative, and personalized service delivery. Constant growth and customer retention can only be achieved with smooth delivery of services over extended periods of time. 
Authors: Navin Khadka & Nikhil David