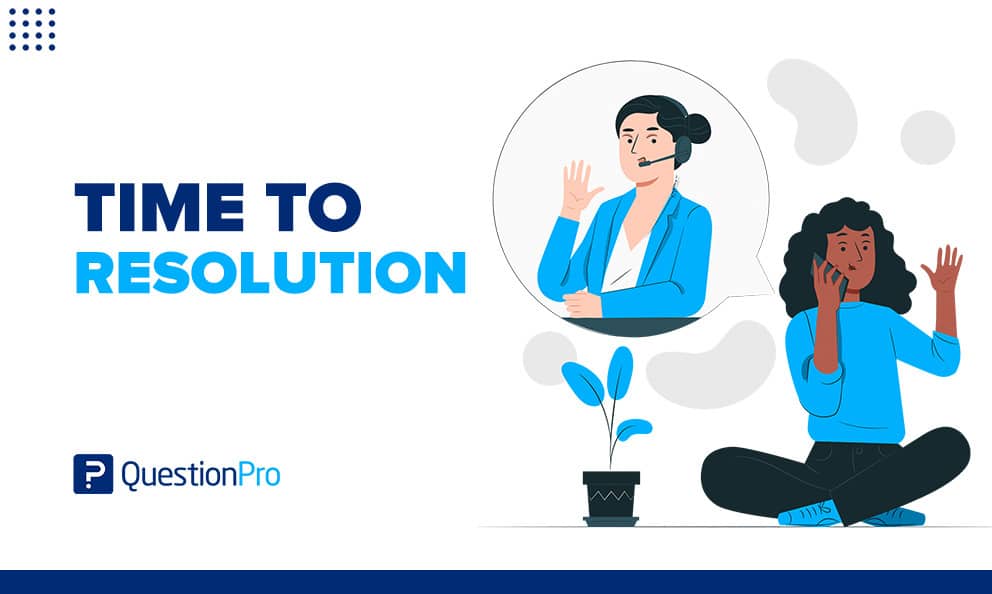 As soon as your client reaches out, asking for support, the clock starts ticking. It will not stop until that client has a response that they consider complete. If you want your customer to know that you care about their time, the best you can do is have the Time to Resolution Customer Service metric well incorporated into your business strategy.
LEARN ABOUT: Time to Value
In this article, we'll dive into all of the details of what TTR is, why it is important for your business and why you should always take it into consideration.
What is Time to Resolution?
Time to Resolution (TTR) is a customer service metric that measures the average time it takes for customer interaction to occur before the interaction is marked as resolved.
In other words, time to resolution (TTR) is a customer service metric that tracks "how long it takes to resolve a customer issue". This is one of the general metric standards of customer service.
TTR can also be called Main Time to Resolution (MTTR) or average resolution time.
Learn About: Complaint Resolution
Why do you need to measure Time to Resolution?
Let's go from the basics. Measuring Time to Resolution is critical because time matters to your company as well as to your client. An agile customer service response to a customer's query is only part of a good service, which goes aligned to a great customer experience.
A customer who asks a question and gets a good answer that solves their problem within minutes or hours (depending on the issue) will definitely be more satisfied with your business service than one who gets the exact same answer within days.
Recent Customer Service research studies indicate that being more responsive and effective at problem-solving is directly associated with an increase in customer satisfaction and loyalty.
Keep in mind that TTR measures the amount of time it takes to reach an acceptable solution for the customer. This means it's about response time and the quality customer service provides to help the customer solve their problem or complaint.
TTR is a convenient shorthand measure for tracking the overall customer experience of your client, but as you might already know, TTR is not the only metric your Customer Service team needs. Remember you also need to measure too first-time response (FTR), Net Promoter Score (NPS), and Customer Lifetime Value (CLV), to name a few. Focusing on only one metric could be potentially harmful for your business, as it doesn't tell the whole story. It is critical that your team support themselves with other customer satisfaction metrics in order to have better customer service and more happy customers.
Benefits of measuring Time to Resolution
Monitoring your TTR indicator helps you understand variations in your customer experience. Here are some of the benefits it brings you measuring TTR:
It helps you track longer than average conversations that may be forgotten or missed.

Support the triage of more complex cases that require more hands in deck to work on solving the problem.

Lists certain internal processes associated with longer settlement times.

Improves the overall customer experience, boosting customer satisfaction.
How to calculate Time to Resolution?
As explained earlier, Time To Resolution (TTR) measures the average time it takes for the customer service team to resolve an open ticket or any other customer issue.
It is calculated by dividing the sum of all times spent (days or hours) by the number of cases resolved.
Average Resolution Time:(ART)
Based on the preferred range using the following formula, we can calculate the average resolution time.
Total time of all resolved conversations divided by a total number of resolved requests:
Total time of all resolved conversation
---
Total no. of resolved requests
Why is Time to Resolution critical to CX metric?
CX metrics allows to track and measure the CX while using the product. Using Analytics tools, we can track CX metrics with different report structures. Check out the following key CX metrics required to improve your customer experience:
Net Promoter Score is short and simple for the customers to answer, and it is very easy to track for companies. NPS helps you predict future revenue gain or loss and works as open-text feedback.
Customer retention rate is the measurement of how a business retains customers over a specific period of time.
Customer Effort Score (CES)
Customer Effort Score (CES) helps you analyze the service's complexity. CES is a transactional metric and should be used after service interactions and other key moments after purchase.
Customer Lifetime Value (CLV)

 
Customer Lifetime Value (CLV) could be calculated both as a business value or as a value over a defined period of time with customer relationship.
Different tools can seamlessly handle this entire process or cycle in the market. For the measurement of each interaction of the customer with the company, a tool like QuestionPro can be used to accurately and in real-time measure.
Post interaction feedback like a post-chat or post-call survey, post IVR call survey, and feedback link in the footer of email communications are different channels of effective collection of the data.
LEARN ABOUT: Total Quality Management
In conclusion…
The lower the TTR, the lower the chances of consumers experiencing frustration due to long wait times.
Metrics analysis is also part of the strategy and can help you track results and define the next steps.
LEARN ABOUT: Perfect Customer-First Strategy
Now that you know how Time to Resolution works, put your knowledge into practice and analyze the results, which can be very promising for your team. Remember, when in doubt, focus on the customer first. Customers want the absence of issues.
Let us guide you towards your first step into the building and simplifying of your Customer Experience program.
Authors: Amit Chaudhari, Paulina Rodriguez