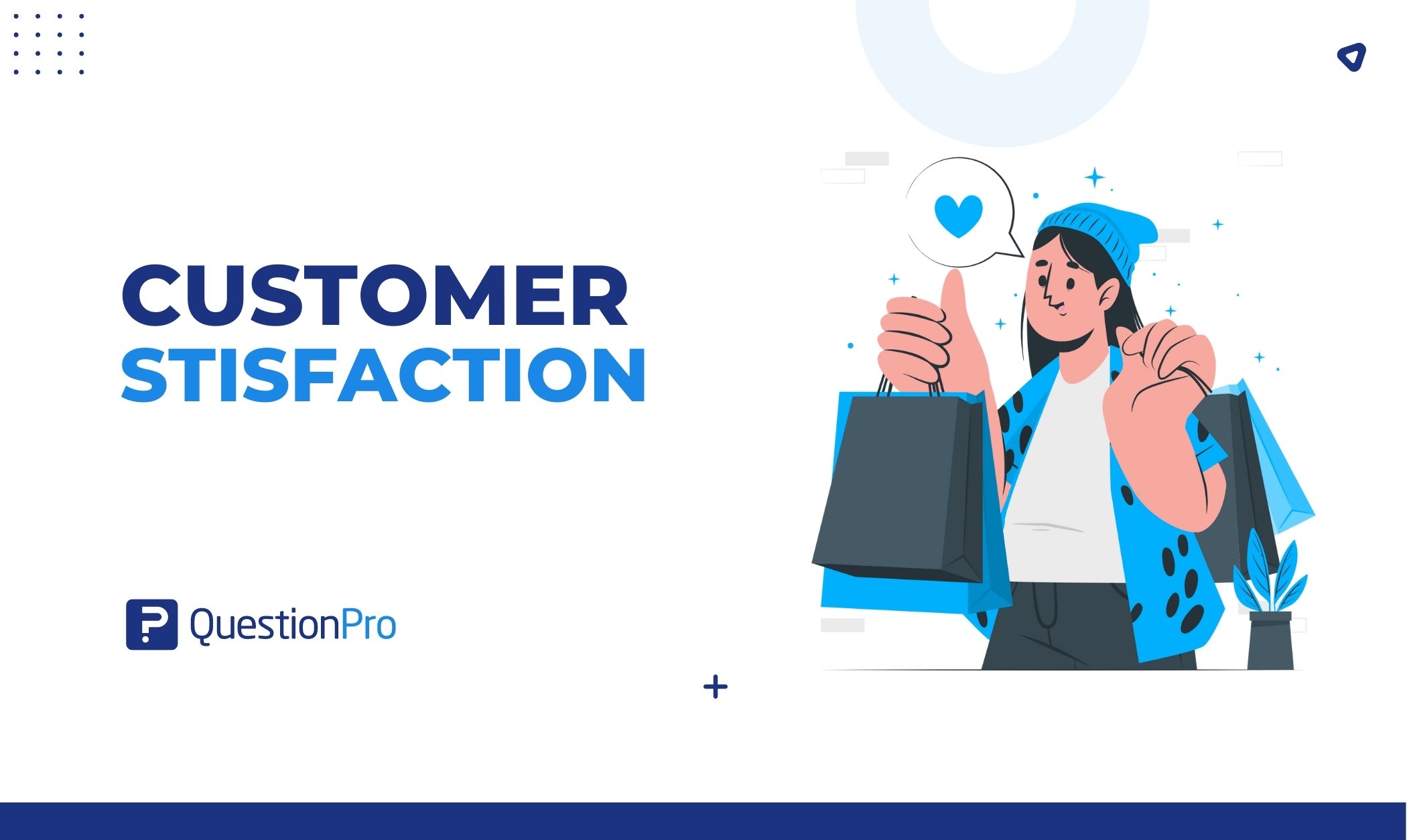 The benefits of customer satisfaction are various, including increased competitiveness and growth. Customer satisfaction is essential to keeping your current consumers and retaining new ones. Dissatisfied customers are a retention risk; losing them will hurt your overall customer journey.
When people talk about customer satisfaction, they often talk about things like quality, efficiency, service, and reliability. Businesses that are smart know that keeping a customer is an art. But businesses also need to start measuring customer satisfaction to determine their consumer's loyalty. A customer satisfaction survey is an easy way to do this.
LEARN ABOUT: Consumer Surveys
A recent study found that measuring an organization's Net Promoter Score makes it more likely that it will grow by 10% more. A lot of the time, successful businesses think that keeping customers is cheaper than getting new ones.
Let us look at why customer satisfaction (CSAT) is so important for brands to succeed.
Also, don't forget to download the free ebook: The Hacker's Guide to Customer Experience, available toward the end of this guide!
What is customer satisfaction?
Customer satisfaction is measured by how well a company's products or services meet customer expectations, but customers are the best people to ask for a customer satisfaction definition.
Don't just ask them, "Are you satisfied?" Whether trying to build a corporate reputation or a business, your relationships with your customers are the key to getting where you want to go in your career. 
Given this, it's important to go beyond just a number rating every so often to find out what matters to your customer, how they're judging you, and what they want from a longer-term relationship with you.
Ask your customers what it means to them to be happy. Sending a simple survey with the question "How would you define customer satisfaction?" or even doing customer interviews are great ways to find out how your customers feel about the subject.
Even if you only have a few customers, this question can help your small business grow.
Top five reasons why customer satisfaction is important
It is imperative to understand the importance of customer satisfaction. Let us look at five key factors that make customer satisfaction important.

1. Reduce customer churn
Contrary to popular belief, pricing is not the main reason for customer churn. Yup, you guessed it right; it's customer service. We know of several brands with a huge customer base despite high prices. You can use customer satisfaction scores and your CSAT surveys' inputs to improve your customer service processes. Poor customer service quality will hurt you and cost your consumers in the long term. Seek continuous customer feedback to track your progress and routinely share it with your customer service reps.
2. Decrease negative word of mouth
According to McKinsey's research, an unhappy customer will tell about their experience to anywhere between 9-15 people. Considering the number of dissatisfied consumers you may have, that's a lot of bad customer experience press. This will directly impact your business revenue and brand reputation management. Repeat business rides on customer satisfaction, and unhappy customers are detrimental to your business. There will always be customer churn, but you do not want to lose customers based on bad word of mouth. Regular CSAT surveys will help you measure customer satisfaction and identify factors that may hamper your CSAT scores.
3. Retaining customers is cost-effective
Expiring new customers costs 6-7 times more than retaining your current customers. This puts into perspective how vital customer satisfaction is. Rather than spending huge amounts of money on acquiring new consumers, spend a fraction of it on improving your existing processes and systems to retain customers. This will go a long way in saving costs and growing your business revenue.
4. Repeat customers
Satisfied customers are likely to purchase from you again. One easy way of knowing this is through customer satisfaction surveys. Ask them to rate their satisfaction levels on a scale of 1 to 10 and see who will be happy to purchase from you in the future. Customers who rated you 7 or more are satisfied and likely to engage with your business again. A score of 6 or below is cause for concern; these customers are unhappy with you and are a huge attrition risk.
Customers rated 9 or 10 are your biggest and most loyal advocates. You may use them to promote your brand and improve your CSAT scores.
5. Competition differentiator
Customer satisfaction is the key to making or breaking brands. In this competitive world of many brands, customer satisfaction must be the focal to your customer strategy. No amount of marketing campaigns and promotions will help you if your customers are not satisfied. Brands with low customer satisfaction levels are likely to perish in the future. Brands with advocates are far more likely to do better than those without. You will have brand advocates when you have satisfied customers. So, as you see, it all begins and ends with customer satisfaction.
Suppose you are still not convinced why a customer satisfaction survey is important. In that case, we have 5 more reasons to make you believe that a customer satisfaction survey is important and beneficial to businesses of any size.
Even the most loyal customers can leave in the blink of an eye.
As the saying goes, customer loyalty can't be bought; it has to be earned. According to a study, companies in the US can lose up to 45% of their customer value if their customers aren't happy with the customer service or don't get the response they expected.
This is not rocket science. Customers have too many choices; your loss is someone else's gain. To keep your customers, it's a good idea to use a customer satisfaction survey and take care of any problems immediately.
It helps you set your brand apart from others.
As a customer, if you wanted to buy a TV and did all your research, spent hours in front of the computer, and made notes about the features you want in your TV, you might finally decide to buy brand A. Then you go to your friend's house and tell them excitedly that you have decided on brand A. Suddenly, your friend says, "No, brand B is better. I have used it, and they have delivered exceptional customer service." What brand do you think you will end up buying? The answer is clear: brand B, of course. Customer satisfaction is a differentiating factor that helps your brand stand out from the competition.
Good customer service can help build a strong brand.
Customer satisfaction should never be questioned. It is an important part of a business's marketing strategy, especially when it comes to branding. As was said before, consumers of all ages have gone digital these days.
Social media plays a very important role in branding activities. A dissatisfied customer is free to say what they think on a medium that millions of people can see. One bad review or piece of feedback can do irreparable damage to the brand. So, it is very important for a company to make sure that the comments customers leave are always positive.
Later, businesses can use positive comments or feedback as success stories or testimonials to promote their brand.
Happy customers keep coming back.
Satisfied and loyal customers not only spread good word of mouth, but they also keep coming back to the brand they like even though they have other options. A study found that customer advocacy led to a 48% increase in business for small businesses in the year 2016-2017.
Also, a company's sales go up when customers are happy. Whether a customer has a positive or negative opinion about a brand can affect its value. When your customers are happy, they don't go to your competitor's brand.
Make the customer experience more personal.
When businesses realize how important it is for customers to be happy, they make sure that every unhappy customer is contacted in person. There are many ways for a business to turn an unhappy customer into a happy one.
Offering coupons or discounts is an immediate way to fix the damage. But if a business cares about its customers, it regularly sends customer satisfaction surveys. Any organization should make it a habit, not an option, to measure customer satisfaction. You should do customer satisfaction surveys every single day.
Halfway there? Congratulations! Luckily, you've learned a bit more about the importance of Customer Satisfaction and its interconnection with customer experience. If you'd like to take the extra mile and learn more about how customer experience can help you gain more happy, loyal customers and increase your business growth, download our free eBook: The Hacker's Guide to Customer Experience – CX= Emotion x Value.
Top five key benefits of customer satisfaction
Brands need to understand customer satisfaction benefits before they invest effort and resources in processes and systems to improve their CSAT score. Here are some key benefits of customer satisfaction that all brands need to consider.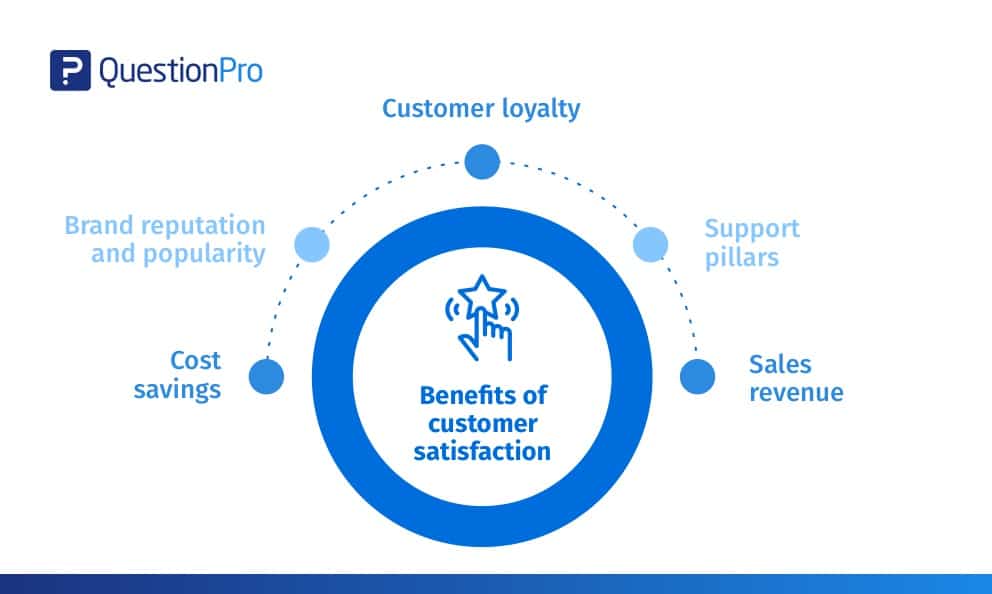 1. Customer loyalty
When your customers are satisfied, they believe in the brand and become loyal. These loyal consumers give brands repeat business and form a major part of the revenue. Losing customers greatly affects your business revenue and customer churn numbers. Adobe's report said loyal consumers spent 67% more than new ones via repeat orders, upsells, etc. Add to this the positive word of mouth to friends and family from your loyal customers, which really starts to add up. Prioritize customer success so that satisfied existing clients feel they can promote the brand to their loved ones for their great experiences.
LEARN ABOUT: Client Management
2. Support pillars
Satisfied customers are more likely to stand by in times of crisis; they care for the brand and want to see it thrive. This has been observed in many cases for big brands, such as McDonald's when there are rumors of caterpillars in their foods. They trust the brand measurement and understand any shortcomings or crises that may befall them.
3. Sales revenue
Brands focussing on customer satisfaction actively have healthy sales revenue. They do not lose old customers and have a steady revenue stream from repeat business. Customer satisfaction and increased revenue are directly correlated.
Satisfied consumers stay loyal to your brand, interact with it, buy often, and make recommendations to their colleagues, friends, and family. Run online customer surveys to note which areas negatively impact customer satisfaction and need improvement. This will help improve customer satisfaction and reduce customer churn.
4. Boost brand reputation and popularity for benefits of customer satisfaction
Customer satisfaction impacts brand reputation and popularity. See customer feedback and figure out which areas could be improved and improve satisfaction. Is it accounts or customer service? Don't be afraid to ask your customers; honest feedback will help manage expectations and act accordingly. Famous brands have dedicated teams and initiatives for improving customer satisfaction, which helps them achieve high sales figures.
5. Reduce marketing expenses
Satisfied customers are your biggest advocates. Their positive word-of-mouth lends your brand credibility and popularity and helps acquire new consumers. This saves brands a lot of money that they would spend on marketing and promotional campaigns to acquire new customers.
LEARN ABOUT: Customer Experience vs. Customer Service
How to improve the benefits of customer satisfaction
Here are some ways that you can use the benefits of customer satisfaction for your brand.
Net Promoter Score surveys help analyze customer loyalty and are frequently used regularly in CSAT surveys. This blog details how your brand can get a good NPS score.
Web intercept surveys let many of your online visitors respond to online customer surveys. Your website visitors are shown a message about the customer survey, and they get an option to participate in the survey. Many brands prefer them as they are non-intrusive, ensuring you don't lose your website or visitors.
Customer service surveys help analyze whether customers are happy with a brand's customer service. These are usually triggered after consumers interact with customer service representatives and look to check if the customers are satisfied with the interaction and if their queries are resolved.
When customers talk about your brand, products, and services, it shows how they regard your brand. With social media, customers have the ability to provide instantaneous feedback. This could be good or bad. Using social media channels such as Facebook, Instagram, LinkedIn, or Twitter can help you gauge customer satisfaction, use these channels, and leverage their tools such as reviews, live polls, etc.
All websites have the ability to support live chats now, and most big and small businesses do have them to interact with customers. It helps resolve queries and customers' expectations, guide them to where they need to go, gather feedback, etc. Use live chats to engage with consumers and seek their feedback to ensure you give them a fulfilling experience. You can use history to look at old chats and study patterns to bridge any gaps that may exist.
How QuestionPro can benefit customer satisfaction
QuestionPro can boost customer happiness in various ways:
Understanding customer needs: Organizations can conduct customer satisfaction surveys with QuestionPro to learn about customer preferences. These surveys can help companies find areas where they meet or exceed customer expectations and where they need to improve.
Customer pain points: QuestionPro feedback can help companies uncover customer problem areas. Addressing these issues can boost consumer happiness and loyalty.
Net Promoter Score (NPS): NPS surveys from QuestionPro measure cUSTOMER loyalty. This poll assesses customer referrals. Businesses can track customer loyalty and improve by tracking the NPS score over time.
Data-driven decisions: QuestionPro's powerful reporting and analytics help organizations boost customer satisfaction data with data-driven decisions. Reports and visualizations reveal consumer input trends, patterns, and correlations to enhance products and services.
Improving customer communication: QuestionPro offers email, SMS, and social media to help businesses keep customers informed of product and service changes. Keep customers informed and involved to develop trust and satisfaction.
QuestionPro can help businesses enhance customer satisfaction by revealing customer requirements and preferences, pinpointing pain points and areas for improvement, assessing customer loyalty, and making data-driven decisions.
LEARN ABOUT: Consumer Decision Journey
QuestionPro CX can help you manage and track and measure your customer experience initiatives. Try the platform; you do need to put in your credit card, and signing up takes less than a minute.
Looking to deliver an exceptional customer experience with QuestionPro CX? Discover more about how to delight your customer at every touchpoint and turn them into brand advocates.