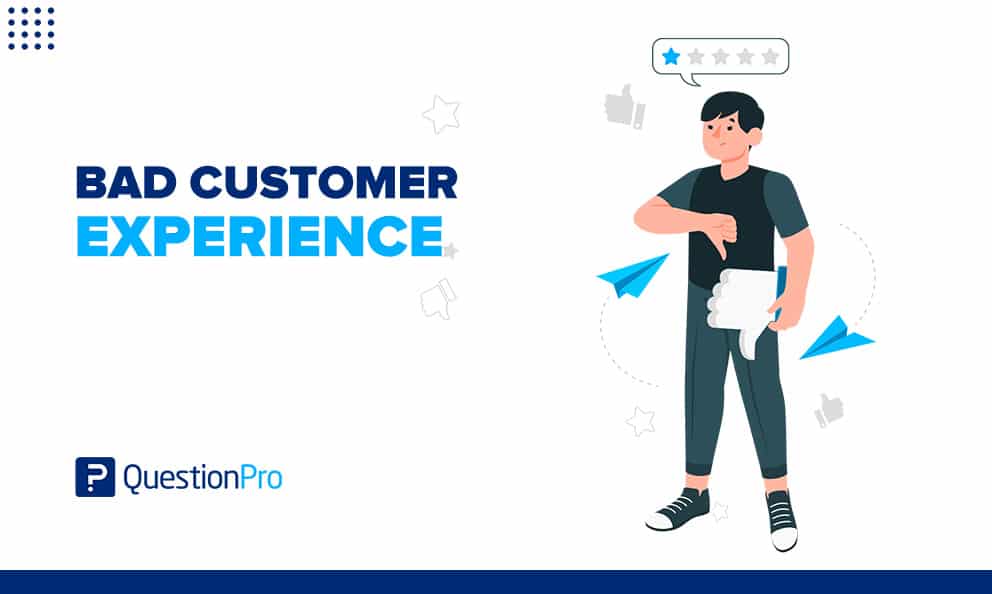 Bad customer experience can have a long-term impact on customer loyalty and revenue. What are the consequences? The consequences are that 39% of customers will avoid a company for two years.
Every year, businesses lose $62 billion due to poor customer service. Poor customer service is driving customers away. On the other hand, companies that have customer retention strategies in place are winning.
What is a bad customer experience?
When a company fails to meet the expectations of its customers, this is called a bad customer experience. It could be service quality, response time, or overall customer satisfaction.
Poor customer service not only destroys existing customer relationships. It also puts at risk future prospects.
It can harm your company's bottom line. According to a survey, "58 percent of clients choose to switch organizations due to poor customer service."
Why bad customer experience is harmful to your business?
In the world of business, the way customers feel about your company really matters. But did you know that bad experiences can cause big problems? When customers don't like how they're treated, it can lead to lots of issues that hurt your business. Let's take a closer look at why bad customer experiences are a big deal.
Impact on customer loyalty
Bad customer service can have a profound and lasting effect on customer loyalty. When the customer service teams consistently fail to meet customer expectations, it leads to a bad customer service experience.
This negative encounter can erode customers' trust in your brand, making them hesitant to engage with your business again in the future.
The repercussions of poor customer service affect your bottom line. Unresolved issues, inefficient support, and bad customer service examples can drive customers away. They might seek out competitors who provide a better customer experience. This loss of revenue is a direct result of not prioritizing effective customer service.
In today's interconnected world, customer complaints can easily spread through online platforms and social media. A single bad customer service experience can lead to a viral negative feedback, damaging your brand reputation. Potential customers who come across these reviews may choose to avoid your business altogether.
Missed referral opportunities
Satisfied customers are more likely to refer friends and family to your business. However, if they encounter an inefficient customer support team and poor customer service experience, they're unlikely to recommend your brand. This lack of positive word-of-mouth can translate to missed opportunities for expanding your customer base.
Beyond just the quality of your products, customers evaluate your business based on the quality of your customer service team interactions. Bad customer service puts you at a significant competitive disadvantage. Even if you offer great products, a series of bad customer service experiences can drive customers to choose competitors who provide better support.
Continuously dealing with dissatisfied customers due to inefficient customer support and poor customer service affect your employees. The constant barrage of customer complaints can lower their morale, leading to decreased productivity and engagement. Creating a good customer service environment is crucial to maintaining employee satisfaction.
The aftermath of bad customer service experiences isn't short-lived. Rebuilding customer trust and mending your brand's reputation takes time and effort. The lasting negative impact can hinder your growth prospects, as potential customers might remember the bad customer service examples they've heard about or experienced.
Instances of bad customer service can serve as valuable learning opportunities. Analyzing these experiences can cause pinpoint weaknesses within your customer service team and processes. By addressing these issues, you can make necessary improvements and work towards enhancing the overall customer experience.
The harm caused by bad customer service is multifaceted. The consequences are far-reaching, from eroding customer loyalty and causing revenue loss to damage your online reputational risk and impacting employee morale.
Prioritizing exceptional customer service and consistently addressing customer concerns is crucial to avoiding these pitfalls and fostering sustainable business growth.
Examples of bad customer experience
Encountering poor customer experiences can leave a lasting impression. Let's explore some real-life examples that shed light on what can go wrong.
Unhelpful customer service representative
A customer contacts a company's customer service to resolve an issue with a recently purchased product. The customer service representative is uninterested and provides vague answers without addressing the customer's specific concern.
The customer leaves the interaction feeling frustrated and unheard, resulting in a decline in customer satisfaction rates.
Ignoring customer feedback
A loyal customer provides detailed feedback about a recurring problem they've encountered with an online service. Despite the customer's efforts to provide suggestions for improvement, the company fails to acknowledge or implement any changes. This lack of response to customer feedback shows a disregard for customer opinions and can lead to a perception of poor customer service success.
Delayed and ineffective support
A customer faces a technical issue with a software application and reaches out to customer service for assistance. After submitting a support request, they receive an automated response promising assistance within 24 hours.
However, the customer hasn't received any help even after the specified time frame. This delayed and ineffective support negatively impacts customer satisfaction rates and falls short of delivering excellent customer service.
Inconsistent information across channels
A customer has a billing discrepancy and decides to contact customer service through both email and phone. The email response and the phone representative provide conflicting explanations for the discrepancy.
This inconsistency confuses the customer and erodes trust in the company's customer service representatives, leading to a negative perception of the quality of support.
Lack of empathy and personalization
A customer contacts customer service after receiving a damaged product. The representative addresses the issue in a robotic and impersonal manner, showing no empathy for the inconvenience caused.
The customer feels undervalued and disappointed by the lack of understanding, resulting in a poor perception of the company's commitment to providing excellent customer service.
How to avoid a bad customer experience
Here are some steps you can take to avoid poor customer experience in your organization:
Taking note of customer feedback
Failure to act on customer feedback can have a negative impact on the growth of your company. If you receive customer feedback but do nothing with it, you pass up an opportunity to improve customer experience.
You'll also be unable to see where you need to improve. Customer feedback and responses are important to any company's success. It helps you change your products and services to better meet your customers' needs.
What should you do about a bad customer experience?
You must collect and analyze feedback before acting positively on it. Here are some of the reasons why customer feedback is essential for your business.
Assists you in measuring customer satisfaction and providing the best customer experience possible.
Increase your customer base through word-of-mouth.
It shows the importance of customer feedback.
Paying attention to your customers
It is important to listen to your customers. It helps in developing a good relationship with them. For example, when you're in a meeting with a customer, you must pay attention to what they're saying and react accordingly.
One of the biggest mistakes organizations often make is failing to listen to their customers. It can have the following effects, which are unrecoverable in some cases:
Dissatisfied customers
Business loss
Follow up
Another major thing is to make each customer feel like the most important client of your company. The company should not overlook that. One way to show concern is to always follow up on customer concerns.
This allows you to learn about your customers' service preferences. Moreover, take the necessary steps to improve and satisfy them. Delayed or ignored emails point out that the customer is unimportant to you.
The best way to follow up is to send your customer an email or a survey and ask for feedback. This will differentiate your customer growth service. Also, allow you to communicate with them in the future.
Stop promising too much and failing to deliver
Some organizations over-promise to gain clients. After that, they fail to fulfill their promises. This can be harmful to the organization. Overpromising and failing to deliver harms small businesses and huge businesses' reputations.
As a result, don't over-promise any client. Make sure you meet deadlines to deliver the finest customer experience. It's always preferable to under-promise and over-deliver because this will turn your customers into brand ambassadors for your business.
Customers must not be suffocated
It's important to show your gratitude to your customers. However, you must not bother them with your efforts. Don't confuse them with information unless they directly ask for it. Remember that frequent phone calls bother clients, so keep them to a minimum.
Employee confidence-building training
Every employee must receive proper training to provide the best customer experience. For example, if a customer inquires about your product, not every employee of your company will have an immediate response. Instead of saying I'm not sure, tell them you'll get back to them after a quick search.
Customers should not get the impression that enough training was not provided. Every employee in a company should be confident when interacting with customers.
Having an appropriate user interface
A website is a basic requirement for any business, large or small, in the digital world. One major factor that makes a website important for any business is increased visibility.
Even if people have heard of your company, they will conduct a quick online search to get to know you better. Another important reason for having a website is to represent your company and provide credibility. It's important to be aware of customers' comments and bad Google reviews.
As a result, if you don't have a website, you're possibly losing customers. So, having a website is important for any company. It is important to attract customers by designing a user interface website.
The website should include a clear call to action, such as contact, addresses, and phone numbers. The more professional your website, the greater your advantage.
Following a customer-centric culture
Creating a customer-centric culture is harder than it appears. To avoid a bad customer experience, create a culture within an organization before bringing it to the customer.
Leadership must offer a simple and remembered vision to promote a customer-focused culture. Before you can communicate your vision to your customers, you must first communicate it to your employees.
Moreover, management must keep employees aligned with the vision. Thus, a company's internal culture is important to providing good customer service. All of your efforts will be useless if you don't have a clear customer service vision because it is deeply integrated into your company's culture.
Taking a proactive stance
Businesses that take a reactive approach will make a loss due to downtime, unhappy customers with customer complaints, and reputational damage.
Taking a proactive approach to customer support makes your company more productive. It also added numerous advantages, such as increased customer loyalty and business value.
Avoid making it difficult to contact you
When a customer needs to contact you immediately with a question and cannot reach you, the customer has a negative experience. It only makes them confused.
You can help them by providing accurate contact information for your company. All of your websites and email communications assist them in contacting you using their preferred communication methods.
Respond to your customers as soon as possible
The most important aspect of good customer service is a timely response. Most people do not respond quickly when a customer has a problem or provides feedback.
It is important to respond to customer feedback in a timely manner to maintain customer loyalty and retention.
Customers will feel valued if they receive a quick response. We must respond to customers quickly. Try to quickly respond to your customer if it is rain or shine because they are very important to us.
Conclusion
We hope you never have to deal with bad customer service, whether as a customer or as a business owner who needs to address the problem within their team. But if the worst happens, you'll know how to deal with it.
These are some practices that every company should follow to provide the best customer experience possible. If these practices are followed, the company can establish a foundation of loyalty and avoid a bad customer experience.
QuestionPro CX provides real-time Customer Experience data. It will help you with tips and tricks for avoiding bad customer experiences and creating good ones. Request a demo today to learn how QuestionPro can help you increase productivity, improve customer satisfaction, and boost your brand reputation.
Frequently Asking Questions (FAQ)
What is a bad customer experience?
Bad customer experience refers to instances where customers are dissatisfied with a company's service, leading to negative feelings and potential negative impacts.
How can bad customer service affect customer satisfaction rates?
Bad customer service can lower satisfaction rates by failing to meet customer expectations and needs.
How can businesses prevent bad customer experiences?
Businesses can improve by listening to feedback, training staff, setting clear expectations, and delivering on promises.