A company's reputation is one of its most precious assets. Companies with a good reputation perform better, attract more qualified people, and do better overall. In the digital age, mistakes, inappropriate communication, or targeted attacks can easily undermine a company's reputation management.
These threats can be avoided, and the harm to a company's reputation can be minimized by controlling reputational risk.
This blog explains what reputation risk is and how you can manage it.
What is the reputational risk?
Reputational risk is anything that has the potential to harm your organization's image in the general public's eyes.
It can happen for several reasons, such as negative publicity, acting unethically, or not keeping promises. This risk of reputation can be very bad for a business because a bad reputation can cause a loss of consumers, investors, business partners, and money.
Businesses and organizations must consider the potential reputational risk of their actions carefully and have strategies in place to manage and mitigate these risks.
What are the causes of reputational risk?
Reputational risk refers to the potential harm to an organization's reputation that could lead to financial losses, decreased customer trust, and negative public perception. This type of risk can stem from various sources and factors, often intertwined with operational and management practices.
Effective reputation risk management involves identifying and mitigating these risks to minimize potential damage. Here are some key causes and factors related to reputational risk:
Flaws in operational processes, such as product defects, service failures, supply chain disruptions, and security breaches, can directly impact a company's reputation. When customers experience problems or security breaches occur, it can lead to negative publicity and erode trust.
Poor handling of crises, whether they are related to safety incidents, environmental issues, legal problems, or public relations matters, can significantly damage a company's reputation. Inadequate crisis communication and response strategies can amplify the negative impact.
Unethical behavior, fraud, or misconduct by employees, executives, or the company as a whole can tarnish reputation. Consumers and stakeholders are increasingly sensitive to issues related to corporate ethics and social responsibility.
Social media and online presence
The rise of social media and online platforms has amplified the speed and reach of information dissemination. Negative comments, reviews, or viral content can spread rapidly, causing reputational damage if not addressed promptly.
Media outlets play a crucial role in shaping public opinion. Negative coverage, biased reporting, or sensationalized stories can harm an organization's reputation, even if the information is not entirely accurate.
Failure to adhere to industry regulations, legal requirements, and compliance standards can lead to legal actions, fines, and reputational damage. Non-compliance can signal negligence and irresponsibility to stakeholders.
Organizations with poor environmental practices, such as pollution, excessive resource consumption, or disregard for sustainability, can face backlash from environmentally conscious consumers and advocacy groups.
Poor treatment of employees, issues related to workplace diversity and inclusion, or labor disputes can lead to negative perceptions of the company's values and practices.
Intense competition can sometimes lead to unethical practices like spreading false information about competitors. Engaging in such tactics can harm not only competitors but also damage the company's own reputation.
Supplier and partner relationships
Reputational risks can extend to partners, suppliers, and third-party vendors. Scandals or unethical behavior within the supply chain can reflect poorly on the organization.
Why is reputational risk management so important?
Reputational risk management is important because it can significantly impact an organization's long-term success, financial stability, and stakeholder relationships. This type of risk is closely tied to operational risks and is a crucial component of enterprise risk management. Here's why managing reputational risk is so crucial:
Economic strength: Effective reputation risk management helps minimize potential financial losses caused by operational risks. By addressing vulnerabilities, organizations can safeguard against negative impacts on their bottom line and share value.
Enterprise stability: Integrating reputation risk management into enterprise risk management strategies allows organizations to identify risks holistically. This proactive approach ensures operational continuity and mitigates reputational threats.
Stakeholder trust: A well-managed reputation fosters trust among stakeholders, such as consumers, investors, and employees. Maintaining this trust through transparent practices and ethical behavior is essential for long-term success.
Competitive edge: Organizations with positive reputations gain a competitive advantage by attracting consumers who value reliability and ethical conduct. This positioning strengthens the brand and supports sustained growth.
Crisis preparedness: Managing reputation risk involves developing crisis management plans to handle adverse events effectively. Being prepared to navigate crises minimizes reputational risk and reinforces a resilient image.
Types of reputational risk
There are three types of reputational risk for any company. Here, we will learn about these types of reputational risks and how each of them is potentially bad for your business's reputation.
Reputational risk by company actions
These reputational risk situations are directly caused by your company's actions and ways of doing business. Some possible example scenarios include:
Low-quality products and services
Layoffs and scandals that get out to the public
Not following rules, such as federal or local laws or rules for the industry.
This type of risk can affect the public perception of your company, whether intentional or not.
Reputational risk by partners' actions
Partner and supplier behavior can damage your brand reputation, especially if you have an established relationship. Examples:
Partners or suppliers commit misconduct that becomes public knowledge.
Negative comments from partners or suppliers about your company
Actions of partners' representatives
Most of the time, these risks happen because someone with a direct connection to your business does something bad or unethical. Here are some scenarios:
Employees who represent your brand badly to others
Misconduct by an individual employee toward consumers
The public may not agree that company officials' and employees' acts are not the company's. Representatives act as companies' faces and personalities. It makes any organization open to a lot of liability and reputational risks.
Reputational risk by outside events
This type of reputational risk can greatly impact your company's reputation, especially when your consumers and former workers have a negative experience. Here are a few examples:
Customers' negative reviews on public review sites
Negative social media posts from customers about their experiences with your company
Data leaks or attacks on computer systems
The media and potential customers take this type of risk highly since it helps them build an impression about how people are treated after receiving goods, services, or employment from your company.
You may also check out this guide to learn how to build your own Customer Journey Map.
Tips for managing reputational risk
Guiding your organization through the intricacies of reputational risk involves a combination of proactive measures and strategic planning. To effectively mitigate potential threats and uphold your reputation, consider the following key tips: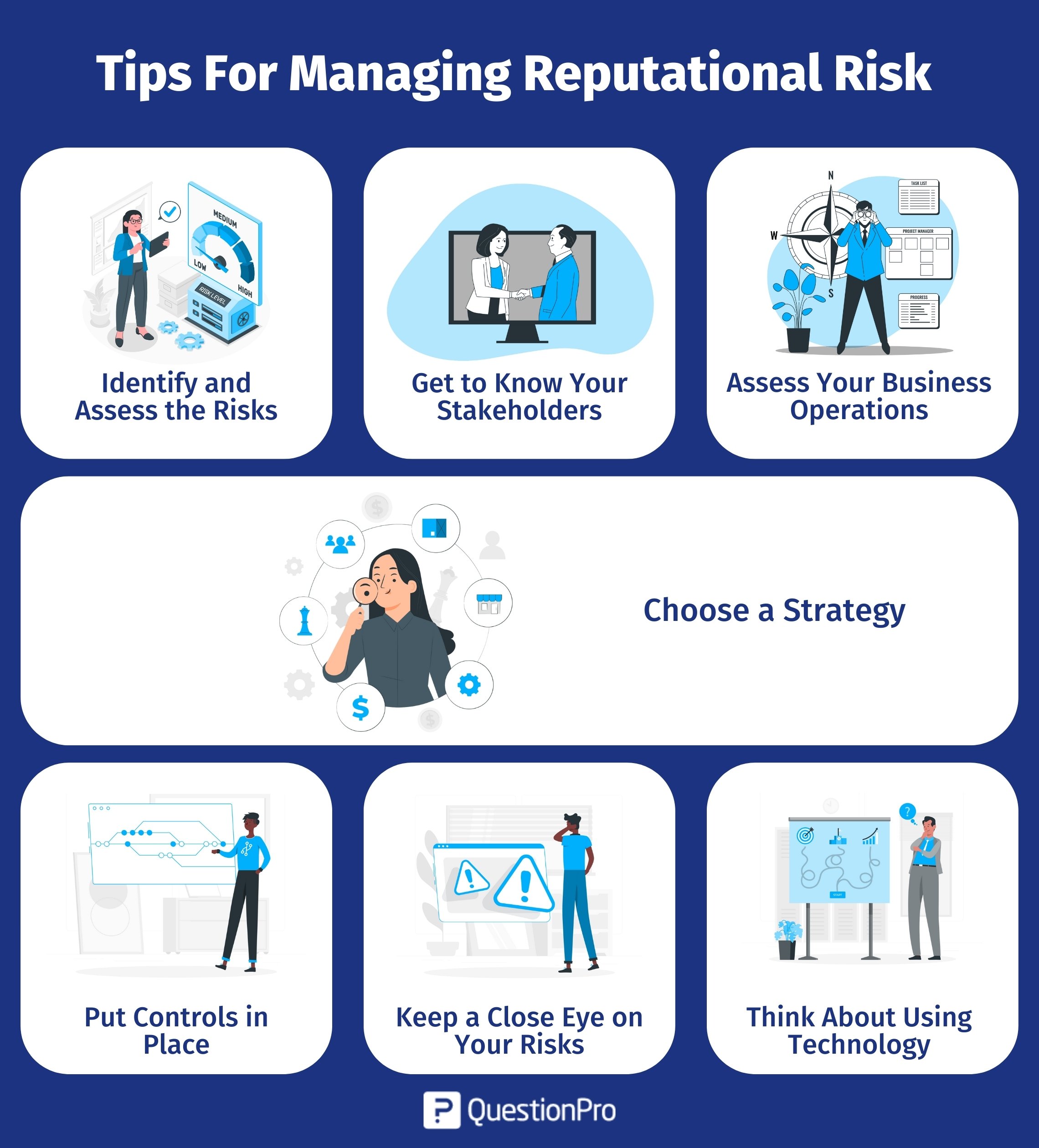 Identify and assess the risks
Identifying risks is the first step in managing reputational risk. In your reputation risk assessment, you should ask yourself how likely these risks are to happen and how bad the effects could be. You will need to figure out what could hurt your company's reputation.
Get to know your stakeholders
Your process for managing reputational risk should include figuring out what your stakeholders want from you. Make sure to think about all types of internal and external stakeholders because they may have different expectations of you.
You can find this out with the help of surveys, polls, and interviews. Use different sources that are not biased to get a clear picture.
You can conduct surveys, polls, and interviews with the help of QuestionPro to manage your reputational risk. QuestionPro is a survey software platform that enables users to design and distribute online surveys, polls, and quizzes. It includes a number of features and customization options to assist users in designing and conducting professional-grade surveys.
Assess your business operations
To identify gaps between stakeholder expectations and company performance, analyze how well you can meet them. Be objective and realistic to identify any flaws or areas that could hinder your reputation.
Now that you better understand your business and its risks, you should create a plan for dealing with them if they arise.
Use the insights gained from your risk analysis to help you select the best strategy. Use the QuestionPro survey software platform to get real-time insight into your business.
If there are actions you can take to reduce or even eliminate the risks, you should consider them. Digital solutions, improved policies and procedures, and effective training are all examples of actions that can help mitigate reputational risk.
Keep a close eye on your risks
Risks can change even after they have been identified, assessed, and treated. Be proactive in monitoring stakeholder expectations and your business operations so that you can respond and adapt quickly to any changes.
Think about using technology
Reputational risk management software solutions can make the process easier. The right solution can give you more control over your business, allowing you to make better decisions. Throughout the risk management process, it can also increase your awareness of emerging risks.
Learn more about why understanding your Customer Journey transforms your CX program.
How does QuestionPro CX help in managing reputational risk?
QuestionPro CX can help organizations manage reputation risk in a variety of ways:
To identify potential risks
Organizations can gather insights and feedback from stakeholders such as customers, employees, and partners by conducting surveys with QuestionPro. It can assist organizations in identifying potential reputational risks and areas where they are perceived positively.
To monitor and measure reputation
QuestionPro CX enables businesses to track and measure changes in their reputation over time. Organizations can discover trends and areas of concern and track the success of reputation management efforts by frequently collecting and evaluating customer feedback.
Address and resolve issues
If a survey shows that a company's reputation might be at risk, the company can take steps to deal with and fix the problem. It could mean making changes to policies or practices or talking to stakeholders about their worries.
To communicate with customers
QuestionPro CX is a tool that can be used to talk to customers. By regularly asking for feedback and addressing concerns, organizations can show that they care about customer satisfaction and build customer trust.
QuestionPro CX Reputation is a customer experience management platform that allows businesses to monitor and manage their online reputation.
It accomplishes this by giving businesses tools to track and respond to customer reviews and ratings on sites like Google.
It can assist businesses in identifying and addressing potential reputational risks before they become major issues. Furthermore, QuestionPro CX Reputation provides analysis and reporting tools to assist businesses in better understanding customer sentiment and identifying trends and areas for improvement.
Businesses can use this platform to proactively manage their online reputation and reduce the risk of negative reviews or ratings harming their reputation.
Conclusion
Reputational risk can cause significant problems for a business, like financial losses, less customer loyalty, and low employee morale. So, organizations need to take care of their reputations and find and fix any problems that could hurt them.
By proactively managing reputations, organizations can reduce the bad effects that reputational risk might have and protect their long-term success.
QuestionPro CX Reputation can help you to manage reputational risk. CX Reputation enables your team to cross-post and respond to comments across major public reviews and social media sites while also collecting and analyzing feedback using AI sentiment analysis and a real-time analytics dashboard.
Try QuestionPro today to get the best value for your company!
Frequently Asked Questions (FAQ)
What is reputational risk, and why is it important?
Reputational risk refers to the potential harm an organization's reputation faces due to negative events or perceptions. It's important because a positive reputation drives trust, customer loyalty, and business success.

How does a positive reputation benefit a company?
 A positive reputation enhances customer trust, attracts investors, and strengthens brand loyalty, giving the company a competitive edge and greater resilience to challenges
How can organizations manage reputational risk effectively?
Organizations can maintain reputational risk by focusing on transparent communication, ethical practices, crisis preparedness, stakeholder engagement, and proactive risk identification.