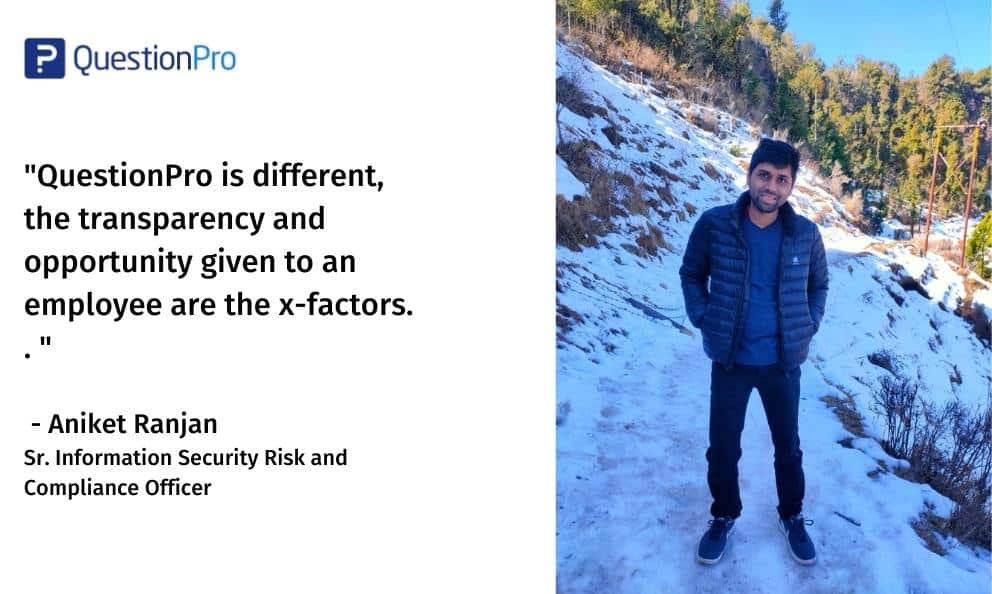 Aniket Ranjan joined QuestionPro in October 2015 and works remotely in India. He is currently leading the security and compliance team, and saves QuestionPro from hackers! He also trains new recruits and ensures they have the right resources to get started.
We connected with Aniket to know more about his experience working at QuestionPro and what makes him stick here.
How has your experience been working at QuestionPro?
It was absolutely fantastic. I get to learn a lot of things. I like the culture and hustle – it's nowhere else. In the past, I have already worked in 4 different companies, which include Tech Mahindra and the Bhabha Atomic Research center. But QuestionPro is different; the transparency and the opportunity given to an employee are the x-factors.
What do you love about QuestionPro?
Just one word – Everything!
How is your team like?
The team is good; they all have QuestionPro blood in them! When it's time to party – they party like animals, and when it's time to deliver work – they forget their timings and deliver it before ETA.
What's something your colleagues wouldn't know about you?
The first impression that I create is that I am a shy and introverted person. But those who are close to me know I am quite opposite of that.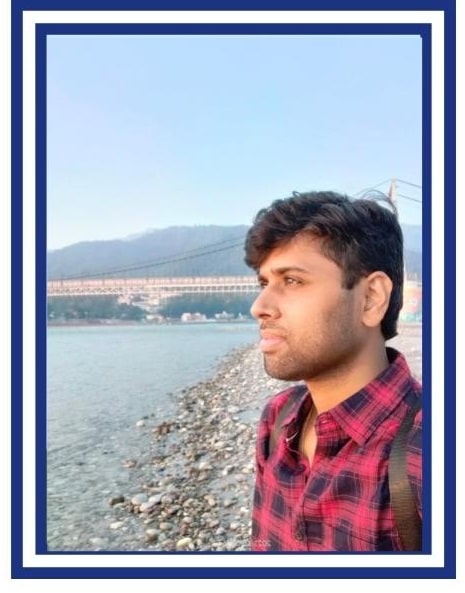 What have been your most significant accomplishments?
I successfully completed all the projects assigned to me.
Ok, so what does a fulfilling workday look like to you?
When I ask my lead – This is DONE, what's next?
How has your career grown since joining the company?
Enormously! From being a technical support engineer and taking chats to leading the security and compliance team and making decisions for QuestionPro, it has been quite a growth.
I joined QuestionPro in Oct 2015 as a Technical support engineer. I used to take chats and help customers with their technical queries. 
Just after 2 years, in 2017 – I was promoted as a team lead for the technical support team. I had worked night shifts, early morning, and evening shifts when I was on the support team. After a year, with the support of leadership, I was also given the task of training. So any new employee joining us has to go through a training program. 
In 2018, Aditya Bhat and Rohan Pagare gave me an opportunity to join the security and compliance team. I currently lead the security and compliance team as a Sr. Information Security Risk and Compliance Officer. I help QuestionPro to fight hackers and make it more secure. I also have other responsibilities like managing the IT admin team, onboarding, offboarding, and training.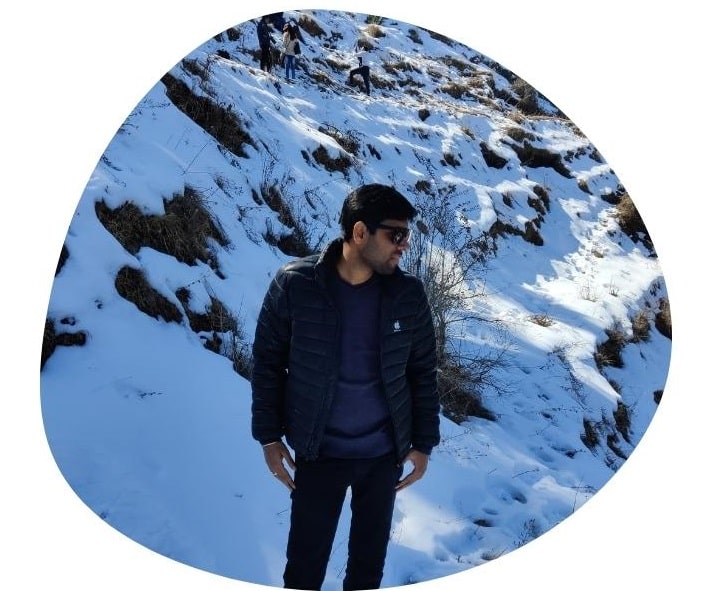 What are some of the things you've noticed about our leadership team?
They notice, understand and recognize.
Who are some of your biggest inspirations within the company?
Vivek Bhaskaran, Anup Surendran, Aditya Bhat, Nikhil Wadekar
What are some of your favorite perks you enjoy at QuestionPro?
Sponsored parties, outings, and inter-team games.
What's the unique part about working here?
QuestionPro always takes care of its employees.
What makes you want to stay at QuestionPro?
New challenges and more new things to learn.
—
Well, that was amazing to hear from Aniket. We, too, are so glad to have you on the team! 
7+ years and counting! Wishing you many more…cheers!