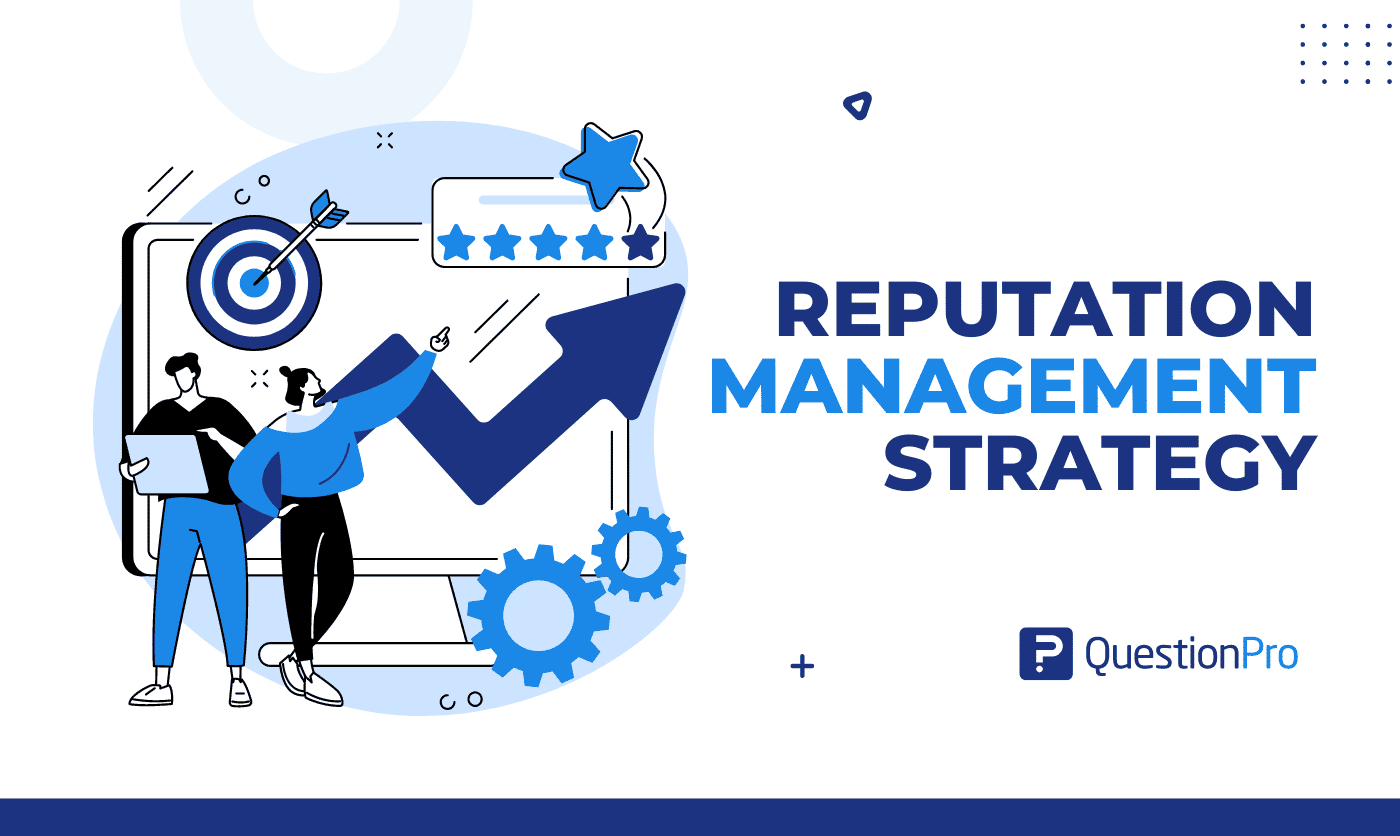 In today's digital age, where anyone can say anything about a company, maintaining a brand's reputation is becoming more and more difficult for businesses. If customers are unhappy with a product or service, they can publicly express that dissatisfaction online for all to see. Let's learn about the reputation management strategy.
Businesses need an online reputation management strategy to deal with these situations and their results. By managing your online reputation risk, you can keep an eye on mentions of your brand, find out how customers feel, and keep negative comments to a minimum, which is good for the image of your business.
An effective online reputation management strategy is required to control your online reputation score. This post will walk you through developing a strategy step by step.
What is a reputation management strategy?
A reputation management strategy is a process of managing a person's, company's, or brand's online narrative. It is part of monitoring views and conversations, dealing with reputation threats, and proactively taking opportunities to improve brand image.
Reputation management entails more than merely responding to comments on websites and social media platforms. It's essential to understand how people view your brand and plan future efforts to change that perception.
Although details of the strategy are provided below, it essentially revolves around the following two ideas:
Monitoring:

Keep an eye on the market to find out what consumers, opinion leaders, and rival businesses are saying about your brand.

Responding:

React by doing something to change people's perceptions of you and your brand.
Let's now discuss the importance of an online reputation management strategy and why your brand should treat it seriously.
Importance of reputation management strategy
It's important to have a reputation management strategy in place for your business. Now, let's talk about the specifics.
Purchase decisions are impacted by brand reputation
Reviews are a crucial element in purchasing decisions. Your product line and customer service are extraordinary. Some unfavorable remarks could scare your clients, leading them to consider an improved substitute for your goods.
People stop having faith in the brand
Negative brand ratings and remarks make people reconsider their loyalty. They lose trust and hunt for more reasons to go. Customers claim that positive reviews increase their trust in a brand. This is another reason for turning your attention to a reputation management strategy.
You can acquire customers from business competitors
Making your brand stand out positively can help you win over your competitors. But you can only do this if you know your brand's online reputation and that of your competitors. A delighted consumer may review your customer service, which could encourage others to buy from you.
A step-by-step guide to reputation management strategy
To manage your reputation strategically, you need to create a plan that considers your existing circumstances, available resources, and desired outcomes. Here is a step-by-step guide on online reputation management strategy to assist companies in understanding the essentials.
Step 1: Monitor your current brand reputation
Every good thing begins with an analysis of the current scenario. Tracking your brand reputation on the web is integral to any effective reputation management strategy. Start to monitor your online reputation on the:
App Stores

Social Media

Review Sites

eCommerce Sites
Additionally, you need to care about forums, blogs, and news websites. Everywhere, people express their views about brands. Knowing where your customers are, is crucial. You can determine this based on the product or service you sell.
Step 2: Analyze your business competitor
Understanding your competitors' reputations is the next stage in developing a reputation management strategy. A comparative analysis looks at how your competitors handle ratings, reviews, comments, and mentions across all channels.
Developing a reputation management strategy aims to increase your brand's reputation rather than compare it to your competitors.
The competitive analysis offers two significant advantages:
You will learn about the problems that customers of your competitors are having.

You can learn from the mistakes made by your competitors if you pay attention to customer feedback.
Through this analysis, you will gain knowledge and an understanding of the dos and don'ts of responding to customer reviews.
Step 3: Develop an actionable plan
The next step is to create an actionable plan to build your reputation. Your team's responsibilities should be distributed in your action plan.
Please consider the following:
Who will track the feedback and reviews?

Who will be in charge of whether fresh comments demand a response?

Who has the expertise to determine the company's position on potential problems or inquiries?

Who will provide the answers?
Just make sure you've given these items some thought before getting started. If things start to go wrong, you'll have the plan to fall back on as long as you have one.
Now assign the tasks into the following categories to your team based on the learnings from the competitor analysis and brand monitoring stage:
Negative comments

Spam remarks

Fake comments

Positive comments

Business-related questions
Look at our guidance on how to deal with various reviews.
How to handle negative reviews?
Don't take negative reviews personally.

Never overlook a negative review, as this will make things worse.

As you speak on behalf of a company, be courteous in your responses.

Quickly respond to negative evaluations but don't always do so similarly.

Ask the reviewer to get in touch to transfer the discussion to a private forum.
How to handle fake reviews?
Keep yourself calm and try not to take the review personally.

Try to have the review deleted.

Even though you know the review could be fake, don't respond that way.

Ask the reviewer about their difficulties and for specifics.

Be cautious of fake reviews. If you answer to some but not others, potential customers will think you're a fraud.
How to handle positive reviews?
Share excellent reviews on social media

Thank them for sharing the review with gratitude.

Address them by their first name, giving them a more personal touch.

Be quick and clear with your reply.

Promote the mission of your business.

Call them to review, visit, or download your app for offers.
You can be sure the review will be favorable if you know you provided good service. Additionally, if the customer receives a personal request, they are more motivated to make an extra effort to help.
Remember that encouraging constructive feedback is essential to develop a solid reputation.
Step 4: Monitor and control the reviews
You must have a system to keep track of and manage your discussions while responding to reviews. You may employ review websites and tools in addition to your business's website and social media accounts to keep track of all customer evaluations and brand mentions.
Start with one of the tools listed below and begin managing your reviews.
QuestionPro CX Reputation

Mention

Reputology

Statusbrew

Google My Business
Boost brand trust and perception with QuestionPro CX Reputation
QuestionPro CX Reputation is a social media reputation management tool that helps you pay attention to your consumers, respond to reviews, and enhance your online presence.
Your team can cross-post and reply to comments on popular social media and public review platforms with the help of CX Reputation, which also collects and analyzes feedback using AI sentiment analysis and a real-time analytics dashboard.
Utilizing QuestionPro CX Reputation, you will be able to:
Track, react and examine online user reviews

Response directly to reviews

Review filtering and notification setting
By actively responding to reviews and postings, AI sentiment analysis enables you to raise your customer retention rate and convert brand critics into supporters.
Multiple sentiment domains

Tagging & Export

Advanced filtering
Why use QuestionPro CX Reputation?
Your team can cross-post and reply to comments on popular social media and public review platforms with the help of CX Reputation, which also collects and analyzes feedback using AI sentiment analysis and a real-time analytics dashboard.
These essential characteristics can help you enhance the reputation of your brand:
Sentiment Analysis:

AI Sentiment Analysis can quickly discover, analyze, and resolve any issue.
Real-Time Dashboard:

Easily visualize your company's reputation in one location with chart styles & labels.
Reply to Reviews:

Directly from CX Reputation, reply to any comment, post, or evaluation. To reply regardless of the language used in the review, you can also enable automated review translation.
Security & Compliance:

For worry-free social media reputation management, CX Reputation complies with federal and local standards, including GDPR, HIPAA, CCPA, FEDRAMP, Section 508, etc.
Organize your reviews:

You have the ability to import/export reviews, monitor, team-assign, manage, and filter all reviews with CX Reputation.

Powerful Integrations:

Integrate with popular review websites and social networking platforms to do reading and respond to reviews simply.
Step 5: Measure your results
Last but not least, after implementing your reputation management strategy, you should evaluate your success and continue to expand on your successes.
Having recognized the value of tracking your success, let's focus on a few metrics you should monitor to gauge the evolution of your brand's reputation.
Sentiment Analysis:

It's encouraging to see activity about your business on review websites. Knowing the percentage of it that is positive is preferable.
You can analyze the reviews' sentiment using reputation management tools. QuestionPro CX Reputation is an excellent choice for sentiment analysis.
Media and industry mention:

If you're getting more top-tier media mentions, you're on the correct route. Industry leaders and influencers may tag your brand, influencing how people see your brand and boosting sales.

Share of Voice:

It compares your brand awareness to that of your competitors. You ought to see a noticeable change in this statistic over time.
Conclusion
Improving a company's public perception is one of the goals of an effective reputation management strategy. You can't just hope for the best in managing your reputation. You need to keep an eye on what others are saying about you and interact with them to steer the conversation positively.
So, now is the time, and start working. You now know how to create an effective reputation management strategy. Write up guidelines and other papers to ensure your team has all the necessary instructions. Try hard and be patient.
With the help of QuestionPro CX Reputation, your team can collect feedback, conduct AI-powered sentiment analysis, and reply to comments across essential public reviews and social media sites, all in real-time.