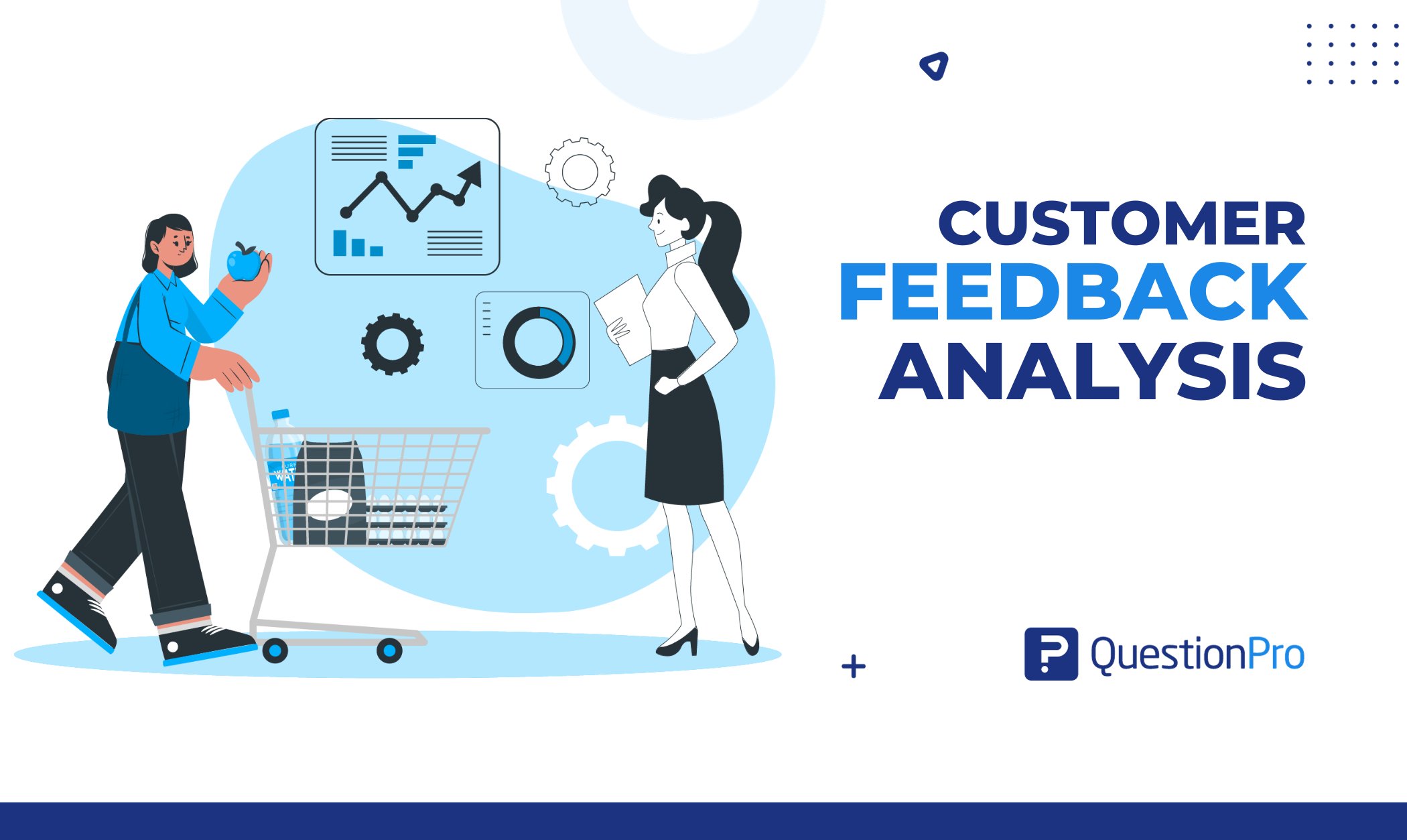 Understanding and responding to customer feedback is critical for success in today's customer-centric company world. Customer feedback analysis enables companies to get useful insights, improve customer satisfaction, and make data-driven decisions.
In this blog, we'll look at what customer feedback analysis consists of, why it's important, and how to do it efficiently. In addition, we will introduce you to QuestionPro, a platform that simplifies the process of analyzing customer feedback.
What is customer feedback analysis?
Customer Feedback Analysis is the systematic process of collecting, evaluating, and deriving actionable insights from feedback provided by customers. This feedback can originate from various sources, including surveys, reviews, social media, emails, and customer service interactions.
The primary objective of customer feedback analysis is to comprehensively understand customer sentiments, preferences, and pain points. Businesses can make informed decisions to enhance their products, services, and overall customer experience by analyzing this customer data.
It is crucial for measuring customer satisfaction, improving customer service, identifying competitive advantages, and driving data-driven decisions within an organization.
Why is customer feedback analysis important?
Customer feedback analysis is important for several reasons, including:
Measure customer satisfaction
Analyzing customer feedback allows businesses to measure customer satisfaction accurately. By identifying areas where customers are satisfied or dissatisfied, companies can make targeted improvements to boost satisfaction levels.
Customer service teams can benefit significantly from feedback analysis. It helps in pinpointing service gaps, training needs, and areas where prompt resolution of issues is required, ultimately leading to better customer support.
Enhance products and services
Through feedback analysis, businesses gain insights into what's working and what needs improvement in their products or services. This information is valuable for product development and enhancement.
Identify competitive advantages
Understanding customer perceptions of your brand versus competitors can provide a competitive edge. Analyzing feedback helps identify strengths and weaknesses relative to the competition.
Drive data-driven decisions
Customer feedback analysis provides data-driven insights that guide decision-making. Instead of relying on guesswork, businesses can make informed choices based on customer preferences and needs.
Insightful data vs. non-insightful data
The ability to distinguish between insightful and non-insightful data is important for effective customer feedback analysis. Let's take a closer look at these two categories:
Insightful data
Definition: Insightful data refers to customer feedback that provides new and valuable information about your products, services, or customer experience that was previously unknown to your business. It uncovers hidden opportunities and areas for improvement.
Significance: Insightful data helps you identify opportunities for change, pinpoint areas of strength, and make impactful decisions that can benefit your business.
Examples: Discovering a critical bug in your app through customer complaints.
Uncovering a previously unnoticed market segment interested in your products.
Learning about a unique use case for your product that you can market to a broader audience.
Non-insightful data
Definition: Non-insightful data refers to feedback that merely confirms what you already know or addresses issues that have already been acknowledged and are being addressed by your team. It doesn't provide new or actionable information.
Significance: While non-insightful data can validate existing concerns, focusing too much on it can be counterproductive, consuming valuable resources and time.
Examples: Receiving repeated feedback about an issue your team is actively working on. Customers are reiterating their satisfaction with a feature you already know is popular. The feedback simply repeats known industry trends without offering unique perspectives.
Prioritizing insightful data is crucial, as it can lead to strategic improvements and innovations to maximize your customer feedback analysis. Non-insightful data should not be dismissed entirely but managed efficiently to avoid redundancy and optimize your feedback analysis efforts.
By distinguishing between these two types of data, you can focus on what truly matters in enhancing your customer experience and driving business growth.
Customer feedback analysis methods
When it comes to analyzing customer feedback, the choice of analytics method depends on your specific needs and the depth of insights you aim to achieve. Here are three advanced methods commonly used for customer feedback analysis:
Definition: It is also known as opinion mining, which is the process of determining the emotional tone (positive, negative, or neutral) of a piece of text, such as customer feedback.
Usage: This method is valuable for gauging customer sentiment and understanding how customers feel about your products, services, or brand.
Benefits: It provides a high-level overview of whether feedback is generally positive or negative, helping you identify areas of concern or satisfaction.
Limitations: It may not capture nuanced emotions or specific issues within the text, and it can struggle with sarcasm, irony, or mixed sentiments.
Keyword or Aspect analysis
Definition: Keyword or aspect analysis involves identifying specific keywords or phrases within customer feedback and categorizing them based on predefined topics or aspects.
Usage: This method is useful for pinpointing specific issues or themes mentioned by customers, such as "discounts," "payment issues," or "customer service."
Benefits: It allows you to quantify the frequency of specific topics and address recurring issues in your customer feedback.
Limitations: It relies heavily on predefined keywords and may miss context or variations in how customers express their concerns.
Definition: Topic analysis, powered by artificial intelligence, goes beyond simple keyword identification. It understands the context and meaning of the text, making it more accurate in categorizing feedback.
Usage: This method provides in-depth insights into the specific topics or issues customers discuss, even when using different words or phrasings.
Benefits: It offers precise categorization of feedback, allowing you to identify underlying themes and uncover hidden insights.
Limitations: Implementing topic analysis may require more advanced technology and resources compared to simpler methods.
Which Method is Best?
The choice of the best method depends on your goals and resources. If you need a quick overview of sentiment, sentiment analysis is sufficient. However, topic analysis is often preferred for a deeper understanding of customer concerns and valuable insights.
How do we do customer feedback analysis?
Analyzing customer feedback is crucial for businesses aiming to improve their products, services, and customer satisfaction. Here's a step-by-step guide on how to do customer feedback analysis:
Step 1: Collecting customer feedback
Successful customer feedback analysis begins with the collection of customer feedback. Utilize various sources, including customer surveys and social data, to gather customer feedback and insights into customer opinions and preferences. Employ automated systems like survey tools and feedback platforms to streamline and organize this process efficiently.
Step 2: Analyzing customer feedback
The second step involves analyzing the collected feedback. Utilize specialized tools such as text analysis and AI-based analytics to identify patterns and trends in customer feedback. This analysis provides valuable insights into consumer behavior, preferences, and expectations.
Step 3: Identifying patterns and trends
Identifying patterns and trends in customer feedback is the third crucial step. This helps businesses understand customer pain points, areas for improvement, and potential opportunities.
Businesses gain a comprehensive view of customer behavior and preferences by examining feedback from various sources and channels. Tracking changes in feedback over time provides further insights.
Step 4: Taking action on customer feedback
The fourth and final step is to take actionable steps based on the insights gained from the customer feedback analysis process. Use this information to make informed decisions, enhance the customer experience, and drive improvements.
Strategies may involve introducing new products or services, refining existing offerings, adapting customer service policies, and aligning marketing efforts with customer preferences.
By systematically following these steps, businesses can analyze customer feedback, gain a deeper understanding of their customer base, and drive continuous improvement in their products, services, and overall customer happiness.
How does QuestionPro help in customer feedback analysis?
QuestionPro is a well-known customer feedback analysis tool that streamlines the process of feedback analysis. Here's how it can assist your business:
Automate customer feedback analysis
QuestionPro offers automated survey and feedback collection capabilities, saving you time and effort. It also provides sentiment analysis to categorize customer feedback as positive, negative, or neutral.
With QuestionPro, you can create user-friendly surveys to collect customer feedback from your customers. The platform's reporting and analytics features enable you to dissect user feedback effectively.
QuestionPro provides sentiment analysis capabilities, which automatically categorize actionable feedback as positive, negative, or neutral based on the language and tone used by customers. This feature helps you quickly identify customer sentiments and prioritize issues that require immediate attention.
Integrate and analyze feedback data
QuestionPro integrates with other systems, allowing you to centralize customer feedback data from various sources, making the analysis process more efficient.
The platform offers robust reporting tools that help you derive actionable insights from customer feedback, enabling you to make concrete decisions.
Customer feedback analysis is vital for businesses seeking to enhance customer satisfaction, improve products and services, and gain a competitive edge. By distinguishing insightful data from non-insightful data and following a structured analysis process, companies can unlock the full potential of customer feedback.
QuestionPro's automated solutions further simplify and expedite this critical process, ensuring that businesses can respond effectively to their customers' needs and preferences. Contact QuestionPro today for a free trial!