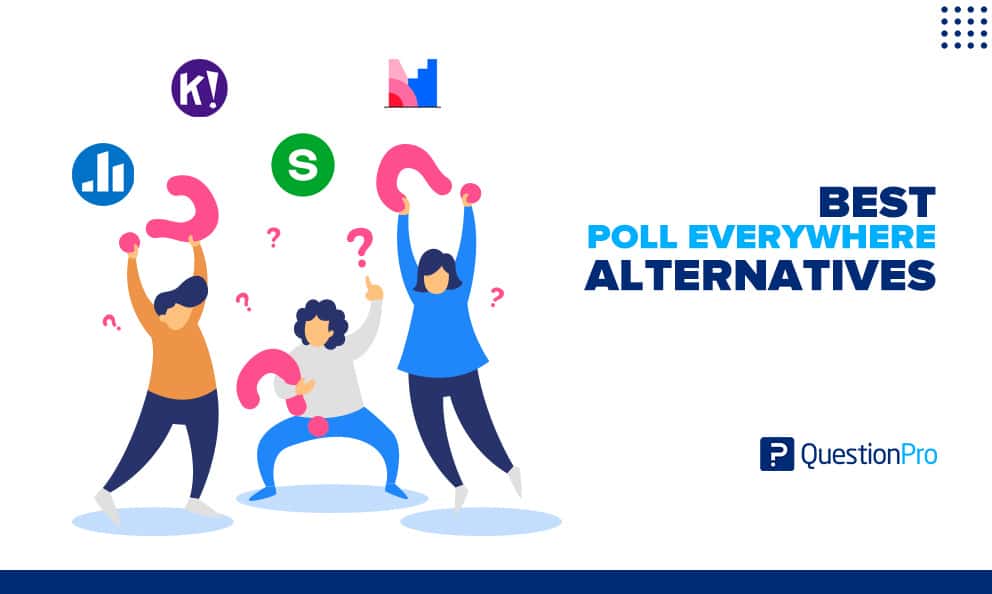 Poll Everywhere is a popular platform among those who need to make their events and meetings more enjoyable, however, like many platforms, it may not meet the expectations of all people, and that is why we have created this list with the best free Poll Everywhere alternatives.
This list is intended to offer up-to-date information in case you want to experiment with other platforms and find the one that suits you best; all these options have a free version and compete with Poll Everywhere in most of its functions; we hope it will be of great use to you. But first, let's start with the basics.
LEARN ABOUT: Online Trivia Maker
What is a Poll Everywhere Alternative?
Poll Everywhere is an online software for interactive polls and increasing engagement in events or meetings. Poll Everywhere alternatives are different options to the platform that better suit specific needs.
However, they are not just limited to polls; they also offer their users the option of taking surveys, quizzes, word clouds, and other cool features that they can use both to encourage gamification in the workplace and to collect data to enable Get to know the perspective of your workforce or what a general audience thinks.
Poll Everywhere has become one of the leading platforms in this niche thanks to its interface, partnerships, and the option to access other features. However, it has some limitations which can be overcome if you purchase one of its payment plans.
LEARN ABOUT: Audience Engagement Tools
Why go for Poll Everywhere Alternatives?
Users have their own needs, and not all platforms can fully cover them. Poll Everywhere sometimes has flaws, as confirmed by some customer review sites like Google Play.
Some common failures and dissatisfactions among Poll Everywhere users are:
Bugs in the app hiding some sections
The need to pay to access other features
Load errors
Simplistic and dull design
*Based on reviews from Google Play, GetApp, and Capterra.
Poll Everywhere generally has an acceptable score higher than 4, 4.5, or more. However, if you have suffered any of the inconveniences above or want to try other platforms, we share our list below.
Best Poll Everywhere Alternatives
Below we present what, in our opinion, is a list of the best Poll Everywhere alternatives available on the market, all of them have a free version, so you can try them without problems to ensure that they meet your needs.
Top 8 Alternatives to Poll Everywhere
LivePolls

Mentimeter

Slido

Meeting Pulse

​​Kahoot!

Quizizz.

AhaSlides.

VeVox
1.- LivePolls
QuestionPro LivePolls is a platform to create online polls, trivia games, and quizzes online and is completely free. Its intuitive interface and its few limitations have made it the favorite of hundreds of brands and organizations when generating greater engagement or capturing the attention of their audiences in online or face-to-face events.
LivePolls offers its users the possibility of creating very versatile Polls and Quizzes in a matter of seconds.
Why is LivePolls the best alternative to Poll Everywhere?
LivePolls has positioned itself as a great alternative software to other online trivia, polls, and quiz platforms thanks to its pleasant appearance, easy-to-use interface, and mainly because ALL its features are free.
LEARN ABOUT: Live polls for Classroom Experience
LivePolls is one of the few platforms that does not have a paid license. That is, it is truly free. QuestionPro is one of the leading providers of live polling software, and their core business has always been their other platforms, so they offer their LivePolls product without any strings attached. You just need a QuestionPro account. The platform is available to any user without the need to pay anything.
Main features:
100% Free
Unlimited Quizzes & Polls
Unlimited participants
No need to install anything (Cloud-based)
Users can respond from any device
Nice appearance
Leader board
Gamification elements
In addition, QuestionPro is more than just a platform since it has a series of products and suites to carry out all kinds of projects. Are you interested in trying this powerful tool? Get started now, in seconds, and at no cost.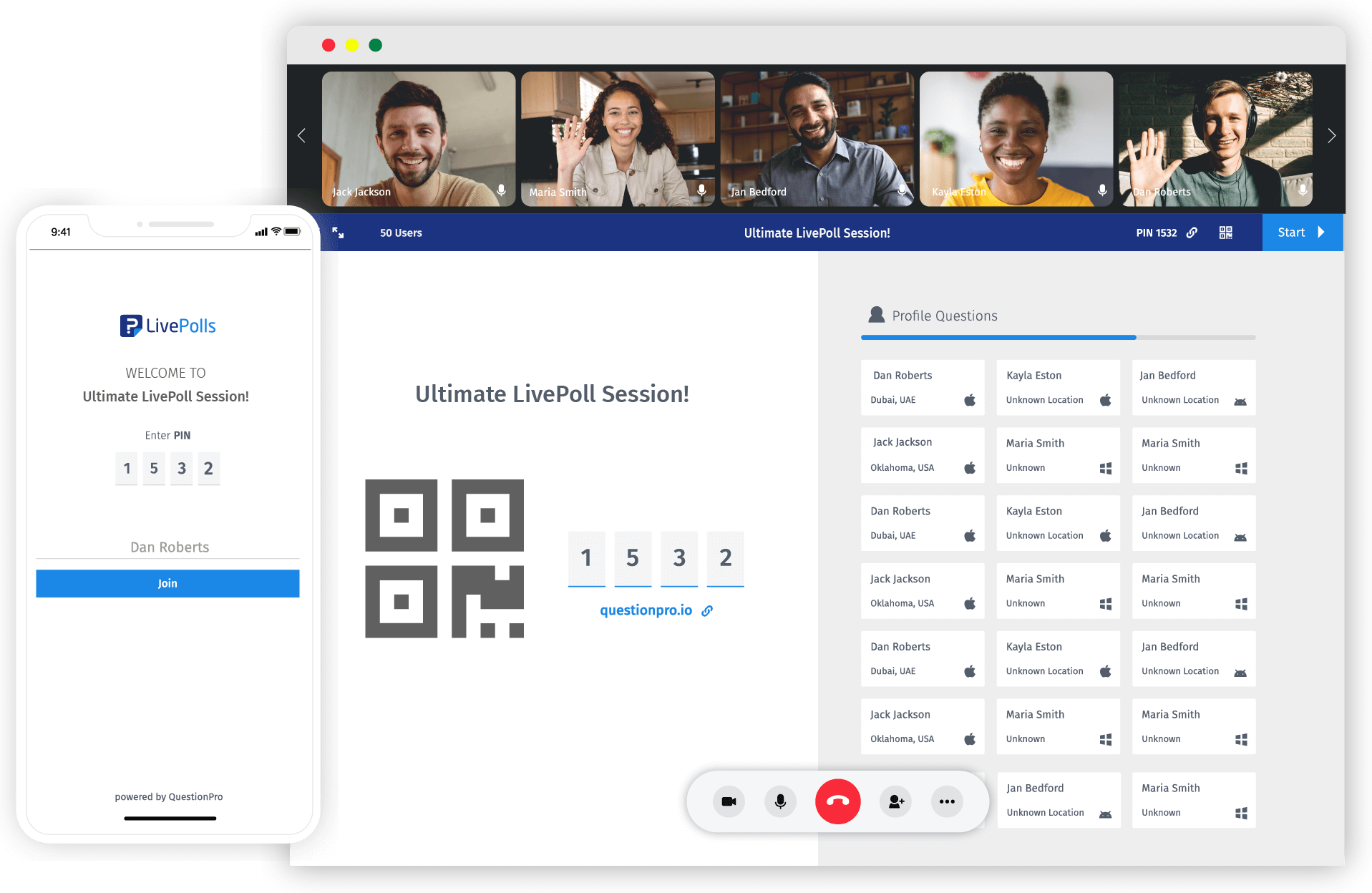 2. Mentimeter
Mentimeter is a platform focused on creating interactive presentations; in addition to having the option to create your slides on its platform, it offers the possibility of adding polls, quizzes, and other elements to promote engagement with your audience.
Why Mentimeter can be an acceptable alternative to Poll Everywhere?
In addition to its simple and pleasant interface, Mentimeter offers interesting functions that can significantly help when making a presentation.
Mentimeter allows you to create your presentations within its platform and create quizzes with virtually unlimited questions in its free license.
Its free license has few limitations with which you can take quizzes easily and without significant problems. In addition, there is always the possibility of acquiring one of its payment plans to access advanced features such as the analysis suite, collaborative platform, or the possibility of customizing quizzes and polls.
If you are interested in knowing some other platforms similar to this one, we invite you to read: Best Mentimeter Alternatives
3. Slido
Slido is perhaps one of the best known on this list. This is because it has been one of the first to position itself in the market and due to the various functionalities that it offers its users.
In addition to being an excellent option for creating quizzes and polls to interact with your audience, this platform is often widely used to conduct live Q&A, which is very useful, especially if you are holding face-to-face events.
Why could Slido be a good alternative to Poll Everywhere?
Although its free license also has significant limitations, such as the number of participants in polls and quizzes, its platform for conducting Q&As is unlimited. So if you are looking for more margin in this aspect, Slido could be a good alternative.
If you want to increase the number of participants, you will have to acquire one of their licenses, which start from 12 USD per month.
4. Meeting Pulse
Like many tools on this list, Meeting Pulse offers tools and features designed to encourage real-time interaction with the participants of your event or meeting, whether face-to-face, hybrid or online.
Despite not being one of the best known, it has a wide variety of functions that can be very useful.
Why is Meeting Pulse a good alternative to Poll Everywhere?
In its free license, Meeting Pulse offers the following to its users:
25 participants
5 polls p/meeting
1 Q&A
Crowdsourced Q&A and Brainstorming
Support via Knowledge Base & Chat
Despite being few and with some limitations, the paid plans offer functions for all needs. It has powerful integrations to platforms such as Microsoft Power Point®, Zoom, and YouTube, making the experience more enjoyable for hosts and participants.
5. Kahoot!
Kahoot! It is one of the most important and popular gamification platforms on the market. Thanks to a pleasant interface and its various functionalities, this platform has gained ground in multiple industries, among which events and the educational sector stand out.
Although they have been focusing on the educational sector, Kahoot! It offers tools for all people who want to make their presentations more interesting and entertaining.
Why Kahoot! is it a good alternative to Poll Everywhere?
Kahoot! It offers users all the necessary tools to create quizzes and polls in a very entertaining way. The team behind this tool has put a lot of effort into making their tool one of the most fun.
It has various modes to encourage participation among your audience, such as the Game Mode and integrations with LMS systems.
In addition to its free license, it has paid licenses for offices and educational institutions in case you want to access more specific functions.
Are you interested in trying Kahoot? Before we invite you to read this comparison to make the final decision: Best Kahoot Alternatives.
6. Quizizz
Quizziz is another quizzing tool focused on the educational sector, allowing users to create quizzes and polls simply, quickly, and effectively. This platform will undoubtedly become your main ally if you are an academic institution, thanks to its various features.
Why can Quizziz be an alternative to Poll Everywhere?
Quizziz has an academic approach, so its alternative is usually quite intuitive and easy to use. Its main advantage over other platforms is the numerous resources it offers its users.
Quizziz has an academic approach, so its alternative is usually quite intuitive and easy to use. Its main advantage over other platforms is undoubtedly the numerous resources it offers its users.
In Quizziz, you can find a gallery of questions to easily create evaluations, as well as the possibility of using different types of questions such as multiple choice, open-ended, check box, and Fill-in-the-blank.
It has paid licenses if you want to access better functions focused on employee training, community engagement, or meetings.
We recently published a blog that talks about Quizziz Alternatives; why don't you check it out for more ideas?
7. AhaSlides
AhaSlides is a very colorful and well-designed platform that allows people to interact simply and entertainingly.
This platform is focused on events, so it offers features such as:
SPINNER WHEEL
POLLING
QUIZZING
Q&A
Why is AhaSlides an alternative to Poll Everywhere?
AhaSlides offers some features that may interest people looking for an alternative to Poll Everywhere or their current polling platform.
The main one is undoubtedly the extensive collection of templates that can be found on its platform. These consist of pre-created questionnaires that will make your life easier when you start with your first poll or quiz.
Another interesting function is its Spinner Wheel, a simple tool that will allow you to make draws. It also creates live polls with unlimited questions, unlimited quizzes, Q&A, and Brainstorming.
One of the weak points of this platform is undoubtedly its limitations on simultaneous participants since its free license will only allow 7 people to respond simultaneously. You can always increase this limit by purchasing one of its paid licenses.
8. VeVox
VeVox promotes itself as "The No.1 rated Polling and Q&A platform," Although its design is not as attractive as other tools, they have developed interesting features to include real-time polls for your events or Q&A sessions.
Why is VeVox a good alternative to Poll Everywhere?
VeVox has a robust free license that can come in handy if you want to make small polls. With its free license, you can have Unlimited basic multi-choice polling and Q&A, Quiz leaderboards, and Microsoft Teams & PowerPoint integrations.
Like many platforms on the list, with VeVox, neither the participants nor the organizers will have to install anything, and access to the games and polls is done simply through a PIN in a very intuitive way.
LEARN ABOUT: Slido Alternatives
Conclusion on Poll Everywhere Alternatives
Are you ready to start creating polls, Q&As, and trivia?
We hope that all this information is helpful to you. We have put our best effort in mentioning the main features of all these incredible platforms to help you choose the one that best suits your needs.
All of them have incredible functions. However, if you are interested in trying QuestionPpro LivePolls, we would love to guide you through the process so that you have the best experience and discover the full potential of this tool.
Remember that LivePolls is one of the few platforms that does not offer a payment plan and includes all its features in a single free license. That's right! You can do unlimited polls, quizzes, and general knowledge trivia without a maximum number of participants and in a simple and fun way for your attendees.
Get started today!