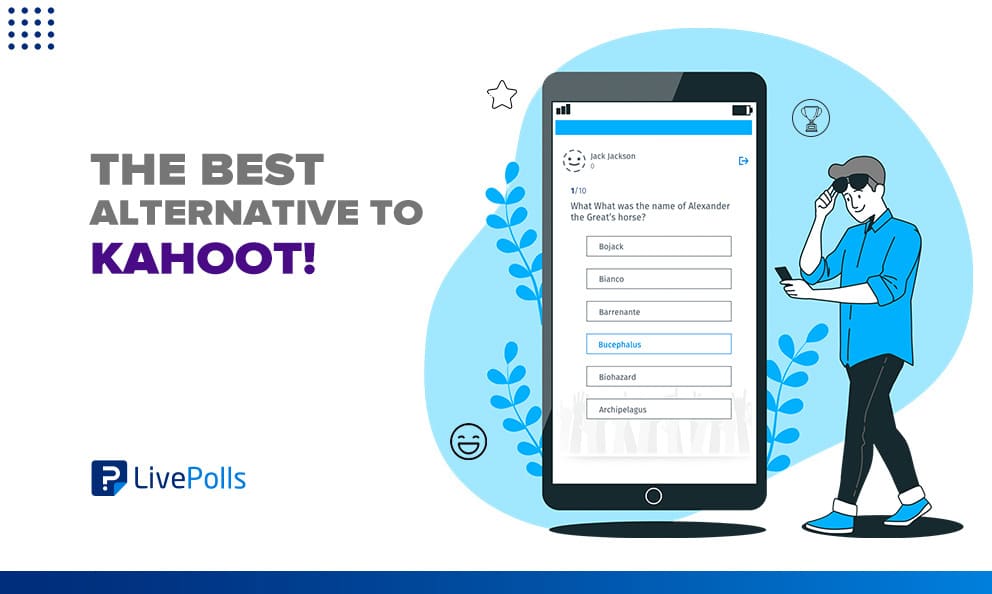 As Kahoot! was a game-based platform designed for social learning, teachers and speakers raised a necessity for an extended version with a more professional approach. The world needed an improved Kahoot Alternative.
We're proud to introduce LivePolls, a QuestionPro platform for easy Kahoot-style quiz creation to showcase visual information in real-time to students, employees, conference attendees, or any team. This feature allows answer evaluation and real-time feedback.
Learn how to create a free Kahoot-style quiz and fun and effective interactive quizzes for engaging students. Continue reading!
You can also learn about Online Trivia Maker through QuestionPro Blog.
What is Kahoot?
Kahoot is an educational platform widely used for creating, sharing, and playing learning games, classroom games, engaging quizzes, and surveys. It was designed to make learning engaging and interactive, particularly in classroom settings, but it has also found applications in corporate training and remote teams learning environments.
Here are some key features and aspects of Kahoot:
Learning Games
Multiplayer Mode
User-Created Content
Real-Time Feedback
Analytics
Paid and Free Account
What is a Kahoot Alternative?
A Kahoot alternative is a similar but better option to the widespread but limited educational tool teachers, parents, and speakers use to create online quizzes for students or attendees. The Kahoot alternative must allow admins to create learning games or general knowledge trivia quizzes in any language or topic to promote student engagement in a fun and dynamic way to play games.
The main reason to opt for a Kahoot alternative is that the platform has some drawbacks. For example, it only allows closed-ended questions (true or false, yes or no, multiple-choice questions), which can be a limitation when aiming to learn the opinion of the students.
A common issue is that students receive additional points for faster responses, promoting a greater focus on speed than substance. Aiming for a Kahoot alternative that allows instruction and review is better.
Kahoot makes it challenging to track student progress as they have usernames created by the teacher. To track progress, one would have to break down the usernames, attach them to the student names, and record the number of responses each got in each Kahoot played.
Aware of the platform's disadvantages, we offer an alternative to kahoot option that allows you to create Kahoot-style quizzes for free in a matter of seconds.
Importance of Kahoot Alternatives
In educational technology and learning platforms, the significance of viable kahoot alternatives cannot be understated. This section explores why having alternatives to widely used tools like Kahoot is crucial for educators, learners, and the overall learning experience:
Educators and learners have unique requirements, preferences, and objectives. Having kahoot alternatives allows individuals and institutions to choose tools and resources that best align with their educational goals and teaching methods.
Competition among alternative platforms drives innovation. Providers are motivated to continually improve their offerings, leading to better features, enhanced user experiences, and more advanced educational technologies.
Kahoot alternatives can provide cost-effective solutions, allowing educational institutions with limited budgets to access high-quality tools and resources without compromising functionality.
Overreliance on a single platform or service can be risky. Kahoot alternatives provide a safety net, reducing the risk of disruption in case of issues, price changes, or discontinuation of services from the primary platform.
Different alternatives may offer unique features and capabilities that can be customized to specific educational needs, promoting flexibility and adaptability.
Recognizing that not all learners have equal access to technology or resources, having kahoot alternatives ensures inclusivity and equal opportunities for diverse learning environments.
This section highlights the critical role that kahoot alternatives play in the ever-evolving landscape of higher education and technology, emphasizing their ability to cater to various needs, drive innovation, and enhance the educational experience.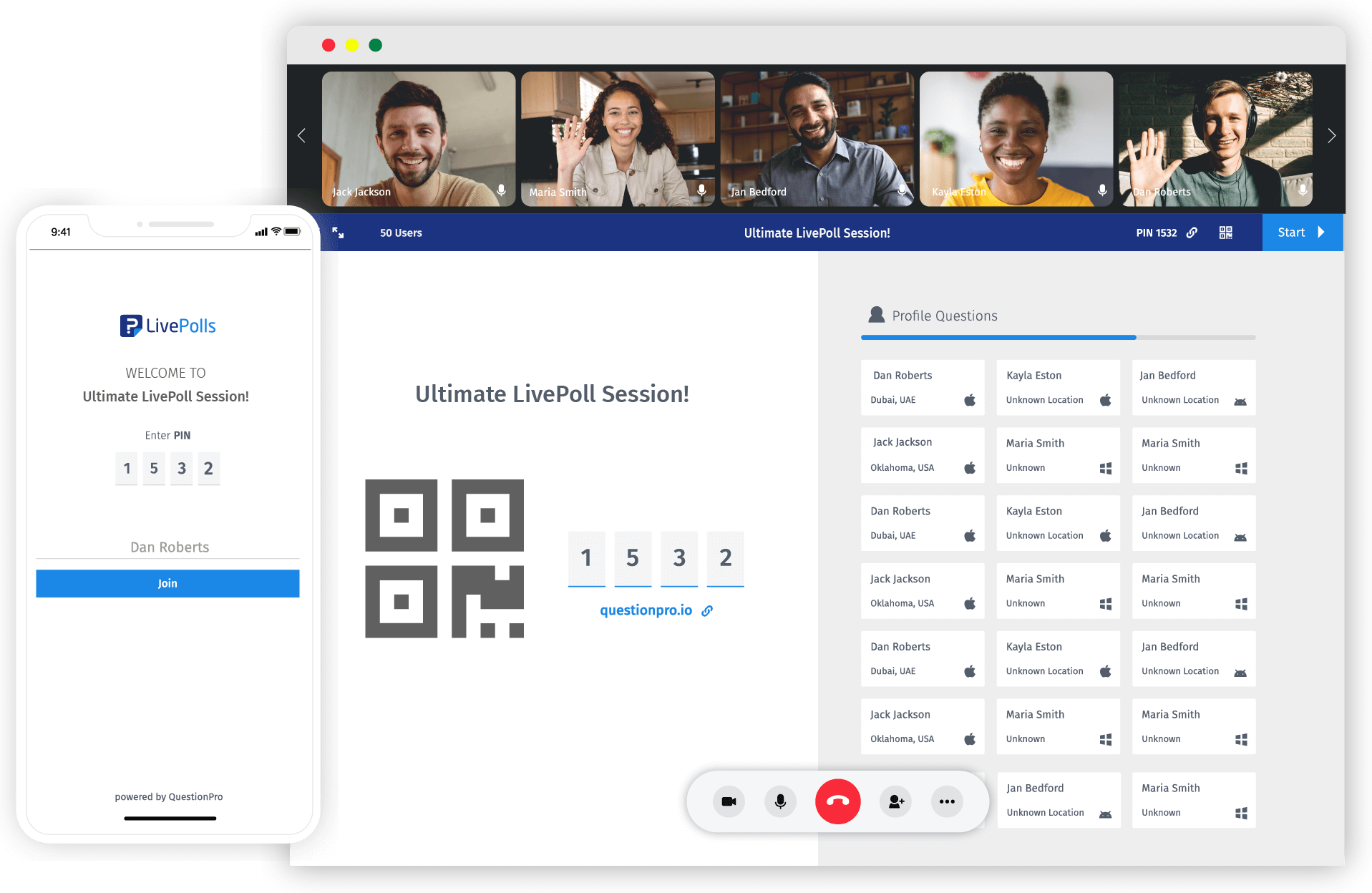 How to Create a Kahoot-Style Quiz With QuestionPro?
We will guide you to take a Kahoot-style quiz without all the disadvantages mentioned above, in a professional tool that is very easy to implement, making it one the best alternatives to kahoot. Are you ready?
With LivePolls, you can create quizzes with easy, fast, and practical live polling with the possibility of collecting instant feedback and showing the results to the participants in real-time for free.
Steps to Configure LivePolls
Live Polls engages the participants in the project by instantly making them part of it. They respond to the poll while all the other participants can see and comment on the responses. To configure this tool, you must do the following:
Log in with your QuestionPro paid or free account and select the "LivePolls" option located in the dropdown menu at the top right.

One of the main advantages of LivePolls is it allows you to create questionnaires for participants to comment in real-time while visualizing them in an online panel or quiz.
On this platform, they can answer quick trivia questions in a given time range; these will be classified according to their speed and the correctness of the answer.

Once you decide what type of LivePoll you want to run, you can select it.
Create Custom Quizzes
In case you select the questionnaire option, perform the following steps:
Go to "Edit"> Workspace > Press the "+" sign on the template and choose the type of question. If you want to add answer options, select "Multiple Choice".

Add the questions and answers, marking the correct option. If there are several, select the corresponding ones.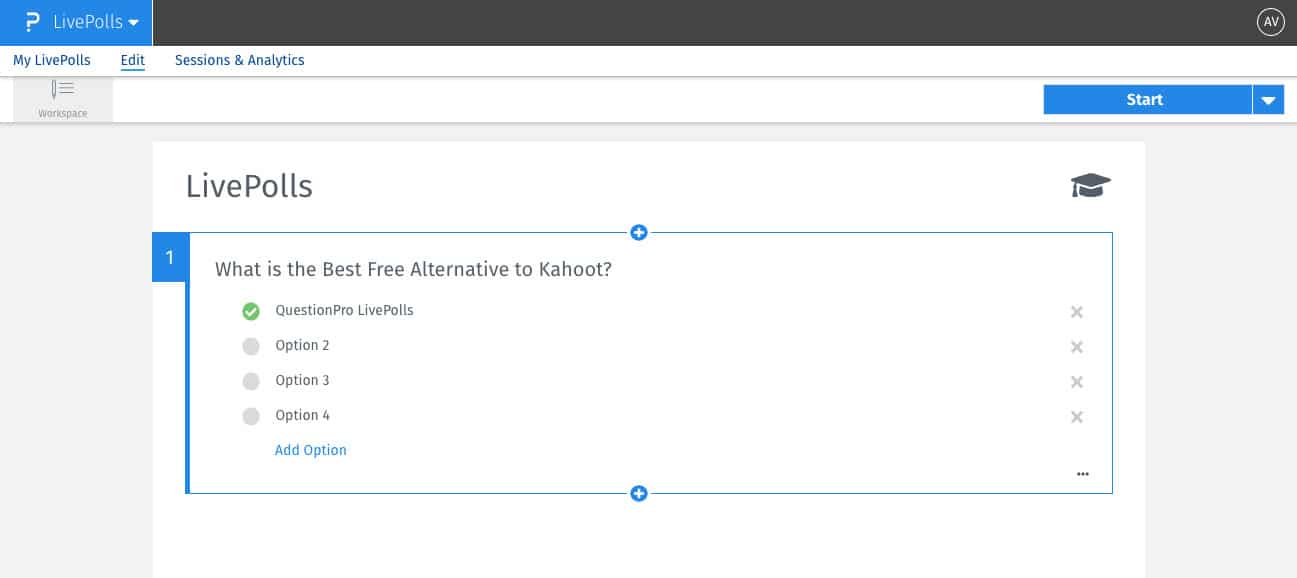 Then select the "+" sign to add additional questions and answers.
Once you're done designing your quiz, select "Settings" to update your preferences.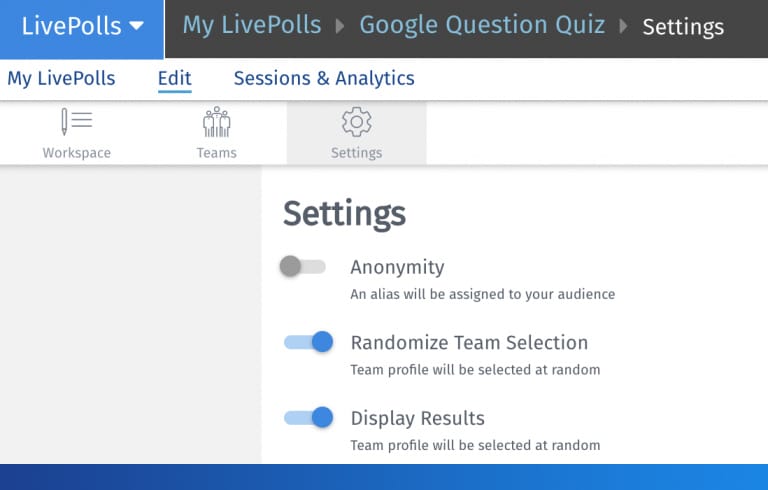 Create A Online Quiz
If you prefer to take an online quiz, you need to do the following:
Select the plus sign "+" to open a new quiz template.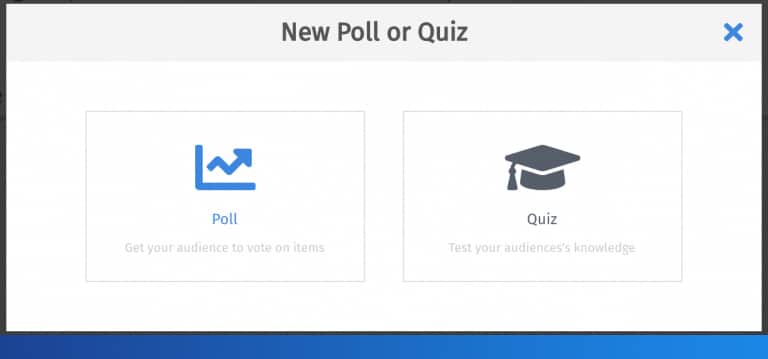 Press the "+" on the template to add a live multiple-choice question.

Add the questions with the corresponding answer options.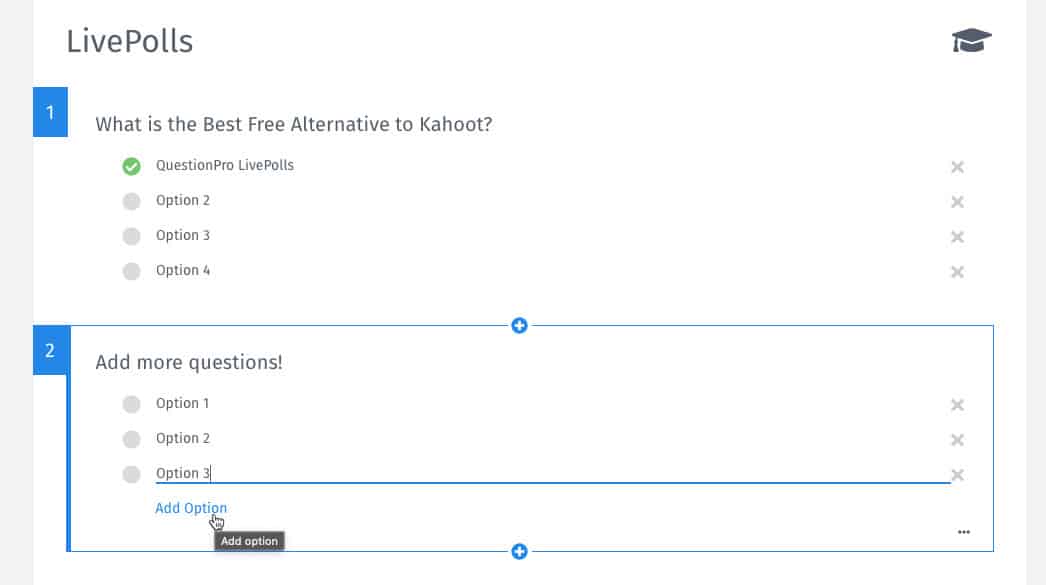 When finished, go to "settings" to customize your quiz.
To allow participants to provide live feedback, select the "+" sign and choose "Live Broadcast". Later, add the question to your quiz or questionnaire.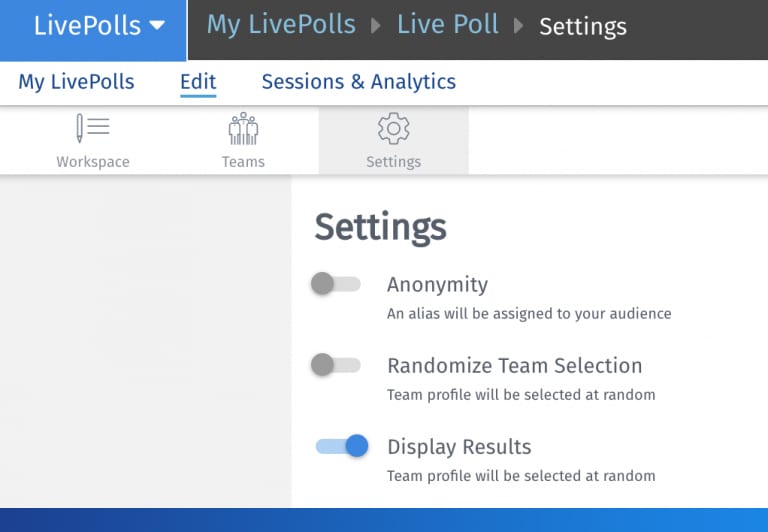 Live questions allow data collection and transmission in real time to ensure the constant interaction of the participants.
Analysis of Results for The Kahoot Alternative
In the end, the participants' answers will be visible from the panel LivePolls provides, including the comments and votes.
You can see the number of participants according to mobile devices, the number of correct answers to each question, and the name of the fastest participants.
Why QuestionPro is the best Kahoot Alternative for Quiz?
QuestionPro is a great alternative to Kahoot for quizzes, offering several advantages for icebreaker games, interactive games, trivia games that make it a strong contender for educators and learners. Here are some key reasons why QuestionPro can be considered one of the best Kahoot alternatives for quizzes:
QuestionPro offers a wider variety of questions. It includes open-ended questions, multiple-response questions, and more. This versatility allows educators to create live quizzes like trivia quizzes that better align with their instructional objectives.
Focus on Substance Over Speed:
Kahoot rewards students with additional points for faster responses, potentially encouraging speed over comprehension. QuestionPro's approach allows for more thoughtful responses, emphasizing understanding and knowledge retention.
QuestionPro provides real-time feedback, similar to Kahoot, which helps learners understand their progress and identify areas for improvement immediately. This instant feedback can enhance the interactive learning platform experience.
QuestionPro offers an intuitive and user-friendly interface that makes it easy for educators and learners to navigate and use for student engagement. It can reduce the learning curve and make the platform accessible to a broader audience.
QuestionPro allows for extensive customization of quizzes and surveys, enabling educators to tailor assessments to their specific teaching goals and style. This customization can include branding, question formatting, and more.
QuestionPro offers robust analytics and reporting features, helping educators track student performance and assess the effectiveness of their quizzes and assessments. This data-driven approach can inform instructional decisions and improve learning outcomes.
Similar to Kahoot, QuestionPro offers a free version with basic features, making it accessible to educators and learners with budget constraints. This free option provides a way to get started without immediate financial commitments.
QuestionPro also offers a paid version for more advanced features.
QuestionPro typically provides customer support to assist educators in using their platform effectively, ensuring a smooth experience.
Ultimately, whether QuestionPro is one of the best Kahoot alternatives for quizzes depends on educators' and learners' specific needs and preferences. While both platforms offer valuable features, QuestionPro's expanded question types, customization options, and focus on thoughtful learning may make it a more suitable choice for those seeking a versatile and practical quiz creation and assessment tool for better engagement.
Conclusion
While Kahoot is a popular and widely-used learning platform that has served educators and students well, exploring alternatives that may better suit your specific needs is essential. QuestionPro emerges as a promising contender in free learning platforms, offering robust features designed to enhance the learning experience.
QuestionPro's interactive quizzes, surveys, and assessments provide educators versatile tools to create engaging content. The platform's user-friendly interface ensures ease of use, even for those new to online learning technologies. Additionally, QuestionPro offers valuable analytics and reporting features, enabling educators to track progress and tailor their teaching methods accordingly.
While the choice between Kahoot and QuestionPro ultimately depends on individual preferences and requirements, it is clear that QuestionPro's comprehensive offerings make it a compelling alternative worth exploring. As the educational technology landscape evolves, it's essential to remain open to innovative solutions to enhance learning. Give QuestionPro a try, and it meets and exceeds your expectations as a versatile and free learning platform.