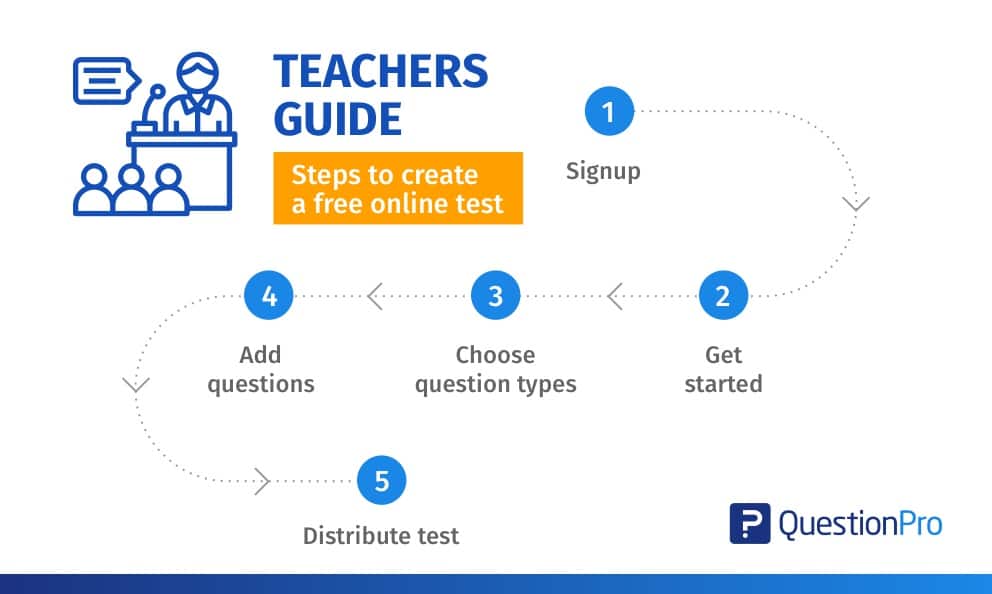 A free online test maker allows you to assess the level of knowledge of various people in an accessible, practical, and agile way through the internet, whether to conduct market research, academic research, or any other type of research.
For this reason, in this article, we will present the types of online test tools you can use and the advantages they have.
What is a free online test maker for teachers?
A free test maker for teachers is a simple online quiz maker that teachers use to create online tests to assess their students. Teachers and academic institutes use free online test makers to enhance e-learning, distance learning, and group studies.
Online test makers are a simple to use, yet robust tool to use. Distribute tests to students online, get the results instantly, and have the tool grade the test—view results of all the students in a single informative dashboard.
How can teachers use an online test maker?
An online free test maker is capable of performing various functions. They not only assist teachers in conducting tests, and online quizzes but also help them automatically grade the tests with high accuracy. Let's look at the functionality of free online test makers.
Create tests:

A free test maker is capable of creating tests with ease. Use question-types like single select or multi-choice questions to test the students. Apply skip logic and branching logic to the questionnaire, and route students to specific questions based on their answers.

Assign scores:

Assign a score can to each question or a block of questions. Display scores to students on completion of the test or end of each block. Keep the students engaged during the whole test.

Distribute tests:

Step aside paper tests! Teachers can distribute the test to students with a click of a button. Choose the list of email addresses to send the test to and distribute it to students from within the tool.

Collect and analyze results:

The tool automatically collects the results as and when students complete the survey. View these results in an informative dashboard. Also, share results among other faculty members and administrators of the institution.
Steps for teachers to create an online test for free
Teachers need to test students from time to time to assess their understanding of a subject or a topic. Here is your guide to creating online tests for free.
1. Signup:
Visit www.questionpro.com and create a free account. To fill the signup form, enter your email address, choose a strong password, enter your mobile number, and signup. This should not take you more than 30 seconds. You don't need a credit card at any point.


2. Getting started:
Enter the name of your test and hit the create survey button. If you need help getting started, browse the existing templates.

3. Add question/intro:
Jump directly into creating the questions for the test. However, it is good practice to add some introduction test to the test. The introduction text must be brief but must mention details of the test. Details like the subject, the purpose, it's duration, end date, and general rules must be added to familiarize the test taker with the test.
Note: You can also import an existing test directly from MS Word if available.

4. Choose question type:
Choose from over 25 question types and use the most appropriate questions that suit your needs. All the basic questions you need to conduct an online test is available for free.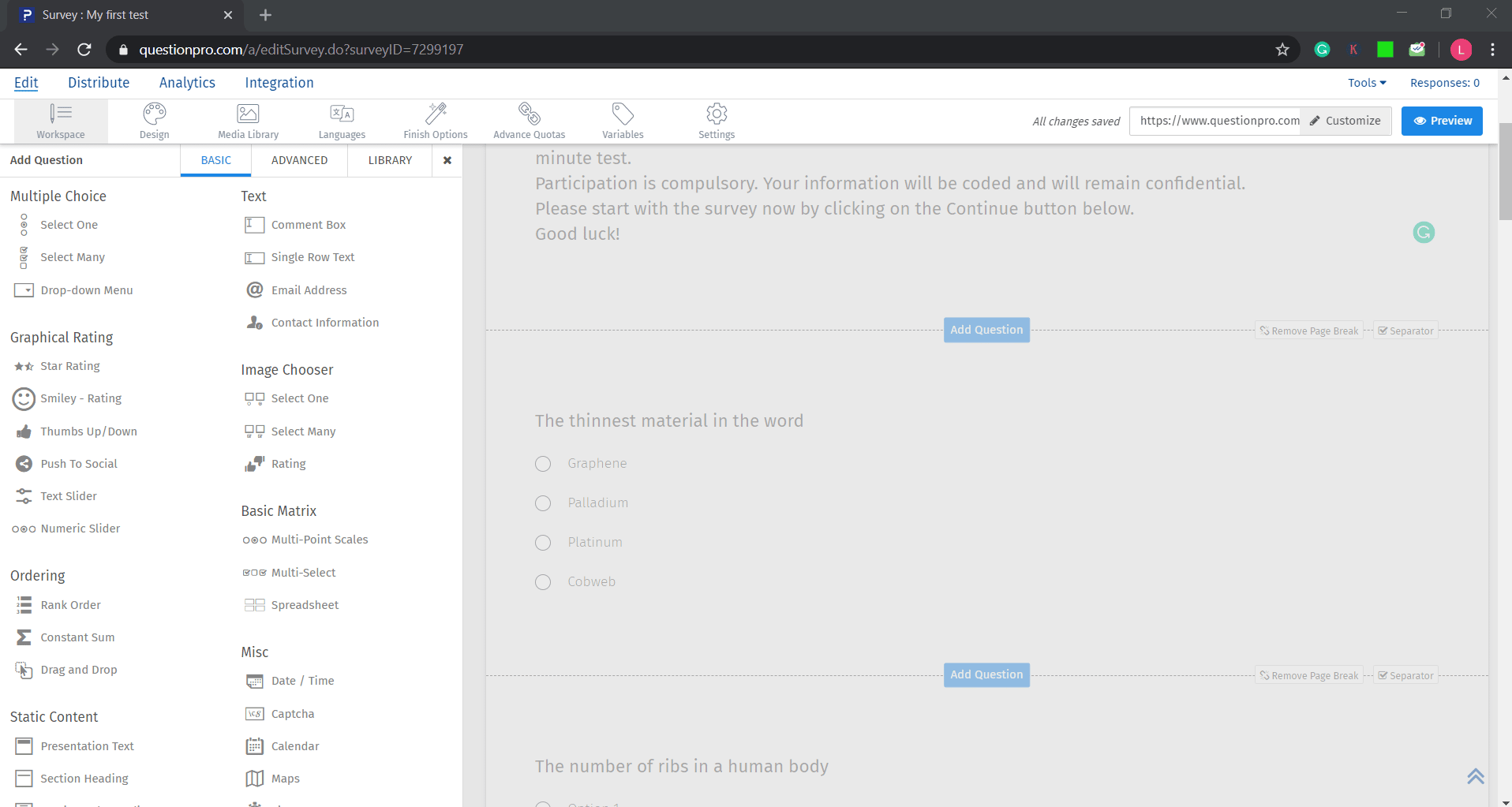 5. Distribute the test:
Easy email list management allows you to distribute the survey to even large groups of students very easily. Refer to the default template available on the email draft for guidance. Creating and distributing tests are simple and easy with QuestionPro. Access the dashboard to track responses and look at automated reports on the dashboard to get real-time feedback.

Features of an online test maker for teachers
Let's look at the features of an online free test maker.
Easy test creation:

Build tests easily within minutes on your own. Online free test makers even support advanced mathematical and statistical test creation.

Multiple templates:

Choose from an already existing list of templates to ease the effort for novices.

Customizable templates:

Choose your base template and fully customize your test to suit your students, your style, and to comply with academic requirements, if any.

Unlimited questions:

Need to create an in-depth test with branching and skip logic? Teachers can probe better without an upper limit on the number of questions.

Smart scorekeeping:

Different questions may carry different weightage. Assign points or scores to every question depending on the requirement.

Test setup:

Easily schedule a test to go out to a specific set of students. Build an email list and automatically distribute the test instantly or at a scheduled time.

Supports multiple devices:

Flexibility for students to access tests on either computers, tablets, or mobile devices.

Advanced analytics:

The free test maker tracks the progress of the test for every student with the help of a unique id. Track the progress of the test in real-time. 

Shareable dashboard:

Share the progress dashboard among students or other faculty members to collaborate and share information.
Why should teachers use QuestionPro?
QuestionPro is a one-stop solution that enables teachers and educators to create assessments, tests, and quizzes. Build online tests, quizzes, and exams for students quickly and easily. Harness the power of customizable features, automated test distribution, and automated grading.
QuestionPro is not just the average free test maker. Your account comes with a suite of robust features so you can do more than just organizing tests. Here's why you must use the free online test maker.
Unlimited tests and quizzes

Unlimited questions

No credit card needed

Customize the look

25+ question types

Brand it with your logo

Branching and skip logic 

Shareable dashboard

Export printable data

24*7 support
Choose the best tool for your free test maker!
Having an online test is the best strategy to collect information and evaluate the knowledge of a group of people practically and effectively.
Suppose you want to try any of the tools listed above. In that case, we invite you to create a free QuestionPro account to learn about some of our essential features or schedule a free demo, and one of QuestionPro's consultants will contact you to let you know everything you need.