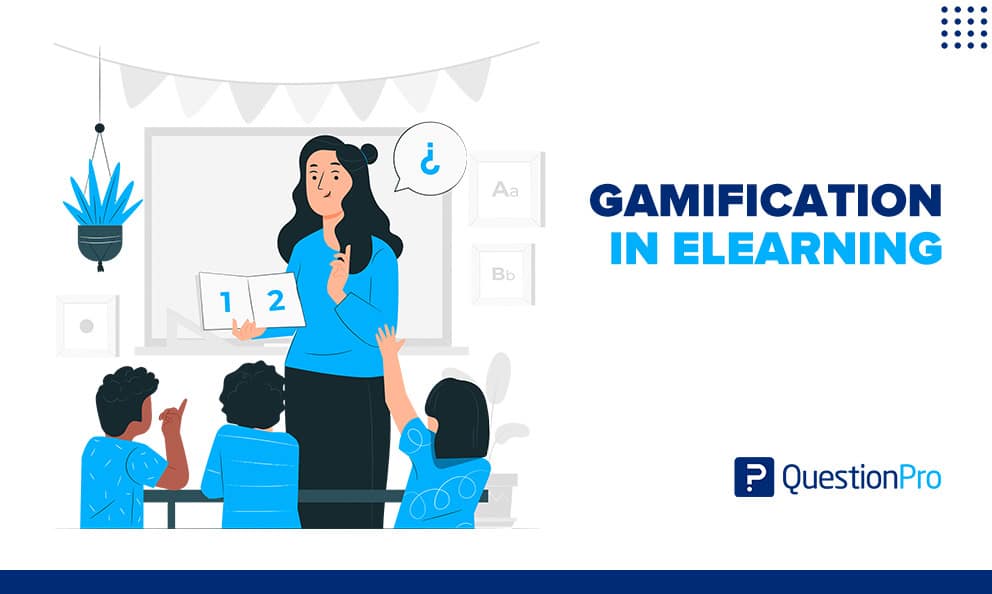 Gamification in eLearning has been emerging as an innovative technique to engage learners. Gamification uses gameplay features or elements in a learning or training experience at the most basic level.
This article will share some examples and tips on how gamification can succeed in creating immersive learning experiences for learning spaces in both academic environments and the workplace and the several benefits of including these techniques.
LEARN ABOUT: Audience Engagement Tools
What is gamification in eLearning and teaching?
Gamification in eLearning is a method that uses video games and game elements in learning environments. These methods are used to motivate students to engage in learning. The difference between gamification and creating a game where learning is the purpose of the game is that you apply game design techniques to a learning course in the first one.
Some standard gamification techniques are the following:
Badges, tokens, or awards for achievements

Point scoring systems based on goals

Levels 

Multiplayer engagement 
One of the most popular ways to involve all the participants in a course, training, or other academic activities is through the use of a Classroom Response System, which consists of turning any device such as cell phones into a tool to respond to general knowledge trivia or quizzes
Think about how you could apply these techniques to your learning space, how your audience will respond to the use of these elements, and how their implementation of them can lead to successfully achieving goals.
Incorporating elements from games into classroom scenarios allow students to engage with classmates and teachers better. You also give the students ownership of their learning and the freedom to fail and try without adverse repercussions. These practices provide easily recognizable and manageable tasks, increasing the fun in the classroom!
When using gamified e-learning platforms, massive amounts of data are generated due to user interaction with the system. This data can be sampled appropriately, analyzed, and organized using resources such as QuestionPro InsightsHub.
Understanding your students experience trajectory can help teachers better understand and develop learning courses that accurately fit and improve students learning paths, driving them to succeed in their goals.
Why does gamification in eLearning work in corporate training?
Gamification can also be used in corporate training to increase employee learning engagement and elevate knowledge retention. This method can help combat the lack of motivation and boredom related to workplace education.
If you're looking to incorporate gamification in your training exercises, here are some valuable tips to help you introduce it:
Microlearning:




You don't have to organize a long and overwhelming meeting with your employees to introduce a gaming exercise. You can incorporate bite-sized learning experiences that you can take in just a few minutes. They can be just as effective in maximizing engagement without compromising your employees' productivity in their other tasks.


Automatization:




You can automate the gamification process by using platforms that support gamification features. This tip is especially beneficial if you have no prior experience applying gamification in your workspace.
QuestionPro is one of the free survey softwares in the market that incorporates gaming elements, such as leaderboards, points, and scoring in LivePolls, to help increase learner engagement and create interactive experiences. Our surveys can also be applied in creating quizzes and receiving real feedback from your audience.
LEARN ABOUT: Live polls for Classroom Experience
Deliver gamification training on mobile devices:




Another technique for making your lessons seem more relaxed and less overwhelming is smartphone technology. In QuestionPro, we often use Livepolls to create quick trivia on the go, which the participants can easily take from their smartphones by scanning a QR code. This approach can make it seem more like a mobile game than a traditional work course.

Reward participants with rewards:




Motivating your learners is one of the main goals of these exercises, and you can achieve this by rewarding them with real prizes and incentives. In QuestionPro Online Community Software, you can intelligently engage with a customer or employee community and reward them with interactive points, gamification badges, cash, and donations. This drives learners to complete the lesson and earn as many points as possible, effectively defeating resistance to training.
Conclusion: Gamification in eLearning
In conclusion, if you're looking to introduce gamification in your school or workplace, first ask yourself, what motivates my audience? What gaming exercise translates better to my workplace? You need to relate your game to your specific business goals. 
Ultimately, the best advice is not to take it too seriously; try to create an engaging and motivating experience for your trainees or students, and take feedback from this. With QuestionPro, you can learn more about your audience engagement and gather the information that leads to valuable insights.
One of the best examples for Gamification in eLearning is LivePolls by QuestionPro, which allows you the create fully customizable trivia questions with easy access to play in real-time with your audience. No more bored audiences.
When a presentation looks and sounds the same for a long period of time, it is going to be incredibly hard for the audience to stay engaged. Stop them from getting glassy-eyed by breaking the monotony. Let audience distraction become a thing of the past with QuestionPro LivePolls! 
LivePolls 2.0 is entirely FREE and we have tons of new features coming your way.
Authors: Daniela Guerrero, Regina Castro