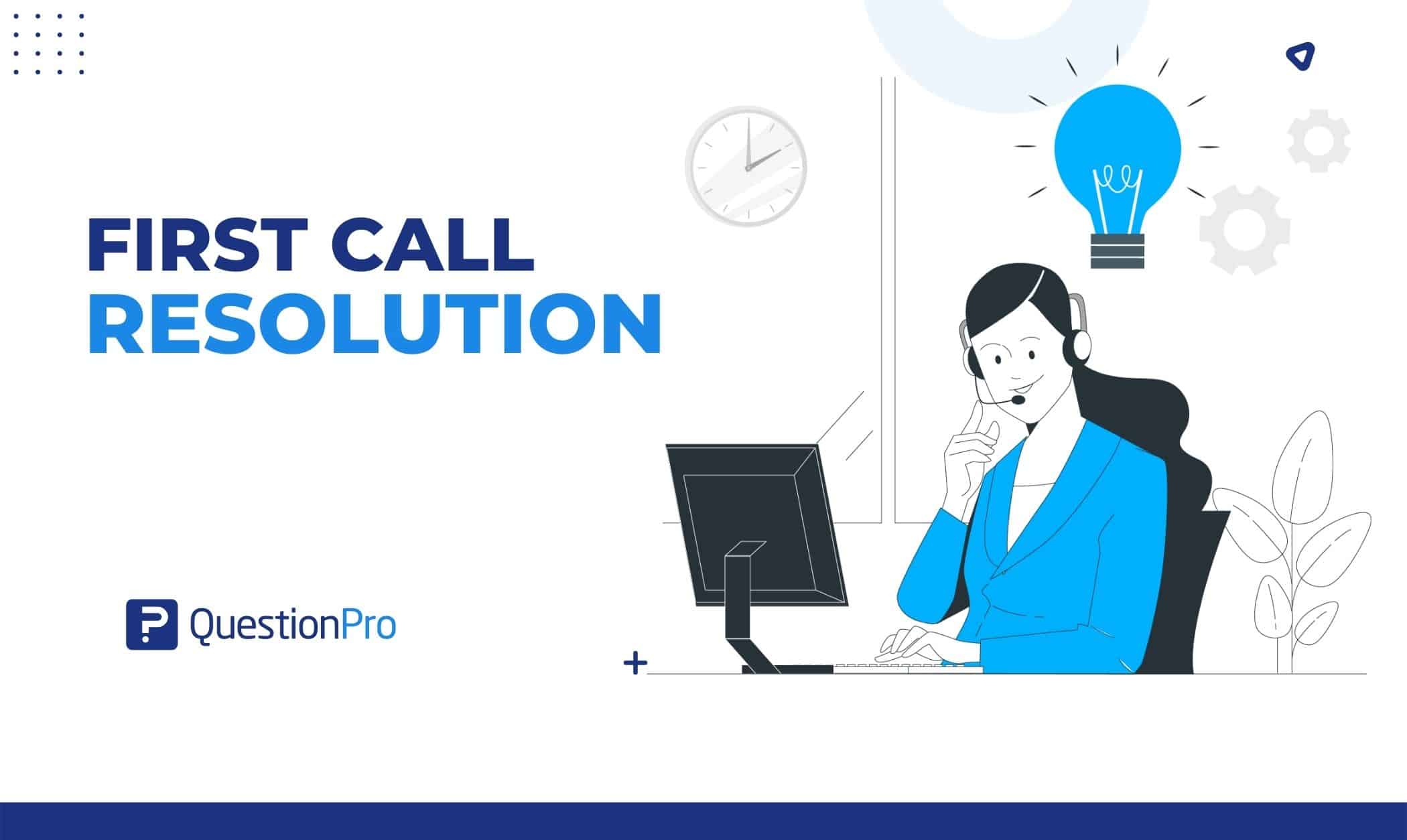 The most important thing your contact center can measure is First Call Resolution (FCR). It shows how well your team works, how well you serve your customers, and what needs to be fixed.
Your FCR rate is your organization's pulse. When it's high, it cuts down on costs and makes customers happier. When it's low, your team wastes time and money on processes that aren't working. To bring value to your customers, your team must optimize your processes and practices to improve first-call resolution.
This blog will discuss the definition of FCR and what an FCR good rate is. We will also discuss how to improve FCR in any business.
LEARN ABOUT: Escalation Management
What is the first call resolution?
First call resolution (FCR) or first contact resolution is the percentage of support requests on any channel that are solved on the first contact with the customer service team. These calls or emails, chats, etc., don't need to be followed up on, escalated, or dealt with in any other way.
For instance, a customer calls your customer service department to find out how much money is in their account. The first time they talk to a live agent or use your IVR call menu, they can give you their account number, find out how much money is in their account, and, if necessary, pay the bill over the phone.
Note that the customer is usually the best judge of whether or not a request has been "solved."
LEARN ABOUT: Time to Value
In other words, your customers, not your agents, decide if they got the answers they needed and a satisfactory call resolution during the first interaction.
What is a good First Call Resolution rate?
First contact resolution helps you figure out how happy your customers are with your business and how well your support department works. An excellent first call resolution rate is between 70 and 75%, but the target rating for your call center will depend on how you define "first call resolution."
Also, remember that a "good" FCR rate is not more important than good customer service or a balanced average talk and handling time. No customer wants to wait on hold for 30 minutes or get advice that isn't helpful just so your business can improve its first call resolution rate.
Importance of first call resolution
FCR is important for your organization in many ways. Such as:
FCR is a way to measure customer experience (CX), and it shows how a company can improve its CX strategy. It's also an excellent way to tell how responsive a company is and how well it manages its costs. FCR affects other customer service metrics, such as customer satisfaction (CSAT), customer effort, customer interactions, and average spending.
LEARN ABOUT: Perfect Customer-First Strategy
Companies that focus on getting a high FCR rate often find that improving it helps them speed up and improve the quality of their service. Calls or contacts resolved on the first call help companies meet the expectations of their customers for customer service.

Call center metrics like FCR show organizations where problems happen and how they can improve their processes.

A business's bottom line increases when metrics like FCR and measuring methods are improved.

When companies make their processes more efficient, they can cut down on the money they spend on customer service.

First call resolution can be used in all ways to talk to customers and for the first time they talk to them. It can determine how well a company can serve customers through communication.
How to improve first call resolution
It would be best if you improve your FCR for the betterment of your organization. You can implement the following practices to improve FCR in your organization.
1. Identify Your Problems
Do both an FCR analysis and a root cause analysis to determine why agents are not meeting customers' needs. The data from the analysis will help you spot trends and patterns. From here, you can use your findings to make data-driven decisions to improve efficiency and increase the number of calls that are solved on the first call.
Look for the following during the analysis:
When the customer calls up?

Why are calls being redirected? Are they coming to the wrong department

Why do calls have to be sent to managers?

Do the channels where the call came from have any technical limits?

Are there complicated processes that need F/U and other channels to be used to answer a customer's question?
2. Give your agents training, tools, and resources
Your agents can work with customers across channels with omnichannel tools like a live chat & collaboration solution, and strong call center software. They can look at customer information from all contact channels, such as social media, phone, email, the website, etc. By looking at this kind of data, it's much easier to get a clearer picture of the customer's question, which increases FCR.
Your agent's key channels should fix customer issues in the first session. The agent can provide product information, eForms, terms and conditions, eSignature, and payments in real-time with the customer on the phone or mobile. It improves customer service and helps agents to address problems or close sales on the first call.
An omnichannel approach to handling customer contacts might hurt FCR when agents don't use all resources and tools and when customers are redirected to another channel to complete a transaction. When omnichannel solutions don't satisfy customer or agent expectations, they fail.
Improving FCR requires teaching call-handling best practices. Agents need training on omnichannel tools. Agents should be able to share visualizations and let customers attach photographs, eForms, and eSignatures. They also may provide quick and secure payment options to increase FCR.
3. Make profiles of your customers
As we just said, you need to give agents full access to customer information. To do this, you will need to make customer profiles. Usually, it's best to divide your customers into groups based on where they live or how much money they make on average. Or, if you prefer, you can divide them up based on what they buy.
After you've divided your customers into groups, you can determine their most common needs and devise ways to meet them. Your first call resolution will be much better if you teach your agents how to use these solutions. More importantly, the customer experience improves.
4. Reward Your Agents
Make an incentive program that gives them something when they reach a certain number. Promotions and bonuses are two ways to get a reward. When you reward your agents, getting them to improve their FCR rate is much easier. As agents get better at FCR, customer satisfaction also goes up.
5. Repeat the solution
Agents should repeat the solution and check for comprehension to ensure that customers understand how their problem will be resolved. It makes it easier for people to talk to each other and improves first-call resolution.
6. Invest in automated systems
Your call center software needs to work with your CRM and other software to automatically update the data when a customer calls or makes a purchase. It automates tasks that need to be done and ensures that agents have access to customer data in real time. It improves customer experience and frustration because agents can see cases and events in real-time. It gives them a better understanding of the problem at hand in real time.
7. Use a routing strategy based on skills
Customers don't mind having their calls transferred once as long as it gets them to the right agent. Your agents should be divided into groups based on their departments, knowledge, and skills. It expedites call handling, boosts FCR, and increases customer happiness by ensuring calls are forwarded to the most suitable individual the first time.
Conclusion
First call resolution is a way to measure how effective and efficient your agents, teams, and call centers are. It can give you a general idea of how well your agents, teams, and call centers are doing. When you work hard to improve FCR, the quality of agent interactions will go up, costs will go down, and customer satisfaction will go up.
Using a First Call Resolution action plan can help companies improve customer satisfaction and the reputation of their brand in a big way. In a world where customers' needs are constantly changing, it's essential not to forget about your FCR rate.
Try QuestionPro CX's customer experience surveys to see how FCR can help you get more customer responses and valuable information about your customers.