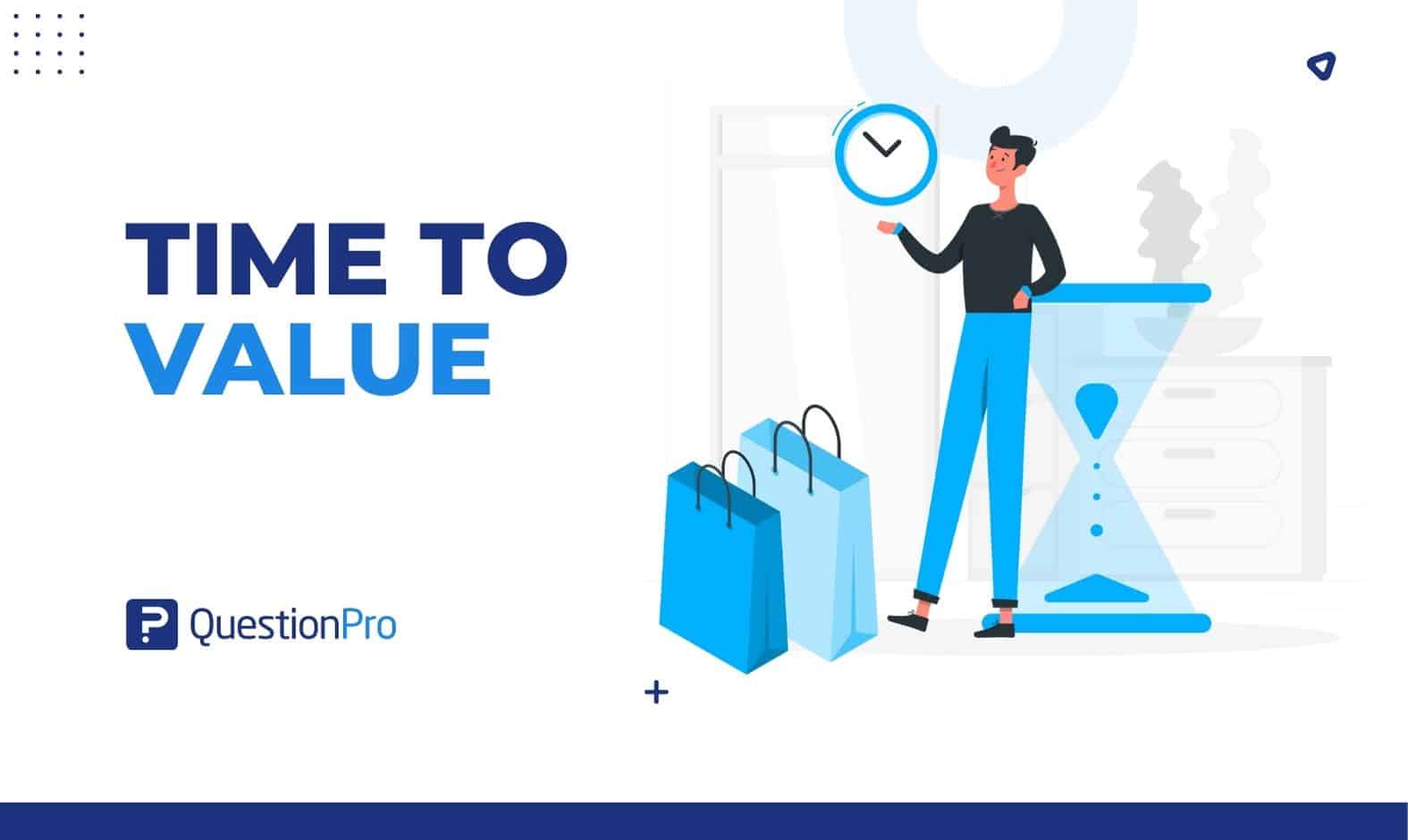 Every business, product, or service aims to provide value to its customers. The business value refers to the benefits or unique selling propositions (USPs) that customers think they get from your product. This feature makes the customer's life easier and better. It's also the key reason why the customer bought the product in the first place.
So, customers expect every product to give them the most value for the least cost. Another factor is how quickly the customer realizes the product's value. Here is where time to value comes in.
This blog will look at the time to value (TTV) and its types. We will also talk about how you can measure TTV in your organization. Lastly, we talk about reducing TTV methods.
What is time to value?
Time to value is a key metric that shows how long it takes for a new customer to see value in your product or service. New customers expect to get what they paid for as soon as possible the faster, the better.
It is an important customer retention metric that helps companies make data-driven decisions to find and fix friction points that could hurt overall customer retention.
TTV is one of the most overlooked metrics, especially in SaaS, but it could be the difference between you and your competitors. And if your business doesn't provide value, your customers could quickly leave you for your competitors.
Types of time to value
There are different types of time to value. Understanding each type of value can help you figure out what your business can do and how to change it to improve the customer experience. So, here are the most common types of TTV metrics that companies look at:
Time to basic value
It is the most obvious time to value metrics. It is defined as when a customer realizes they made the right choice in your product or service and started seeing real ROI and value from your offering.
Time to exceed value
This TTV metric measures how long it takes for a customer to realize that your product is valuable and that what you're giving them is better than what they were expecting. This usually leads to contract renewals, upsells, and customers who love your brand and stay with it for life.
Long time to value
This TTV metric is used for products that may need to be set up and learned over time. It means the actual ROI won't be seen for a long time (think of a powerful enterprise software tool.)
Customer success managers need to spend more time with their accounts to ensure they're maximizing your offering. They (CSM) should talk to their customers about their use of your product and highlight its most important features and benefits.
Short time to value
This TTV metric may be the easiest to understand. It means that a product or service solves a customer's problem right away. Moving companies, carpet cleaners, and many other consumer-based products are good examples of this.
Immediate time to value
Immediate time to value is a service metric that gives customers immediate satisfaction and solves problems. One example of this would be a speed test for a website that gives immediate results.
How to measure time to value
There are several ways to measure time to value. The ones that will work best for your business will depend on what you sell, your customers' demands, and your business style.
Measure the time for an upgrade from free to paid
If you offer a free version of your software, you should focus on how long it takes customers to upgrade to the paid version. Customers who are willing to upgrade from the free version of your product see that it has real value and are willing to pay more for the full version of the features and offers.
Measure customer onboarding time
Most new software requires extensive training. The longer it takes to train employees, the less likely many organizations would choose that platform, as it will cause unnecessary delays. A quick onboarding process can help customers choose your solution.
Time of adoption for new features
When you roll out new features, how long does it take for customers to start using them? If customers take a long time to get used to new features, it could mean that they don't need them or that there are unnecessary barriers in their way.
Measure the time to get the preferred ROI
ROI is easy to measure in many situations. For example, when you're looking at a marketing solution that will help customers grow their business or when you're looking at how often a product is used in an office.
Remember that most of these measures are based on enterprise SaaS, not custom solutions. If you make custom solutions for customers based on their specific requirements and needs, you may need different measurements to see if your solution meets their standards.
Customer satisfaction may be the best way to tell if you are promptly giving them the value they need.
How to reduce time to value
Here are suggestions for reducing time to value that will help you convince customers to continue with your product.
Feel free to convince new customers to buy your product promptly. Many software and app developers get caught up in trying to provide all the solutions at once, and as a result, clients quickly feel overwhelmed.
Instead, make a clear guide that will help you roll out these solutions in stages so that customers can learn more about the platform before moving on to the next one.
Provide education with onboarding guides and case studies
Give new clients the information they need to use your solution effectively. Offer onboarding guides and detailed case studies. It will help them learn how to make the most of your product's features, including the small details they might miss if they learn how to use the software independently.
Get dedicated customer success managers
A customer success manager can talk directly to customers who just bought your product and answer their questions. He can help them through the onboarding process and solve any problems or problems that may come up.
Giving this kind of one-on-one help or training can make a big difference in how your customers use your product and shorten their TTV.
Provides excellent customer support
Customer support is very important for any software. You want your customers to know they can come to you when they're having trouble, and you also want it to be easy for them to get in touch with customer support.
Solid customer support can help them get around any problems so they can use your software solution more quickly. As the customer uses the software over time, they can help with any problems during set-up or with new software patches.
Build app tutorials to improve adoption
With in-app tutorials, clients can easily find the information they need to know about how to use the app well. Keep tutorials short, make them easy to find in the app, and use them to teach customers everything from how to use your software for the first time to how to solve complex problems with it.
Pay attention to how customers use your solution and what stops them from using your product. The better you know your customers, the better you can find solutions that work for them.
Conclusion
Helping your customers succeed with your product is the first step to making your business successful. Always design things from the customer's point of view to reduce time to value and make them easier to use so that you become as indispensable to the user as you hope to be.
It's not easy to find ways to offer more value to your customers. Even though SaaS products can be very different, the tactics for reducing TTV that we discussed in this post can be used for products in any industry.
If you want to measure and reduce the time to value of your products, you need to measure your customers first. QuestionPro CX lets you determine your customers' thoughts about your product and services.
QuestionPro is a survey software that will assist you in managing customer feedback and gaining insight into your customers. Contact us or book a demo if you need help with the further process.