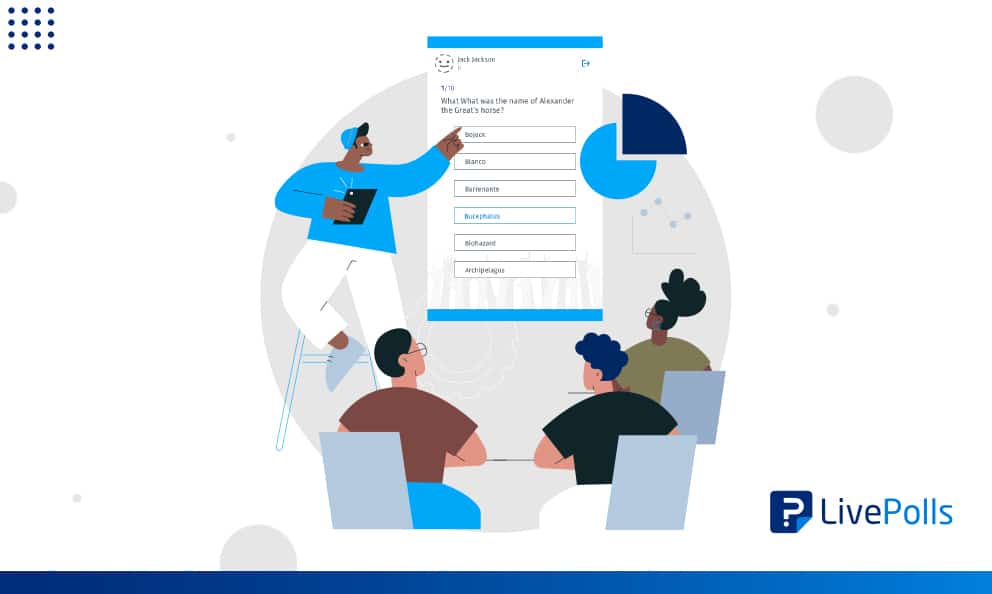 Whether you're a presenter, teacher, or event host, maintaining audience engagement is difficult. The good news is that with technological advances and the correct use of creativity, achieving it has become easy and practical.
When we perform a live interactive presentation, whether in person or online, the biggest challenge is keeping the audience entertained, promoting their adequate participation, and conveying the desired message in the most appropriate and meaningful way possible. Let's talk about audience engagement.
What is Audience Engagement
Audience engagement is a group of people's active and positive response to a live presentation. When the presenter achieves to keep the audience's interest, attention, and participation during the presentation, audience engagement personifies.
In this work environment, the audience's attention is one of the most valuable assets for any presentation, especially in business and education. Gaining and keeping the audience's attention is vital.
Great presenters earn their audience's attention as soon as they start and then hold it throughout the presentation. In the first couple of minutes, you will get and maintain audience engagement by convincing the audience that the subject is intriguing and worth listening to.
Audience Engagement Examples
It is common for a presenter to feel intimidated during their presentation in front of an audience. To improve the experience, it is possible to resort to professional tools that provide us with the necessary support to obtain the approval and interest of the public.
Presenting is a serious task and knowing how to manage the audience is undoubtedly vital for the success of the exposition. Some of the situations that require audience engagement are:
Speaking at conferences

Giving online presentations

Hosting professional events

Teaching a class
Top 4 Tips for Audience Engagement
To conduct a memorable meeting or presentation, you must prepare interaction and exciting activities. We created a list with our Top 4 audience engagement tips for you.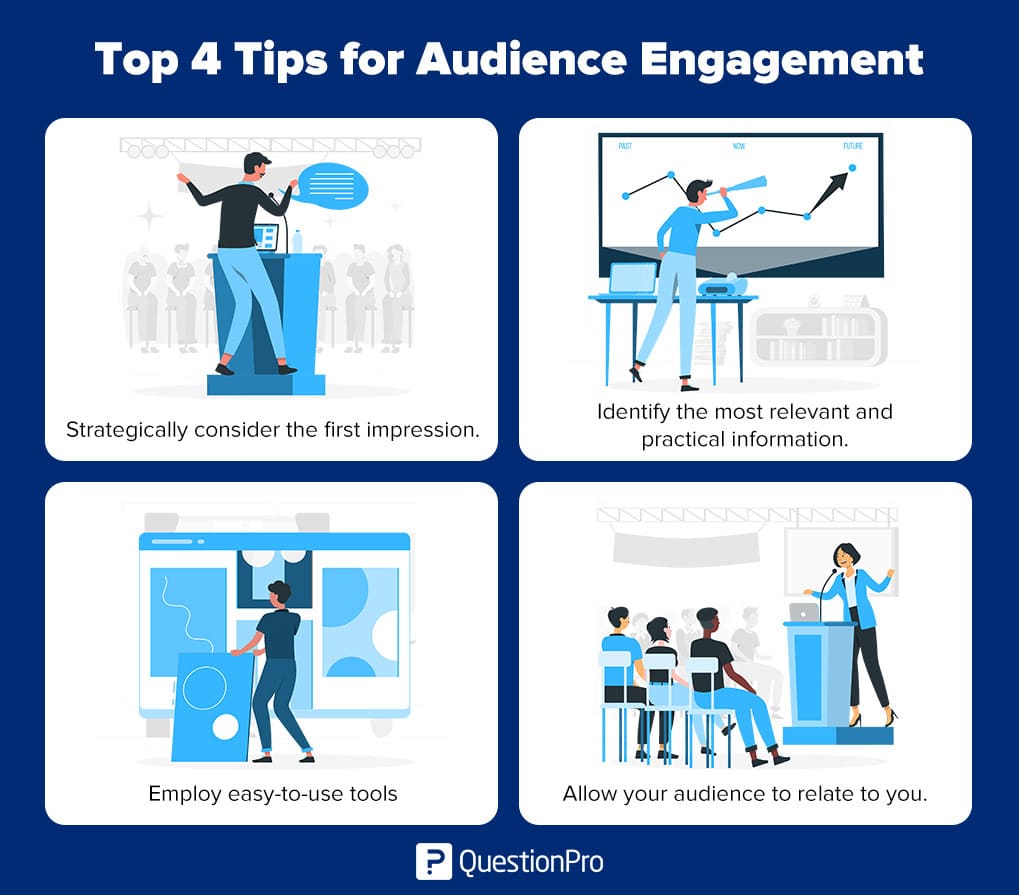 1. Strategically consider the first impression.
It would be best if you always generated interest and curiosity about the topic of your presentation in the opening seconds of the introduction. To achieve this, you need a "hook." This can be an activity, relevant information, or an interesting fact about you concerning the topic.
To find the "hook," think about the most impressive aspect of the presentation and how to turn it into a sentence, activity, survey, or slide that will increase or arouse the curiosity of the listeners.
Use controversial or funny facts. Don't worry if your audience thinks you've lost your common sense; you have their full attention to prove why you're right! If people believe you have an absurd position on a particular issue, they will listen to your every word to see how you justify or support your take. Always avoid hate speech or attacking the audience, of course. Keep it professional.
2. Identify the most relevant and practical information.
Having extensive knowledge about a subject does not mean that we should expose it; on the contrary, we should concentrate on the essential parts of that knowledge, especially at the beginning of the presentation. The audience will only remember the critical information, and leveraging that to our advantage is crucial for audience engagement.
Arousing attendees' curiosity by providing only key information is an excellent practice for retaining their attention.
3. Employ easy-to-use tools
If you need to display a lot of information on one slide, do it using graphics or images. This is especially important at the beginning of a presentation, as your audience may feel overwhelmed if you bombard them with a lot of statistics and long texts.
For a more significant impact, accompany them with an activity before starting to project them. A quiz, a small general knowledge trivia game on the subject that allows the audience to know what they already know and what they still need to learn, are excellent tools for audience engagement. Also, they provide us with information about the audience's knowledge and interest in the subject, allowing us to emphasize the elements that most people do not know yet.
4. Allow your audience to relate to you.
Since you are the face in front of the public, it is essential to create a comfortable and friendly environment that allows the audience to feel that they know you and understand your story. Sharing your experience regarding the topic presented will enable the audience to link their own experiences with yours, building trust and respect.
Mutual respect between presenter and audience is also vital to a successful and entertaining interactive presentation.
Tools for audience engagement
Besides the classic joke ice-breaker that we know are used for starting a presentation, technology allows us to step forward into the future by providing platforms created especially for audience engagement and better presentations both in-person and online. 
One of the best examples is LivePolls by QuestionPro, which allows you the create fully customizable trivia questions with easy access to play in real-time with your audience. No more bored audiences.
When a presentation looks and sounds the same for a long period of time, it is going to be incredibly hard for the audience to stay engaged. Stop them from getting glassy-eyed by breaking the monotony. Let audience distraction become a thing of the past with QuestionPro LivePolls! 
LivePolls 2.0 is entirely FREE and we have tons of new features coming your way. Claim your Free account now!