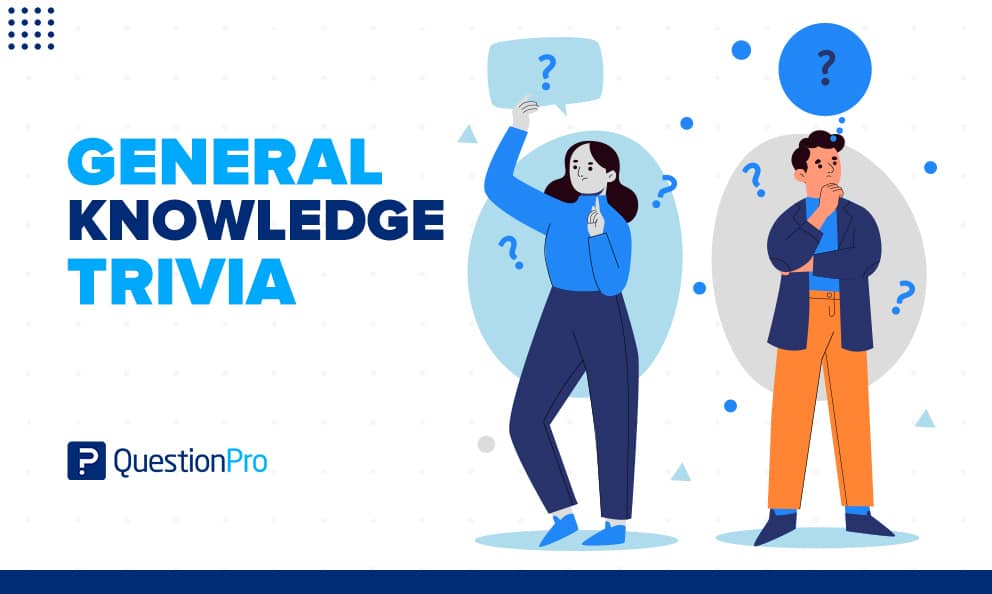 General knowledge trivia is an enjoyable and popular game to play with loved ones, friends, and coworkers! It challenges your general knowledge while fostering relationships that last a lifetime. A prepared set of entertaining questions on any subject of your choice is frequently used while playing online trivia.
Here, a host is selected, the questions are distributed among the contestants, and you compete to provide the most answers. A traditional pub quiz on your next night out or a virtual game night may both include trivia.
It's a fantastic technique to keep people interested while gaining new knowledge. It may be played with friends, coworkers, or family members.
General knowledge questions encompass information that we have all studied in school. In this blog, we will look for 25 General Trivia questions and answers, where you may see how much you truly know about the world around you.
What is general knowledge trivia?
General Knowledge Trivia is a collection of questions covering a wide range of topics and intended to test a person's knowledge in many areas. These questions can include history, geography, science, literature, pop culture, sports, and other topics.
General Knowledge Trivia questions are frequently used to entertain and engage participants' knowledge in a fun and interactive way to create trivia quizzes, games, and social gatherings. It's a fun way to learn new things while competing with others.
After all, playing trivia is fascinating to learn many essential things, not simply a fun way to kill time. Therefore, learning random trivia may help you achieve your goals, whether expanding your knowledge or dominating the other players at next week's game night.
How does general knowledge trivia work?
Choose a host.
Selecting the right host is a crucial step in establishing your online presence. It's important to carefully consider your options and choose a host that meets your specific needs and requirements.
In order to keep things fresh and engaging, we recommend designating a rotating host from within your organization. This can be a great way to infuse new energy and perspectives into your team meetings or events. Consider switching up the host weekly or occasionally to energize and engage your team.
Make a list of entertaining trivia questions and a theme for it.
Selecting a theme and compiling a list of entertaining trivia questions can be a great way to liven up any gathering or event. Whether you're planning a family game night or hosting a virtual trivia party with friends, the right theme and questions can make all the difference.
Look at our great questions for the next in-person or online trivia quiz night you're hosting. Our templates offer a wide array of questions that are relevant to every interest. Whatever your preference, we've got the perfect questions for you to enjoy.
Choose your team.
Divide into groups; it doesn't matter how many individuals each team has. Begin by describing the game's rules and format to the participants. Let's put your knowledge to the test with some fun trivia questions!
Collect answers and award the winners.
When the time is up, get the replies from the people or groups. Then, show the right answers and give points for them. For extra points, you can give more points for questions that are hard or have bonus rounds.
Add how many points each player or team got at the game's end. Choose winners. The team with the most accurate predictions and points wins. Award a gift card or trophy. Make this a weekly exercise and reward an all-time winner.
Top 25 funny general poll questions
If you lead a meeting, offer training, a webinar, or give a speech at an event, polls are your greatest allies. You may "speak" to your audience by posing a poll question to them, which will keep them "talking" back to you.
There are various ways to use live polling. You may gather helpful information, keep your audience interested, discover more about them, or open the door to a dialogue. To get things rolling, here are 25 funny trivia questions that can be asked on a poll:
What do you call a flock of crows?
What is the name of a three-person duel?
Which animal is the strongest compared to its body weight—a dung beetle, an elephant, an ant, or a cow?
What is forbidden to eat with a fork in the state of Georgia?
How many dots does a set of dice have?
Iceland changed traffic routes to prevent upsetting which community?
Which body part is the only one that is fully grown at birth?
Who first came up with the word "vomit"?
What is the fear of acrophobia?
What can be broken but it can never be held?
Which country has the most islands?
How many hearts are there in an octopus?
Which planet is nearest to the sun?
Which human muscle is the strongest?
Which phone manufacturer made the 3310?
What falls but never rises?
Which nation's life expectancy is the highest?
In what year did World War II end?
Which planet is the hottest in the Milky Way?
How many bones are there in the human body?
How many countries are part of the European Union?
Machu Picchu, one of the New Seven Wonders of the World, is located in which country in South America?
Which fast food chain is famous for its golden arches logo?
How many stars are there on the United States of America flag?
How many teeth does the average cat have?
How many stars are there on the United States of America flag?
LEARN ABOUT: This or that questions
Conclusion
You may use polls to make your meeting, event, or training more inclusive and exciting. While you have their attention, your target audience may engage actively and express their opinions. It seems like a win-win scenario.
Using polls may establish at least a tenuous relationship with your audience. They assist you in gaining priceless knowledge about your website visitors. You may pose a query to them and then take up their responses in your flow. Alternately, elicit their views and build your arguments on their answers.
The ability to pick the sorts of questions that best fit your vote, monitor in real-time, and simply analyze your data are all features of QuestionPro's Livepolls. This platform is now available for making online votes.
With QuestionPro's Livepolls, all you have to do to hold your live voting poll online in real-time with any audience is adhere to the guidelines and best practices for creating the right questions. Did we mention that it is free? Please find out now!