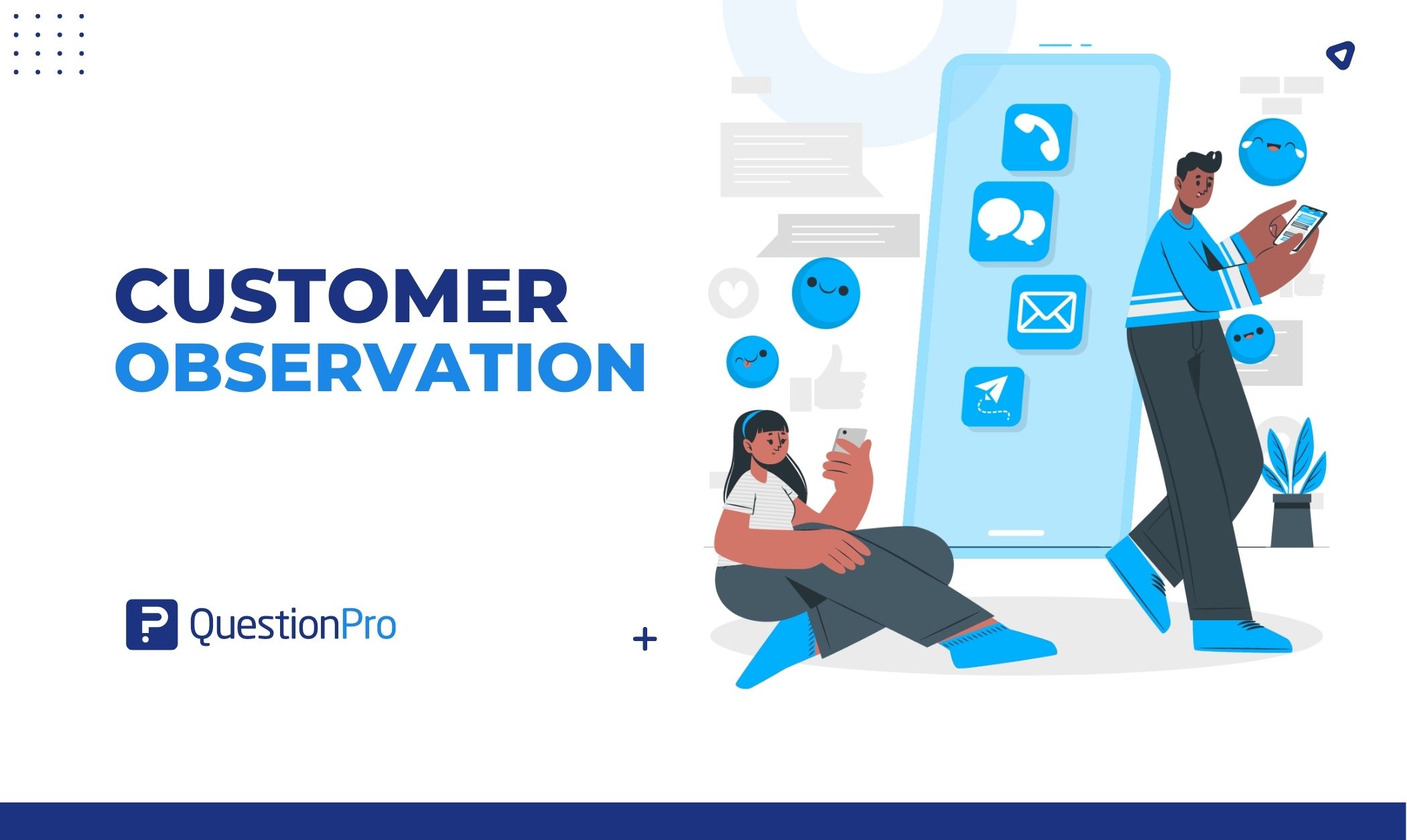 Observing and listening to your customers whenever possible is one of the best ways to understand them better. Customer observation is a powerful but all-too-often unutilized marketing tool.
As a result, it's understandable that so many businesses rush to conduct market research, usually a qualitative study, as a first step toward better customer understanding. Then, they invite relevant marketing, sales, packaging, communications, or R&D employees to observe the interviews or group discussions.
In this blog, we will discuss what customer observation is, why it's important, and the key point of it.
LEARN ABOUT: 5 Ways Market Research
What is customer observation?
Customer observation is the research and collection of customer data to understand better their needs and how they interact with a company's products or services. Interviews, focus groups, surveys, and analytics are among the qualitative and quantitative research methods used.
Understanding your customers is essential for business success. Companies can learn about unfulfilled customer needs and design products or services to address them by observing them. Customer observation can also assist businesses in improving the customer experience, making it more seamless and enjoyable.
Customers' selective listening can also give businesses a competitive advantage by providing first-hand insights into customer trends.
You may also check out this guide to learn how to build your own Customer Journey Map.
Importance of customer observation
Customer observation is important for any company that wants to understand its customers and effectively meet their needs. Here are some of the reasons why customer observation is essential:
Recognizing customer behavior
Businesses can gain insights by observing how customers interact with products, services, and experiences. This data can assist businesses in making smart decisions about product design, marketing strategies, and customer service.
Identification of pain points
Observing customers can assist businesses in identifying customer journey pain points such as bottlenecks, confusion, or frustration. Taking care of these issues can improve the customer experience and increase customer loyalty.
Generating improvement ideas
Businesses can develop suggestions for bettering their goods, services, and experiences by monitoring their customers. These concepts can assist companies in remaining competitive and catering to changing customer wants.
Learn more about why understanding your Customer Journey transforms your CX program.
Testing hypotheses
Customer observation can assist businesses in testing hypotheses about customer behavior and preferences. This is especially useful when launching new products or entering new markets.
Increasing empathy
Businesses can better understand their customer's needs and desires by observing their behavior and developing empathy map for those customers. This can assist businesses in developing products and services that truly connect with their customers.
Key points of customer observation
It is critical to understand customer behavior To improve the customer experience thoroughly. When conducting customer observation, it's important to keep the following key points in mind:
The person watching the customers is known as the observer. The observer must be impartial and unbiased. The observer should also have a keen eye for detail.
If your company does not have someone who meets these requirements, you may want to consider hiring a professional research company. The observer should also develop a methodology for observing customers during this step.
Customers can be observed using a variety of techniques. One of the most frequent strategies is direct observation.
LEARN ABOUT: Perfect Customer-First Strategy
It involves watching customers as they interact with your company. Video analysis is another method. It entails watching and analyzing videos of customer interactions. Businesses can also use surveys and interviews to gather information about customer behavior.
The location of the observation is also important. The observer should be able to see and hear customer interactions with your company.
It is critical to select a comfortable location for the observer. The observer should also be close enough to the action to make detailed observations. Furthermore, the locations should not interact with businesses or other customers. Businesses should consider the type of customer they want to observe when choosing a location.
Following the observation, it is critical to have a process in place for collecting and analyzing the data. This data can be utilized to improve the customer experience.
It is important to determine patterns and issues that may be causing dissatisfaction to increase customer satisfaction. Even if improving customer satisfaction is not the goal, the data can be used to improve other aspects of the customer experience.
After data has been collected, it is necessary to analyze it. This analysis can be carried out using various methods, such as a SWOT analysis.
Furthermore, businesses can use statistical methods such as regression to analyze relationships between different variables. Only relevant information should be included in the analysis. This will assist businesses in making better decisions about improving the customer experience.
It is critical to report the results of data analysis. It's important to express the insights concisely and clearly. Furthermore, the outcomes should be tailored to the business's specific needs. Consider the following ideas when you write your report:
Easy to read and understand
Actionable
Tailored to the unique requirements of the business
Implementing changes based on the findings after the published reports is essential. This process can be carried out by making adjustments to the products or services provided by the company.
Also, the implementation phase may modify how the company communicates with customers. Customers might be your most valuable resource for growing your business. You may improve your customers' experiences with your company by studying and analyzing their behavior.
It is critical to assess the effectiveness of the changes after they have been implemented. Either observing customer behavior or surveying customers can carry out this evaluation. Businesses can fine-tune their efforts to improve the customer experience using this feedback.
Customer observation is a great technique for improving the customer experience. By following these guidelines, businesses can guarantee that they are performing customer observation most effectively.
How QuestionPro helps in customer observation?
QuestionPro is survey and research software that may be used to assist organizations in observing and understanding their customers' requirements, preferences, and behaviors. Here are a few examples of how QuestionPro can help with customer observation:
Customer feedback: QuestionPro enables businesses to design surveys and collect customer feedback on numerous elements of their experience, such as product/service quality, customer service, pricing, and more. This input can help organizations identify areas for improvement and make the required modifications to satisfy the needs of their customers.
Customer satisfaction tracking: This platform can be used to track customer satisfaction levels over time, allowing businesses to monitor and improve customer happiness.
Net Promoter Score (NPS): NPS is a customer loyalty metric that asks customers how likely they are to refer a company to others. QuestionPro can assist organizations in measuring their NPS score and identifying areas for improvement to promote customer loyalty.
Customer segmentation: With QuestionPro, businesses can divide their customers into groups based on things like their interests, behavior, and demographics. This can help businesses learn more about their customers and ensure their products and services meet their needs.
Social media monitoring: QuestionPro has a tool for monitoring social media that lets businesses keep track of how customers feel on social media platforms. This data may help businesses determine what customers want and what trends are happening so they can change their products or services.
QuestionPro is a useful tool for businesses that helps to understand their customers' requirements, preferences, and behaviors. Businesses can collect useful insights by exploiting QuestionPro's numerous capabilities, which can help them enhance their offers and increase customer observation and happiness.
Contact QuestionPro to get the most value from your customer experience!