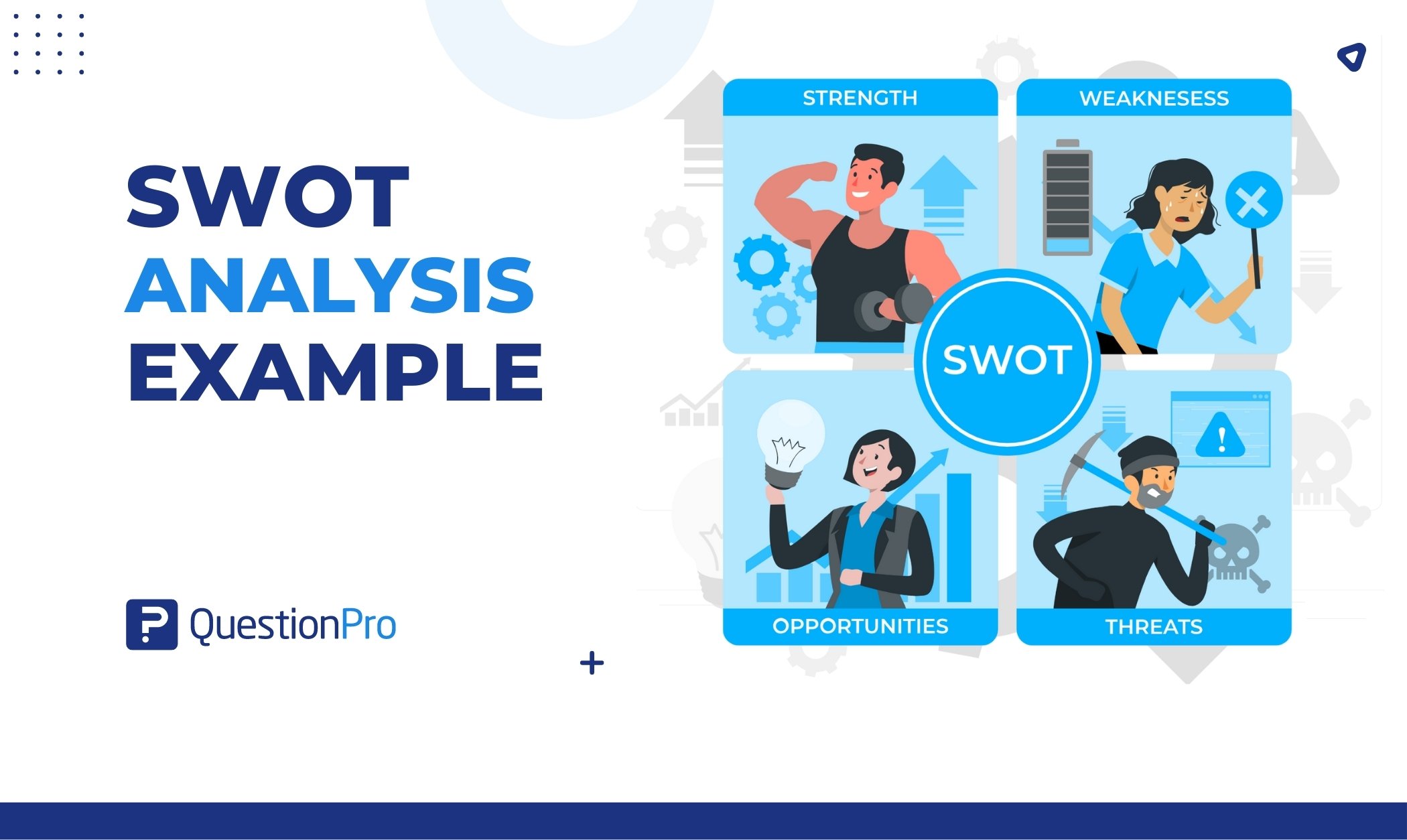 SWOT analysis provides a comprehensive framework with a SWOT analysis example for evaluating internal and external factors impacting a company's performance and competitiveness. By identifying a company's strengths and weaknesses within the organization and analyzing opportunities and threats of different perspectives in the external environment, a SWOT analysis enables businesses to develop strategies for a new project that leverage their strengths, mitigate weaknesses, capitalize on opportunities, and overcome threats and negative factors
A SWOT analysis example can be valuable for understanding how this analytical strategic planning technique can be applied in practical scenarios. Whether you are a business professional, an entrepreneur, or a student studying strategic management, this SWOT analysis example will provide valuable insights and a deeper appreciation of the power of this analytical tool. So let's dive into SWOT analysis examples and unlock the potential for strategic success with intellectual property!
SWOT Analysis: Definition
SWOT analysis is defined as an acronym for Strengths, Weakness, Opportunities, and Threats which is an effective market research analysis technique. Usually, SWOT analysis is used to evaluate an organization's performance in the market and is used for developing effective business strategies.
LEARN ABOUT: Market research industry
This SWOT analysis framework, which is now a trusted assessment source that organizations rely on to understand the scope of opportunities, value proposition, and threats by analyzing the strengths and weaknesses.
SWOT Analysis with Internal and External Factors
Strengths and weaknesses are primarily for internal analysis of an organization (in terms of market reputation, manufacturing line location, patents, etc.). To improve these good SWOT analysis factors, constant work needs to be put in over a course of time. But, opportunities and threats are external (in terms of competition, prices, associated partners, etc.) to an organization and they have no control over the changes that might occur to these external factors.
LEARN ABOUT: Market Evaluation
SWOT analysis is also used in micro situations such as –
When an organization's strength is the product quality and there are chances of conversion of a particular deal, it will be advisable for the organization to assign a capable

workforce

for the closure of this deal. It is a SWOT analysis example of internal factors.

Identifying weaknesses and their corresponding hindrances, the organization can strategize on how to overcome the weaknesses. For instance, if the sales results are a definite weakness for a company, they can try to minimize or eliminate it by regular training for the sales employees, providing access to multiple tools so that they can work off their skills, implementation of an efficient Customer Relationship Management software and other such corrective measures can be taken through this SWOT analysis. It is a good SWOT analysis example.

A competitor losing its customers and going bankrupt can be a huge business opportunity for an organization intending to expand operations. Proactive research on how to operate, demographic segmentation and taking advantages of the identified strengths to ensure the competitor's market is explored.

Taking into consideration, organizational strengths and weaknesses, factors which may cause harm to the organization's reputation can be identified. Considering swot analysis example, if the market forecast suggests a downfall in the economy, an organization can be prepared for it by reducing unwanted expenditures, appointing existing star-performers for sales conversions, etc.
Organizations conduct SWOT analysis extensively to make internal (strengths and weaknesses evaluation) and external (opportunities and threat evaluation) improvements as it can access an excessive pool of information with SWOT analysis examples. Already-existent companies should execute this strategic competitive analysis method at least once or twice a year to make sure they proactively analyze their market to keep making enhancements in various aspects of their organization.
Learn more: Market Research Survey
Importance of SWOT Analysis
The importance of SWOT analysis lies in its ability to provide organizations with a structured framework to assess their current situation and make informed decisions with a SWOT analysis example. Here are some key reasons why SWOT analysis is essential: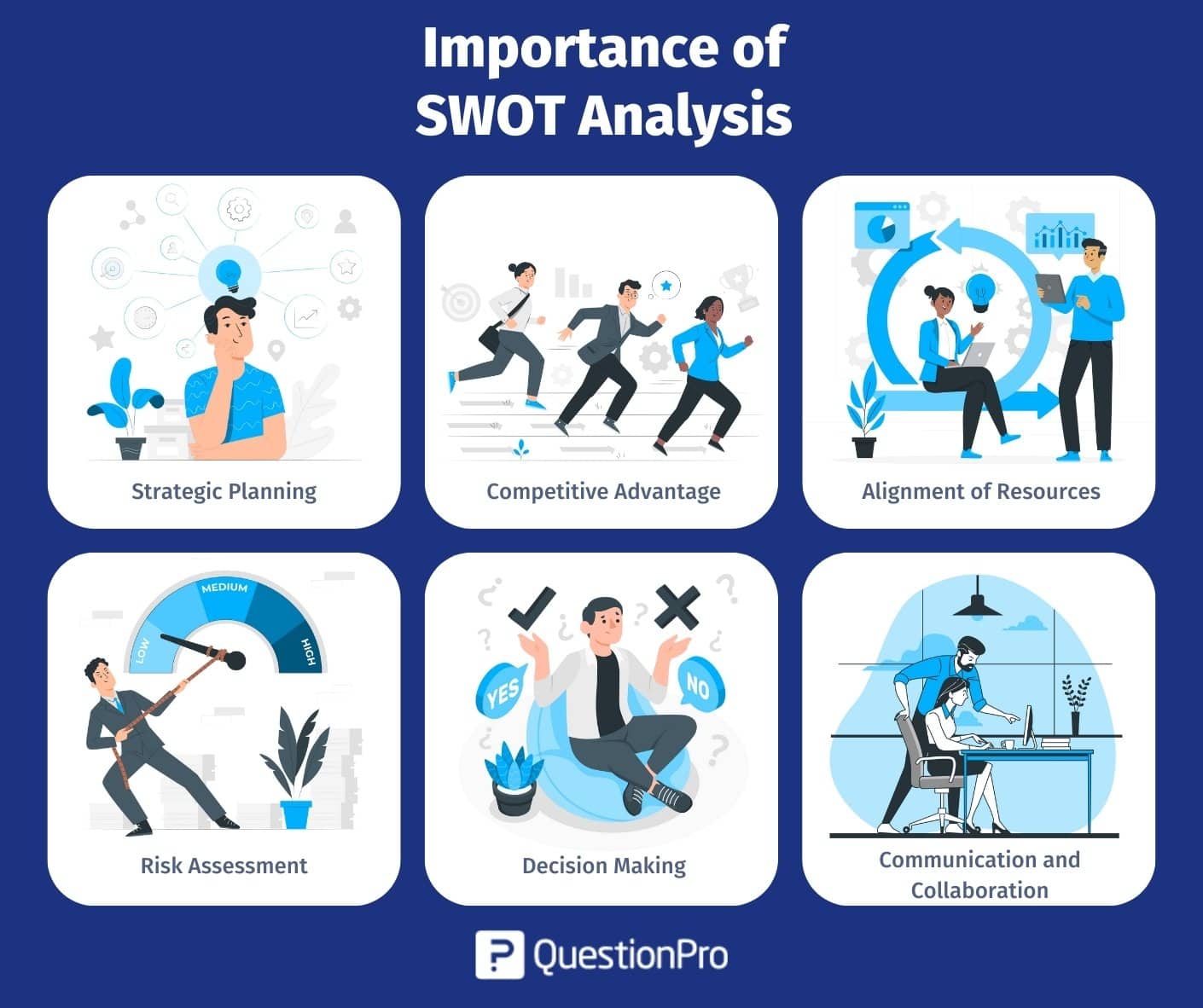 Strategic Planning:

SWOT analysis is a fundamental tool in business strategy. It helps organizations identify their internal weaknesses and strengths, and also external opportunities and threats. This information is crucial for formulating effective strategies that leverage strengths, address weaknesses, capitalize on opportunities, and mitigate threats.

Competitive Advantage:

SWOT analysis helps organizations identify and leverage their unique strengths to gain a competitive advantage in the market. By understanding market gaps, trends, and consumer preferences, organizations can align their strategies to exploit opportunities and differentiate themselves from competitors.

Alignment of Resources:

SWOT analysis helps organizations align their resources, such as financial, human, and technological, with their strategic objectives. By identifying internal strengths, organizations can allocate resources to areas where they are most effective. It ensures optimal resource allocation and maximizes organizational efficiency.

Risk Assessment:

SWOT analysis enables organizations to evaluate external threats and opportunities that may impact their operations. Organizations can develop contingency plans and proactively respond to challenges by identifying potential risks. Additionally, recognizing opportunities allows organizations to capitalize on market trends and gain competitive advantages.

Decision Making:

SWOT analysis provides a systematic approach to decision-making. It offers a comprehensive overview of various factors influencing an organization's success. By weighing the internal and external factors, decision-makers can make informed choices that align with the organization's goals and objectives.

Enhanced Communication and Collaboration:

SWOT analysis encourages collaboration and communication among organizational stakeholders. It brings diverse perspectives and insights, fostering a shared understanding of the organization's strengths, weaknesses, opportunities, and threats. This collaborative approach promotes a more comprehensive and holistic decision-making process.
SWOT analysis is a necessary tool for organizations of all sizes and industries. It enables them to assess their current market position, identify key factors influencing their success, and make strategic decisions to achieve their goals.
Free SWOT Analysis Template in Market Research
A free SWOT analysis template can be a valuable resource in market research to assess an organization's factors. The free SWOT Analysis template is a walk-through of how to conduct SWOT analysis using the 4 models: Strength, Weaknesses, Opportunities and Threat analysis. Here are the 4 SWOT Analysis templates in details:
Strengths:
What is the organization good at doing? What are the key differentiators they offer? What are the primary resources they have?
Strengths depict the positive factors of an organization which they can control. They can be analyzed by dividing the organization into sales, finance, marketing plan, market share, research and development, and other structural elements. Strengths involve the positive contribution of key stakeholders in terms of experience, knowledge, educational background and such skills that contribute towards the performance of an organization. This SWOT analysis factor also includes tangible assets such as distribution channel, existing customers, generated finance, accessories etc.
Factors that add value to an organization's operation by internal factors of a SWOT analysis and in turn build a competitive advantage called Strengths.    
Learn more: Quantitative Market Research
Weaknesses:
Where do you think there is a scope for improvement?
Weaknesses are those elements of the business which still need a lot of enhancement and are bringing the organization down in more than one way. There are certain areas of business which might not be shaping up according to expectation and this is leading to friction in achieving the desired goals.
Segments such as subject matter expertise, lack of financial support, unavailability of appropriate technological tools for training, an inappropriate location of the organization, etc. can fall under the category of "weakness". These segments are under a company's control but are contributing to significant losses.
Weaknesses are negative aspects which are contributing to an organization's competitive disadvantage in a marketing campaign. An accurate understanding of negative characteristics will help an organization to improve and compete with the best in the business.
Opportunities:
What are the opportunities in the market, the ones from which an organization can prosper?
Opportunities gauge attractive elements of a market which can contribute towards more profits for an organization. These are external factors to an organization's environment. There are always new avenues that crop up after executing marketing strategies. So, opportunities are generally the outcome of revenue/market growth, changes in market perception, a solution to difficulties faced by the market currently, the ability of an organization to add value to the market that in turn increases brand value. Associate a timeline for the identified opportunity after understanding whether it fits the current marketing strategy and also, whether the opportunity can be seized in the pre-decided timeline.
Threats:
Which aspects of the market are a threat to a business?
Threats indicate those factors which may cause harm to the organization's existing marketing strategies and also eventually lead to business losses. An organization can profit from inculcating the possibility of these risks into their marketing plans. Threats are those uncontrollable factors which will create business losses. Competitors, change in government policies, bad press coverage for products/services/events, a shift in customer behavior, change in market dynamics which might make certain products outdated and other similar angles are considered to be threats.
Learn more: Qualitative Market Research
Using this swot analysis template, you can conduct a comprehensive SWOT analysis by gathering relevant information and insights through market research methods, such as surveys, interviews, and data analysis. The swot template guides you to consider all factors that can impact your organization's performance and competitiveness in the market.
Customize the free template based on your specific industry, market, and organization. The goal is to accurately assess your company's strengths, weaknesses, opportunities, and threats, leading to actionable insights for strategic decision-making in your market research efforts
How to do a SWOT Analysis for a Business Plan?
There are two types of factors in a business model: internal factors and external factors. The factors which would exist irrespective of the existence of a specific organization are considered to be external and those that exist within an organization are of course, internal factors.
Implement the below mentioned 8 steps for SWOT analysis to develop a strategic plan:
1. Have a clear SWOT analysis objective:
The marketing team can discuss which topic needs immediate attention and this objective can be put to paper. This way, SWOT analysis can be conducted in an organized and effective manner. For example, if an organization intends to know whether or not to launch a new product line – this becomes the primary objective of SWOT analysis.
2. Conduct research to understand the target market:
For successful implementation of SWOT analysis, there should be a thorough understanding of what the market has to offer. Insights obtained from research about technology, customer service, competitors, etc, can be used to conduct an exhaustive SWOT analysis.
3. Identify business's strengths:
An organization should understand what their strengths are, what are those features of their functioning which are better than the others in the market. Answers to these questions must be noted down. Workforce, location of the organization, product quality, etc. are some SWOT analysis examples of an organization's strengths.
4. Identify the business's weaknesses:
There are certain elements of the organization which need improvement. Marketers should create a list of these elements which they believe are harming their reputation in the market. Acknowledging these company's weaknesses and working to eliminate them should be the intention of the SWOT analysis. This list can include aspects such as the reduction in product clients, constant downsizing of market share, lack of proper staff members et al.
5. Identify potential opportunities:
Evaluate external factors which can be lucrative for business growth. These are not internal processes and there are chances of the same factor being a threat to the business as well. While listing opportunities, one should keep in mind that opportunities should not be a threat to the business. As a swot analysis example, launching a new feature after opportunity SWOT analysis might cause damage to business in case there are competitors who offer the same feature at lower costs.
6. Identify threats to the organization:
Note down factors that are not a part of an organization's ecosystem but are threats to business growth or personal growth. Unstable markets, the increasing competition in the market etc. are some threats to a small business.
7. Allot importance to various factors from SWOT analysis:
After completing step 3 to step 6, four different lists will be formed. The ideal way of amalgamating these lists is creating a side-by-side matrix. A matrix helps in generating a comprehensive picture for SWOT analysis.
Once the lists are put into a SWOT matrix, the degree of importance corresponding to each of the points so that marketing strategies for immediate implementation can be put into action.
Ask the following SWOT analysis questions to understand the priority:
Can the organization implement their strengths to benefit from existing opportunities?
Can the organization implement their strengths to get a grip on identified threats?
What are the steps to be taken in order to make sure the organization's weaknesses do not hinder taking advantage of the opportunities?
What can be done to reduce weaknesses to get a grip on threats?
8. Create a strategy to solve identified problems:
After creating the SWOT matrix and answering all these questions, the marketing team can work to create marketing strategies to attain organizational aims.
Personal SWOT Analysis Examples
After creating the SWOT matrix and answering all these questions, the marketing team can work to create marketing strategies to attain organizational aims.
Strengths:
Strong communication skills
Analytical thinking and problem-solving abilities
Leadership and teamwork skills
Adaptability and flexibility
Excellent time management skills
Weaknesses:
Lack of experience in a specific area
Difficulty in delegating tasks
Limited technical skills in particular areas
Difficulty in managing stress and pressure
Lack of assertiveness in certain situations
Opportunities:
Emerging markets and industries
Technological advancements in the field
Expansion or growth of existing industries
Changing demographics or consumer needs
Increasing demand for specific skills or expertise
LEARN ABOUT: Test Market Demand
Threats:
Intense competition in the industry
Economic downturns or recessions
Potential job automation or outsourcing
Lack of job security or instability in the market
Limited access to resources or funding
A personal SWOT analysis provides valuable insights into one's strengths, weaknesses, opportunities, and threats. Individuals can develop personal and professional growth strategies by leveraging strengths, addressing weaknesses, capitalizing on opportunities, and mitigating threats.
SWOT Analysis Example with Questions
In this SWOT analysis example, we will consider a fictional company, ABC Electronics, and explore the questions that can be asked in each category of the SWOT framework: Strengths, Weaknesses, Opportunities, and Threats.
Purpose: Launching a new mobile variant
Strengths:
What are your strongest assets?

How are your products/services better than competitors?

What is your unique selling point?

How efficient is your workforce?

What do your existing customers have to say about their experience with your organization?
Weaknesses:
Which sections of your organization need improvement?

Which aspects of your business can the competitors benefit from?

Do you lack subject matter technical expertise?

Do you think your business has made enough money?

How progressive are your competitors in terms of coping with market trends?
Opportunities:
Which trends do you think can bring you new opportunities?

Will these trends benefit the market?

Where does the current market lack?

Are your competitors not successful in meeting customer demands?

If yes, can you target those customers?
Threats:
Are there competitors in the market who can cut down your business?

What are the roadblocks you are currently facing?

Do your products/services comply with every existing law?

Do you foresee a change in government laws in the near future?

Do you believe your target audience might evolve in their product preferences?
By asking these questions and thoroughly analyzing each category of the SWOT analysis example, ABC Electronics can gain valuable insights for strategic decision-making. It is important to remember that the questions and factors considered will vary depending on the analyzed organization's industry, market, and specific circumstances
Conclusion
SWOT analysis is a powerful tool that empowers organizations to assess their internal swot analysis strengths and weaknesses, as well as external opportunities and threats. SWOT analysis plays a vital role in the strategic planning process, enabling organizations to align their resources, identify areas for improvement, and capitalize on market opportunities.
However, it is essential to remember that each organization is unique, and customization of the SWOT analysis template to suit specific needs and contexts is vital. Utilizing the QuestionPro SWOT template for conducting a SWOT analysis offers organizations a powerful toolset to gather, analyze, and communicate data effectively. By leveraging these features, organizations can better understand their internal strengths and weaknesses, identify market opportunities, and mitigate potential threats. A comprehensive SWOT analysis using QuestionPro empowers organizations to make informed decisions, develop effective strategies, and drive overall success.