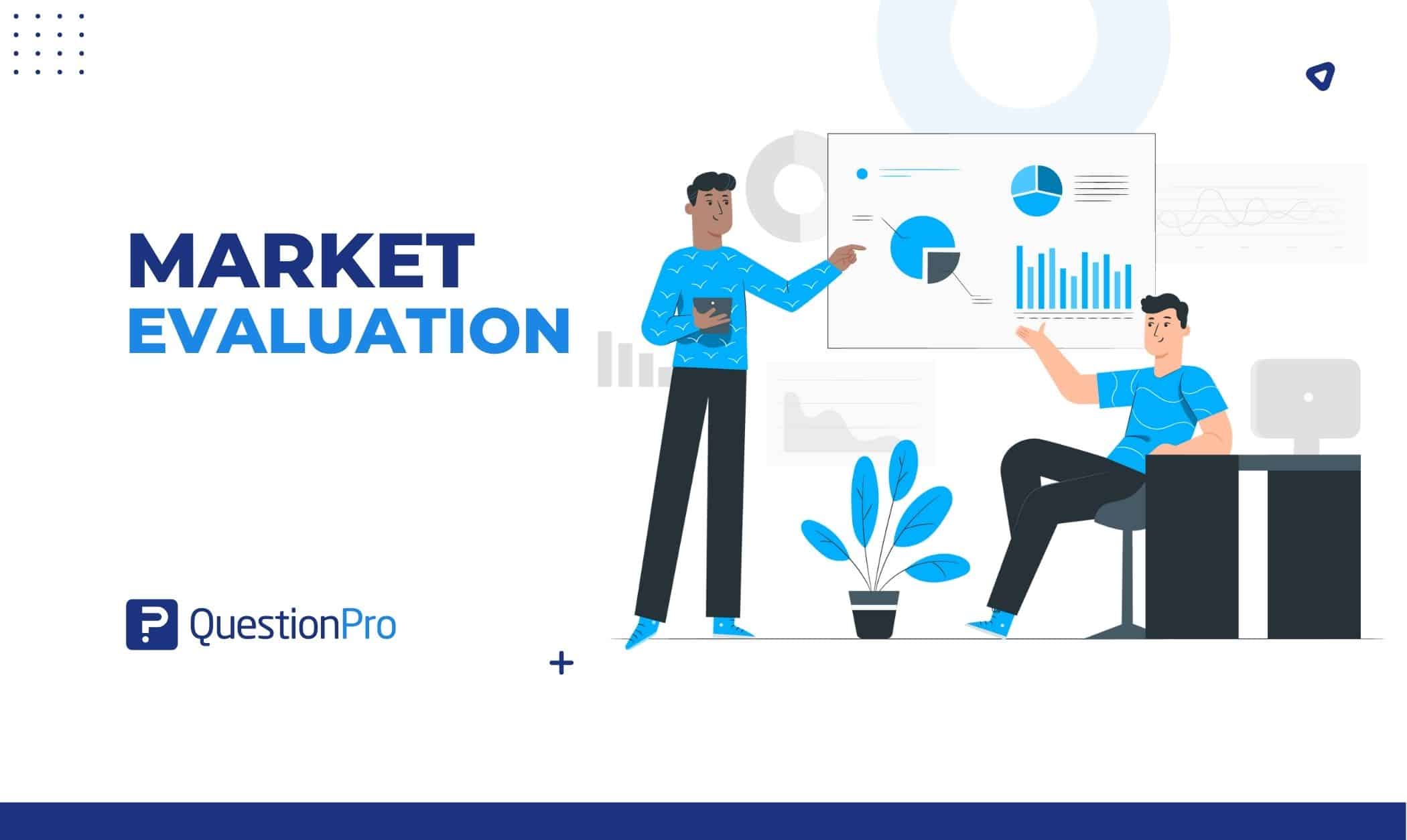 Market evaluation is an important part of starting a new business or growing one you already have. So, before you take a big step regarding your business, you must thoroughly evaluate your market.
A proper evaluation of the market may accurately determine the opportunity, value, risks, customer purchasing behavior, market rivalry, and other important factors that may affect the organization's growth.
In this blog, we will define market evaluation and provide a step-by-step guide on how to do one. Stay with us to learn more about it.
LEARN ABOUT: Market research vs marketing research
What is Market Evaluation?
Market evaluation is the process of research and analysis of a specific market. This process involves gathering quantitative and qualitative data, such as the market size, statistics, average prices in the target market, customers' buying habits, and more.
The evaluated data is utilized to form conclusions and forecast the success and profitability of a business initiative at a specific time and location. It can also help businesses find their position in the market, set themselves apart from competitors, and develop a good marketing and advertising plan.
Furthermore, market evaluations assist in identifying threats, mitigating risks, and assessing the overall attractiveness of the sector and a specific market within it.
How to Conduct Market Evaluation
A marketing evaluation is a simple process, but it takes a lot of dedicated research. Here, we will explore a step-by-step guide to teach you how to evaluate your market.
Determine the current state of the market.
The first section of your market analysis should include an overview or description of the market in which you want to operate. Take a look at some common factors that you should analyze:
Are there any current trends that affect the market?
What is the growth rate of the market?
What is the lifecycle of products and services in the market?
These are all questions your market overview should answer. This section is always at the top of your document, but it may be simpler to finish it after you have finished your research.
Analyze your target customer.
Analyzing your target audience is the next step of market evaluation. No matter how great your product is, you can not sell it to everyone. It would be a huge waste of time to try. Thus, the best strategy is to target your niche market, which will most likely buy your product.
You will need to define your segmentation strategy to help you find people in your target audience. Target segments enable you to segment your audience based on groups of shared characteristics, such as:
Demographics: Age, gender, occupation, level of education, and religion
Geographics: Where your target customer lives and works
Psychographics: What your customers are interested in, what they are passionate about, or what personal values they are likely to have.
QuestionPro can help you in market evaluation by analyzing your target customer by providing a complete survey platform with excellent features. You can find out what your customer thinks about your product and service by conducting surveys.
Analyze your competitors.
Another vital part of the market is your competitors. It's very rare to find a market need that is not already being met by a business.
In this step of market evaluation, you will need to research the companies with whom you will be competing for customers. The following are some of the key topics you should cover:
Identifying your direct and indirect competitors
Market share of your competitors
Their strengths and weaknesses
After you have done research on each competitor, it can be helpful to rank them from most dangerous to least dangerous to your business.
Set up financial projections
In this part, you will attempt to evaluate your company's income potential. You should include the following numbers:
Potential market share: Explain how your sales and marketing efforts will help you get the market share or valuation you want.
Cash flow: How much loss you will expect at the start, when you will break even, and when you will make a profit.
Pricing and gross margin: What your products will cost versus what it will cost you to manufacture or source products for online sales.
If you are conducting a market analysis for a new business, your projections will be based on guesses, which is fine until you have hard data.
Understand industry regulations
The last topic that needs in market evaluation is whether you need to follow any industry regulations.
For example, if you sell skincare products, you will need to check the rules about skincare in the country where you do business. Another example could be that you need a license to sell a certain kind of product, like medicines.
Learning about the rules in your niche is important because breaking the law can lead to fines and sometimes even jail time. It's best to fill out this section as completely as possible.
Conclusion
Conducting a market evaluation is an important step in developing your business. It's one of the first things you will do when you start making your business ideas come true.
Whether you conduct the research yourself or hire someone else to do it, thorough market evaluations might be the difference between your business trying to get started and flourishing.
QuestionPro can be the best option for you if you consider evaluating your market. It provides various products and services, such as survey design and distribution, data collection and analysis, reporting and visualization, feedback management, and so on.
LEARN ABOUT: Market research industry
You can use these tools to evaluate markets and gather data on customer behavior, market trends, and other factors that can assist businesses in making informed decisions about their products, services, and strategies. Contact us for more information or a free trial.