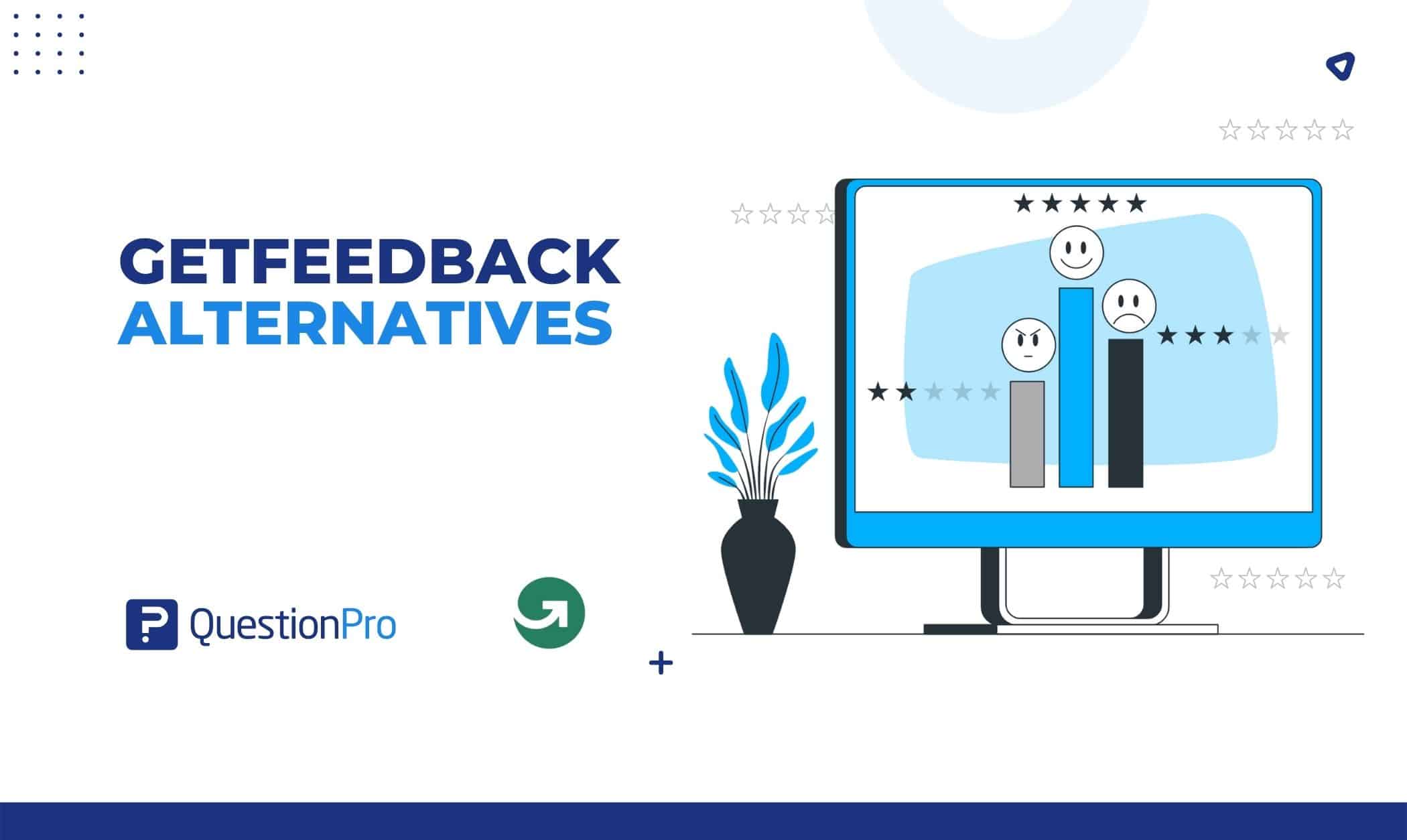 Find GetFeedback alternatives and compare software with similar features right away. Check out these other top options that are similar to GetFeedback in terms of functionality, key features, and benefits based on the features they share.
Most people use GetFeedback to help them with customer segmentation, dashboards, and feedback management, but there may be better choices. Whether your top priority is the ease of use, cost, user ratings, or value for money, there are a lot of other tools out there that could be a good fit for your needs.
The 7 Best GetFeedback Alternatives
Let's look at 7 alternatives to GetFeedback that offer similar benefits at comparable prices.
QuestionPro CX
QuestionPro offers advanced online surveys and customer management software to help you make better business decisions. Their software is easy to use because it comes with tools for making, distributing, and analyzing online surveys, polls, forms, and quizzes.

QuestionPro allows you to utilize its excellent advanced features. Some of them are disclosed below:
Survey questions and template library

Closed loop feedback

24/7 live chat & phone support

Advanced Branching Logic
Besides those, QuestionPro has more features like social media sharing, advanced survey logic, and so on. If you are looking for features like these, You can go for QuestionPro. Prices begin at $99 a month, making QuestionPro's CX the best GetFeedback Alternative.
Qualaroo
Qualaroo is an online survey tool that lets you ask the right person the right question at the right time. It is powered by IBM Watson, a powerful AI that can understand natural language and give useful information about users.
Qualaroo is used by brands like eBay, Shopify, Udemy, LinkedIn, and Glassdoor to learn more about their users and improve their products.
People like to use the tool because of the following features:
Visual customization

Advanced export capabilities

Advanced audience segmentation

Feedback campaign consultation
Qualaroo is a customer and user feedback software that is better than email surveys. It offers a selection of different templates that can be used.
Hotjar
Hotjar is a lead capture software with all the features you need to get the most out of your user analysis and feedback projects. It helps you understand your user better by showing you everything they do on your website and giving you feedback immediately.
Hotjar has some excellent features that you should know:
Survey Management

Feedback Management

Data Analysis Tools

Screen Activity Recording
Hotjar also has tools for customer journey mapping and website analytics that your business might find useful.
LEARN ABOUT: Customer Journey Mapping Tools
SurveySparrow
SurveySparrow does surveys into conversations. SurveySparrow has a conversational interface that lets users create and share highly engaging surveys that feel like a chat. It also enables you to handle user feedback.
Features that make SurveySparrow more popular are:
Survey Management

Feedback Management

Multi Languages

Customer Support
In addition, SurveySparrow offers Email and SMS marketing for its customers. Their monthly plans start at $99 per month.
SoGoSurvey
SoGoSurvey is a free online survey tool that lets you make quizzes, polls, and forms. It enables you to get real-time reports, use modern branching, send alert messages, and so on. It is easy to start, and it improves the customer experience and the survey's success.
Let's see some features of SoGoSurvey below:
A/B Testing

Surveys & Feedback

Data Analysis Tools

SMS Polling / Voting
SoGoSurvey is the most secure feedback and experience management platform.
Survio
Survio is an online survey tool that can be used for customer satisfaction, staff reviews, market research, and other questionnaires. It is one of the widest ranges of survey tools. It has advanced features like being available to customers 24/7 and having a wide range of ready-to-use designs. They also have features like:
Email Marketing

Question Library

Offline Response Collection

Custom Survey URLs
Survio is easy to understand and use. It only takes a few clicks to do a survey. Its starting price is $ 14 per month.
SurveyLab
SurveyLab is a professional survey and questionnaire software. Over 85,000 businesses and people use it every day. The system supports Customer Experience Management, Market Research, HR, and Digital Surveys.
People enjoy using the tool because of the following characteristics:
Feedback Management

Customer Support

Offline Access

Question Branching
You may use their features to develop professional surveys, collect replies, and analyze data in real time. They provide their service at $25 monthly.
Conclusion on the GetFeedback Alternatives
GetFeedback is an easy-to-use software, but it may only sometimes meet all of your needs. But it will definitely meet your basic needs for managing surveys and feedback. If you think GetFeedback does only some of what you want it to, you can look for other alternatives.
This list of alternatives to GetFeedback will help you decide which is best for you. Make sure to check out QuestionPro. It could be a useful tool for managing feedback and doing surveys.
QuestionPro is great if you need assistance with consumer feedback management. We have QuestionPro CX to measure customer data and manage customer feedback. Try now and sign up for free!