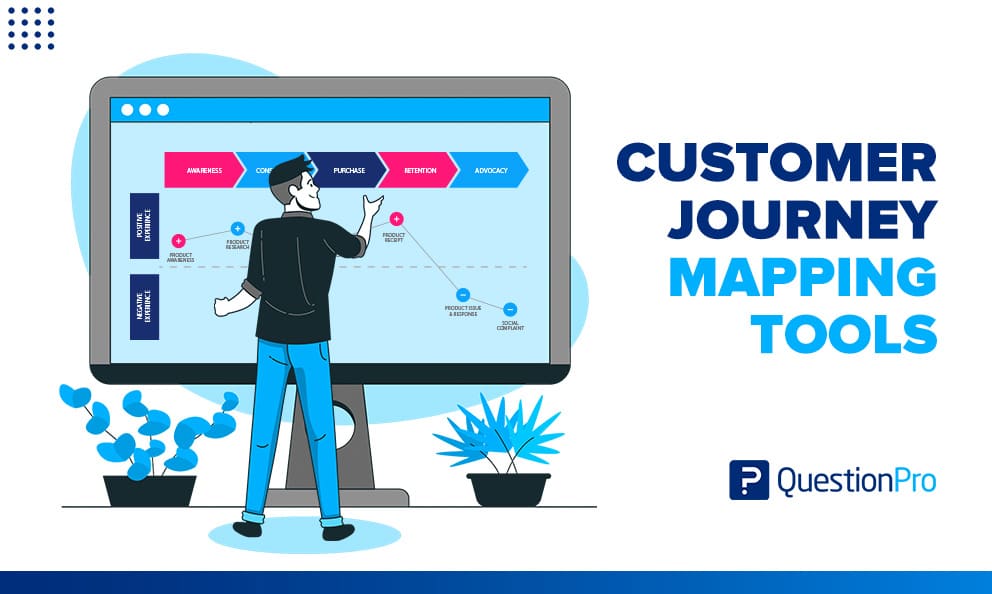 How many times have you questioned yourself if you really know your customers? What is the interaction of your customers with your brand? Would you like to break down each of the parts of the shopping experience as well as the purchase decision and the attention it receives afterward? Let's talk about the best customer journey mapping tools.
What are Customer Journey Mapping tools?
Customer Journey Mapping tools are platforms specially built to help you define and visually represent the journey that your customers take when interacting with diverse aspects of your brand.
Using tools like the ones we'll recommend in this article allows you to visualize your customer journey better and understand the behavior of your customer personas and real users to plan improvements, evaluations, and actions that ultimately lead you to positively impact your business with more happy (and loyal!) customers.
In this article, we've rounded up 10 different customer journey mapping tools that will help you create Customer Journey Maps that fit your needs as well as your budget. Before moving to the top list, let's learn about the types of customer journey mapping tools.
Types of Customer Journey Mapping Tools
Tools to create customer journey maps come in different varieties. The technology selected will rely on the organization's requirements, financial concerns, and amount of experience in developing customer journey maps. The following are the main types of creating customer journey maps:
Spreadsheet Tools

These are basic tools for making customer journey maps with spreadsheets like Excel or Google Sheets. They are easy to use, and you can make simple journey maps with them.
Diagramming Tools

These tools are developed specifically for building visual diagrams, flowcharts, and customer journey maps. These tools include Microsoft Visio, Lucidchart, and Gliffy, among others.
Online Customer Journey Mapping Tools

These are web-based tools that let you create, share, and work together on customer journey maps. Canva, Miro, and UXPressia are all examples of these kinds of tools.
Analytics Tools

These tools assist in monitoring and analyzing customer activity and offer information that can be utilized to develop useful customer journey maps, such as Google Analytics.
Top 10 most effective Customer Journey Mapping tools
You must analyze the positive and negative touchpoints to complete the customer journeys and ensure that your customers are completely satisfied. Discover some of the best tools for creating customer journey maps and improve each of the steps customers go through:
1. SuiteCX by QuestionPro: Customizable and secure
SuiteCX by QuestionPro is the only customer journey mapping tool for customizing and securing customer experience, journey mapping, and journey analytics. It empowers you to create, visualize, and deliver the best customer experience possible while driving the most business value.
The platform enables you to plan and improve customer experience through integrated survey data, customer personas development, improvement planning, and the creation of detailed contact strategies, in addition to robust customer journey mapping capabilities.
LEARN ABOUT: Effective Customer Success Plan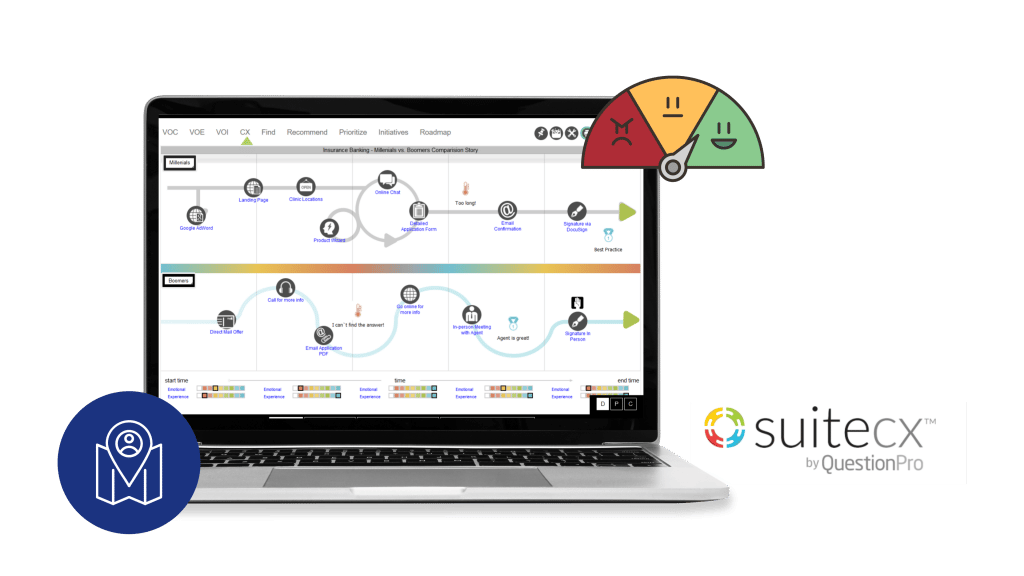 2. Canvanizer: 360-degree mapping
Canvanizer is a customer journey mapping software that reviews different areas of your organization and includes customer focus. This customer journey mapping tool aims to allow the customer development, brainstorming, and structuring of ideas and concepts as a canvas.
Depending on the type of project, you should be able to choose between different templates or start from scratch with a blank canvas. The main advantage is that it's a free tool.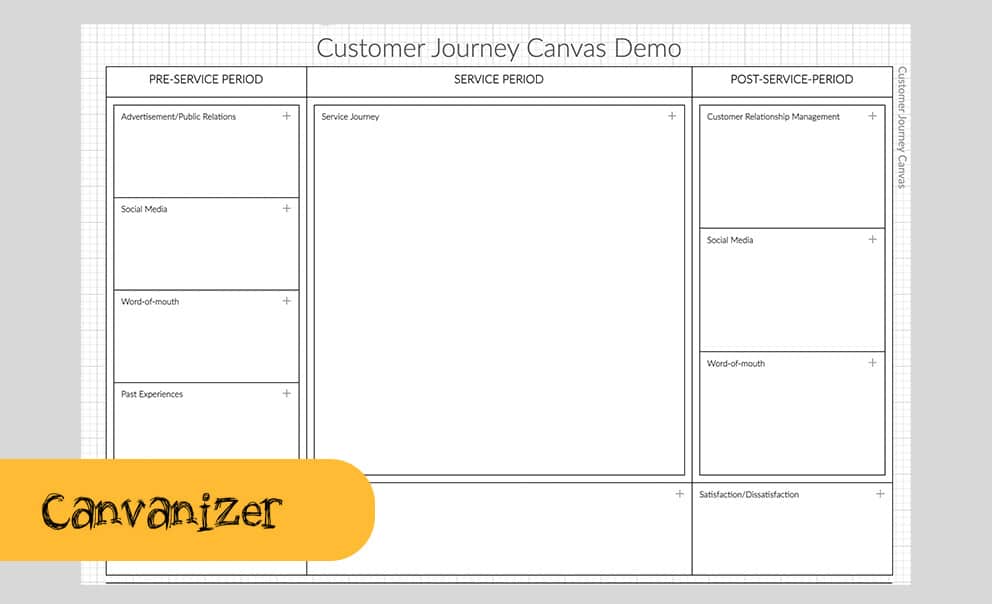 We invite you to learn more about the Customer Journey Canva.
3. Smaply: A customer approach
Smaply is a customer journey mapping software to trace the customer journey map to support defining a prospect's phases and integrating the customer journeys into your business. With Smaply, you can create, share and present your customer journey maps.

You might be able to understand your customer's experience, needs, weaknesses in the purchase chain, and feelings that your brand can provoke when interacting.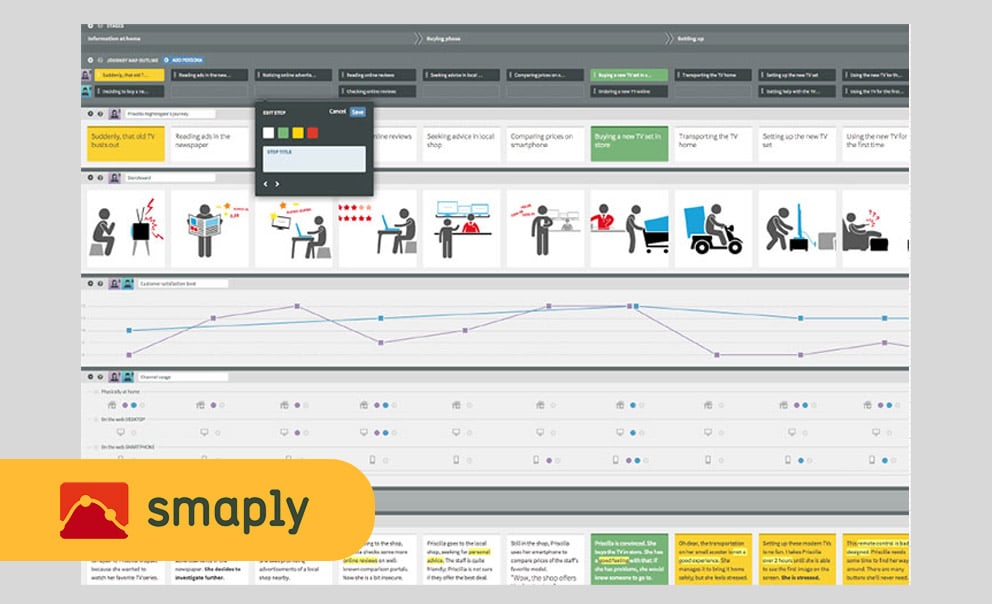 Are you considering using this tool? Before making a decision, we invite you to read: Smaply Alternative.
4. Miro: Agile remote teamwork
Miro helps create, collaborate, and centralize communication for cross-functional teamwork. This customer journey mapping tool features a toolset for a user story or customer journey mapping, wireframing, roadmap, sprint planning, or retrospectives.
As it allows remote working, it might be less challenging for teams to work together with the changing way of operating.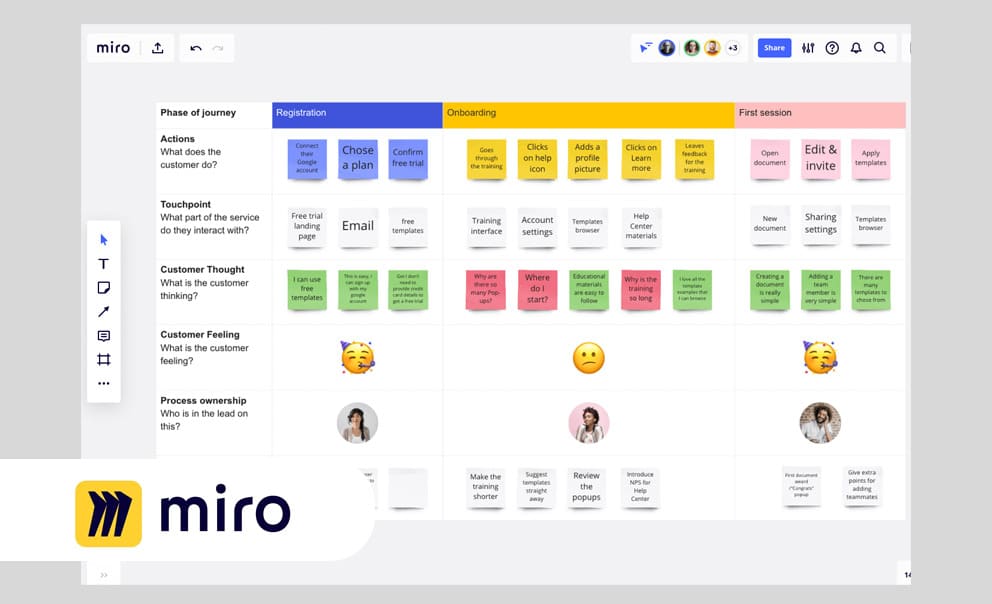 5. Custellence: Appealing and effective
You can create journey maps with Custellencia. It offers a user interface to build customer journey maps. It also provides service blueprints, user maps, customer journey maps, customer service maps, and experience maps for small or large organizations.
The product team can add cards using drag and drop and workflow for a considerate journey. Create empathy lines and curves with a flexible map structure that shows the customer's experience, efforts, and emotions.
6. Gliffy: Plenty of features
Gliffy is a web editor used for creating and editing diagrams. Although Gliffy is a bit too lightweight for highly technical diagrams, especially those that require collaboration to draft, it offers plenty of simple features, such as Venn diagrams and organization charts.
With a free account, you can only make a total of five diagrams, and all diagrams you make are public. This means that if you need to draw something sensitive, such as company network maps, using the free version is not advised.
7. UXPressia: Analyze touchpoints
UXPressia is a cloud customer experience management platform that helps teams visualize, share, present, and improve their customer journeys. They offer features like real-time online collaboration for multiple users, integrations with a variety of data sources, and a modern interface with an intuitive drop-in environment.
In addition to journey mapping, UXPressia also offers Flexible Customer/Buyer Public Image and Impact Map builders and a variety of pre-built templates with the ability to build and share property templates across the organization.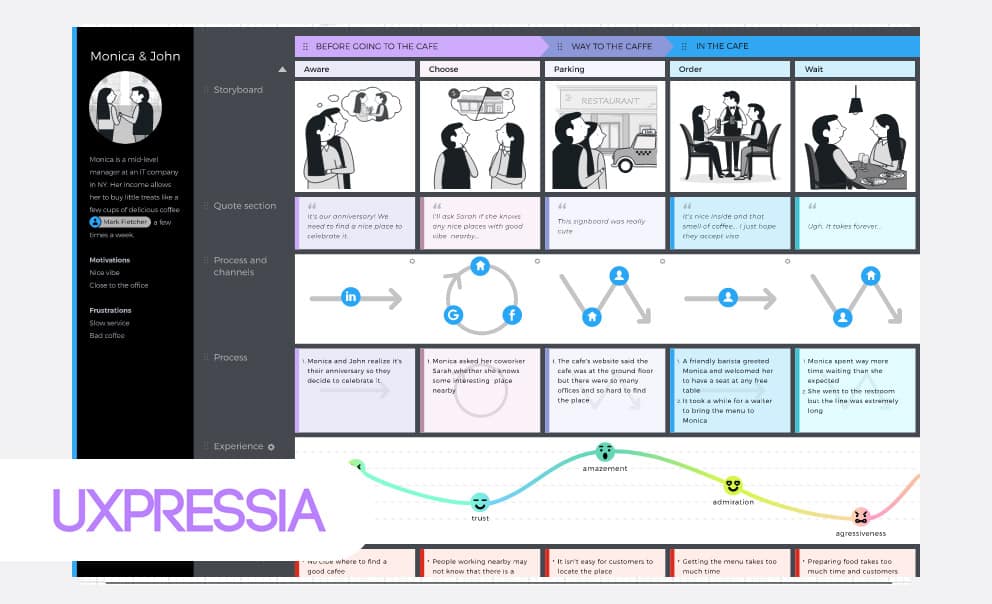 Are you considering using this tool? Before making a decision, we invite you to read: Uxpressia Alternative.
8. Lucidchart: Implement appropriate solutions
Lucidchart offers multiple solutions, one of which is to create a customer journey by mapping each phase it goes through and empathizing more than ever with the prototype customer.
This is perfect for creating detailed customer experience diagrams and laterally increasing customer engagement.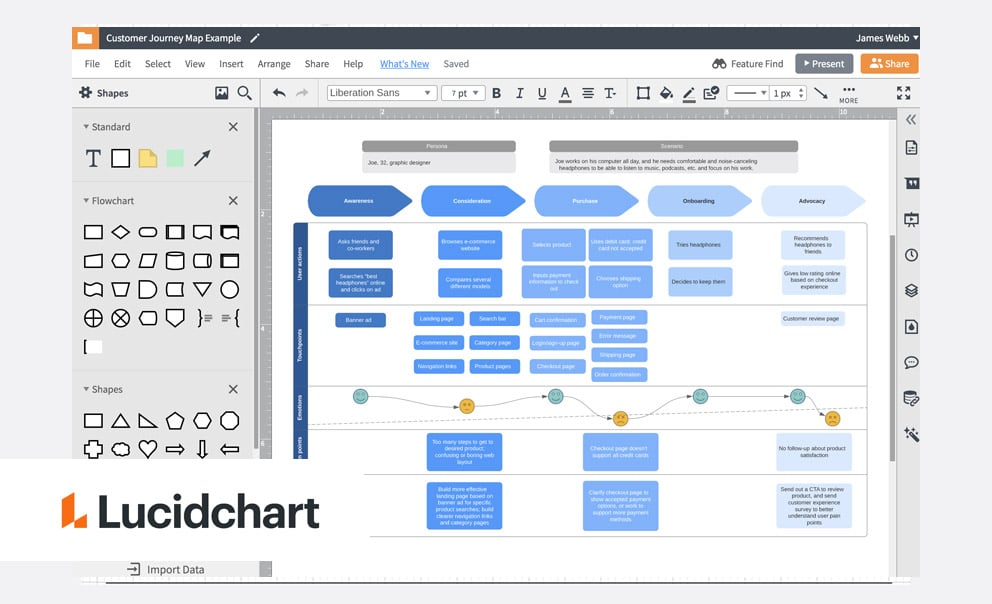 9. Microsoft Visio: Making complex diagrams easy
Microsoft Visio software is used to create a variety of diagrams and flowcharts. With this visualization tool, users can create simple or more complex customer data diagrams. It also offers a wide variety of built-in shapes, objects, and templates to work with.
The main goal of ​​Visio is to make diagramming as easy as possible for the user.
Note: This is a Microsoft product sold as an add-on to MS Office.
10. Touchpoint: 100% flexible journey maps
This customer experience map tool or SaaS helps you create maps in different ways, goal-oriented, providing objectives and allowing you to analyze the phases, share them with all the members of your department, and review all the angles of the customer journey when coming into contact with your brand, acquire a product or service and much more.
There are also various customer experience map templates in formats such as PowerPoint, but generally, these tools mentioned in the post already have some of the work ahead of them and provide another value when it comes to data mapping out a customer-centric strategy.
Other tools to create Customer Journey Maps
We have listed the main tools on the market, but if you want to go further, here are other customer journey mapping tools that are used by some professionals to create their customer journey mapping:
1. Canvas
Canvas is a simple online customer journey mapping tool. Its customer journey map maker lets you make the journey with your customers or users by showing you what they do before and after they buy something.
2. Fresko
Fresco is an online workplace that enables groups to work together in real-time on a variety of pre-made templates. Fresco helps your team to advance their collaboration, whether it's by boosting productivity, planning activities, or developing customer journey mapping.
3. OmniGraffle
OmniGraffle, by OmniGroup, is a diagramming customer journey mapping software that can be used for everything from page layout to interior design. With this tool, users can create customer journey maps accurately that can be shared with others.
Everyone from professional artists and designers to casual data mappers and beginners can use OmniGraffle. What makes OmniGraffle great is how easy it is to get started.
4. Salesforce Pardot
Salesforce Pardot is another tool by Salesforce. It is great in customer journey communications with mixed communication channels.
5. CloudCherry
CloudCherry is a customer experience manager that uses a customer journey-based approach to provide accurate customer feedback. The software provides a robust and highly prescriptive analytics platform to assist in predicting customer behavior in order to maximize profit.
What Makes a Customer Journey Mapping Tool Great?
There are many options and alternatives in the market; however, a good customer journey mapping tool must have minimum requirements to satisfy any basic need. Below we will name some of them for you to consider when making your choice.
Intuitiveness and Adaptability

Learning to use a new tool is always difficult; however, thanks to advances in user research and the emergence of no-code solutions, it is becoming easier to adopt new technologies in your processes. When choosing your customer journey map, make sure that the platform has an interesting UX/UI as well as that the product has support material or guides that allow you to start using it easily.
Attractive design tools

A customer journey is a visual representation; therefore, the graphic part plays a crucial role when creating yours. A good customer journey mapping tool should offer you all the appropriate design tools to capture clearly and attractively all the information you want to include to explain your customers' journey in your business process clearly.
Customization

Users should be able to customize the customer journey map to meet the unique requirements of their own businesses. This should include the ability to add personalized touchpoints, milestones, and channels.
Resources

Many current platforms offer their users a long list of pre-built and customizable resources so you can build your own customer journey in detail very easily. This will allow you to create better maps at a higher speed without neglecting the functional aspect of this type of methodology.
Analytics

The tool should provide data analytics features and statistics to help users understand and analyze customer behavior, discover pain points, and improve the customer experience.
LEARN ABOUT: Consumer Decision Journey
Why SuiteCX by QuestionPro is the best of Customer Journey Mapping tools
The best customer journey mapping tool for your company will be determined by your specific needs, goals, and budget. It is critical to evaluate several alternatives before choosing the one that best meets your needs. The following are some of the features and benefits of SuiteCX by QuestionPro that may set it apart from other customer journey mapping tools on the market:
Comprehensive Features

SuiteCX provides a comprehensive set of features for creating and managing customer journey mapping, persona creation, touchpoint analysis, sentiment analysis, and more. You can use your qualitative and quantitative customer data to expose silos that harm customers and develop a comprehensive view of the customer experience.
CX Assessment

SuiteCX gives you the ability to analyze the advantages and disadvantages of your CX initiatives and tools using information from employee and customer feedback. In order to decide where to focus resources for improvement, you can identify customer pain points and priorities.
Applied CX

You can make innovative changes by putting what you learn from your customer journey map to use in the real world. CX can be used in almost every job function, including communications strategies, product development, competitive research, user interface (UI) design, and more.
Customizable Templates

SuiteCX offers customer journey mapping templates that can be tailored to specific business needs, making it easier to create maps that align with business goals.
Integration with Other Tools

SuiteCX by QuestionPro integrates with other QuestionPro tools such as survey software, NPS software, and market research software, enabling users to collect data and insights from various sources and incorporate them into their customer journey maps.
Collaboration and Sharing

SuiteCX makes it simple to work together on customer journey mapping and share them with team members, stakeholders, and clients. This makes communication easier and guarantees that everyone shares the same understanding of the customer experience.
Scalability

SuiteCX is highly scalable to meet growing demand and can support organizations of any size, from small startups to large enterprises.
Also, at QuestionPro CX, the all-in-one customer experience management platform, we can help you to:
Accelerate customer success
Create neat and flexible dashboards & reports that are easy to share
Close the feedback loop using a ticketing system
Promoter amplification and recover detractors
Deploy multiple CX surveys directly from your website, email, or as a shareable link
Send surveys with NPS, NPS+, CSAT, and more!
Start following your customer journey map today.
QuestionPro CX offers some of the most advanced and extensive customer experience tools available in the market. Gain valuable insights into your customers' thoughts and feelings using QuestionPro CX today.