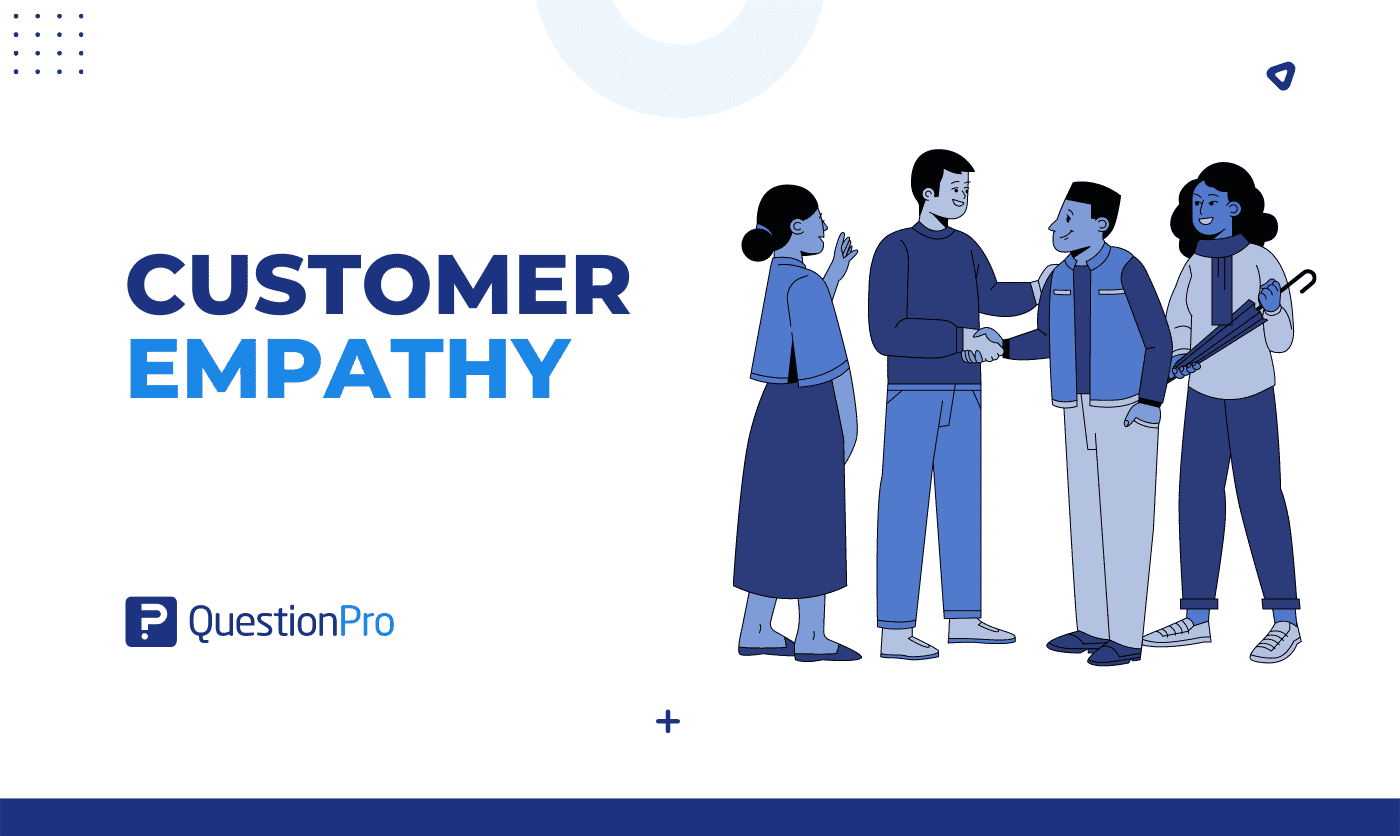 Empathy is understanding and sharing another's feelings. It means putting yourself in another person's shoes and looking at a problem from their point of view.
Customer empathy is a vital business tool. If you can hook a buyer by making a valuable product to them in their daily lives, you've got a recipe for success.
It is essential to a company-focused culture. Without empathy, employees will focus on their problems instead of their customers. They build too complicated products based on what they want to buy rather than what customers need. And they don't understand the emotional context of your customers.
LEARN ABOUT: Time to Value
This blog will discuss customer empathy, why it is important for your organization, and how you can build it. Continue reading to learn more.
What is customer empathy?
To provide excellent customer service, you must be able to put yourself in the customers' shoes and comprehend their problems. It is your ability as a company to understand what a customer goes through when using your goods or services. Understanding things from the customer's perspective is known as customer empathy.
Empathy contributes to developing trust and an emotional bond between a customer and the business, regardless of whether the customer had a positive, negative, or indifferent experience.
For example, it can assist a support representative in handling an angry client.
However, empathy map is crucial in all occupations, not only those where it is required to deal with angry or upset customers. Rather, all positions inside a business need to practice customer empathy.
To be customer-centric, a firm must encourage everyone, from product managers to content marketers, to approach everything they do from the customer's perspective. Instilling a sense of empathy for the customer throughout a company can result in better products, a better customer experience, and higher levels of client happiness.
We learned what customer empathy is. We will go through the importance and how you will build it in your organization.
Importance of customer empathy
There are a lot of reasons why both new and old businesses need to care about their customers:
It allows you to give excellent customer service and customer care. Customer empathy helps you see things from the customer's point of view, which lets you give them the best possible service.

It makes the customer feel like they know the brand better.

Customers are more likely to stick with your brand if they feel like you understand them and meet their needs.

It could help you sell more. If you know what your customers want and what they need, you can sell them more products and services that they will want to buy.

It can help you cut down on turnover. Customers are less likely to leave if they feel like their needs are being met, and they are being heard.
How can you build customer empathy?
Customer empathy doesn't just happen, of course. To get to know your customers, you have to put in the time and effort to gather relevant information and insights before putting them to use. Here are some great ways to build customer empathy for your organization:
Customers talk to your customer service department every day. Almost every complaint and question that a customer has is brought to them. Spending time with them in the trenches can give you a close-up look at what customers are going through.
As a product manager, you might want to set aside time each week to handle a few support tickets. It will give you more information about what customers are having trouble with. You can always ask your coworkers for customer feedback, but there's nothing like hearing it straight from the source.
By cutting out the middlemen, you can "feel the pain" of those having trouble, giving you a better idea of what customers often run into trouble with. Even if you aren't actively involved, getting summaries and statistics from support is a great way to bring problem areas to the attention of the whole organization.
It's important to note that this method is so good at building empathy for customers that some companies even require all employees to spend some time answering support tickets. So, if you want everyone in your organization to care more about customers, you could have them work on some support tickets from time to time.
Speak with your customers
Customer service typically sees a complaint as a problem that has to be solved. In light of this, we don't notice the person behind the email or chat message; instead, we merely perceive it as a roadblock. It's a bit cold.
Spend time interacting with real people rather than just reading their words on a screen. Even in informal interactions, we can learn more details that help us understand how upset, irritated, furious, or conflicted they really are. Honest conversations with clients are still required for this reason.
Additionally, asking open-ended questions invites a plethora of different thoughts and information. You never know what pearls of knowledge might surface when you stop talking and start listening to customers, even though most of it may not be relevant.
If these discussions can take place face-to-face, you will have the added advantage of being able to interpret their body language and facial reactions. These inconspicuous hints are challenging to detect in emails or forum posts, yet they can reveal a great deal about a customer's mood.
Ask users about issues, not solutions
Customers often have great ideas, but developing your product strategy is not their job. Instead of asking what they want, find out what's going on in their lives. What do they want to do, what's stopping them, what bothers them, and what makes them happy?
You can't and shouldn't expect a customer to design your product. It's your job to get feedback from many different places and figure out what it all means so you can make decisions. If you let each customer choose their implementation, you will only end up with a product that makes one person happy.
Also, in this case, prototypes can be helpful. Giving customers more than one thing to respond to instead of expecting them to provide a fully formed answer is another way to learn what works and what doesn't.
Customer empathy isn't a new idea for product managers, but we can't stress enough how important it is to get out of the office and get some experience in the real world. It can be very eye-opening to visit customers and see how they use your product in their "natural" environment.
It shows how the product fits into the bigger picture of customers' lives and workflows. It also allows you to determine what coworkers and peers think about the product and how it affects them.
Tools like Google Analytics can show customers what they are doing using your product. Individual stories are great, but you can often find other truth bombs in the analytics. Here is where the numbers can show empathizers-to-be important trends.
For example, the ways you've planned for users to get from point A to point B may not be how they get there. Or maybe many people hit the "back" button after clicking a specific link, which could mean it is confusing or misleading.
Seeing these patterns can help you figure out why customers are getting angry or why they aren't finding and using certain features as often as you thought they would.
Don't settle for satisfactory
"Good" isn't "good enough" when making a great product. A product that works and makes people happy is not the same thing. Keep asking customers to share their thoughts and feelings.
Make personas that are complete
Too often, personas are only concerned with the product for which they were made. Your customers are real people, so your personas should be based on people who are more than just their jobs or lifestyle choices.
The conversations you have with real customers, not just the straw men and women you draw on a whiteboard, can help these personas grow and change.
If you're not trying to use your product, there's no faster way to get customer empathy going. If you know how it works and what it should do, you can imagine how the customer feels if you run into problems or get stuck.
Conclusion
Customer empathy is essential for any company that wants to provide its customers an excellent experience. By knowing your customers and seeing things from their point of view, you can give them an experience that fits their needs and wants.
As a business, you have the chance to make someone's day better by treating them with care and respect. Recognize that your customers may be going through hard times, and make sure your employees know this. It will set the stage for more empathetic interactions.
Understanding how customer empathy affects your business will set you apart from the competition, strengthen your relationships with customers, and increase your bottom line.
If you're having trouble showing customers you care, it might be time to find a mentor. We have QuestionPro CX that can help you grow your business.