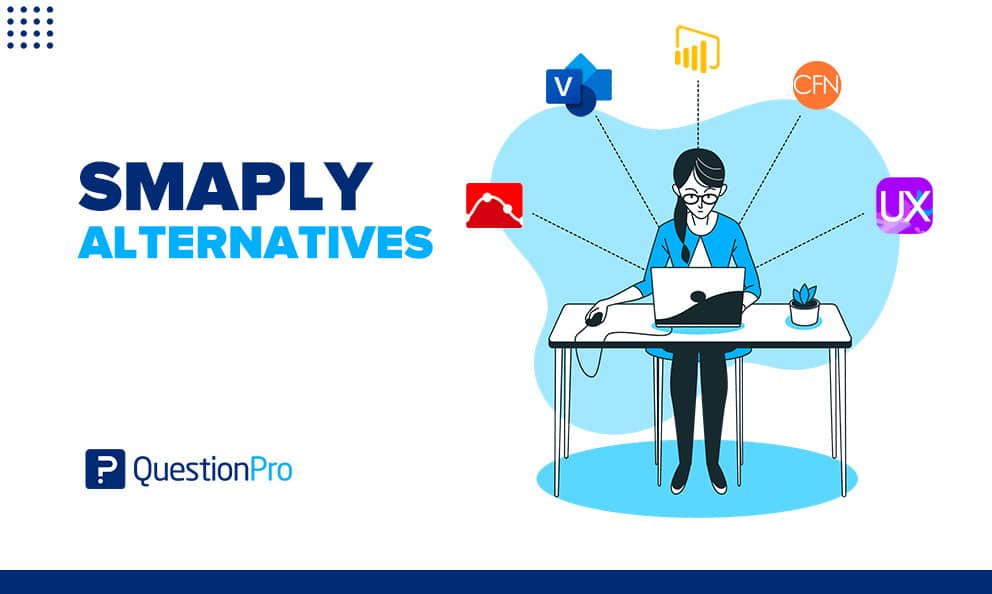 With customer expectations rising, the need to deliver an exceptional customer experience (CX) is more important than ever. Luckily, there are customer journey mapping tools available in the market to ease the creation of this critical visual representation of the customer journey. Smaply is one of the most popular in the market. But lately, companies are demanding improvement and searching for better Smaply alternatives.
Frankly, the best way to achieve a higher level of Customer Experience is to visualize it – which is often done using a process called customer journey mapping (CJM). While mapping a customer journey can be a straightforward process, it takes time. Let's explore the options to determine the best Smaply alternatives out there.
The following article will explain what Smaply is, why you might be interested in reviewing different CJM tools, and other alternatives to Smaply.
What is a Smaply Alternative?
Smaply is a user experience management tool created in Austria. It is characterized by being extremely visual; this is one of its greatest strengths. It obtains a clear and simple representation of the interaction and experience of users with a product, service, or brand.
Through its tools and maps, Smaply makes tangible the relationship between the user and the general ecosystem of a product, which allows better data to be recorded and makes the decision-making process more efficient (mitigating uncertainty and increasing consistency between the design and people's expectations).
Why look upon Smaply Alternatives?
While Smaply is a good option for starting to build your CJM, like any software, it has its limitations.
According to reviews on GetApp, users found Smaply too complex and unmanageable given the poor user-friendly interface (UI), impacting negatively on the user experience. Other disadvantages were the lack of more journey map templates, the impossibility of collaborating with other parties, limited features flexibility usage, steep pricing, and a poor look and feel of the journey maps.
Smaply offers a free plan, but it's limited to 1 project, preventing you from creating more projects to work in the same account.
Another important limitation is the number of journey maps you can build, as it's limited to creating a maximum of three. This could be an issue if your business or project is looking at designing more Customer Journey Maps for more than 3 different buyer personas.
Smaply offers four different membership plans: a free version (with the limitations mentioned above), Basic ($20 USD/monthly), Pro ($30 USD/monthly), and Enterprise (custom pricing).
7 Best Smaply Alternatives & Competitors
Looking for another option to build your CJM? Here are seven of the best Smaply alternative tools to create an effective customer journey map:
1. Visual Paradigm
This software allows the representation of the consumer's journey in a simple way. Also, with this platform, you can create other maps and diagrams. It also enables team collaboration.
Visual Paradigm essentially introduces all UML diagrams and ERD tools into a database and system design. Innovative modeling tools like Resource Catalog, Transitor, and Nicknamer make system modeling easy and cost-effective.
2. UXPressia
UXPressia is a platform focused on customer experience. In it, you can design your Buyer Persona, the empathy map, and the Customer Journey Map, among other tools. It also allows online collaboration for multiple users and integrations with data sources. This is the tool that I use and which seems very complete to me; It's intuitive and has a modern interface, plus it offers pre-designed templates that you can use as an example.
3. Canvanizer
Canvanizer is a platform that, within its functionalities, allows mapping the customer journey. Of course, the tool is somewhat limited, but it allows several people to collaborate in the elaboration of a CJM.
Canvanizer helps companies understand customer touchpoints and their underlying processes through their brainstorming functionality.
Learn how to create your customer journey canvas and download our template.
4. Customers First Now
With Customers First Now and its CFN Insight product, you can design your Customer Journey Map and identify and prioritize weak points to solve them and give customers an experience that leads to loyalty.
You can also assign actions and metrics for business owners to complete and create action dashboards to manage all the progress that will improve the customer experience and your brand in general.
5. TouchPoint Dashboard
TouchPoint Dashboard is a web tool for customer journey mapping. It is a method to visualize processes and services from the customer's perspective. The primary purpose of the TouchPoint Dashboard is to enhance all customer touchpoints in order to enhance the customer experience. Businesses of any size in any industry can use it to visualize the customer experience, map every interaction, and store key customer data behind every touchpoint.
6. SuiteCX
SuiteCX is an easy-to-upgrade tool with an intuitive interface that combines diagnostics, storytelling, prioritization and planning into a powerful, comprehensive customer experience management platform.
This journey mapping tool provides various CJM templates and visualization tools with all engagement and segment information stored in a centralized database.
7. Blank Canvas
Blank Canvas is another collaboration tool that works great for customer journey mapping. This tool is great because it doesn't force you to create lists and/or hierarchies. Users can view the information the way they want and create as many map versions as they need. This tool also allows the user to collaborate in real-time and can be used for both large and small groups.
How to get the most out of your Customer Journey Mapping tool?
All the tools that we mention have important advantages that we know will help you facilitate the creation of your customer journey map. However, building your CJM is just the beginning. It will add the most value to your customer experience strategies if you take it to the next level of implementation.
In other words, it's not only about tracking your customer's journey but doing something about a touchpoint at which your customer might be having a bad experience and acting on their feedback. This is why it's critical to use a platform focused on managing and improving the customer experience.
QuestionPro CX offers an extensive toolbox set to analyze your customer's experience and identify actionable insights and trends. Access QuestionPro CX free trial and start using the best features in the market: Sentiment Analysis, NPS & churn risk, advanced dashboard, workflow setup, disposition metrics, closed-loop feedback system, and more!