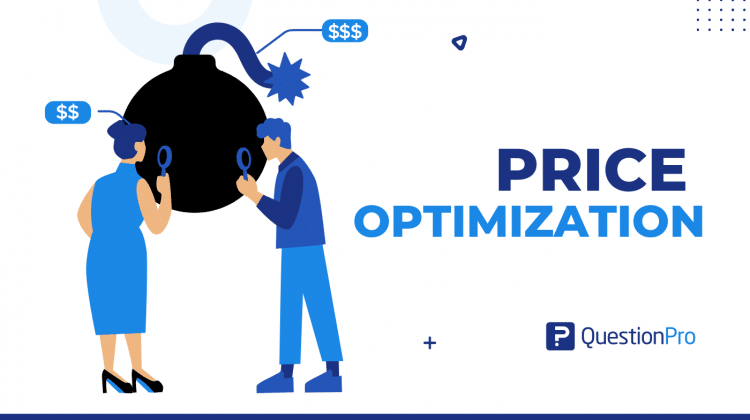 Have you ever wondered how companies decide on the prices of their products or services? It's not just a random number they came out with, it is a strategic decision based on specific factors. Let's talk about price optimization.
Pricing is one of the most critical aspects of a business, yet many companies struggle to get it right. Setting prices too high can deter potential customers, while pricing products too low can lead to lower profit margins. This is where price optimization comes in.
What is Price Optimization?
Price optimization is a process that involves setting the right price for a product or service to maximize revenue and profit. The determination of the ideal price for a product or service as pricing a product or service can be tricky. How do you make sure it's not too expensive that customers won't buy it but not too cheap that you'll lose money? This is how.
We can say price optimization is all about figuring out the ideal price for a product or service, and there are a lot of factors to consider. For example, we have to consider how much it costs to produce the product or deliver the service, how much the competitors are charging, and how much customers are willing to pay.
To make this process easier, businesses can use tools that can help them analyze market demand and customer behavior to figure out the optimal price point that will maximize their profits. By using these tools, we can take some of the guesswork out of pricing and make more informed decisions.
LEARN ABOUT: Test Market Demand
Of course, it's worth remembering that price optimization isn't a one-time thing. Prices and market conditions can change over time, so you'll need to keep an eye on things and adjust your pricing strategy as needed. For example, if a new competitor enters the market and starts undercutting your prices, you may need to adjust your own prices to stay competitive.
LEARN ABOUT: Pricing Research
The Importance of Price Optimization
Price optimization is important because it can have a significant impact on a business's success. It allows companies to maximize their revenue and profit margins by finding the optimal price point that resonates with their customers and remains competitive in the market. A well-executed price optimization strategy can increase a company's market share and improve its overall financial performance.
One of the key benefits of price optimization is the ability to improve customer relationships. By offering fair and reasonable prices, businesses can establish customer trust and customer loyalty, which can lead to positive reputation. Additionally, a good pricing strategy can help businesses differentiate themselves from their competitors, highlighting unique selling points and value propositions that set them apart in the eyes of potential customers.
Price Optimization Guide
Price optimization is a crucial aspect of any successful business strategy, as it can significantly impact a company's bottom line. A well-executed pricing strategy can improve profitability, create a competitive advantage, and increase customer loyalty. However, implementing a successful pricing strategy requires careful planning, analysis, and ongoing testing and refinement. Here's a comprehensive guide to implementing good price optimization in any business strategy.
1. Determine The Costs
Before we can set the optimal price for our product or service, it's crucial to have a clear understanding of our production costs. This involves carefully analyzing all expenses, including raw materials, labor costs, and overhead expenses, such as rent, utilities, and equipment.
By taking a detailed look at our costs, we can determine a pricing strategy that covers our expenses while still allowing us to make a profit. It's essential to be thorough and accurate when calculating our costs to ensure that we set a price that will result in sustainable profitability for our business.
2. Analyze The Competitors
At this stage, it's recommended to check out what the competitors are up to. It's important to see how they're pricing their similar products or services so we can get an idea of what price range we should be aiming for. This way, we can ensure that we stay competitive and attract customers who are looking for the best deals. We can do some online research, visit their websites, or even make some phone calls to gather information about their pricing strategies. Once we have a good understanding of their prices, we can make accurate adjustments to our own pricing strategy to stay in the game.
3. Understand The Customers
If we want to price our products or services accurately, we need to understand our customers inside and out. Knowing our customer base is crucial to determining the optimal price point that will not only maximize profit but also resonate with our target audience.
To get a better understanding of our customers, we can try conducting surveys or focus groups to gather feedback about our products or services. We can ask them what they think about our pricing strategy and what they're willing to pay. By analyzing their behavior and preferences, we can learn what motivates their buying decisions. This will help us tailor our pricing strategy to meet their needs and increase the chances of making a sale.
4. Use Data Analytic Tools
To optimize our pricing strategy, we have to use data analytics tools to analyze sales data and identify patterns. By doing so, we can gain insights into customer behavior, such as which products or services are in high demand, which pricing points are most effective, and which marketing channels are most successful. With this information, we can develop a pricing strategy that resonates with our target audience and maximizes profit.
It's important to keep in mind that data analytics is not a one-time task. Continuously analyzing sales data and adjusting our pricing strategy accordingly is crucial to ensure that we stay competitive in the market. By regularly reviewing sales data and monitoring customer behavior, we can quickly identify changes in demand or other factors that may affect pricing, allowing us to make adjustments to our strategy in real-time. This helps us stay agile and adaptable in a constantly evolving market.
5. Test and Refine
There are many different ways to do this, including experimenting with different pricing models, offering discounts and promotions, and analyzing the results.
One effective approach is to conduct A/B testing, where we test different pricing strategies with a subset of our customer base and analyze the results to see which approach performs better. We can also try implementing dynamic pricing, which involves adjusting prices based on real-time demand and other factors. This allows us to stay competitive and respond quickly to changes in the market.
Conclusion
Price optimization is a critical aspect of any business strategy. It involves finding the sweet spot where a product or service is priced just right to maximize profits while remaining competitive in the market. By following the right plan, businesses can ensure that they are setting the right price and increasing their chances of success.
If you want to learn more about how QuestionPro can help you optimize your pricing strategy and gather valuable customer insights, sign up for a free trial today.