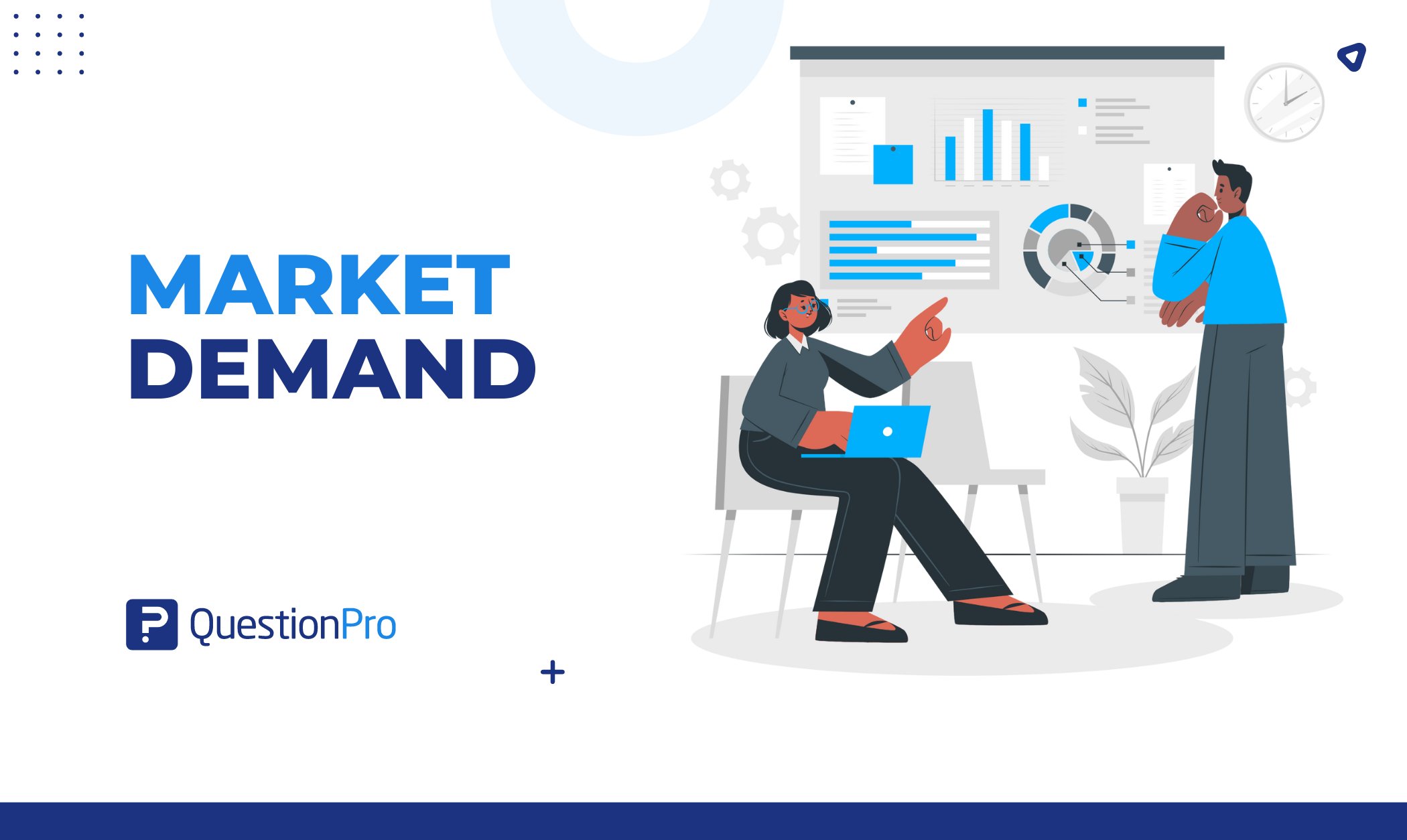 In the dynamic world of business, understanding market demand is essential for any successful venture. Market demand refers to the total quantity of a product or service that consumers are willing and able to purchase at a given price and time.
As an entrepreneur or marketer, grasping this concept and knowing how to calculate it can significantly impact your decision-making and ultimately lead to a competitive advantage in the market.
LEARN ABOUT: Market Evaluation
In this blog, we will explore the definition of market demand, strategies to identify and cater to your intended audience, and methods to calculate market demand effectively.
What is market demand?
Market demand refers to the quantity of a product or service that all consumers in a particular market are willing and able to purchase at a given price during a specific period of time.
It represents consumers' collective desire or need for a specific product or service. Market demand is influenced by various factors such as price, consumer preferences, income levels, availability of substitutes, and overall economic conditions.
The law of demand states that all else being equal, as the price of a product decreases, the quantity demanded increases, and vice versa. This relationship between price and quantity demanded is typically represented on a demand and supply curve, which slopes downward from left to right.
Market demand is crucial for businesses as it helps them determine the potential sales and revenue for their products or services in a given market. By understanding it, businesses can set appropriate pricing strategies, identify growth opportunities, and tailor their marketing efforts to meet consumer needs and preferences.
Why is market demand important in marketing?
It is crucial in marketing for several reasons:
Estimating sales potential
It helps businesses estimate the potential sales of their products or services in a specific market. By understanding the level of demand, companies can gauge how many units they are likely to sell and plan their production and inventory accordingly.
Identifying market opportunities
Market demand analysis allows companies to identify attractive market opportunities with high demand. It helps them determine which markets are worth pursuing, and investing resources is based on the size of the potential customer base.
Developing targeted marketing strategies
Knowing the demand helps businesses design targeted marketing strategies to reach the right audience. By understanding consumers' preferences, needs, and behavior, companies can effectively tailor their marketing messages and promotions to resonate with potential customers.
Product development and differentiation
Market demand data aids in product development and differentiation. Businesses can identify gaps in the market and develop products or services that fulfill unmet needs or offer unique features, setting themselves apart from competitors.
It is a critical factor in determining the pricing strategy. Companies can use demand elasticity (the responsiveness of demand to changes in price) to set optimal prices that maximize revenue and profit.
Difference between individual and market demand
Individual demand refers to the quantity of a product that a single consumer can buy based on their preferences and income. Market demand, on the other hand, represents the overall quantity of the product that all consumers in a market are willing and able to buy.
Individual demand is specific to one consumer, while the demand combines the demands of all consumers in the market. The same factors as individual demand influence market demand, but it also considers the number of consumers in the market.
Market demand is important for businesses to understand customer preferences and make strategic decisions.
Strategies for assessing market demand and staying relevant
Here are some effective strategies to help you understand market demand and maintain your competitive edge:
Choose the target audience
Although it can be tempting to throw a wide canvas and try to capture as many consumers as possible, target marketing techniques are much more effective. Online marketing and advertising campaigns may eventually appeal to a wider audience, but the prospecting phase must be focused on the most likely potential investors and consumers.
Inventors, entrepreneurs, and marketers must ask themselves a series of questions relative to their focus audience and the service they are proposing. Discovering the most appropriate end users and their overall ability to pay for the service determines if the product will be affordable for the target audience to purchase. Desirability and willingness to purchase must also be assessed in the intended audience.
This marketing technique is one that must be routinely practiced and carefully reviewed. Changing demographics and intended use of a particular service or product can be a surprise for online marketers. The most successful businesses are the ones that have the ability to adapt to change and reinvent themselves according to the end users.
Because the intended audience is likely to grow and expand in response to a viable product or service, advertising campaigns, and methods may also need to change in response to the updated market demand research results. The importance of constantly collecting and reviewing data from various sources cannot be overstated.
Selecting the focus audience allows researchers to obtain relevant customer preferences and behavior data. Those data points must be swiftly and accurately assessed to determine if the results indicate enough motivation in the marketplace to continue introducing a new service.
Data can be somewhat fickle in an ever-changing market where technology makes new products and services available almost daily. Strong evidence that a target market is both receptive and willing to pay the going rate for service must be present before the research and development phases commence.
If these proactive measures are not taken before the product is available on the market, one of two unpleasant results will be required. The product will either have to be sold for a lower price or offered in combination with another product or service.
Either of these options will end up costing the producer more than they intended and may not even produce the intended results. When a service, rather than a product, is at stake, the results have a similar, but less impacting, effect. Services typically require less initial investment for producers and more room for profit after production is complete.
The personal services industry requires a little more start-up than talent, a business card, and a business plan. Marketing personal services is easy because consumers can match a face to a company name or a particular service industry.
Marketing internet services is more complex because the items for sale are less tangible, and consumers may be inundated with other offers. Viable businesses and service providers must be able to effectively compare their products and services to those already in the marketplace.
Taking an honest look at the closest competition is not an easy process, but a new business or service provider must anticipate their position in the market. Analyzing the marketing approaches of a competitor is just as important as reviewing their actual products or services.
Newcomers to the market can determine what worked for the competition and learn from their mistakes as well. Service providers have a challenging time influencing customers away from other business entities that have already established brand loyalty or consumer relations. Successfully breaking into this niche requires additional market research.
This time, however, service providers will be evaluating their competition rather than potential consumers.
Effective customer relationship management must be a genuine effort backed by the service provider's full support. Effective communication in today's technologically advanced marketplace requires a strong online presence.
Drawing from the consumer market research efforts for gauging customer interest, service providers and online marketers can utilize the strengths of social networking to attract and retain new customers. This marketing platform can be astoundingly effective and continuously profitable when it is properly maintained.
Testing the market before introducing a new service provides a solid foundation for a manufacturer or service provider to build an empire. Since new businesses are emerging nearly every day, online marketers and market researchers caution their clients about the dangers of becoming complacent.
Every industry is subject to an uprising of unexpected competition and the possibility of becoming irrelevant in the current marketplace. To avoid the likelihood of extinction, online marketers should constantly conduct market analysis and suggest changes based on the current climate.
Social media accounts should always be closely monitored so that customer questions, concerns, and blog comments are promptly acknowledged and addressed.
Another aspect of remaining relevant in the fast-paced world of technology and telecommuting is the ability to stay ahead of the pack. Scouring the internet for popular themes, user feedback, and customer comments allows any business or service provider to retain a competitive market.
Innovative technologies and solutions help struggling business reach their full potential and help to excel businesses the chance to remain at the forefront of their specific industry. These proactive measures require consistent efforts to ensure the pulse of the market is still receptive to the existing product.
When changes are necessary, they can be quickly implemented according to consumer feedback so the products and services always remain in high demand.
How to calculate market demand?
To calculate market demand, you need to add up the individual demands of all consumers in the market. Here's a step-by-step guide to calculating market demand:
Understand individual demand
Know individual demand: Individual demand is the amount of a good or service that a certain consumer can buy at various price points. This can be represented by a demand function, which shows the relationship between the price of the product and the quantity demanded by an individual.
Gather individual demand functions
If you have access to individual demand functions for different consumers in the market, collect them. These functions will typically be in the form of equations, such as Qd = a – bP, where Qd is the quantity demanded, P is the price, and 'a' and 'b' are constants specific to each individual.
Add up individual demands
To calculate market demand, add up the quantities all consumers demand at each price level. For example, if you have three consumers with the following demand functions:
Consumer A: Qd = 100 – 2P
Consumer B: Qd = 80 – 3P
Consumer C: Qd = 120 – P
At a price of $10, the total market demand would be:
Market demand at P = $10:
Qd = (100 – 2(10)) + (80 – 3(10)) + (120 – 10) = 140 + 50 + 110 = 300
So, at a price of $10, the market demand is 300 units.
Create a market demand function
If all consumers have the same demand function, you can simply multiply the individual demand function by the number of consumers to get the market demand function. For example, if you have 1,000 consumers with the demand function Qd = 50 – P, the market demand function would be:
Qd = (50 – P) * 1000 = 50,000 – 1000P
This market demand function shows the total quantity demanded by all consumers at different price levels.
Analyze the market demand curve
Once you have the market demand function, you can plot it on a graph to create the market demand curve. The supply and demand curves will show the relationship between the price and quantity demanded by all consumers in the market.
By understanding this demand, businesses can make informed decisions about pricing, production levels, and marketing strategies to meet consumer needs and maximize profits.
Conclusion
Market demand plays a pivotal role in shaping business strategies and product development decisions. Understanding the demand for products or services is essential for companies to stay competitive and meet customer needs effectively.
QuestionPro survey software plays a vital role in this process, offering valuable assistance in understanding market demand. With its user-friendly interface and robust features, QuestionPro empowers businesses to conduct comprehensive market research and gather insights from their target audience.
Businesses can collect relevant data directly from their potential customers by creating customized surveys and questionnaires. QuestionPro's advanced analytics tools allow for a thorough analysis of the survey data, uncovering trends, patterns, and consumer behavior. Contact QuestionPro today to learn more!
Frequently Asking Questions (FAQ)
What is market demand?
It is the total quantity of a product that consumers are willing and able to buy at a given price.
What factors influence market demand?
Factors influencing market demand include price, income, tastes, preferences, prices of substitute goods, prices of complementary goods, and future price expectations.

How does market equilibrium relate to market demand?
Market equilibrium relates to market demand as it is the point where the quantity demanded by consumers matches the quantity supplied by producers, leading to a balanced market price.