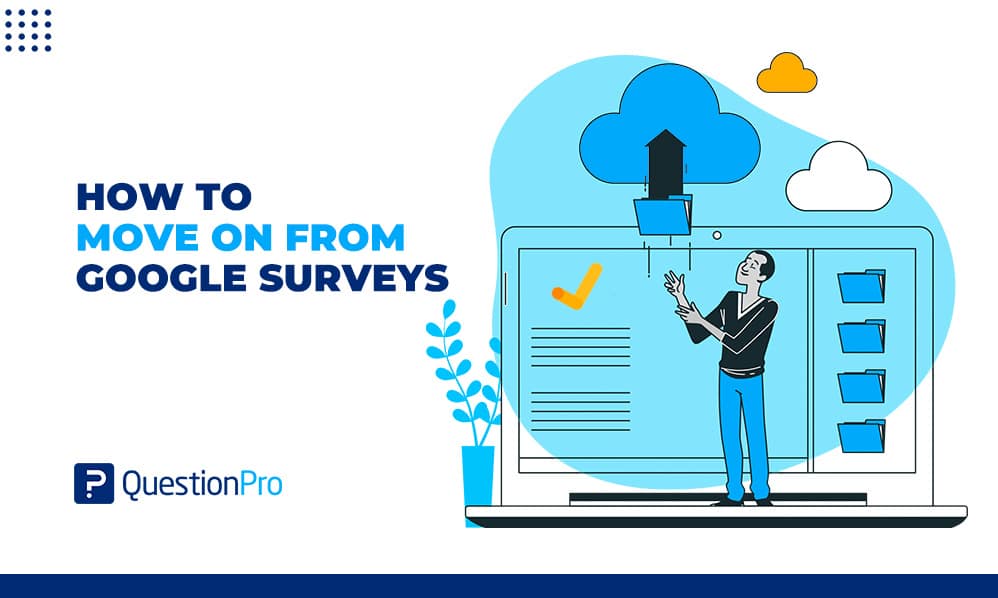 With the sudden news about the Google Surveys blackout, many doubts have arisen, and there are some uncertainties around this event. This time we want to help you solve one of the most common: How to move on from Google Surveys?
Before moving on to the process, let's recap a little about everything related to the disappearance of this platform.
Google announced that Google Surveys and Surveys 360 will stop being available after November 1st. Users will only have until Dec 1, 2022, to download all of their data before the platform is no longer accessible.
This news has generated many doubts and comments, such as the following:
Google surveys is shutting down ;-(

It was such a great product… anyone know an independent option of the same functionality?

— Noam Bardin (@noam) September 21, 2022
If you also have the same concern, we recommend you read our article on Google Surveys Alternatives and choose your best option to continue with your projects.
Another of the main questions is related to how to recover your information in time and prevent it from being lost with the disappearance of these platforms. Below we will tell you about the detailed process to avoid any inconvenience.
How to migrate your data from Google Surveys
The investigations do not stop, so once you have chosen the best platform to continue with your project, it is necessary to move your projects to give continuity to everything that has been done.
Below we will tell you the step by step to download and migrate data from Google Surveys to have everything ready for the definitive closure of the platform.
Steps to export your data:
You must first go to your Google Surveys account
Choose the survey in which you have collected data
Go to your survey results or the question-results page.
Click on the Download button.
Done! By clicking, it will immediately start downloading your data in an Excel format file in your default download folder.
I already have my data; now what?
Now you will need to migrate your data to a similar or better platform that allows you to continue with your research projects. We highly recommend you use QuestionPro, a platform where you will find all the functions that Google Surveys offered and various functions that will allow you to understand your market better.
To import your data from Google Surveys to QuestionPro, you must:
1. Go to "My Surveys" (Select Survey) » Analytics » Manage Data » Import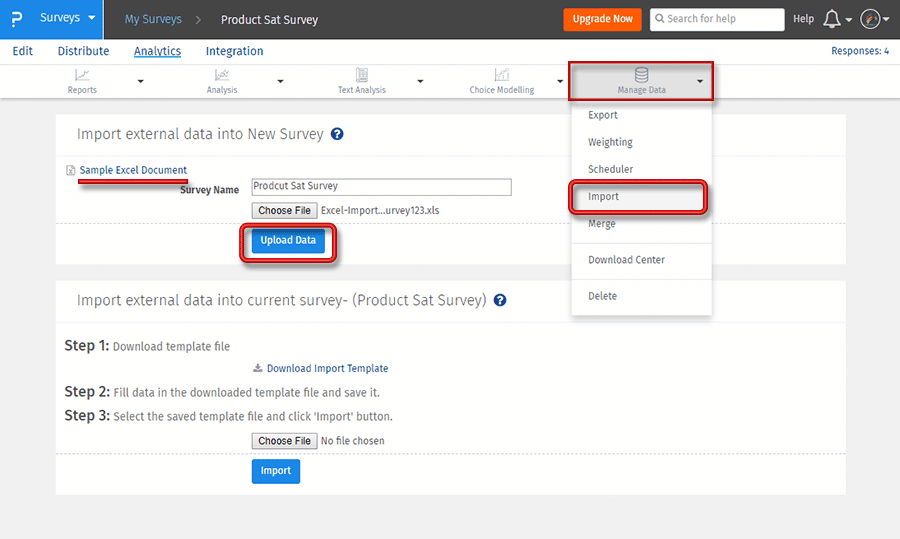 2. Click on Sample Excel Document
3. Fill in the data as per the template
4. Browse the file and click on Upload Data
Done! With these simple steps, you will already have all your information in QuestionPro. You can learn more about this process and clarify your doubts by consulting our help file:  Import External Data Into New Survey
What if I want to get survey respondents for my survey like I did with Google surveys?
No problem; for this, you can use QuestionPro Audience, a platform where we put at your disposal 22 million+ global respondents with 300+ data profile points ready to share their opinion and perspective by answering your surveys.
You just have to go to the Audience section within our Research Suite, and you will be able to establish all the criteria and specifications you need to have a study tailored to your needs.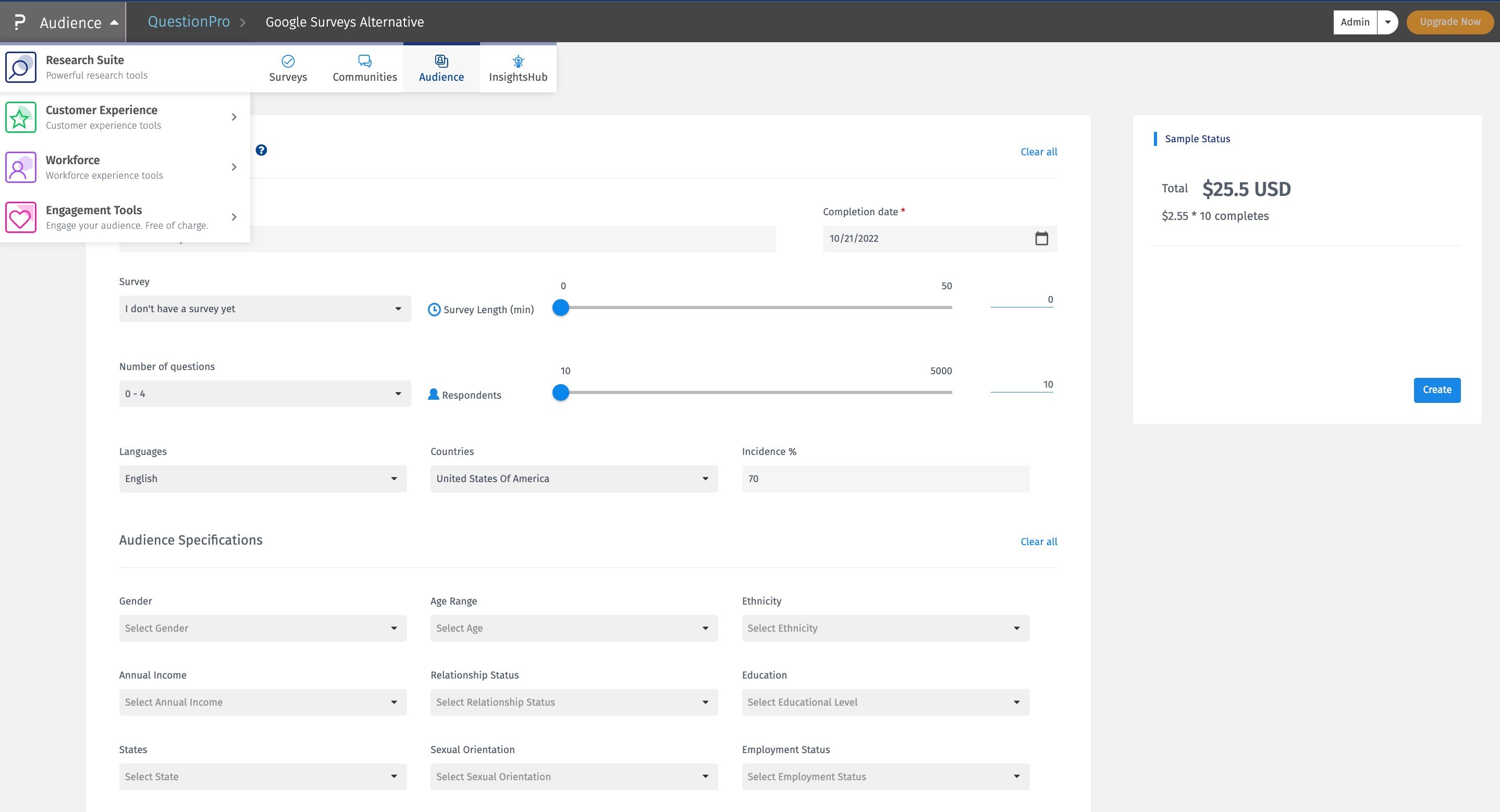 Done, you will only have to confirm and start receiving answers at a speed you did not imagine and with quality control that will guarantee the validity of your study.
QuestionPro is always looking to innovate and make things easier for its users, which is why it recently prepared the launch of Instant Answers, a new way of conducting surveys; now, we'll quickly tell you about it.
QuestionPro's Instant Answers is powered by Slack integration. To use it, you will only have to install the bot in your Slack workspace and start asking questions using specific commands to configure your question. The idea is to post a question via Slack, choose the region, language, and sample size, and that's it. You just have to wait and see the result of your question.
Learn more here.
We hope that all this information has been of help to you to give continuity to your project and continue carrying out incredible research projects. At QuestionPro, we have a permanent commitment to our customers consistently to deliver the best products and support them in their projects to achieve success with them.
We will love to talk with you if you are interested in receiving help to migrate your data to our platform or need more information about our products.