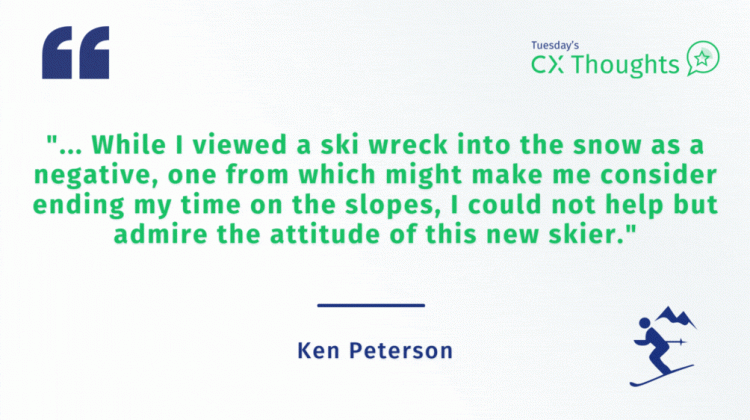 Last week I got to take a day off and spend a little time in my former home state. Definitely feel the cold a little bit more after having lived in Hawaii now for almost three years, but I still enjoyed the opportunity to ski. The year 2022 represented the first time I had not been skiing since I was quite young. Before that streak had ended, I had at least one trip a year for 36 straight years.
Despite all that experience, I was quite apprehensive about returning to the ski slopes. Would I be too cold? Would I still enjoy it? What would my boss think of my skiing abilities that I bragged so much about (yes, we got to enjoy the ski day together)?
I suited up as I usually would with the expectations that it would be warm enough for me and that I was unlikely to take many chances that would cause me to crash and get snow all over myself. I was on the lift for a warm-up run with my daughter, and many of those hesitations disappeared and my strong desire to be on the slopes grew stronger as the lift chair got closer to the top of the mountain.
It ended up being a glorious day on the ski slopes; I was warm enough most of the time and was on trails until just about the last chair went up the mountain. I'll be honest, though, one big snow-filled crash probably would have ruined it for me.
The last few runs I took with my family, which included my daughter's boyfriend, a native Hawaiian that was on skis for the very first time. He was snow-covered by the time I had arrived and still struggled to make turns and stopped primarily by taking a fall into the snow, adding to the total snowpack that was already covering him. As we wrapped up the trip, I was expecting to hear about the difficult day he had and questioned if he would ever do something like that again; the answer was an emphatic "Absolutely!".
Same Experience – Two Personas
As I reflected on that experience, it reminded me that all too often, we try to use cookie-cutter approaches within our customer experience strategies. This is often driven by the customer experience software platform used by an organization. Some solely focus on the customer feedback loop, while others place greater emphasis on the emotion captured in sentiment analysis.
It is easy to fall into that trap once you have your CX Enterprise Software up and running, and you just want to continue to measure that customer experience touchpoint. Instead of expanding on the Voice-of-the-Customer touchpoint measurements, updating the customer journey template, or completely refreshing the customer journey map, we find it easier to be reactive and look at responses in the aggregate. Perhaps the only time any customer segmentation occurs is during the potential financial linkage analysis. Even then, it is less about actions and more about segments.
Two statements that I believe to be true in customer experience: "The customer is not always right" and "Not all customers are the same." One of the key reasons behind our exclusive QuestionPro NPS+ question type is that you can look across the different groupings, segments, and personas and find common areas of concern but also consider how one might be able to improve the standing of one group without damaging the experience of another group – therefore growing more loyal customers. Shouldn't that be the goal of every customer experience program?
What A Hard Fall Can Teach You
Even customers that have the same overall personas may have different needs as they are on different parts of the customer journey. While I viewed a ski wreck into the snow as a negative, one from which might make me consider ending my time on the slopes, I could not help but admire the attitude of this new skier.
Finishing out the day, never having a single run where there wasn't a crash, covered in (what I now consider) frigid snow and with fresh bruises all over the body, he was even more enthusiastic about the next opportunity to ski than he was before the day started.
A little reflecting on that, and I realized I was very much the same way when I started. Always saying that the "worst day of skiing will always be better than the best day of work/school." I continue to wonder if thirty-six years from now, if he continues to ski consistently, he will reach the same point of not wanting to fall, lest he gets really cold.
In a world where customer experience is becoming increasingly important, it's essential to remember that not all customers are the same.
Personalization is key to a successful customer experience program.
My recent ski trip reminded me of this and made me appreciate the importance of understanding each customer's unique journey. If you're looking to improve your customer experience program, consider partnering with QuestionPro.
Let's work together to create a more personalized and meaningful experience for your customers!
Is there something wrong with your customer experience?
When you complete an honest assessment, the outcome can be beneficial. Particularly when it comes to your Customer Experience program.
Take five minutes and complete an audit for your organization here.
You may discover a gap in measurement, an opportunity to improve a process, the place where an organizational shift needs to take place or an opportunity to win a greater share of your customers' wallets.
We all want that bigger "return". In this situation, the worst case scenario is that you'll get some information that will help your organization since there is no cost or obligation in completing this audit.