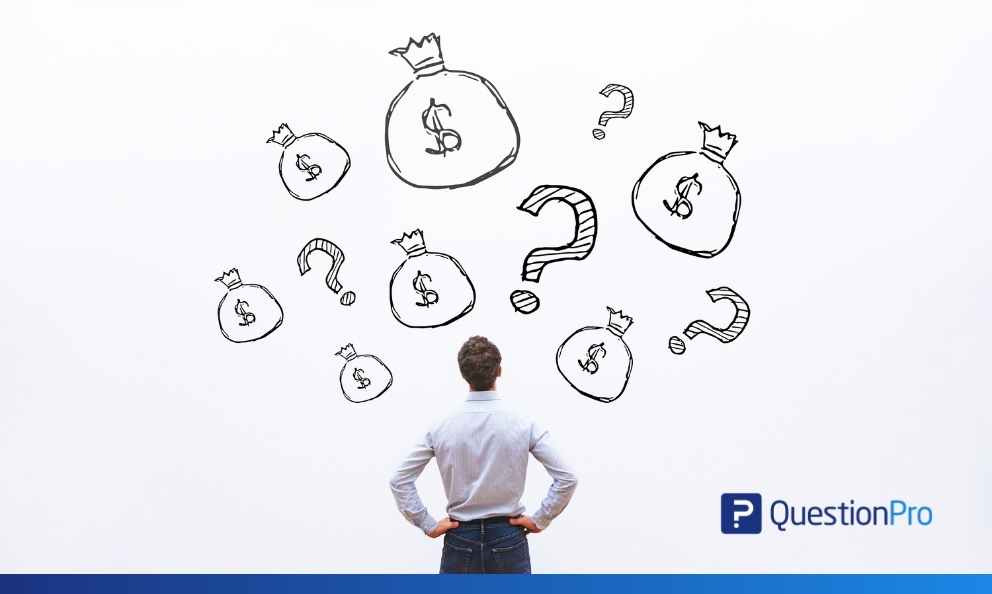 While the markets today are increasingly customer-obsessed (rightly so), plenty of businesses still struggle to identify the worth of a CX program.
CX managers and business leaders who have second thoughts about even the worth of CX, we hear you! Trying to delight every customer all the time is a ridiculous goal (and plain impossible). A smart CX program is way more sophisticated than chasing one's own tale anyway!
Customer experience, as a concept, is overly romanticized. For some reason, we were all led to believe that the customer is always right; implying that the focus should be on exceeding expectations for every customer, regardless of the cost!
Truth is, figuring out the ROI of a CX program takes time and effort. Sometimes, even companies that invest tall budgets and efforts into delighting their customers grapple with an ROI problem. That said, let's discuss why it's vital to invest in CX and what are the hiccups you may expect once you do.
LEARN ABOUT: Time to Value
So how much is CX worth exactly?
Why should you invest in CX anyway?
The short answer is that your business won't survive for long among stiff competition unless you do! Customer experience is no longer a luxury, it's a necessity.
The long answer is that investing in Customer Experience helps businesses to retain customers, increase the revenue and financial health of the company, even paving the way for better employee engagement and a happier workplace. We'll go over these:
1. Make customers your long-term loyalists
Contrary to popular belief, most customers are generally pretty easy to please. Great CX strategies should aim to more than please the customers. It is widely known that customers are even willing to pay more for better CX! So it's in your best interest to offer seamless experience and support to your customers, consistently.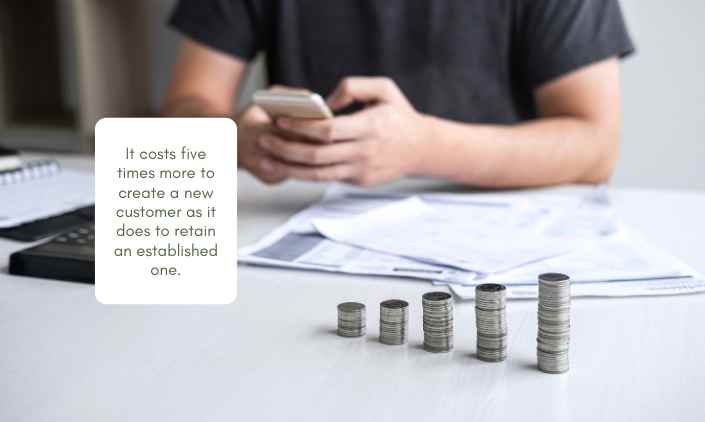 With unmatched experience, customers soon turn into brand fans, making it increasingly difficult for your competitors to snatch them away from you. Moreover, there is ample potential for customer referrals, free PR, raving reviews, and community marketing in exchange of really good CX. The opportunity to turn customers into brand advocates is too great to pass!
2. Increase brand revenue
Companies use CX to distinguish themselves from competitors and to build customer loyalty, while also benefiting from more purchases and an increase in turnover.
A customer with a high CLV and a higher degree of loyalty leads to long-term financial gains for the company. Investing in building and strengthening that relationship is key.
Businesses with a top-notch customer experience stand a 17% higher chance of growing consistently year after year as compared to those with a poor customer experience strategy.
CX is a revenue issue, make no mistake! However, many managers seem to think that demonstrating the direct link between CX and revenue growth is hard. This is where metrics such as Customer Lifetime Value (CLV), Churn rate, Cost of support, Average transaction size come into play.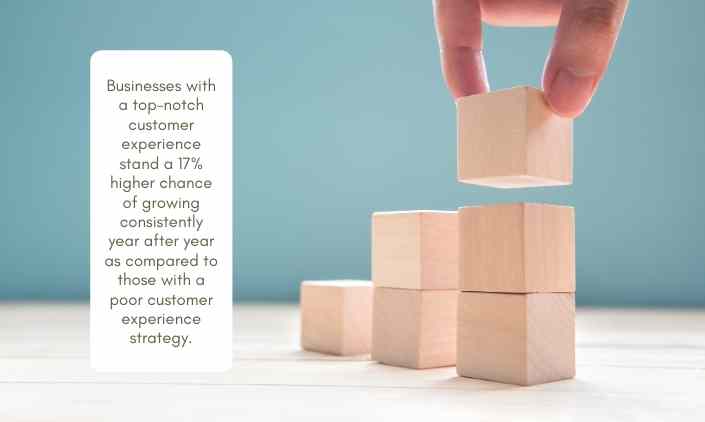 3. Improve and maintain brand image
Businesses with flawless online customer experience stand a 68% improvement chance in regards to its online reputation score within a period not exceeding five years.
A great customer experience leads to the customer tendency to recommend your company to a third party. This positive grapevine and brand advocacy is priceless in enhancing brand value. More effort into CX would also translate to more thrilled customers, and a well-liked brand.
For instance, Apple has a fiercely loyal customer base that can double as brand fans. Enough said!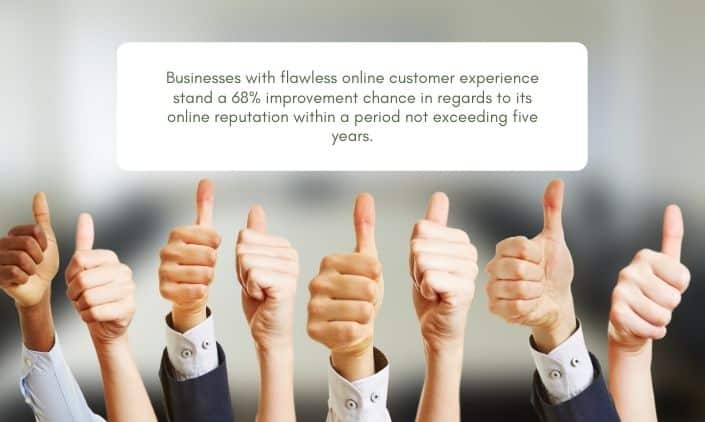 4. Happier and more productive workforce
Organizations that deliver great CX have 1.5 times more engaged employees than organizations that don't.
CX and employee experience (EX) are inseparably linked. Highly engaged employees positively influence the customer experience.
In turn, being empowered to deliver an improved customer experience implies that your employees too will have a happy customer base to deal with. Furthermore, this will give them an opportunity to focus more on enhancing customer experience and also on improving the overall brand reputation. It's a happy circle, one that no management can refuse!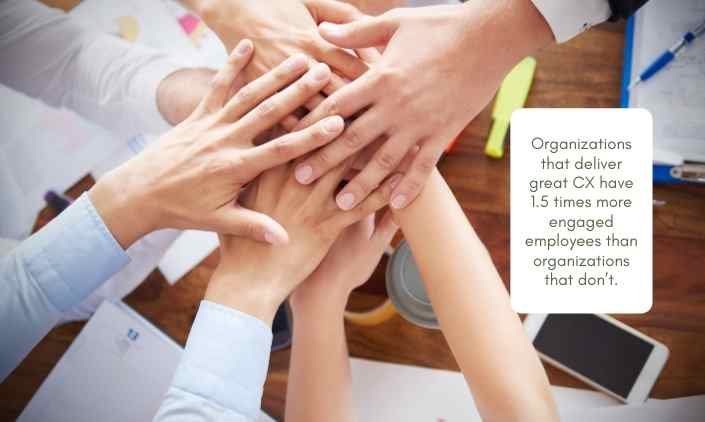 The better you understand the person you are selling to and their persona, the more you'll be able to tailor your offer to their circumstances, and the higher your chances of being successful. CX is instrumental in predicting future sales, margins, cash flow, market share and stock returns.
5% increase in customer retention rates increases profits by 25% to 95%.
You can even rely on predictive forecasting on the historical data to understand what drives revenue growth and identify the issues to be expected, as well as their impact on revenue. Are you convinced to invest in CX, yet?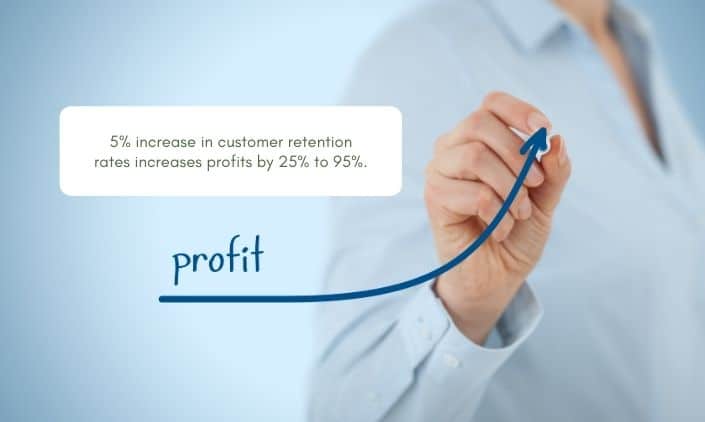 What are the hiccups you may expect when you invest in CX?
Many businesses shy away from having a solid CX plan because they don't believe CX delivers. If you are reading this article, you're probably expecting to find reasons to convince yourself why CX is worth investing in- as we've already discussed above.
That said, you'll be better equipped to manage CX efforts at your organization if you understand where things (may) go wrong and prepare accordingly.
Underestimating data-driven CX strategies and clarity
A study by the Academy of Marketing Science indicate the following pattern in CX managers:
Managers overestimate the extent of customer satisfaction and loyalty.

Managers underestimate the extent to which customer satisfaction drives complaints and loyalty by 40%

Customer satisfaction is damaged when the CX manager perceptions are misaligned with customer perception.
In conclusion, the success of CX is severely affected by skewed perceptions of the executives who drive it. Which is why we also recommend a thorough CX program driven by real data, with regard to every touch point of a customer journey.
Not realizing that ROI is more than a single number
The ROI of CX can be hard to establish because it is not usually a single number. How you measure your ROI should depend on how you structure your CX program. It is fully managed by a specific department? Or is it a crop-functional endeavor?
Which are the metrics best suited to measure customer experience in your organization? NPS? CSAT? CES? Do you also measure Customer Lifetime Value (CLV) and churn rates? Indicators like increasing lifetime customer value, reducing customer churn, increasing employee retention or reducing operational costs, are key to identify the ROI of a CX program. It is worth the effort to analyze your options and find the combination of factors that project your ROI accurately. Read more about improving the ROI of your CX program here.
Over-investing or under-investing in CX
If you haven't tied the spend to what customers want/expect to what costs the company to effectively deliver those, it could be a problem. Customer Experience has made its own case with impressive ROI for plenty of companies but it's also not uncommon to see companies that overdid the CX efforts and failed to justify their spend.
Under-investing in CX is setting yourself up for failure. Having ample potential and opportunities to improve your CX, it doesn't make any sense to do the bare minimum- or nothing at all.
Steer clear of either, we'd say.
Forgetting that CX ought to be agile
It takes a bit of time for the company as well as for the customers to appreciate the efforts you are making in the CX end. You may have to be patient and consistent in order to project a valid ROI.
Customer experience is an evolving journey that takes constant study and revisions. Keep an eye always on the customer feedback, their journey, and the cost vs impact equation. Your CX strategies must be agile and should always be mindful of delivering meaningful financial results in exchange. 
LEARN ABOUT: Customer Experience vs. Customer Service
How to invest in CX wisely?
What's with the 'customer is always right chant? Anyone who has dealt with customers directly knows that it's not the case. Sometimes, they are mistaken, misunderstood, or even downright unreasonable. And sometimes, the efforts to delight them are not worth it.
While you certainly need to know the customer needs and expectations, you should also understand the value those customers bring to the table.
There is something as too much effort in CX. A lot many organizations have treaded the risky waters of investing so much in customer experience that their cost structure becomes unsustainable.
The trick is to find a balance between meeting your customer's expectations and connecting it to the value attached to that customer. Certainly not delighting all customers at any cost!
This balance is vastly underrated as this is how you ensure ample ROI on your customer experience program. As long as the effort pays for itself (and then some more), you are in a good place.
QuestionPro offers some of the most advanced customer experience tools available. Gain valuable insights into your customers' thoughts and feelings using QuestionPro CX software today.