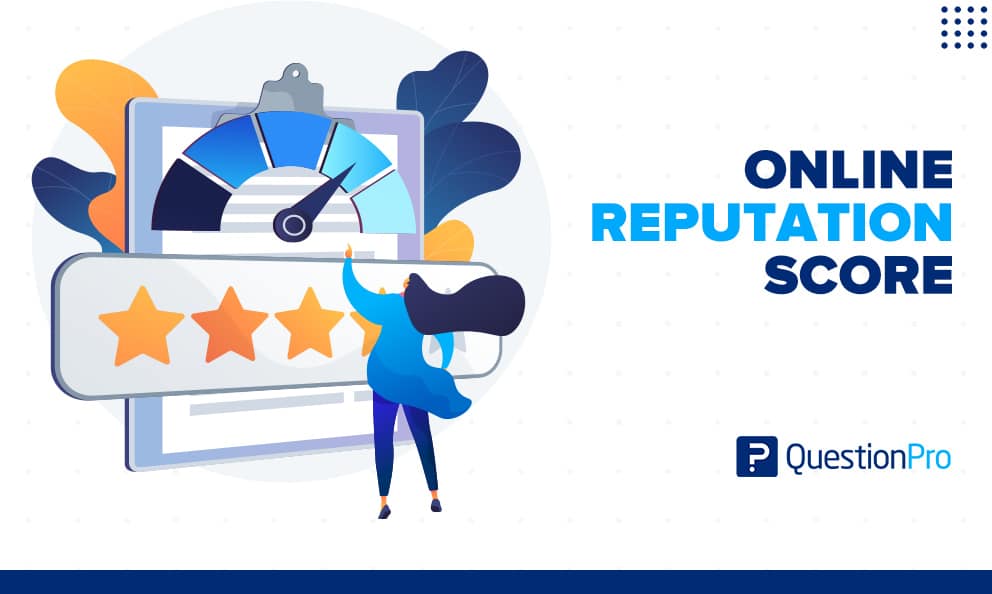 Boosting your online reputation score requires establishing significance and trustworthiness for your online presence. You may raise your reputation score by obtaining more favorable search results than unfavorable ones.
The internet reputation of your brand is the most important asset your company can have. Ninety-seven percent of consumers look for local companies online. When potential consumers learn about your company, they form opinions and make purchasing decisions based on their impression of it.
What you put online accurately represents who you are for work or pleasure. That footprint grows over time, including photographs, comments, retweets, and postings on Facebook, Twitter, LinkedIn, Yelp, etc. This interaction leaves a digital trail that may be quickly traced via Google. Your online reputation score is quantifiable, and many variables must be considered while raising it.
This blog will define the online reputation score and how to boost it.
Definition of online reputation score
Their online reputation score gives a person's whole online presence a measurable value. This rating is based on essential elements that affect your brand's strengths and shortcomings.
It might be challenging to comprehend your online reputation management score. Your personal reputation or business perception has nothing to do with your reputation score. Instead, it is determined by what others learn about you via searches.
You may wonder, "How can I improve my internet presence?" You must first understand the components of a brand's online reputation score.
What are the search results if you run a basic Google search on you or your company? What sort of impression will people get of your brand reputation when they search for it? Are they favorable or unfavorable? Your reputation score takes into account all of these.
Your reputation score will be based on the following variables:
Search results/links
Content/articles
Images and video
Social media
Online forums
Online reviews
With the support of these endeavors, you may boost the perception of your personal brand's credibility and worth. Your name and your chosen search phrases will rank higher over time.
Why does your reputation score matter?
A reputation score can matter for various reasons, depending on the context in which it's being used. Here are a few scenarios where a business's reputation score might hold significance:
Online Communities and Platforms
In online forums, social media platforms, and marketplaces, reputation scores can indicate the credibility and trustworthiness of a user. Higher reputation scores often imply that a user has consistently contributed positively, adhered to rules, and engaged constructively with others. This can influence how much weight their comments, reviews, or interactions carry within the community.
On e-commerce platforms, reputation scores for products and sellers can greatly influence purchasing decisions. Positive reviews and high ratings suggest that previous buyers have had good experiences, increasing the likelihood that potential buyers will trust the product or seller.
In professional networking platforms like LinkedIn, reputation scores, often represented by the number and quality of recommendations, endorsements, and connections, can impact how seriously potential employers, clients, or collaborators take one.
Content creators on platforms like YouTube, Twitch, or Medium can benefit from a positive reputation score. High engagement, views, likes, and positive comments can attract more followers and opportunities for collaboration, sponsorship, or monetization.
A good reputation score can indicate trustworthiness and credibility. This can be relevant in various scenarios, from job interviews to business partnerships, where a positive reputation might lead to more favorable outcomes.
Online Security and Privacy
Some platforms and services use reputation scores to assess a user's risk of engaging in malicious activities. Users with poor reputation scores might face limitations, such as restrictions on certain actions or increased scrutiny to prevent fraud or abuse.
Reputation scores can motivate individuals to contribute positively to online communities since recognition for their contributions can enhance their sense of belonging and accomplishment.
Ways to boost your online reputation score
The methods used to swiftly improve your online reputation scores are transferable to any sector. Here's how it may function in your company's online reputation data management plan.
01. Request feedback regularly.
Your team must put in some effort to raise your positive online reputation score. The easiest way to achieve it is to ask your clients for input. However, seeking them must be supported by a well-thought-out plan. Consider correctly directing your surveys, for instance.
As we previously stated, in addition to requesting positive customer testimonials, one should also refer dissatisfied consumers to a brief survey that provides a more thorough analysis of problem areas.
Encourage the customer to leave an honest comment on Google after completing the survey. This allows you to get specific insights that enhance customer service. Ensure that you share all reviews, positive and negative alike.
02. Gather ratings from many websites.
On any website your clients often visit, be sure to seek comments. You may choose the location of your customer surveys with the reputational risk survey solution.
Despite knowing that potential customers will spend time on sites like Property Ratings, Google gives the maximum prominence. The demographics of one's tenants may be obtained in their entirety using this technique. This is true for every business; gather testimonials from general and sector-specific review websites.
03. Send specific review requests.
Customer feedback is not a scenario where one solution fits all. So be sure to utilize a template for an automated survey that addresses its inhabitants by name and appropriately handles the problem. This ensures that each response incorporates the customer's information and includes some customization to set it apart.
04. Engage the workforce.
As you plan your free reputation score management approach, be sure that your operational, legal, patient experience, marketing/communications, and patient experience teams are all on the same page.
However, if a financial incentive program is ineffective for your company, do not feel obligated to develop one. Reputation management should be incorporated into each department's quarterly goals to ensure team alignment among personnel.
05. Make sure the customer service is welcoming.
One should be aware of the areas where their team excels and needs to develop. Such tactics have been very successful for business. The group can host regular national gatherings for management companies.
LEARN ABOUT: Data Asset Management
Factors that can badly affect the online reputation score
Several factors can negatively affect an individual's online reputation score and can result in a bad reputation score. These factors can decrease credibility, trustworthiness, and overall reputation score calculated within online communities and platforms. Here are some common factors that can have a detrimental impact on an online reputation score:
Negative Reviews and Feedback
Receiving negative reviews, comments, or feedback on products, services, or content can quickly lower your personal reputation score. This is particularly true on platforms where user-generated reviews play a significant role.
Engaging in disrespectful, offensive, or inflammatory behavior and poor customer service can damage your reputation. Trolling, cyberbullying, hate speech, and harassment are examples of actions that can lead to a poor reputation.
Spamming and Self-Promotion
Excessively promoting yourself or your content, especially intrusive or irrelevant, can annoy and alienate other users, leading to a negative perception and potential downvotes.
Violating the terms of service, community guidelines, or platform rules can result in penalties that affect your reputation. This might include actions like spamming, using multiple accounts, or engaging in illegal activities.
Plagiarism and Copyright Infringement
Copying or using someone else's content without permission and proper attribution can harm your reputation, particularly in creative and academic communities.
Misinformation and Fake News
Sharing inaccurate or misleading information can diminish your credibility and reputation, particularly if you're known for spreading false or sensationalistic content.
Engaging in Online Arguments
Constantly engaging in online arguments or conflicts can create a negative perception of your behavior and communication style. It's often better to engage in constructive discussions rather than heated debates.
Negative Publicity and Scandals
In cases where negative information about you becomes widely known, such as involvement in controversies or scandals, your online reputation can suffer.
If your accounts are compromised due to a data breach or hacking incident, your reputation can be negatively impacted if malicious activities are carried out using your account.
Lack of Engagement and Inactivity
Being inactive or unresponsive on platforms where interaction is expected can lead to a decline in your reputation. It might give the impression that you're not genuinely engaged or interested.
Trying to artificially inflate your all-encompassing reputation score by using fake accounts, upvoting your own content, or engaging in other manipulative tactics can lead to severe penalties and a loss of credibility.
Conclusion
Raising your online reputation score will make it easier for companies to find clients using Google search. By improving your online profile, you may build an online presence and draw in new clients.
Search results that are unfavorable or out-of-date may affect how people perceive others. It may also interfere with your relationships, college applications, career possibilities, acquisition of new clients, and other things.
Platforms like QuestionPro will provide you access to various tools and functionalities to carry out your research; their survey software has assisted professionals and students in gathering all the data required to produce high-value insights.
Additionally, it contains a data analysis package that enables you to evaluate all of this data by utilizing a variety of reports for a more precise explanation of the outcomes.
QuestionPro offers solutions for every unique issue and sector, making it more than just survey software. We also provide data management software like our Insights Hub research repository.