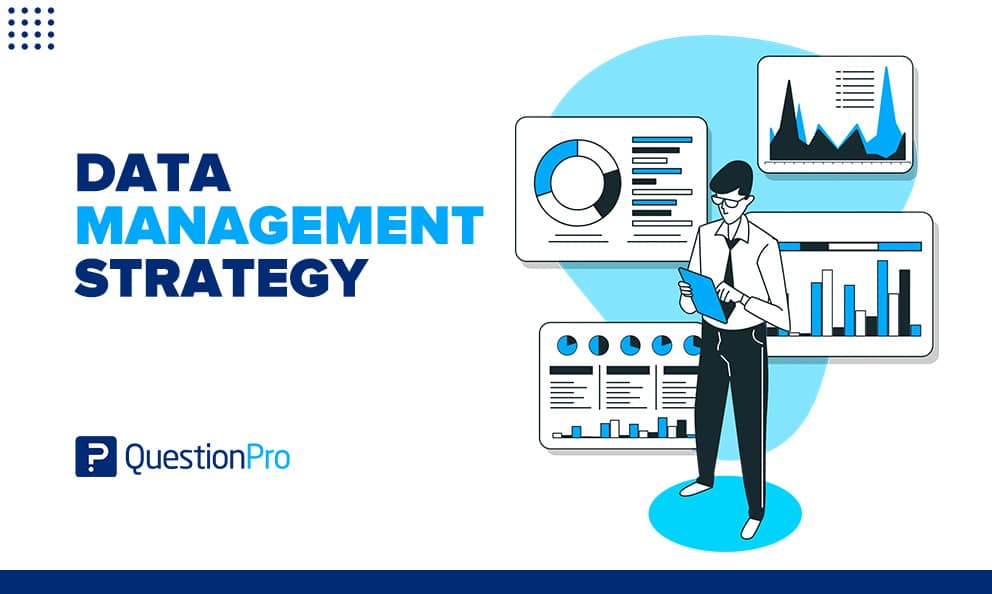 Data is essential for organizations to do better in this competitive business world. But collecting, analyzing, and managing information is challenging. And because of this, developing a data management strategy is one of the most critical parts of data management.
If your company produces a ton of data and you're seeking ways to arrange it for use later on, you've come to the right place. Read on to learn about the data management plan and ways to build an effective strategy.
What is a data management strategy?
A data management strategy is a plan for collecting and managing data so authorized people can use and obtain it effectively. The process should consider the data's amount, type, location, and users' needs.
A data management plan often consists of three parts: an assessment of the company's data in its current condition, a vision for where the business wants to go, and a road map to get there. Data governance, data architecture, data quality, data security, and data privacy are examples of additional components.
We learned the definition of a data management plan from above. Now let's get into the effective way of building a data management plan.
Effective ways to build a data management strategy
It's time to create an enterprise data management strategy if your business deals with information issues. Although developing and perfecting a plan that works best for your company will take time, you can start with these five steps.
Identification of business goals
Business objectives may guide data collection for it to be helpful. To create business goals, it is necessary first to identify the needs and difficulties of the organization.
To determine goals:
Ask questions about the organization's overall objective.

Collect the data required to accomplish those goals.

After obtaining data from the many organization stakeholders, develop a long-term strategy that focuses on specific use cases and acts as the organization's compass.
Identify your data needs
What information is needed to meet the business goals, and how will it be gathered? In the second phase of developing a data management plan, it's critical to provide answers to each query type.
The kind of data you need, internal or external, organized or unstructured, or a combination of the two—will depend on your business goals. Finding and collecting the information will be more challenging after you've located it.
Make a structure that you can fill out with information. This assists in identifying missing data and offers an organized method for acquiring data, which is the next stage of this process. For instance, website or social media analytics may provide the essential data, or you could need to buy it from a third-party vendor.
build sustainable data processing
Creating data collection, preparation, storage, and distribution procedures is the next step in a data management strategy. Each step is essential to ensure that a company manages data consistently.
It's crucial to ensure that all of these processes are automated, fast, user-friendly, and appropriate if you want to build them successfully. Specifying a "data steward" for each process is essential to maintaining a balance between data quantity and quality.
Put data governance in place
Data governance is one of the most crucial components of a data management plan. It helps data management become increasingly important as an organization's data volume increases.
Data quality, security, privacy, transparency, ethics, access, and ownership are a few topics covered by data governance rules and processes. Not just those who are directly involved in data management, but everyone should be informed of these regulations. This helps effective data utilization ensured by good governance policies in a company.
Use the appropriate technologies
Organizations that want to develop a data management plan need to ensure they have the appropriate technology and software. According to research, technology is essential to a successful strategy. Because without it, a company cannot adequately gather or evaluate data.
Organizations must consider their technology requirements for data collection, storage, and analysis when developing their plan. They must then convey the insights gained from the data.
Technological solutions may make each of these steps in the data processing strategy more effective, guaranteeing that all stakeholders receive the data they require to make business choices.
Create a skilled team
Organizations frequently face issues while implementing a data management plan because of data owners' ignorance. So, the team should know how to use data appropriately. And organization's leaders need to provide their team the chance to do so.
They need to be aware of the benefits of raising information literacy and developing a culture that appreciates the use of data in all business decisions. Businesses can build data teams with more experience and the capacity to use a data management strategy by doing this entirely.
Implement the strategy
Implementing the data strategy is the final step. Finding any possible obstacles is a crucial part of this step. Once you've spotted them, it's essential to decide who will lead the adjustments and to make the same modifications required to solve those difficulties. 
Aspects of the strategy may vary as the demands of the organization change over time.
Conclusion
In our above discussion, we describe the data management strategy and how to build it. And now, we can say that a data management plan is the first step in creating a solid foundation if your business wishes to use data more strategically and increase efficiency.
If you want to build a data management strategy for your organization, contact the QuestionPro team of experts. QuestionPro will help you through the process and make the most of your data.