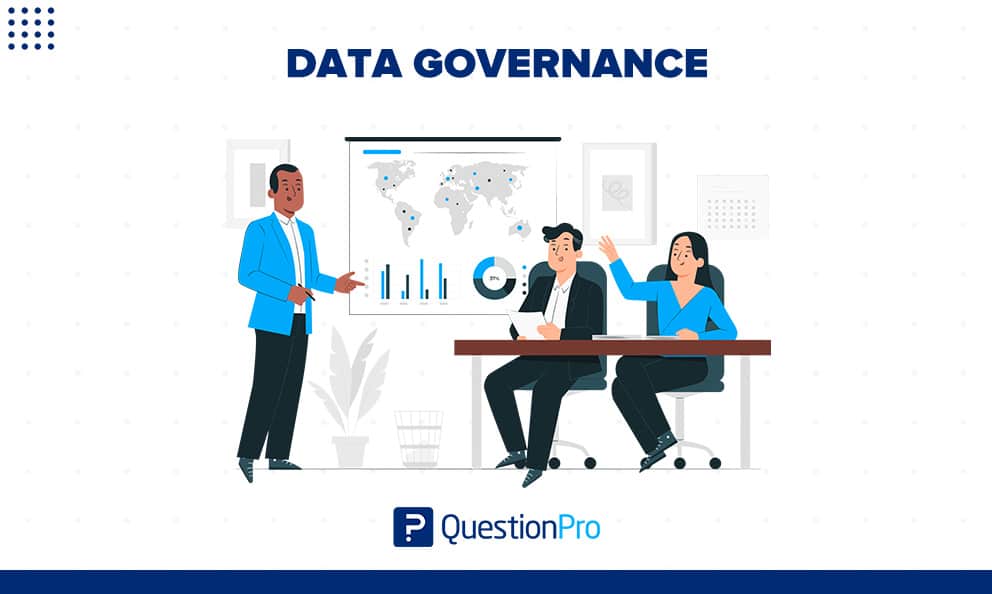 All businesses must determine how they will use data and handle it consistently across the board to support business results. Companies today collect enormous amounts of data from several sources, and data governance helps in risk management, value maximization, and cost reduction.
Data governance includes the people, processes, and technological tools that a company needs to manage and protect its data assets. It all depends on how you handle the information that your company collects. When effective, it makes sure that data is correct, consistent, and managed in the right way.
It forms the framework for managing data across an entire organization and provides an opportunity for effectively utilizing reliable data. This post defines data governance with some best practices.
What Is Data Governance?
Data governance is a collection of rules and procedures used by businesses that control the management, distribution, and security of an organization's data. Its tasks include:
Creating infrastructure and technology.

Setting up and managing processes and rules.

Figuring out which employees or positions in an organization have the power and responsibility to handle and keep certain data types.
Compliance is based on how well you manage your data or data wrangling. Systems will care for how things are stored, moved, and kept safe. But the human side ensures policies are developed, procedures are sound, technology is managed, and data is secured.
Key components of data governance
Organizations benefit from good data governance when it comes to making good decisions. A well-designed program includes a governance team, a guide committee, and data stewards. It's also a rule about how to use data.
Here are some key components for proper data governance: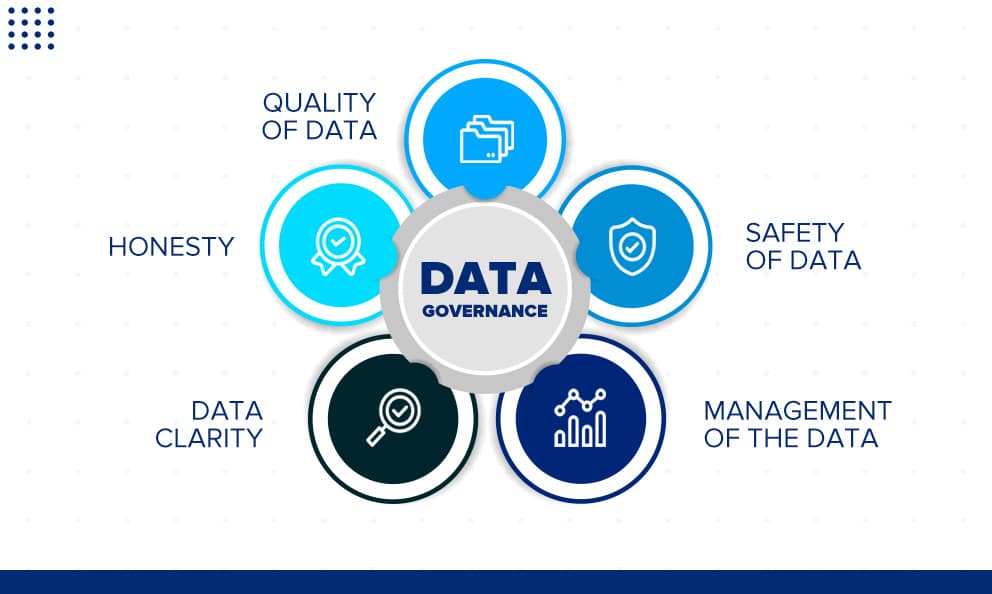 Honesty:

Everyone in the program should be honest and open about limitations, challenges, and other effects of decisions about data governance.

Quality of data: It serves as the foundation for the administration of data sources. The cornerstone of any data-driven organization is a collection of accurate, complete, and reliable data. The governance of data requires data of high quality and a level of strength.
Safety of data:

Data security is the technique of categorizing and classifying data sources according to the levels of risk posed by data sources. It ensures a secure access channel is established between the user interaction and the security procedures.

Management of the data:

It directs, monitors, and offers assistance in utilizing data sources, and it contributes to the implementation of high-quality data to business users in a manner that is easy for them to access.

Data clarity:

For data security purposes, it suggests that the individual who accesses and uses the organization's data is responsible for their actions. Users can find out where their data came from in the corporate world.
Benefits of data governance
Data governance is a set of ways for an organization to manage and control data and how it is used. It entails creating internal data standards and rules and implementing them to ensure that data is correct, consistent, and used correctly. Here are some benefits a company can get from a solid data governance program.
Quality assurance
Clean data is the result of a superior data governance program. When the supervision of the data is shared, it is regularly cleaned, updated, and thrown away. Dealing with data is hard, but if your data management strategy staff keeps everything up-to-date and relevant, the job might be a little bit easier.
A good data policy helps organizations find and keep track of useful information and eliminate useless, old, or redundant information. When multiple people enter data, some will be duplicated or inaccurate. Your data policies should help your team reduce errors and produce a single source of high-quality data.
Better business decision making
Strong data governance enables all authorized users within an organization to access the same data, eliminating the potential for data silos to form inside a business. Because of this, users and those making decisions will have a higher confidence level in the data, and as a result, they will have more faith in the decisions based on that information.
Compliance with regulations, laws, and industry standards
If you put a system in place, it will be easier for your business to follow the most current legal requirements. It makes sure that people follow the law and keeps them from having to pay fines or penalties for breaking the rules. Also, ensuring current regulatory standards are met protects sensitive business information from people who shouldn't have it.
Reduction of expenses
Data governance will make audits faster and easier and improve day-to-day operations. You can reduce waste from faulty or outdated information-based decisions. Additionally, keeping a close eye on current activity, inventory, and available staff can help you better serve your customers.
LEARN ABOUT: Data Management vs Data Governance
Best practices of data governance
It is possible to execute effective data governance in a way that is both smooth and efficient. You should stick to the following list of some of the most essential best practices.
Start small, yet think prominent:

People, processes, and technology are all critical parts of data governance. You should remember these things when you plan and carry out your data strategy. Start small and work your way up to the whole picture. Each part should build on the ones before it to make a well-rounded data governance strategy. People should come first, then the process, and finally, the technology.

Set explicit, quantifiable goals:

Set goals that are clear, measurable, and specific. What can't be measured can't be controlled, simple as that. When goals are accomplished, celebrate the success and use it as motivation to achieve further victories.

Engage stakeholders: For a policy on data governance to be made, you will need the support of the company's top leaders. You can get stakeholders to do something to ensure that everyone in your company uses your real time governance plan.
Set data governance team roles:

Roles, responsibilities, and ownership structures must be established for effective procedures to take place. The people who create and manage data are the ones who know it best. Data managers should work with owners to help guide them and make communication easier. Your data governance team needs to have members from different departments and be able to move your data governance initiatives forward.

Consider unmanaged data:

Some of your most valuable data is in your files, folders, and shares. However, this data is often more at risk than your managed data. Make sure that your plan for managing data includes unstructured data.

Classify and tag data:

Set up standards for metadata that help your business reach its goals and allow data to be used more than once. One of the main goals of governance is standardization, which will be hard to achieve without data classification and tagging.

Track progress with metrics: Program success must be measured. Before introducing data policies, define your measurements. This enables you to start with your present data management procedures. Follow the original metrics regularly. This shows progress and ensures your data governance best practices are effective in practice, not just in theory.
Communicate regularly:

Communication is critical everywhere in the data governance program or procedures. Whether highlighting successes or reforming after a failure, clear and frequent communication is essential to demonstrating the strategy's effectiveness.

Make a business case for it:

Create a business case for why it should be done. Determine the benefits of various degrees of data governance maturity, including those relating to growth, cost savings, risk, and compliance, and then report your findings.

Maximize automation:

To ensure the success of your data governance projects, you should automate everything that can be automated, including workflows, approval procedures, data requests, permissions requests, and anything else you can think of. Not only would automation save time and money, but it will also guarantee that governance will be implemented continuously.
Conclusion
A data governance framework enables your company to operate at a higher level of productivity. It is not a one-time project; it is an ongoing process. A solid program ensures that your organization's data is safe, standardized, and accurate. In addition, the procedures themselves need to be regularly reviewed and updated in light of the shifting volume, nature, and character of the data that your company manages.
QuestionPro offers solutions for every issue and industry, making it more than just survey software. In addition, we have data management software like our InsightsHub research library.
LEARN ABOUT: Customer data management
Organizations worldwide are utilizing knowledge management systems and solutions such as InsightsHub to manage data better, reduce the time it takes to obtain insights, and increase the utilization of historical data while cutting costs and increasing ROI.