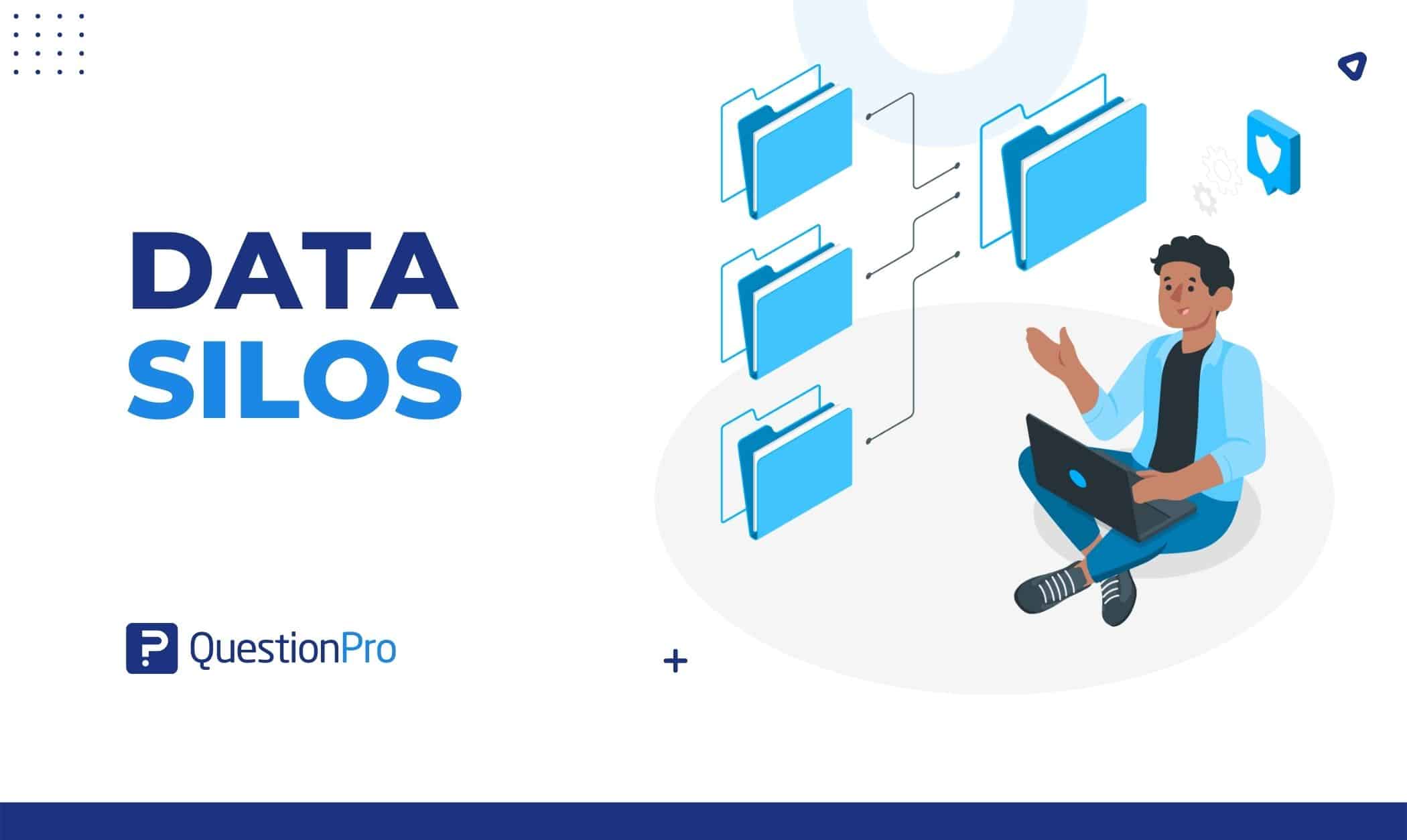 Good customer data is important for good customer service. You can't give someone the white-glove treatment if you know nothing about them. Companies need to use customer data to make better business decisions and grow, especially in today's data-driven world. Still, some organizations have trouble because their information is out of date or not enough. Other brands get a lot of data but can't put it all together because it's in different places. Both of these things can cause data silos.
Businesses need to know how information silos are made and how to eliminate them. These silos lead to inefficiency and make customer service interactions more complex, which makes customer service agents stressed out and makes customers unhappy. Your sales, product, and marketing teams could also miss important customer information.
In this blog, we will discuss the definition of data silos, What negative impact they have on your organization. We also learn how you can break down silos.
What are data silos?
Data silos are separate places where some groups in an organization can store data. They can't share data with other data systems and can only help with one business function. Silos of data are like silos on a farm where (grain) data is stored separately.
Unfortunately, these silos that don't share information have a bad name. They are a major concern for some organizations. It makes it harder for business leaders to see the big picture and makes it harder to share information.
Businesses have spent a lot of money on software to improve their business processes over the years. They have made a lot of systems, processes, and apps that generate data for their own reasons. By doing this, they have made their own piece of truth separate from the rest. So it's not hard to see why most organizations still have the silo problem.
72% of organizations say maintaining various CRM systems across technology silos is difficult. In another survey from Adobe of 1,000 IT decision-makers, 37% said that silos of data were the biggest problem in getting a single view of their customers. You can also conduct surveys related to data silos using QuestionPro survey software.
People have been criticizing data silos for a long time because they hurt the quality of data and make it harder to get work done. Many businesses can see that they limit visibility across different verticals, making decisions harder based on good information.
Why do data silos occur?
Data silos occur due to a lack of effective data governance and management, resulting in siloed data scattered across an organization's various departments and systems. These silos make it challenging to identify Data silos and hinder data sharing and integration. 
Data silos are problematic because they lead to inefficiencies and missed opportunities for data-driven decision-making, as crucial information remains inaccessible or disconnected within the organization.
The negative impact of data silos
A data silo is islands of data that are separated from each other, which makes it hard to get the data out and use it. When you have silos of data, you can't see all of your company's data at once or analyze it completely. We will explore some negative impacts of these below:
Fragmented information and ideas come from data silos
It makes looking at data as a whole hard because they create disconnected views. When your teams' information and ideas are scattered, it's natural that their decisions won't be well thought out.
Making decisions is like looking at the tip of a floating iceberg in a sea of disconnected data systems. The real risk is that your business users, data users, or even business executives don't see the whole picture. They need to take advantage of important and deeper insights that can help your business grow strongly.
Most companies want a 360° view of their customers because it lets them act proactively and send relevant, personalized messages to many customers at every stage of the customer journey. With silos of data, getting a single customer view is almost impossible.
Silos decrease data quality and reliability
Keeping business information in separate data systems makes it less valuable. When data is kept in silos, it quickly becomes outdated or wrong, which can cause your organization to have bad data integrity.
Data silos that aren't connected may never be updated or checked because they aren't linked to each other. It can lead to inaccurate and old data. If your business or data users use this wrong information daily, it could cause more problems.
Business teams may store duplicate information in their storage systems in other situations. The marketing and sales teams could duplicate small parts of the audience you want to reach for a specific project. Since many sources of information are only partly complete, this practice of duplicating data lowers the quality of the relevant data.
Data silos reduce the speed of action
We've already discussed that speed and flexibility are the keys to a successful business. To succeed in business, companies should look at every aspect of their customers immediately and meet their needs as soon as possible to stay ahead of the competition.
When information is divided, your business teams must do daube work. Different teams may end up repeating the same set of tasks because those tasks are not clearly defined for them. The time-to-value ratio is high in these situations, and "data fatigue" eventually sets in.
With silos of data, it's hard to make quick, well-informed decisions. Your business and data teams must first gather and process data from many different sources. By this time, the fact that you moved first will no longer be an advantage. Also, with silos of data, you might make decisions based on outdated information.
Data silos hamper organizational alignment
Organizational alignment is a proven key to business success. It aligns operational and functional teams around a clear and meaningful goal. It ensures that all parts of your business, both operational and strategic, work together at their best.
Teams with a clear path forward achieve better results sooner with less effort because they are more flexible and sensitive to operational environment changes.
These silos are barriers to organizational alignment. They take away the ability of data and business teams to make decisions quickly, with more information and agility. In the long run, they hurt the continuous development, learning, and maximizing of talent.
Because of silos of data, there isn't enough coordination and cooperation between different teams, which slows down productivity and makes less efficient use of resources.
To solve collaboration problems, you must streamline your business applications that work together and centralize your data in a cloud data warehouse or a data lake. It lets data and business teams standardize information and fully view your organization's data.
How do you identify data silos?
Identifying silos of data is crucial to address their challenges effectively. Here are some key points to help you recognize the presence of these silos:
It often exists when different departments or teams independently store and manage their data. Inconsistencies in data formats, definitions, or values across these storage systems can signal the presence of silos.
If teams or individuals encounter difficulties in accessing all the data they need for their tasks, it indicates potential silos of data. Data access limitations can hinder decision-making and operational efficiency.
Data stored in separate, department-specific databases or systems rather than in a centralized repository can create data silos. Identifying isolated data storage locations is key to addressing these data silos.
Inefficiencies and problems
Data silos are problematic because they hinder data integration, sharing, and collaboration. If you notice inefficiencies, redundancies, or errors resulting from isolated data storage and management, it's a sign that data silos exist.
To effectively break down data silos and avoid creating new ones, it's important to understand why these silos exist in the first place. Identifying the root causes, such as organizational structure, technology choices, or cultural factors, can help develop strategies to rid of these silos and prevent their recurrence.
Recognizing these signs and understanding the reasons behind silos is the first step in implementing solutions to break down these silos and create a more integrated and collaborative data environment within your organization.
How to break data silos?
Data silos make it harder for a business team to see how well they are doing and how well they are organized. It will hurt the company's bottom line and limit its financial ability. By breaking down these data barriers, departments can learn more about their efficient workflow, and the data will be more trustworthy.
Here, we will talk about some ways to break down silos of data: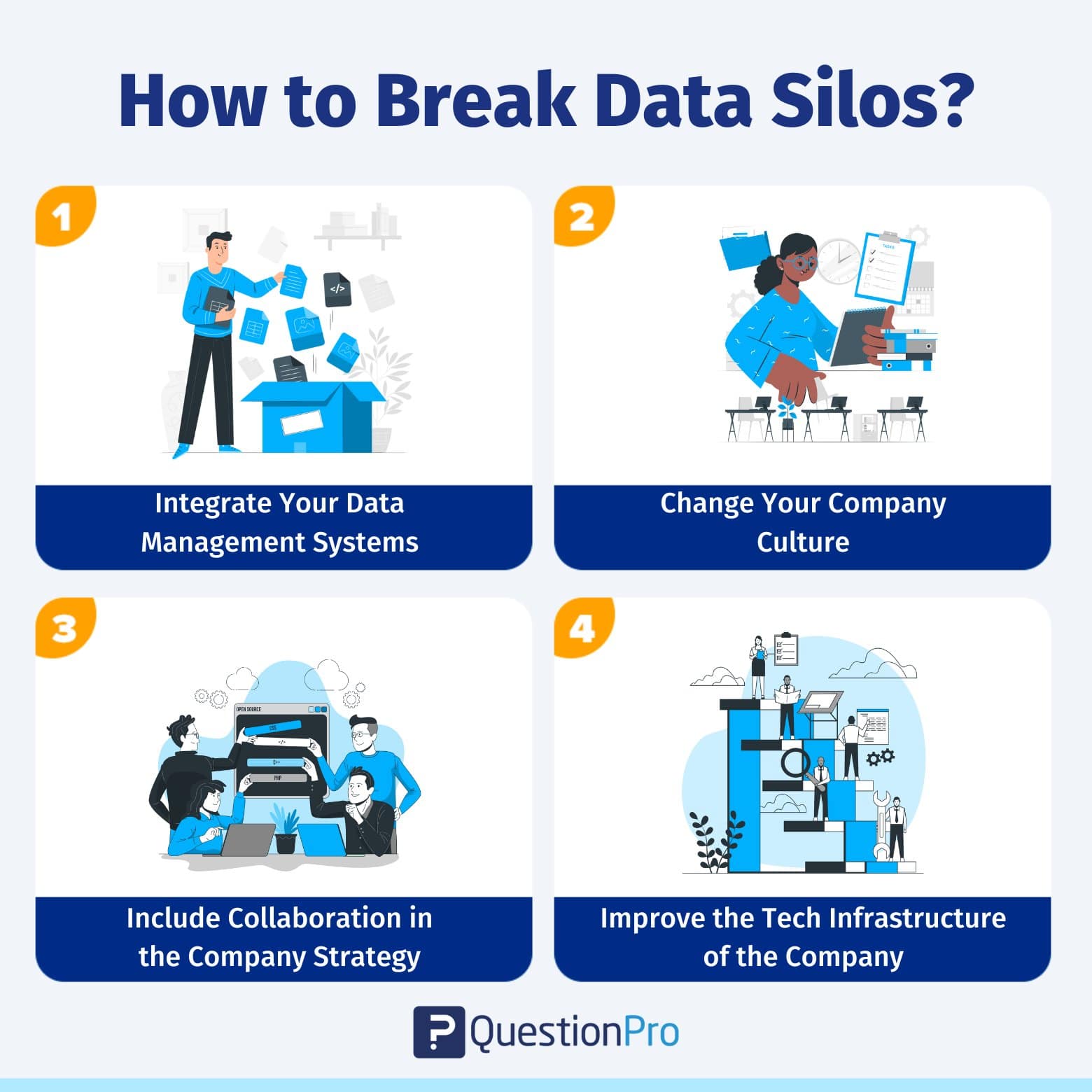 Integrate your data management systems
Businesses that use more than one data management system may experience silos of data. For example, if a retailer uses different software systems for point-of-sale and inventory management, key data about sales, revenue, and stock levels will not be in sync.
To break down these data silos, managers should check their different management systems and how each department collects data. Then, they should look at how employees use the information and see if the data is helpful for other teams.
Many organizations will switch to a central data management system or use a data integration solution to link their software. Managers should also talk to their employees to determine if they are having trouble managing data systems. With all of this information, it will be easier to determine if systems can be combined or if new solutions need to be implemented.
Change your company culture
It often comes from departments in an organization that doesn't talk to or work together. Executives can stop this by creating an open and honest culture at work. They can help people from different departments to work together and support different teams that are working together.
Also, silos of data can be effectively eliminated if procedures are implemented to let employees share their team's information freely with relevant partners.
Executives should write down what they expect from others and what they value in collaboration and communication. Employees will be more likely to work together and share necessary metrics with other teams by removing the feeling of competition between departments.
Include collaboration in the company strategy
Organizations can break down data silos by making this a priority in their company strategy and objectives. If a business is currently going, its management should examine how it's organized.
It will help show where communication and company data need to flow smoothly between departments. If a silo is found, the business team might want to rethink how it organizes its strategy.
It is also suggested that business owners create key performance indicators (KPIs) that track how well employees work together. For example, managers can keep track of how many projects involving more than one department are finished in a given quarter.
Or, they can track how often each department sends data reports to other teams. By regularly keeping an eye on these key performance indicators, companies can see how well the different levels of the organization work together.
Improve the tech infrastructure of the company
Companies should invest in a digital transformation instead of using old systems that need to work better together. Technology has been made to combine data sources from different systems into one central location.
Some platforms are also made to work with other software, which eliminates the need for silos. By streamlining the process of integrating data, brands can save money and work more efficiently.
Learn About: Customer Data Management
Conclusion
Data silos can happen naturally in an organization because of structural, technical, and cultural problems. For many companies, breaking down these silos and combining all of their operational and experience data is a top priority. In this article, we looked at several reasons why silos of data are a problem.
The problems caused by silos of data may seem complicated, but you don't have to be perfect to see the benefits. Start small, find data silos, and eliminate old or wrong data. Once you have a good handle on your current environment, you can start making changes to your infrastructure, such as reducing the number of applications, integrating systems, and encouraging collaboration.
QuestionPro is the complete platform for all your insight needs. With InsightHub, you can manage all your data and keep them safe and up to date. Using QuestionPro survey software, you can also do everything from simple surveys to complex research. With QuestionPro, you can also measure how your customers feel and your employees' engagement.
Contact the QuestionPro team to learn more about how to fix these silos and build a data management strategy with data management software that fits your business goals.