Real Time Governance is the most powerful and intellectual initiative, under the Obama administration in 2009- The Open Government Initiative. The Open Government Initiative (OGI) led to many subsequent policy frameworks like Open Data, Challenge.gov, Data.gov, Change.gov (Citizen Petitions) and other citizen engagement initiatives within the US federal government eco-system.
This initiative was primarily aimed at engaging and including the citizens in the decision making policy and also to make sure there are no last minute hassles in implementing these policies. Last mile operations are defined as the point of contact between citizens and governments - examples like applying for a replacement driver's license, filing for veterans benefits et al. - Where governments truly interact with the citizens.
However the big question that still stands tall is, can the Government transform their thinking to treat their citizens as their customers?
There have some similar example of real time governance in other countries like India, where having an Aadhar card (Nation ID card service) is mandatory for all the Indian citizens, in Dubai- the smart Government and also in the city of San Francisco's connected government initiative.
Peter Drucker - the founder of modern management and the father of management principles like "management by objectives", published a famous quote that the private sector has embraced wholeheartedly. He proclaimed that - "You can only improve what you measure".
Metrics tend to give the organizations clear directions and appropriate guidelines because they are objective, can be measured and can be compared with.Everyone who is a part of the organization can align themselves with it and help bring about accountability and clear performance guidelines.
Metrics for each sector is different and heavily depends upon the working style and the targets they need to achieve. The private sector is driven by the revenue metrics, how much profit they made in the financial year and if their stock prices increased or dropped. Their definition of a successful year is very different from a public service sector. In public service sectors metrics for example like policies and smooth implementation of those policies are more important than revenue or profitability. A mission-driven organization like NGOs have a totally different approach.
Still, in order to get an organizational alignment and to achieve excellence in the field of service delivery, the most appropriate approach is the real time governance, where more emphasis is on customer satisfaction and citizen acceptance as a proposed metrics.
With real time governance in place, even the government agencies will need to be accountable not only to make policies but also implement it and make it function in such a manner that citizens are at ease with it.
It is an observation that most governments are underutilizing the intellectual resources on developing policies and strategies and this invariably leads to poor implementation of the policies for various reasons.
It is an observation that most governments are underutilizing the intellectual resources on developing policies and strategies and this invariably leads to poor implementation of the policies for various reasons.
However in a scenario where implementation and delivery of the policy are executed in a professional manner with no hiccups the overall effect that is seen after the implementation of the policy is certainly exponential.
A great example of smooth policy implementation is the online replacement of the green-card project of the USCIS- The department of the United States responsible for immigration and naturalization services. The paper-based process took roughly 6 months to replace the green cards which were thus reduced to 10 days with proper implementation of the policy. The highlight of the entire process is that the applicant is aware of the status of their application in real time.
Policy decisions that are implemented poorly or without extensive research around their implementation strategy typically fail to achieve their targeted outcome. It is vital for government agencies to be able to "listen" to their constituents in real time, as program implementation is underway so they can react to roadblocks and pitfalls before they turn into angry hostile constituents.
We believe there are two key areas for actively listening to constituents:
Service Delivery Feedback - Immediately after the delivery / at the point of delivery
Program Suggestions – Done post-transaction to secure ideas for improvement
Government agencies should follow the lead of tech startups in terms of implementation - where agile and lean startups constantly listen to their customers and make incremental changes to the process and the product. This model works if there is a culture and a system for listening and reacting in real time to the operational implementation of policy outcomes.
Our proposal to improve citizen satisfaction is to define a trans-organizational satisfaction metric and align the multiple stakeholders to that. There are multiple models for measuring satisfaction - including ASCI, Net Promoter Score, 5-Star simplified rating et. al - and we will compare how each of the three case-studies; the models that they've used and commentary around them.
We, however, would like to emphasize that measurement model should include a completely digital solution that every citizen interaction can be measured. Our analysis is that the simple ability to measure every single service interaction is important and registers enough data points to create validity around the process.
We don't make an attempt to define the validity or efficacy of each of the measurement models. For example, Net Promoter Score (NPS) Vs. ASCI Vs. 5-Star Rating System. Our position is that any of these measurement models conducted diligently and comprehensively will yield positive results. Our recommendation is more on the need for measurement than the specific model used for measurement.
One of the benefits of having well-defined metrics around citizen experience and measuring them on a unified scale is that of comparability. More often than not, the individual metrics values are generally not used - it is the relative comparability of metrics that govern behavior and success. Comparability comes in two forms;
Chronological Comparability - what were the metrics vs. last quarter/last month etc.
Situational Comparability - How did Region 1 do Vs. Region 2.
The fundamental human trait around competition driving performance is valid for government organizations also. After all - organizations are a collective of people. Organizations are run by humans and at the end of the day - when government organizations are compared and rewarded, it creates its own competitive environment - that drives performance.
The fundamental structural shift in our society today is real time digital connectivity. There are more smartphones in India than people - there are approximately 1.3 smartphones for each person in India - with a population of 1.2 billion. With the proliferation of mobile phones, we can safely say that every citizen has a digital footprint and the end-point being the mobile phone. In fact, most digital natives, today do not have a landline phone at all. Their smartphone being their primary and in many cases the only digital device that connects them to their community.
To emphasize & validate this thesis as it applies to governance, we conducted primary market research - in three diverse markets - United States, India and the UAE. We believe these three markets represent different governance models and are at different stages of maturity and thought process regarding customer/governance interaction.
The conclusion we drew from the research is that governments need to make policy and procedural models based on 100% digital connectivity. The citizen's mobile phone number being the primary digital identifier for this connectivity.
This 100% Digital Connectivity presumption has a profound impact on policymaking and decisions around implementation measurements. For the first time in humanity's existence, we can in real time, reach out to every single citizen of a country and connect with them. The importance and impact of being connected can be seen on Facebook and WhatsApp on a peer-to-peer basis.
In general, there are 3 broad measurement models that can be applied to citizen service experience and feedback:
We will discuss the pros and cons of each of these models.
Passive experience measurement models include systems like:
Suggestion Box / Comment Box
Digital Feedback / Complaint Form
Feedback / Complaint Email System
We believe that passive measurement models with its optional feedback processes are not very effective. This measurement model is fundamentally useless both for broad policy-based decision making as well as an operational decision process. This is mostly because only the most vocal customers use it as a vehicle for complaints only when some service delivery crosses a negative threshold in their minds. This, by definition, is skewed towards the negative and creates a significant perceived bias towards the data's results. Therefore, stakeholders are reluctant to make decisions based on passive feedback, since they feel (and rightly so) the data is overly skewed to the negative.
More often than not, passive feedback models are put in place by institutions for compliance reasons - to allow them to mark a checkbox that says that the agency is listening to its constituents.
Advantages
Its cheap & Easy to implement.
Low Technology overhead.
Disadvantages
Biased data - Unusable for policy feedback.
Metrics cannot be used for accountability and performance.
A sample-based measurement model would be to take a survey of a sample of all the customer/citizen transactions every so often and test for satisfaction levels and service delivery metrics. This typically involves administering an extensive survey/questionnaire to a smaller subset of the overall population and drawing inferences from it. Typically - most government agencies are mandated to measure and report on satisfaction once a year.
Advantages
Very effective in understanding broad policy implications and policy effectiveness - because you can do an in-depth analysis and study of the impact of some your policy frameworks. Survey questions can be tailored to understand specific policy proposals and impact.
Easy implementation - Low technology overhead.
Disadvantages
Cannot help with daily operational decisions. Since sampling model is done once a year or perhaps once every 6 months, daily operational decisions cannot be measured and enhanced. Does not close the loop - with respect to service delivery and cannot be used for continuous last-mile accountability.
An active real time feedback infrastructure - that is based on digital mediums like Email, SMS, and Mobile App - allows for all interactions between government and citizens to be rated and measured. Systems that measure 100% of all interactions make it easy for citizens to rate and give continuous service feedback via SMS, mobile apps - are called active measurement systems.
This model follows the very efficient service feedback programs that companies like Uber, Airbnb, and Amazon have implemented which are described as user-based post-transaction rating systems.
Advantages
Diverse and rich actionable intelligence along with service level meta-data.
Comparable objective measurement can be used for performance goals and metrics.
Disadvantages
Higher technical overhead and implementation costs.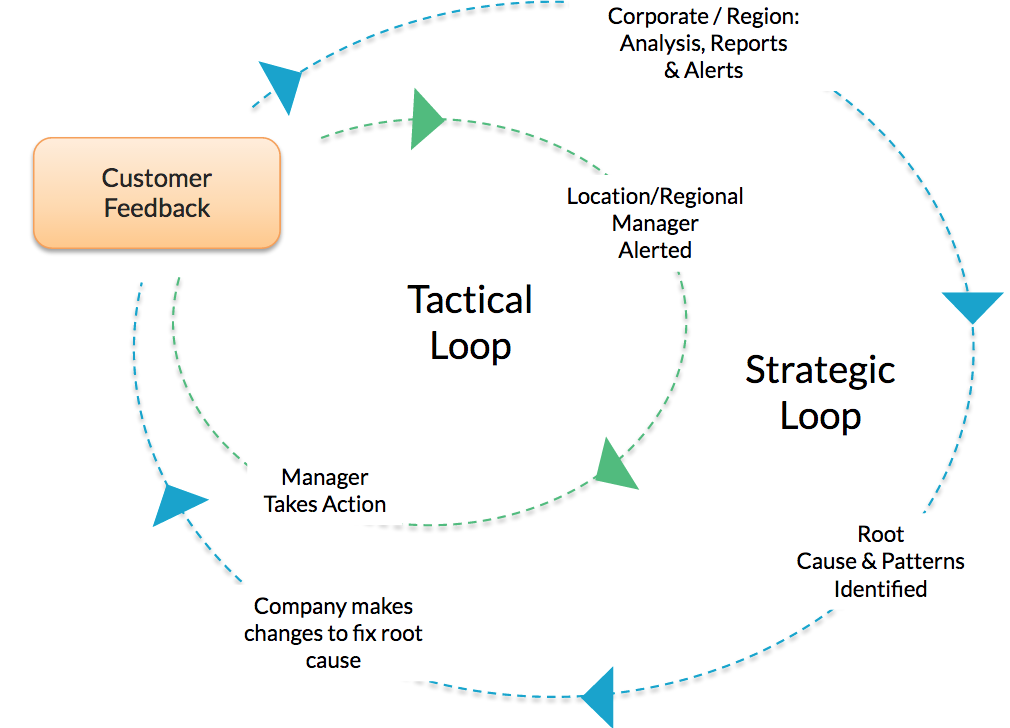 As real time feedback systems become larger and complex, the need for advanced reporting tools become important. Line managers need access to real time data on their group's service delivery and it has to be in their preferred format.
Reporting systems should be designed with what we call "Operational Dashboards" that includes manager level insights to make the job of responding and reacting to feedback easier and effective for them. This is distinctly different than executive dashboards in most reporting systems - that are geared towards strategic not tactical and operational goals.