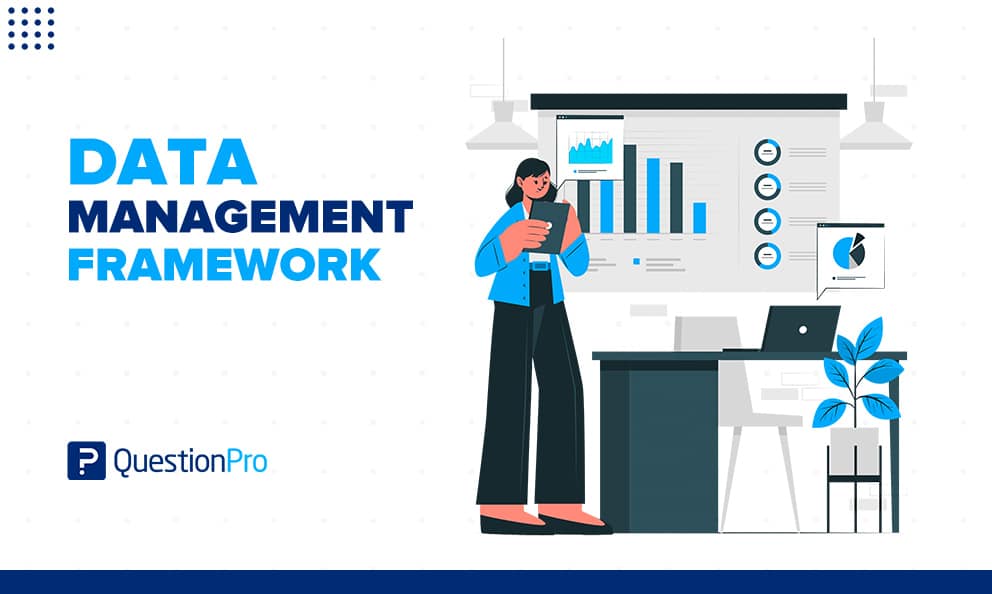 If you want to build data you can trust, you should use a good data management framework. Reliable information comes from data infrastructures that are built on good management practices. 
Using this helpful information correctly will lead members interested in their credit union to trust it and want to do more business with you. Also, when you send reports to regulatory bodies and try to reduce risks, you need to have accurate data without data wrangling.
Many steps establish data management frameworks. All of the steps work well with each other and as a whole. If an action is missing, problems will happen. Here we will explore a short list of all the steps that make up a framework for data management. But before that, we will learn what data management frameworks means.
What is a data management framework?
A data management framework is a model of the people management, procedures, and policies necessary for successfully managing enterprise data. It helps to ensure all the elements you need to deliver essential data to your business. This model is also known as a data management strategy.
Data management frameworks outline what should be implemented within your organization. You need to determine the right size for each of these parts and put them into your organization's frameworks for making decisions.
Importance of data management frameworks
In any industry, data is the most precious thing you have. Your funders' names and contact information, the stats on your reports, and the personal details of each employee make up the foundation of your organization's success. It is the same for organizations that are not for profit.
LEARN ABOUT: Workforce Planning Model
If you don't have data, it's impossible to know how well you're doing and to plan your future. A data management framework is critical to your overall strategy to ensure you can access your data when needed.
This involves implementing a data management plan and a correct structure for the entire team's benefit. Your data can be shared throughout your company using a compliance code.
How to establish a data management framework
Data management frameworks are intended to assist in designing, implementing, and measuring a data management function's maturity and performance. Now let's find out how to establish a framework of data management below:
Scoping a data management function and a framework
The extent of a company's data management needs depends on numerous factors. The most important principle is that the defined scope must be compatible with the needs and resources of the company. Establishing a formal data management function requires consideration of the following:
Corporate drivers
A business driver is a motivating factor that encourages a corporation to launch a particular activity. It's a combination of numerous rules (such as the General Data Protection Regulation) and business change (such as the installation of AI/ML technologies to improve customer experience) that are the most typical catalysts. When making business decisions, a corporation may consider variables related to internal and external surroundings.
The demands of many stakeholders
Stakeholders are identified through business drivers. You can have both external and internal stakeholders, depending on the situation. A data management framework will be expected to meet its stakeholders' numerous and sometimes conflicting demands and expectations.
Let's say a corporation wishes to launch a digital transformation initiative. Due to the high costs, all corporate processes can't be digitalized at once. But eventually, financial and commercial departments will be motivated by various factors. Efficiencies and productivity will be improved in the financial sector, while revenue growth will be achieved by boosting customer satisfaction.
"Enterprise" scope
A corporation can apply data management to the entire organization or for selected business units. The ideal method depends on the chosen business driver.
Data management requirements
Managing data is a multi-faceted endeavor. There are various factors to consider when meeting an individual driver's needs. Data governance, data modeling, data and application architecture, and data quality are some of the most common capabilities of a data management framework.
Doing a preliminary assessment of maturity
In one way or another, every business manages data. As a result, even though the organization does not currently have a formal data management function, it does possess some data management capabilities. The ability to evaluate current capabilities and identify prospective gaps is made possible through a preliminary maturity assessment.
Creating a data management framework and a roadmap
A corporation may determine its long-term or medium-term strategic vision for a data management framework based on the result of step 2, which is the second phase in the process. Research of DMF notes that a strategy and a roadmap are examples of planning documents.
Designing capabilities for data management
It is up to a corporation to build the necessary capabilities based on its chosen framework. The first step in the design process is identifying the products that must be produced. Policies, standards, and other regulatory documentation must be in place for a corporation to create its products.
Regulation adherence is made more accessible by the use of processes. It can only be completed with the help of roles. Lastly, a corporation must have a budget to build competency.
Making use of a data management framework
The best way for a company to implement data management frameworks depends on its business goals, size, and resources. The "Orange" DMF identifies three main strategies: centralized, decentralized, and hybrid. Each design has pros and cons and can be used depending on the situation.
Completing a detailed maturity assessment
A business should conduct a detailed maturity assessment at the general level of capability dimensions and items, such as processes and policies. This method enables the creation of detailed short-term planning. It also aids in the creation of a key performance indicator system (KPI).
A business needs to establish two key performance indicators (KPIs): one to track the development of its data management competence and another to evaluate the effectiveness of its daily operations. Different abstraction levels can be utilized while establishing KPIs.
LEARN ABOUT: Customer data management
Conclusion
The above discussion taught us about the data management framework and how to establish one in business. Any company would benefit from using these steps as a framework for their data management. Organizations may use this framework for their betterment in the business world.
Consult the QuestionPro team if you need assistance with data management software or research. With our assistance, you can get the most out of your data.